Experience a tropical escape with an Olive Garden Mango Martini! Infused with the sun-kissed flavor of ripe mango, this cocktail artfully melds the richness of rum with the zesty notes of triple sec. Every sip is a dance of flavors, transporting you to sun-soaked beaches and warm, balmy nights. Whether you're celebrating a special occasion or just elevating your evening, this martini is your passport to paradise.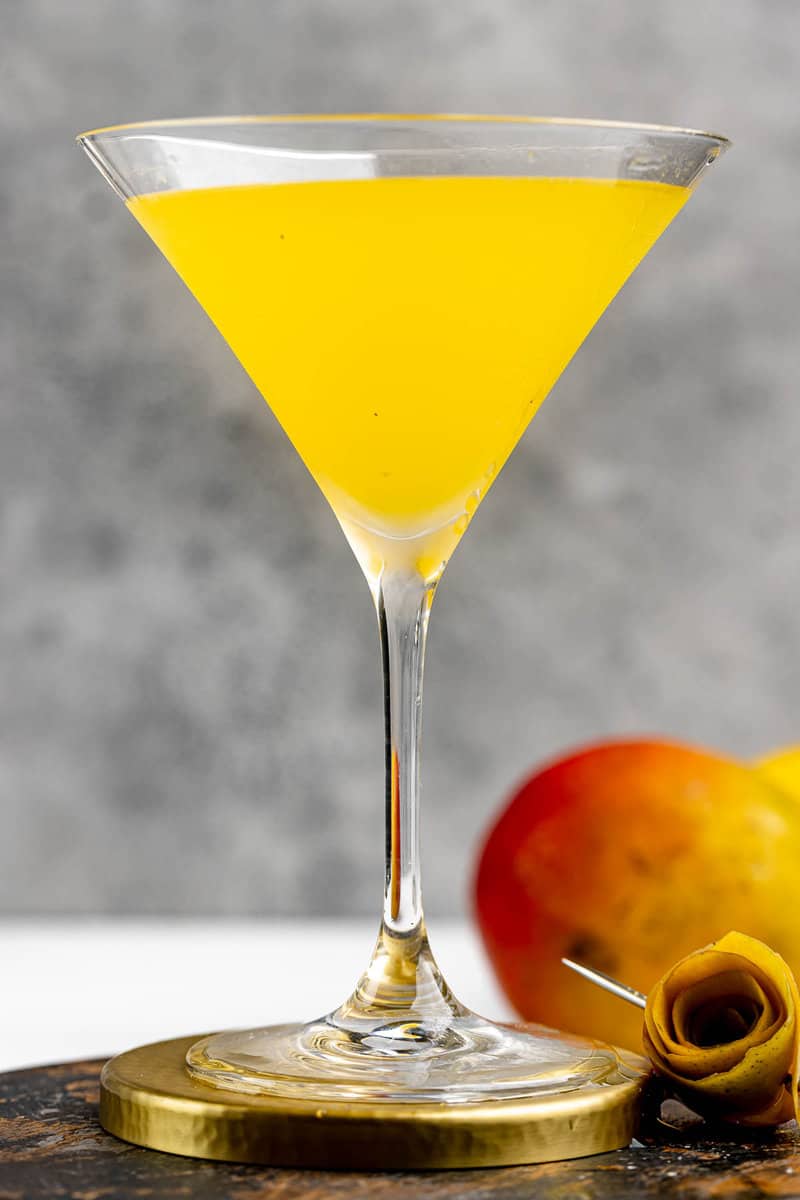 This post contains affiliate links. As an Amazon Associate, I earn from qualifying purchases.
What Makes a Mango Martini From Olive Garden So Good?
Martinis have had somewhat of a renaissance over the last few years, and while you can get just about any flavored martini you can think of these days, fruit-based cocktails continue to be popular. While less trendy than an Apple Martini, Mango Martinis are a great option for those looking for a refreshingly tropical spin on the classic cocktail.
Why You'll Love This Recipe
By eschewing traditional martini ingredients, this Olive Garden Mango Martini recipe is more at home at a tiki bar on the beach than in a clubhouse on a Hampton's golf course. The coconut-flavored rum and bitter orange liqueur combine wonderfully with mango nectar for a sophisticated, though casual cocktail.
With only three ingredients, anyone can learn to mix a Mango Martini, and once you do, you'll be sure to impress your guests at your next get-together.
Mango Martini With Rum Ingredients
For this drink, you'll need:
Malibu Original Caribbean Rum
Triple Sec
Kern's Mango Nectar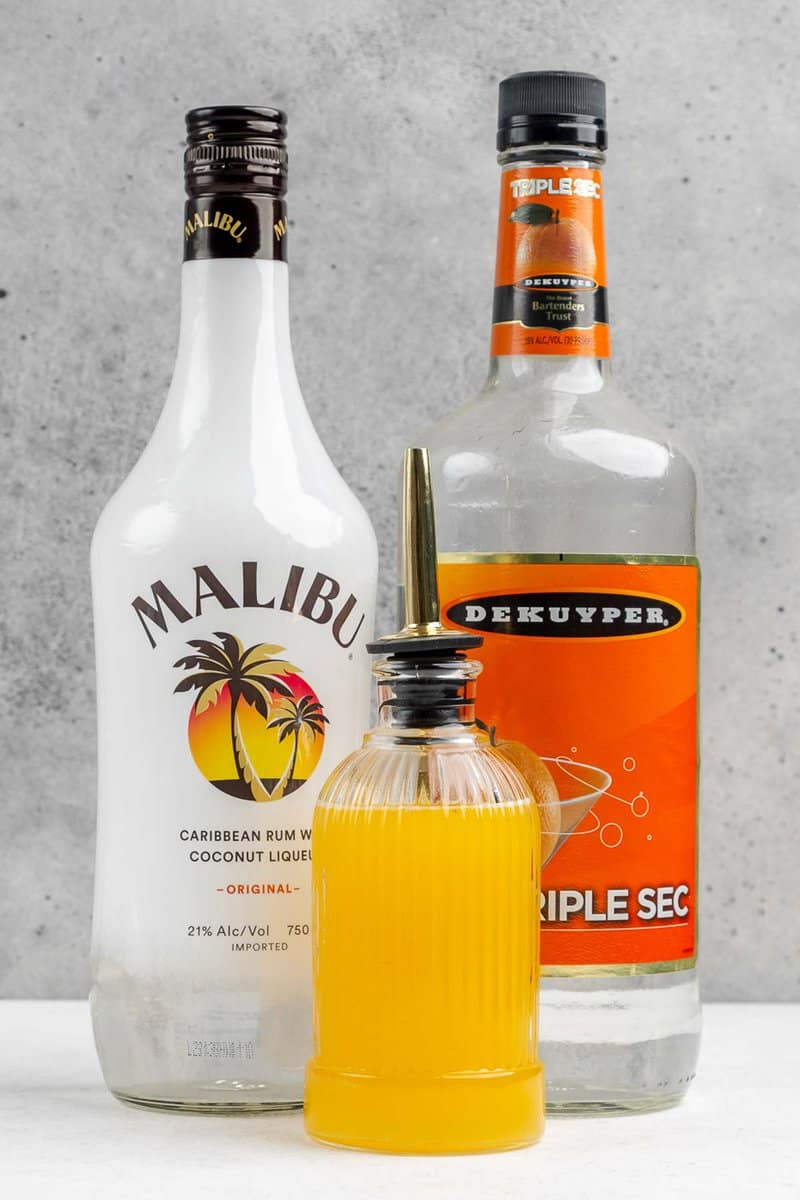 Ingredient Notes
Malibu Original Caribbean Rum starts with quality rum and then takes tropical flavors to the extreme by adding a good amount of sweetened coconut liqueur. Most people refer to this rum simply as Malibu, and it is known to be easy to sip, maybe even a little too easy. At 21 percent ABV, this liqueur isn't high-proof, but it will get the job done. Malibu is a premium liqueur at a premium price, and more budget-friendly coconut-flavored rums include Cruzan Coconut Rum and Whaler's Killer Coconut Rum.
Triple Sec is a type of liqueur with a bitter-sweet orange flavor added to a neutral spirit. The orange flavor comes from the citrus peels added to the distilled spirits before being removed and then redistilling the alcohol. There are many different brands, with most ranging from about 20 percent ABV to 40 percent ABV. A high-quality Triple Sec is Cointreau, but more affordable Triple Secs are DeKuyper Triple Sec and Llord's Triple Sec.
Don't be confused; mango nectar is different from mango juice. While you may want to start your day with a tall glass of mango juice, you probably would like to avoid sipping on mango nectar so early in the morning. To make mango nectar, liquid sugar is blended with mango puree until it becomes a thick and sweet concoction ideal for mixing with other ingredients.
Kern's Mango Nectar is 100 percent natural and contains no high fructose corn syrup. If you can't find Kern's Mango Nectar, Iberia and Goya make good alternatives.
How to Make an Olive Garden Mango Martini With Rum
To prepare a Mango Martini from the Olive Garden:
Add ice to a martini glass to chill while making the drink.
Pour the Malibu, Triple Sec, and mango nectar into a cocktail shaker.
Add ice cubes to the shaker.
Cover and shake until the outside of the shaker is ice-cold, about 15 seconds.
Dump the ice from the martini glass and strain the cocktail into the chilled martini glass.
Martini Garnish
You can serve the martini without a garnish or garnished with a mango slice, lime slice, lemon slice, or maraschino cherry on a skewer.
You can garnish the glass with a sugar rim. Rub the rim of the glass with a mango slice or dip it in mango nectar and then dip it into sugar. For a salt rim, dip it into coarse salt.
Make Ahead Pitcher
You can make a pitcher of martinis in advance. Multiply the ingredient quantities by the number of servings (up to 10 servings since a standard pitcher holds 50-60 ounces). Combine the rum, and mango nectar in a pitcher and store it in the refrigerator. When ready, pour 5 ounces of the mixture into a cocktail shaker filled with ice, shake it, and serve.
What to Serve a Mango Martini From Olive Garden With
Mango Martinis are casual, so any food you serve with them should be as well. Here are three light dishes that are perfect for sharing with friends over a few drinks:
Air Fryer Shrimp Tempura. This version of classic tempura cooked in the air fryer is even lighter and healthier than the original recipe.
Applebee's Chicken Wonton Tacos. Light and crispy, these mini wonton chicken tacos will satisfy your hunger without filling you up.
Jason's Deli Fruit Dip. This refreshing fruit dip is perfect for dunking berries, melons, and pineapple chunks. Don't forget to cut up a few mangos as well.
Favorite Olive Garden Drinks
Popular Martini Recipes
Check out more of my easy cocktail recipes and the best copycat Olive Garden recipes on CopyKat!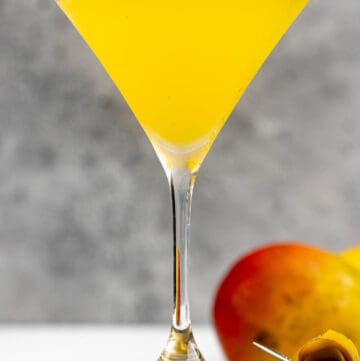 Ingredients
2

ounces

Malibu Rum

3/4

ounce

Triple sec

2

ounces

Kern's Mango Nectar
Instructions
Pour all the ingredients into a shaker with ice.

Shake and strain into a martini glass and garnish.
Nutrition
Calories:
225
kcal
|
Carbohydrates:
14
g
|
Protein:
0.1
g
|
Fat:
0.1
g
|
Saturated Fat:
0.03
g
|
Polyunsaturated Fat:
0.03
g
|
Monounsaturated Fat:
0.01
g
|
Sodium:
5
mg
|
Potassium:
21
mg
|
Fiber:
0.2
g
|
Sugar:
14
g
|
Vitamin A:
392
IU
|
Vitamin C:
9
mg
|
Calcium:
10
mg
|
Iron:
0.2
mg