Olive Garden Venetian Sunset is a delicious and fruity cocktail made with sweet sparkling wine, pineapple juice, and grenadine. It's a light, bubbly, and beautiful drink perfect for entertaining and sipping on a hot summer day.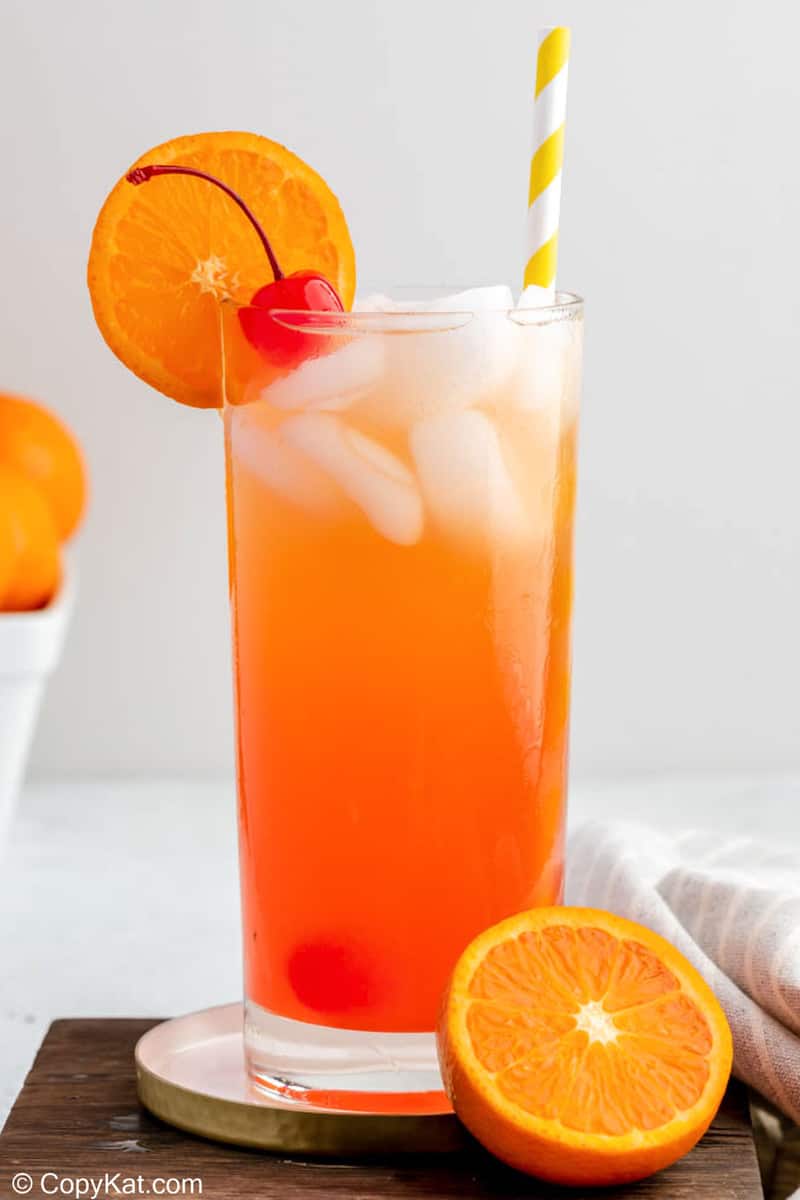 Fruity Sparkling Wine Cocktail
Serve this simple yet sophisticated sparkling wine cocktail as the ideal beginning of a romantic evening or as part of a casual brunch with friends.
Not only does this low-alcohol drink taste refreshingly light, but it is also pretty dramatic to look at as well. The next time you feel like having a little celebration, whip up a few of these sparkling wine cocktails.
What's in the Olive Garden Venetian Sunset Recipe?
There are only three ingredients in an Olive Garden Venetian Sunset drink:
Asti
Asti is a sparkling wine from the Piedmont region of Italy. You can find two different varieties of Asti: Asti Spumante and Moscato d'Asti. While both types come from the Moscati grape, there are significant differences between them.
Asti Spumante is much more bubbly and has a higher alcohol content than Moscato d'Asti, but it is not as sweet. Many people prefer using Asti Spumante for this drink, but there is something to be said about the additional sweetness that Moscato d'Asti can bring.
When it comes to Asti Spumante, it is hard to go wrong with a bottle of Martini & Rossi. Paolo Saracco makes a very good and inexpensive Moscato d'Asti.
Grenadine
Grenadine is a simple syrup traditionally made using pomegranate juice, but the color and flavor of most brands these days come from food color and artificial flavors.
While grenadine can add a touch of sweet and sour tang to a cocktail, its primary function is to add a bit of color.
Rose's Grenadine is inexpensive and probably the best-known brand of grenadine in the US. However, you should consider using a more natural product, such as Liber & Co. Real Grenadine.
Pineapple Juice
If you can get fresh-squeezed pineapple juice, go with that. If not, look for a brand without added sugar or pulp. Lakewood Organic Pineapple Juice is a great choice, but Dole Pineapple Juice is perfectly fine.
Garnishes
These are great options for adding a little garnish to the drink:
Maraschino Cherry
Orange Slices
Pineapple Chunks, Slices, or Wedges
Use a cocktail skewer to hold garnishes together or simply place the garnish on the edge of the glass.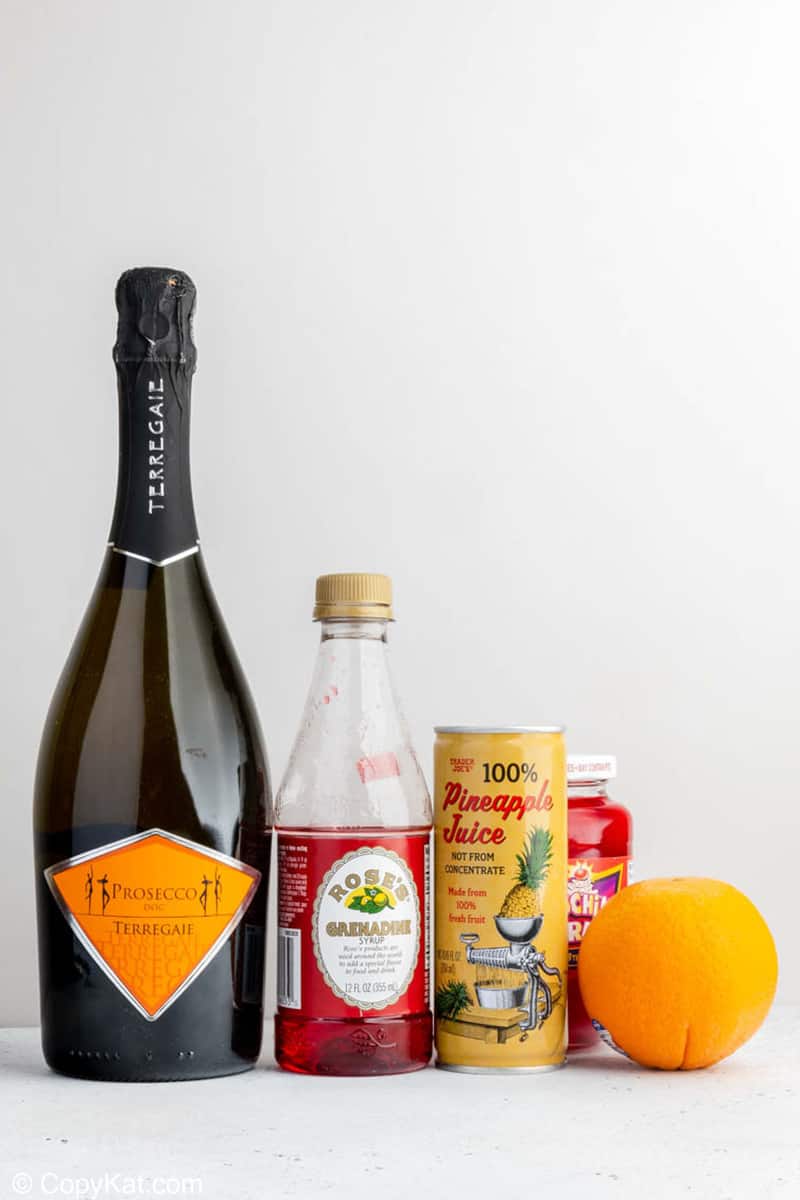 Do I have to use Asti?
No, you don't. Any sparkling white wine will do. Although those that tend to be on the sweet side will better match the characteristics of Asti.
In this Olive Garden Venetian Sunset drink, a good substitute for Asti is another famous Italian sparkling wine, Prosecco.
Prosecco is brighter than Asti and less sweet, but it is delightful in this cocktail. Don't bother with using an expensive Prosecco, but don't go too cheap either. If you can find a demi-sec Prosecco, use it, but you don't want to go much drier than a bottle labeled "dry." Freixenet is a good, inexpensive Prosecco that many people enjoy.
Other good options include:
Spanish Cava such as Dulce Anna Cava.
Sweet Sparkling Rosé such as Graham Beck Bliss Nectar Rosé.
Demi-Sec Champagne such as Veuve Clicquot or Piper Heidsieck Sublime.
For an alcohol-free cocktail, you can even use sparkling apple juice, like Martinelli's Gold Medal Sparkling Apple Cider.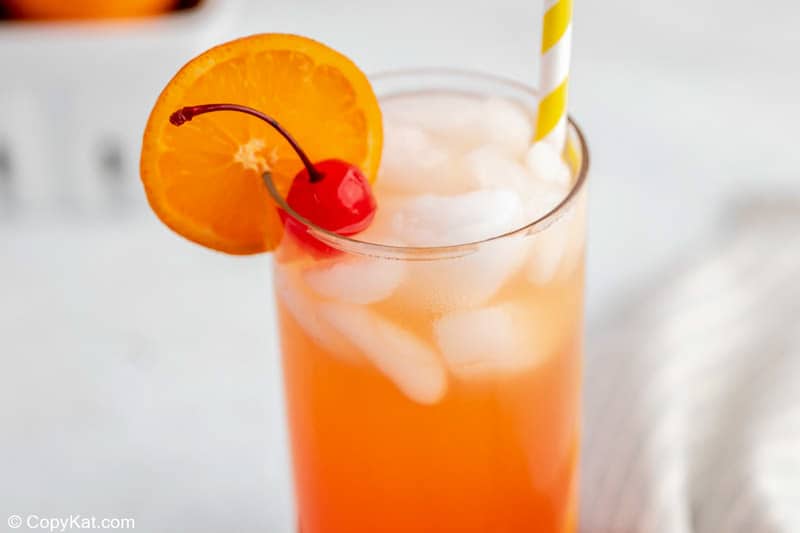 How to Make Olive Garden Venetian Sunset Drink
Fill a tall glass halfway with ice.
Add Asti.
Add pineapple juice.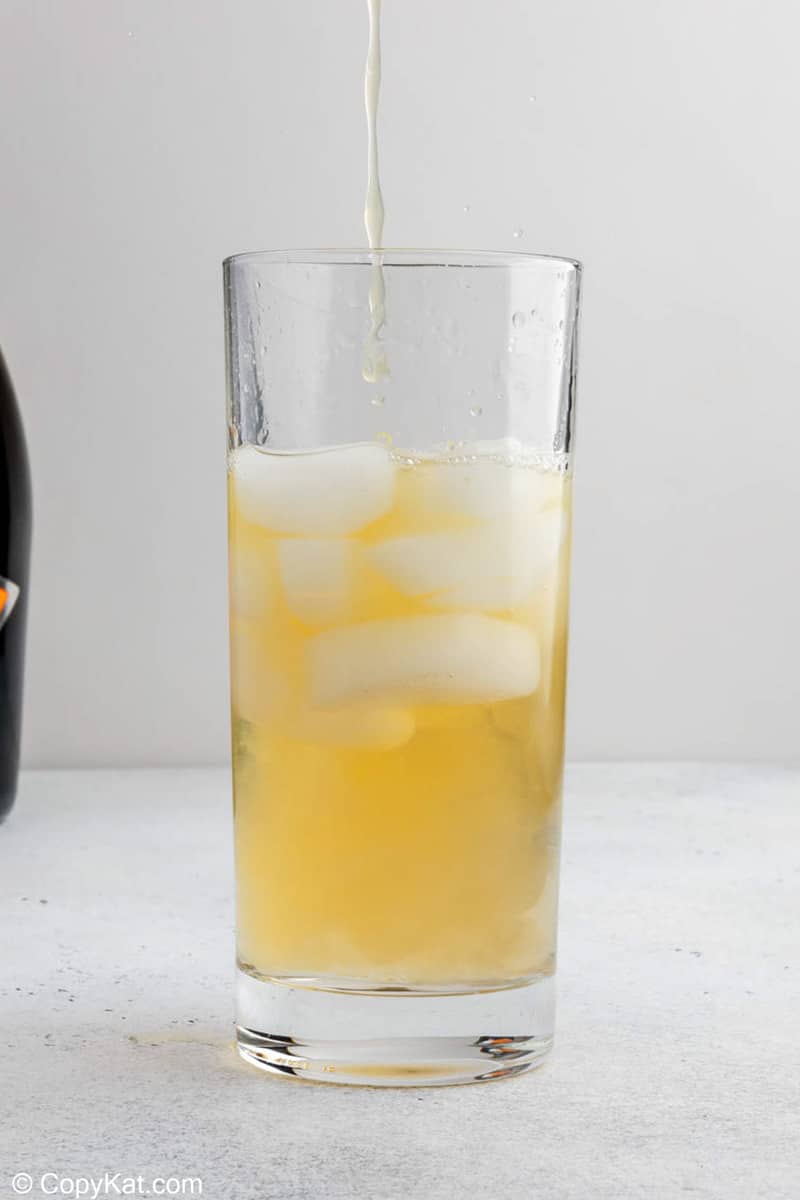 Carefully pour grenadine over the back of a spoon to float the grenadine on top of the pineapple juice.
Do not stir the drink, the grenadine will slowly sink into the drink.
Garnish with an orange slice and a maraschino cherry.
How to Float Grenadine on Top of a Drink
The beauty of this drink comes from the thin layer of grenadine on top as it slowly blends with the yellow pineapple juice. You need to know how to float the grenadine on top to get the right effect. Luckily, it isn't too tricky.
Pour the pineapple juice and sparkling wine into a champagne flute.
Place a bar spoon against the inside of the glass just about the level of liquid in the glass.
Slowly pour the grenadine over the back of the bar spoon. Serve immediately.
More Olive Garden Drinks
Popular Cocktail Recipes
Check out more of my easy cocktail recipes and the best Olive Garden drink recipes here on CopyKat!
Ingredients
8

ounces

Asti or other sweet sparkling wine

2

ounces

pineapple juice

1/2

ounce

grenadine

1

orange slice

1

maraschino cherry
Instructions
Fill a tall glass halfway full of ice.

Add Asti and pineapple juice.

Carefully pour the grenadine over the back of a spoon so that it floats on top of the pineapple juice. To maintain the layered appearance, do not stir. The grenadine will slowly sink into the drink. 

Garnish with an orange slice and a maraschino cherry.
Nutrition
Calories:
188
kcal
|
Carbohydrates:
22
g
|
Protein:
1
g
|
Fat:
1
g
|
Polyunsaturated Fat:
1
g
|
Monounsaturated Fat:
1
g
|
Sodium:
21
mg
|
Potassium:
280
mg
|
Fiber:
1
g
|
Sugar:
17
g
|
Vitamin A:
7
IU
|
Vitamin C:
6
mg
|
Calcium:
32
mg
|
Iron:
1
mg