Transport your taste buds to Italy's stunning coastline with an Olive Garden Blue Amalfi drink A captivating blend of vibrant Blue Curacao, smooth vodka, and refreshing lemonade, this cocktail captures the essence of summer by the Amalfi coast. Its dazzling azure hue mirrors the Mediterranean's sparkling waters, making every sip a mini-vacation.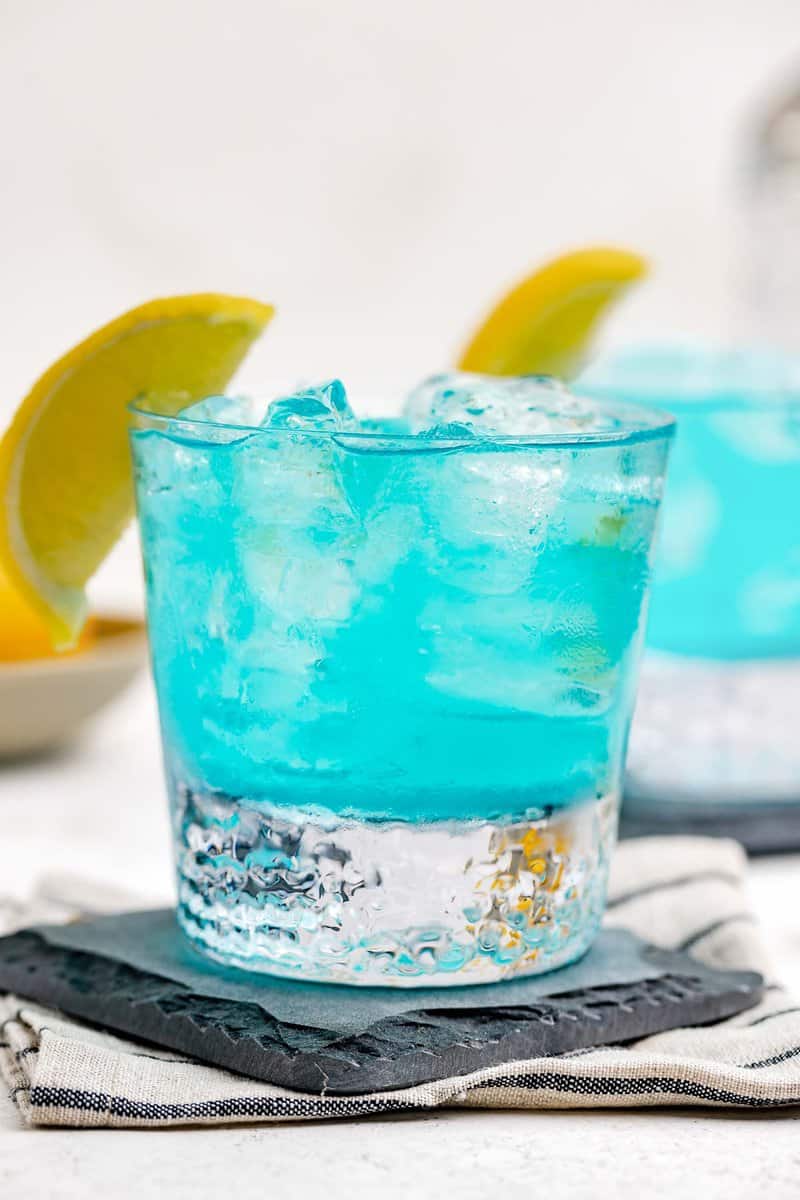 This post contains affiliate links. As an Amazon Associate, I earn from qualifying purchases.
What Makes the Olive Garden Blue Amalfi So Good?
Named after the bright turquoise waters off the coastal town of Amalfi in Salerno, Italy, a Blue Amalfi drink will whisk you away to a land of white sands and warm breezes. Just be careful not to overindulge. The easy-drinking and refreshingly sweet tang of citrus tempered with just a touch of bitterness belies a good amount of alcohol.
Why You Should Try This Recipe
While the name of this cocktail may be exclusive to the Olive Garden, the drink is not. It is almost an exact copy of the more widely known Blue Lagoon from Harry's Bar in Paris. But, unlike the Blue Lagoon, the Olive Garden Blue Amalfi recipe ups the amount of spirits significantly, giving this drink a powerful kick. You can easily make a pitcher and keep it in the fridge for a rejuvenating cocktail at a moment's notice.
Blue Amalfi Drink Ingredients
Minute Maid Lemonade
Blue Curacao
New Amsterdam Vodka
Lemon wedge for garnish
Minute Maid Lemonade has the perfect ratio of sweetness and tang, but you can use another brand or even homemade lemonade if you prefer.
Blue Curacao is that famous blue-colored liqueur made with the dried peel of a citrus fruit called Laraha. The taste is bitter with sweet notes and compares with the flavor of Triple Sec. Bols Blue Curacao is one of the best-selling Blue Curacaos, but you can find brands like Mr. Boston for about half the price.
New Amsterdam Vodka is a very well-priced vodka that is inexpensive but doesn't taste cheap. It will not only work in a Blue Amalfi Olive Garden style cocktail, but is drinkable straight. It is a tough brand to beat for the price point.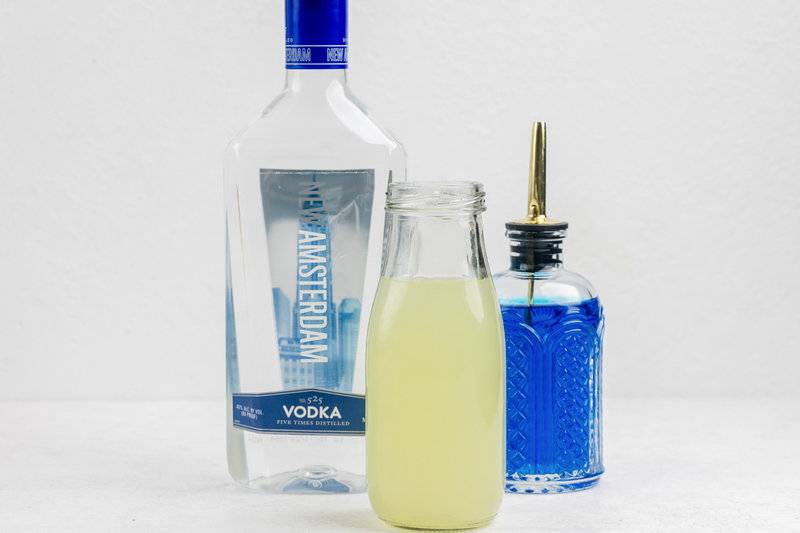 How to Make a Blue Amalfi Cocktail
To prepare a single drink:
Fill a cocktail shaker with ice.
Add the Minute Maid Lemonade, Blue Curacao, and New Amsterdam Vodka.
Cover and shake well until the outside is cold.
Fill a glass with ice. You can use a rocks, highball, or hurricane glass.
Strain the Blue Amalfi into the ice-filled glass and garnish with a lemon wheel.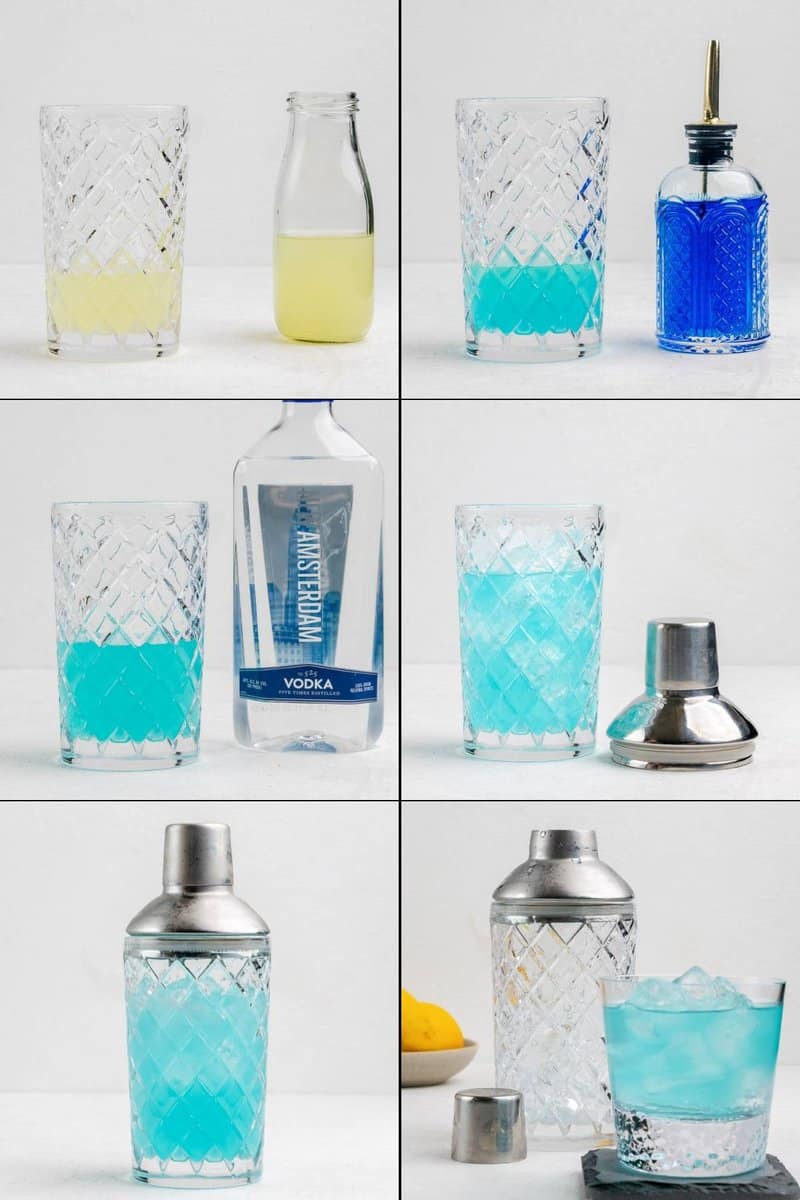 What to Serve It With
Since a Blue Amalfi cocktail leans to the tropical and Tiki style of drink, it will pair well with quirky, sharable dishes. Try some of these:
Applebee's Chicken Wonton Tacos. Chicken Wonton Tacos stuff crispy wrappers with tender shredded chicken and an Asian Slaw mix for a deliciously addictive bite.
Bacon-Wrapped Jalapeno Poppers. The mold heat from these classic Jalapeno Poppers wrapped in bacon complements the sweetness of a Blue Amalfi.
Parrot Bay Coconut Shrimp. Coated in sweet shredded coconut and then fried until golden, these plump and juicy Parrot Bay Coconut Shrimp are even better when dipped in spicy cocktail sauce.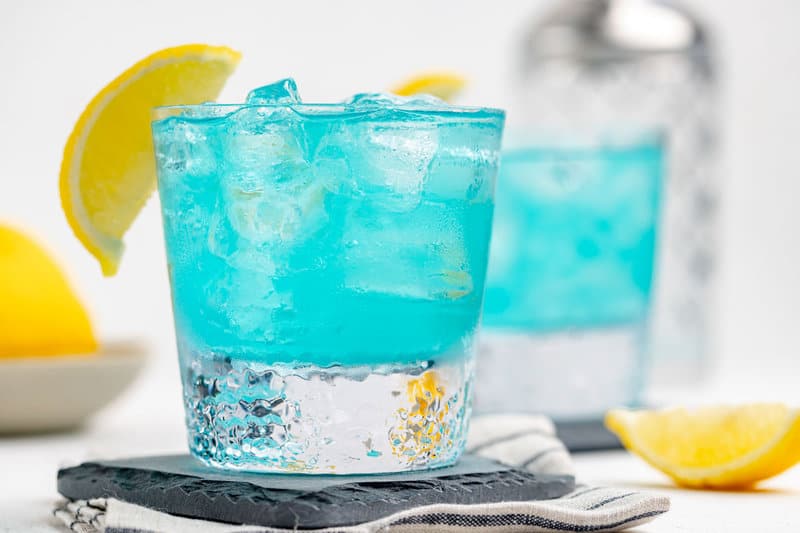 Whether sipping on it poolside or pairing it with a range of delectable dishes, the Blue Amalfi cocktail promises a tropical escape in every sip, transporting you to sun-soaked shores and warm breezes with each taste. So, raise your glass to the Olive Garden's Blue Amalfi and embark on a flavorful journey that evokes the essence of Amalfi's turquoise waters and the joy of Italian hospitality. Cheers!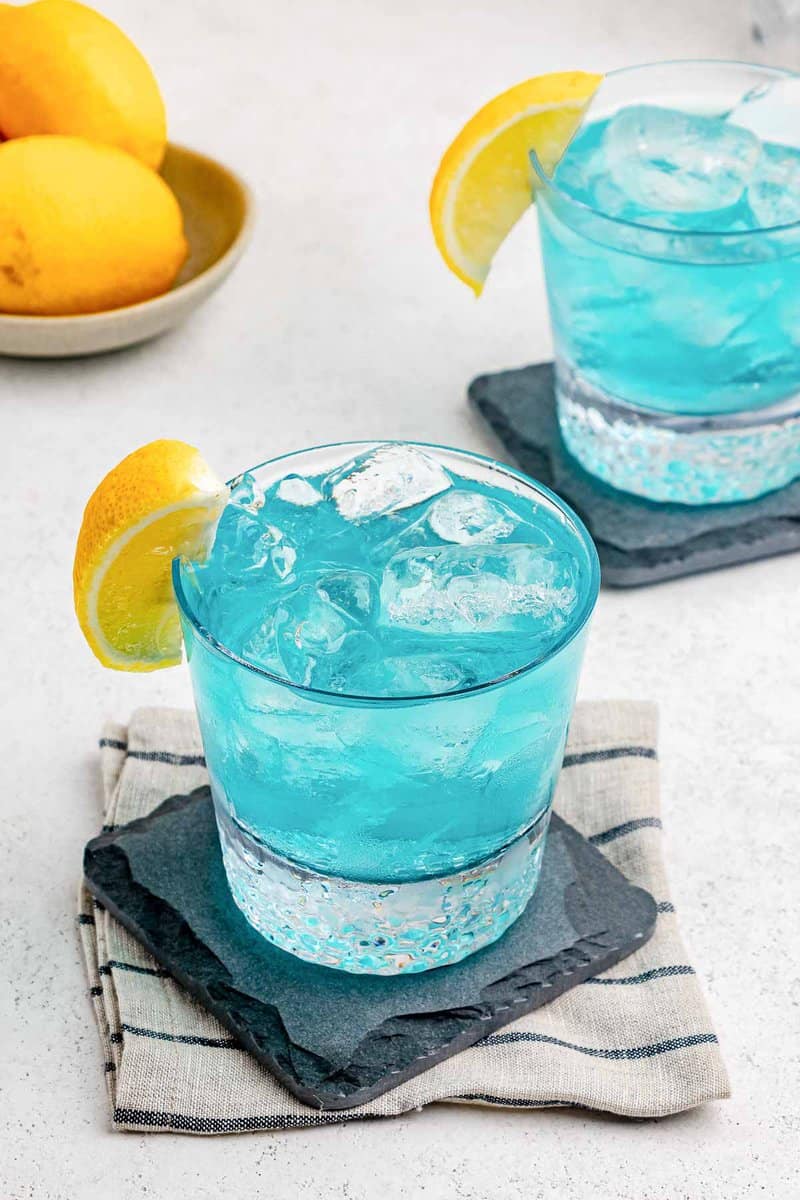 Love the drinks at Olive Garden? Try these copycat recipes!
Popular Refreshing Cocktail Recipes
Check out more of my easy cocktail recipes and the best Olive Garden recipes on CopyKat!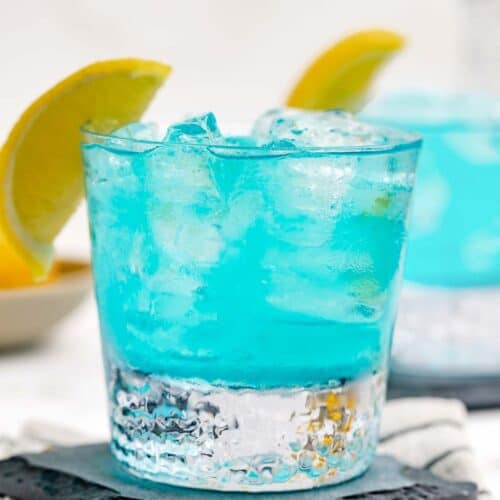 Ingredients
4

ounces

Minute Maid Country Style Lemonade

½

ounce

blue Curaçao

2

ounces

New Amsterdam Vodka

1

lemon wedge

to garnish
Instructions
Pour all the ingredients into a shaker with ice. Shake and strain into a glass .

Garnish with a lemon wedge.
Nutrition
Calories:
230
kcal
|
Carbohydrates:
20
g
|
Protein:
0.2
g
|
Fat:
0.1
g
|
Saturated Fat:
0.01
g
|
Polyunsaturated Fat:
0.02
g
|
Sodium:
8
mg
|
Potassium:
25
mg
|
Fiber:
1
g
|
Sugar:
16
g
|
Vitamin A:
4
IU
|
Vitamin C:
10
mg
|
Calcium:
5
mg
|
Iron:
0.1
mg