Taco Bell Double Decker Taco is a delicious soft tortilla with refried beans wrapped over a crispy taco and filled with seasoned ground beef, cheese, and tasty toppings. Perfect for a quick weeknight meal or a fun party snack, this homemade Double Decker Taco Supreme is sure to be a favorite.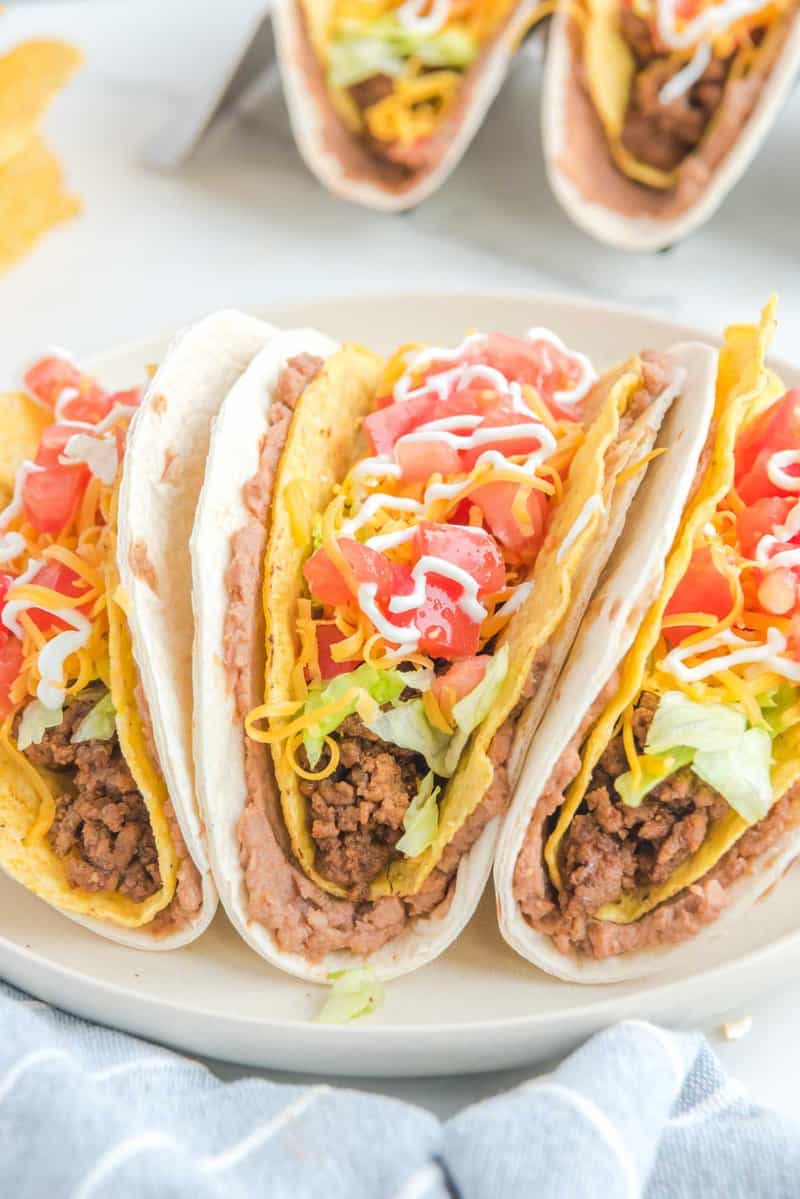 This post contains affiliate links. As an Amazon Associate, I earn from qualifying purchases.
What Makes a Taco Bell Double Decker Taco So Good?
If you subscribe to the idea that more is better, you'll love this recipe for Double Decker Tacos. But what is a Double Decker Taco at Taco Bell? It's an all-star combination of two of the chain's most popular menu items into one fantastic meal.
While wrapping a warm flour tortilla spread with refried beans around a fully loaded hard shell beef taco may not sound very innovative, the resulting contrast of flavors and textures makes the Double Decker Taco pure genius.
Why You Should Try This Recipe
Well, other than the fact that these tacos are delicious, the biggest reason you should make this copycat version at home is that you can no longer get the original at any Taco Bell. Whether you remember wolfing down two or three Taco Bell Double Decker tacos in a single meal or have never tried it, you'll want to save this recipe for your next Taco Tuesday.
Why Was This Item Discontinued?
The Taco Bell Double Decker Taco first appeared on the chain's menus way back in 1995. The creation was always intended to be a limited-time item, but its popularity with customers kept it as a restaurant staple until 2006, when it was finally gone for good; or was it?
In 2022, customers had the chance to bring it back, but it lost in a poll to another discontinued favorite, Enchiritos. Will it come back at some point in the future? Maybe. But you can recreate it today with this copycat version.
Ingredients You Will Need
For the beef filling, you'll need:
Ground chuck
Masa harina
Chili powder
Onion powder
Garlic powder
Seasoning salt
Smoked paprika
Ground cumin
Garlic salt
Sugar
Dried minced onion
Beef bouillon
For the shells and toppings, you'll need:
Refried beans
Small flour tortillas
Crisp taco shells
Iceberg lettuce shredded
Shredded cheddar cheese
Roma tomatoes diced
Sour cream optional
How to Make Double Decker Tacos
To make the taco seasoning:
Place the seasoning ingredients in a small bowl.
Use a fork or whisk to combine them.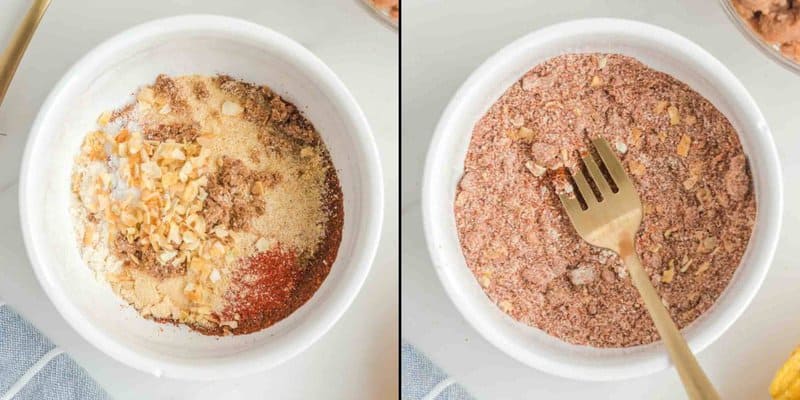 To make the ground beef filling:
Heat a large skillet over medium-high heat.
Add the ground beef to the skillet and break up the meat. Let the ground beef brown while stirring occasionally.
When the beef is fully cooked, dump the meat into a strainer. Return the skillet to the stove.
Rinse the beef with hot water to get rid of any extra grease, and return the meat to the skillet.
Dump the taco seasoning mix into the beef and rinse the bowl with about a cup of water. Pour the water into the skillet with the meat.
Bring it to a boil then turn the heat down to medium-low and simmer until most of the liquid is gone, about 20 minutes.
Remove the meat filling from the heat and keep it for later.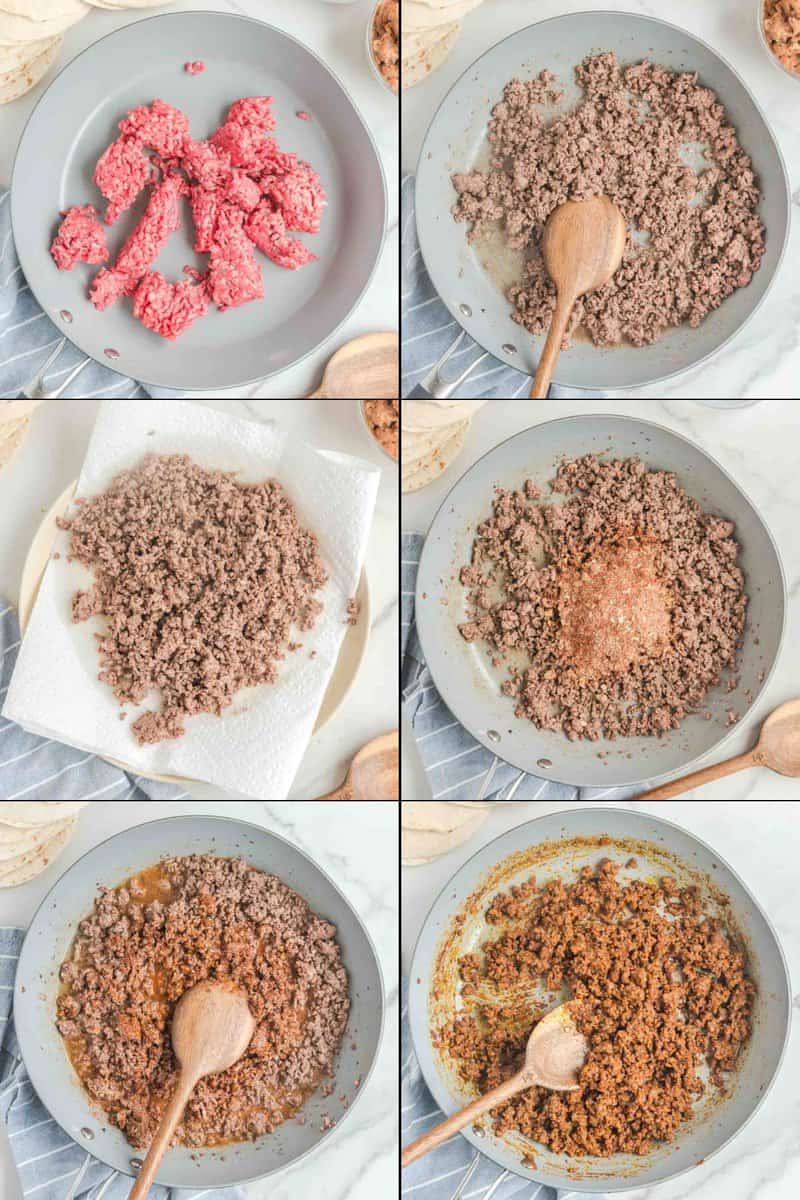 To assemble a Double Decker Taco:
Preheat the oven to 350°F.
While the oven is heating up, chop the tomatoes and shred the lettuce. Set the veggies to the side.
Place the hard shells on a baking tray and cover them with aluminum foil. Warm the taco shells in the oven for a few minutes.
Heat the refried beans in the microwave or on the stove until hot.
Microwave a tortilla for 20 to 30 seconds and spread it with a thin layer of warm refried beans.
Carefully wrap the flour tortilla around the crunchy taco shell.
Spoon the ground beef into the warm hard shells. Top the meat with shredded lettuce, cheese, chopped tomatoes, and sour cream (or your favorite taco toppings). Serve immediately.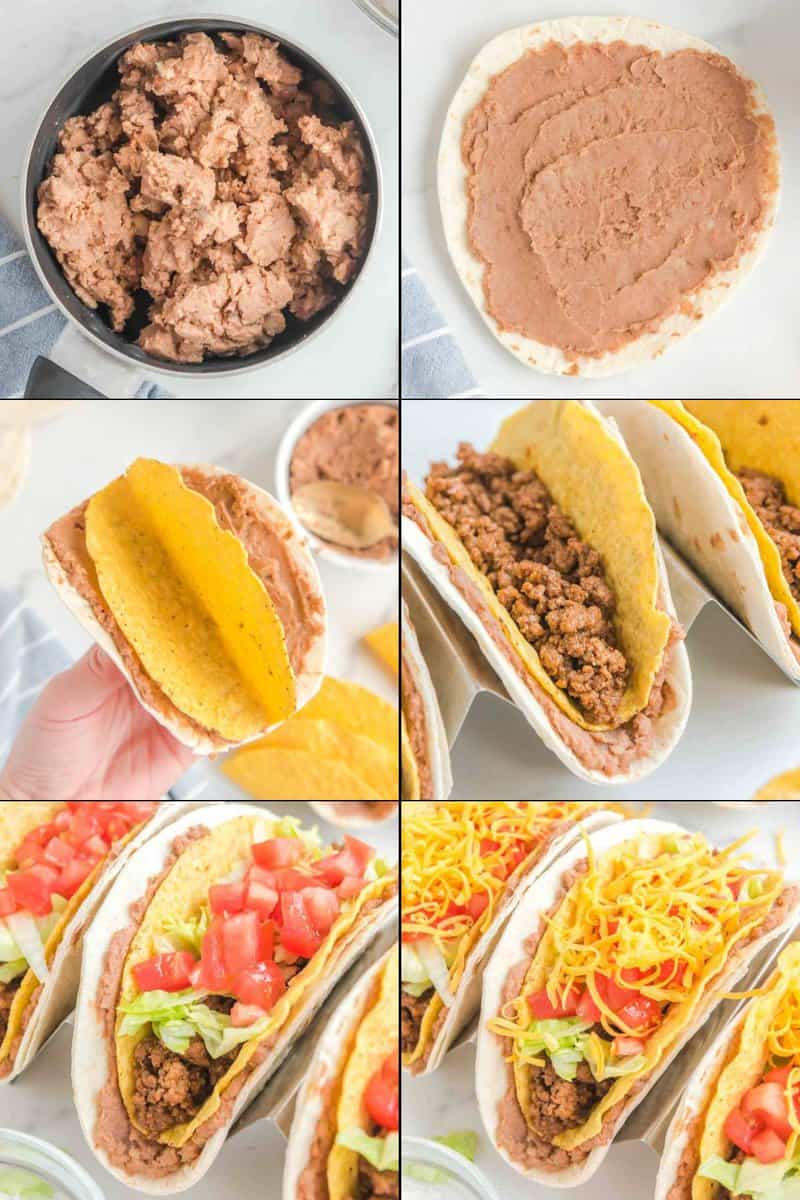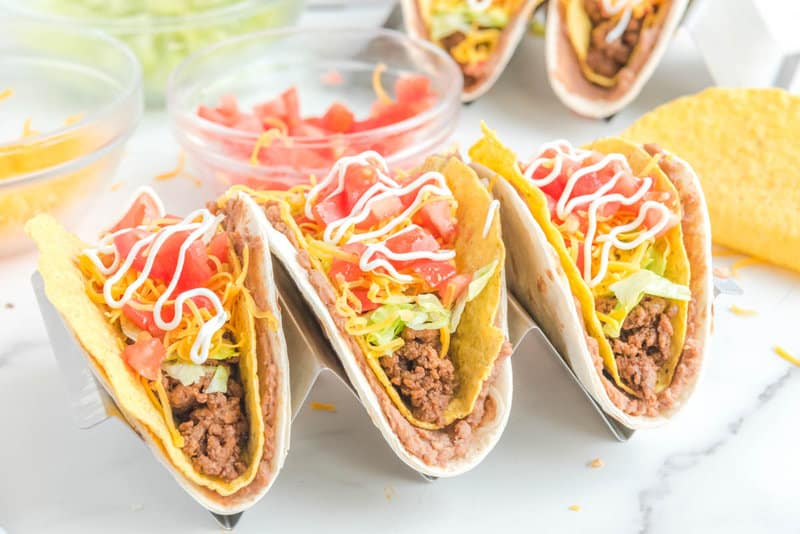 What to Serve With These Tacos From Taco Bell
Enjoy your favorite Mexican-inspired side dishes. Here are three that go particularly well with this taco:
Nacho Fries are crispy with just the right amount of south-of-the-border spices to keep them from being too boring. Don't forget to dip them in cheese sauce for the authentic nacho taste.
Corn Salsa showcases the sweetness of fresh corn but has a touch of heat and pronounced smokiness from the poblano peppers. Add the corn salsa to your tacos, or eat it on its own.
Who can resist a margarita or two? It's the perfect drink whenever you want to feel like you're on a tropical vacation and pairs well with Mexican food.
How to Store the Leftovers
The cooked ground beef should last three or four days in an airtight container in the fridge. Try to prep only as many toppings as you can eat at one time. Chopped vegetables won't stay fresh for more than a couple of hours.
More Taco Bell Copycat Recipes
Favorite Mexican Recipes
Check out more of my easy Mexican recipes and the best copycat Taco Bell recipes on CopyKat!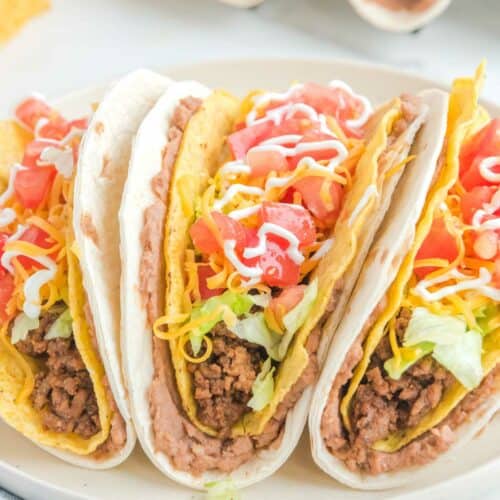 Ingredients
Beef Filling
1 1/2

tablespoons

masa harina

4 1/2

teaspoons

chili powder

1/2

teaspoon

onion powder

1/2

teaspoon

garlic powder

1/2

teaspoon

seasoning salt

1/2

teaspoon

paprika

1/4

teaspoon

ground cumin

1/2

teaspoon

garlic salt

1/4

teaspoon

sugar

1

teaspoon

dried minced onion

1/2

teaspoon

beef bouillon powder

1 1/3

pounds

ground chuck
Shells and Toppings
1

can

refried beans

12

soft flour tortillas

12

crispy taco shells

1/2

head

iceberg lettuce

shredded

1

cup

shredded cheddar cheese

2

Roma tomatoes

diced

1

cup

sour cream

optional
Instructions
Combine all the ingredients for the beef filling in a small bowl, except for the ground chuck. Mix well.

Crumble the ground chuck into a large skillet (preferably nonstick) over medium-high heat and cook, stirring, until the meat has browned. Drain the beef in a strainer over the sink and rinse with hot water.

Return the beef to the pan along with the spice mix and 3/4 to 1 cup of water. Stir to combine and simmer on medium-low heat for 20 minutes, until most of the moisture has cooked away. Remove from heat before the pan is completely dry.

Heat the refried beans in a small pot on the stove over low heat for about 5 to 8 minutes or until the beans have warmed through and are soft.

Wrap the soft flour tortillas in a clean towel and sprinkle the towel with a few drops of water. Microwave on high power for 30 to 45 seconds or until the tortillas are soft and pliable.

If desired, warm the crispy taco shells in the oven at 350°F for 7 to 10 minutes.

To assemble to tacos, spread about 1 tablespoon of refried beans on a soft tortilla and fold the bean-covered soft tortilla around the crispy taco shell. Spoon a few tablespoons of meat into each taco shell. Top with lettuce, cheese, tomatoes, and sour cream, if desired. Repeat with the remaining shells and fillings and serve immediately.
Nutrition
Calories:
378
kcal
|
Carbohydrates:
28
g
|
Protein:
16
g
|
Fat:
22
g
|
Saturated Fat:
9
g
|
Polyunsaturated Fat:
2
g
|
Monounsaturated Fat:
7
g
|
Trans Fat:
1
g
|
Cholesterol:
57
mg
|
Sodium:
678
mg
|
Potassium:
319
mg
|
Fiber:
3
g
|
Sugar:
3
g
|
Vitamin A:
694
IU
|
Vitamin C:
3
mg
|
Calcium:
167
mg
|
Iron:
3
mg