Chili's Presidente Margarita is truly a special drink made with anejo tequila, brandy, orange liqueur, and sour mix. This tasty cocktail is perfect for any fun occasion.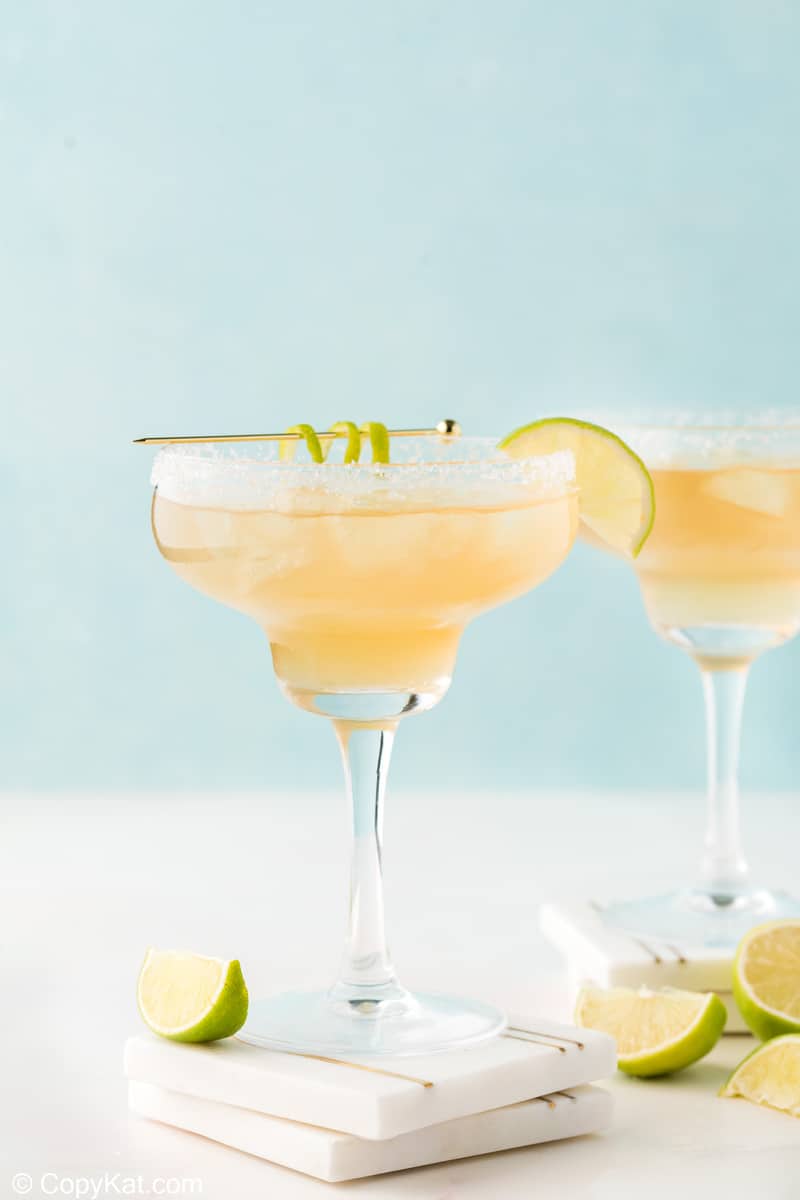 Make Chili's Presidente Margarita at Home
Chili's makes one of the best margaritas ever. You don't have to decide who is going to be the designated driver. Now everyone can drink when you make your favorite cocktails at home.
Chili's Bar and Grill serves up a wide range of popular American comfort foods and Southwest favorites, but the list of Chili's drink recipes go beyond just the ordinary. Chili's is one chain that prides itself on serving up some of the best Margaritas around. But perhaps the most loved of Chili's Margarita recipes is the Presidente. Chili's Presidente Margarita is a premium cocktail that uses only top-shelf ingredients to re-imagine the idea of what a great Margarita can be by creating a smooth drink with a lot of kick. You will definitely want to sip this one slow to savor it.
The Ingredients of Chili's Presidente Margarita
Suaza Commemorativo
Although most Margaritas are made with a blanco tequila, meaning a clear and unaged tequila, the Presidente Margarita requires one that is much older. Suaza Commemorativo rests for years in oak casks to smooth the rough edges common in younger tequila and develop a distinctive taste. If you are unable to find this premium spirit, you use any añejo tequila.
Presidente Brandy
Presidente Brandy is the spirit that not only lends its name to the cocktail but also makes it truly special. Presidente Brandy is the best-selling liquor in Mexico, and for a good reason, it is impressive stuff. Smooth, with just a bit of bite, it pairs surprisingly well with an older tequila. But Presidente Brandy does come at a premium price. Therefore, you may wish to substitute a less expensive brand like E&J.
Patron Citronge Orange
Patron Citronge Orange takes the place of ordinary Triple Sec in this Margarita recipe. Distilled in Mexico, this pure and 100 percent natural orange-flavored liqueur has a wonderfully bold flavor that can stand out in this cocktail. If you cannot find Patron Citronge Orange, you can use Cointreau or Triple Sec in its place.
Something This Good Deserves a Fair Shake
Chili's takes great care in crafting extraordinary cocktails, even going as far as advertising that they give each one of their Presidente Margaritas 25 shakes by hand. Whether 25 is the optimum number of shakes is still open to debate, the need for some serious shaking is not. Shaking not only mixes and cools the cocktail, but it slightly dilutes it while incorporating air that helps to bring out the complex flavors of the drink.
Tips for Making and Serving Chili's Presidente Margarita
Use a Margarita glass. Sure, you can use any type of glass you want to serve this cocktail, but this premium drink deserves a proper Margarita glass. Not only does the stem allow you to hold the glass without warming it, but the extra-wide rim also allows for plenty of salt.
Rim the glass with salt. Sometimes salt on the rim is overkill, but not for this recipe. Use a lime wedge to moisten the glass's edge and then dip it onto a plate full of Margarita salt.
Make your own Margarita salt. Combine the zest of one lime and half of an orange with two tablespoons of kosher salt. Use a rolling pin to crush together.
Check out more of our Chili's recipes on YouTube!
Ingredients
Here's a list of what you need:
Anejo tequila, Suaza Commemorativo recommended
Presidente brandy or your favorite brandy
Orange liqueur (Patron Citronge, Cointreau, or triple sec)
Sour Mix
Lime
Margarita salt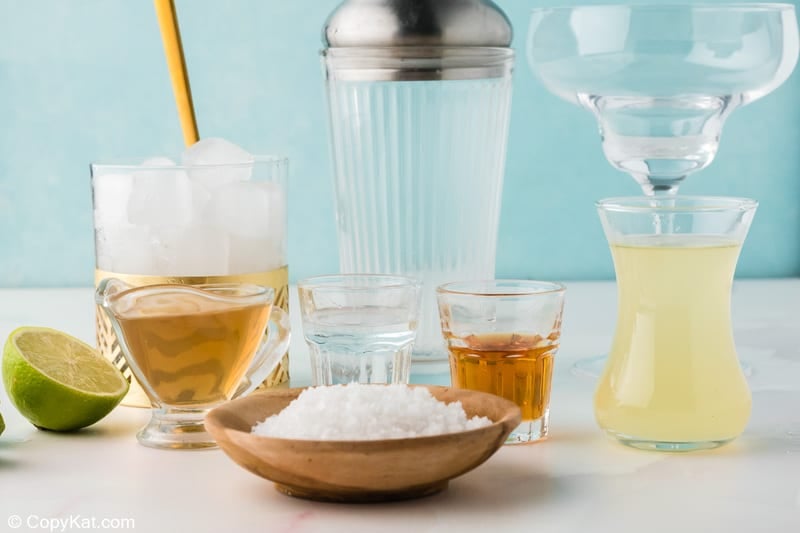 How to Make Chili's Presidente Margarita
Cut the lime into wedges.
Rub a lime wedge around the rim of a margarita glass.

Dip wet glass rim into margarita salt.

Fill the glass with ice.
In a cocktail shaker, add tequila, brandy, orange liquor, and sour mix.

Add ice to the shaker.

Shake until blended.

Strain and pour over the ice in the margarita glass.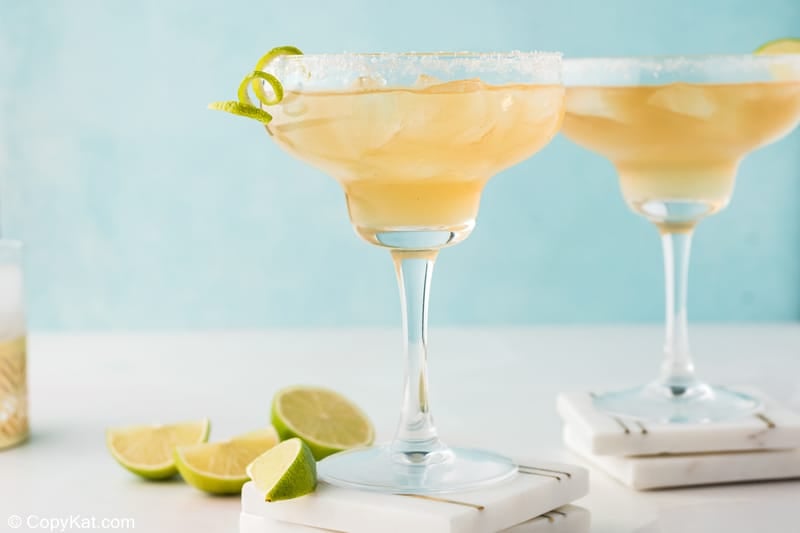 Love Chili's? Try these copycat recipes!
Popular Cocktail Recipes
For more great drinks try The Bartender's Companion: A Complete Drink Recipe Guide by Robert Plotkin.
Check out more of my copycat restaurant recipes and the best cocktail recipes here on CopyKat!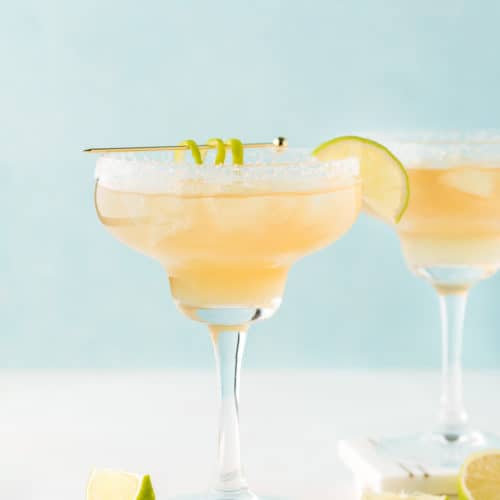 Ingredients
1 1/4

ounce

Sauza Commemorativo Anejo Tequila

1/2

ounce

Presidente Brandy

1/2

ounce

Patron Citronge

3

ounces

sour mix

splash

lime juice
Instructions
Rim glass with 1 wedge of lime.

Dip wet margarita glass rim into margarita salt.

In a boston shaker add tequila, brandy, orange liquor, fill with ice.

Shake. Pour over fresh ice in the salt rimmed margarita glass.
Nutrition
Calories:
195
kcal
|
Carbohydrates:
14
g
|
Protein:
0
g
|
Fat:
0
g
|
Saturated Fat:
0
g
|
Cholesterol:
0
mg
|
Sodium:
16
mg
|
Sugar:
14
g
A fellow viewer graciously submitted this recipe!