With the best parts of a burrito and an enchilada in one, this on-again, off-again Taco Bell menu item is perfect for big appetites looking for big flavors.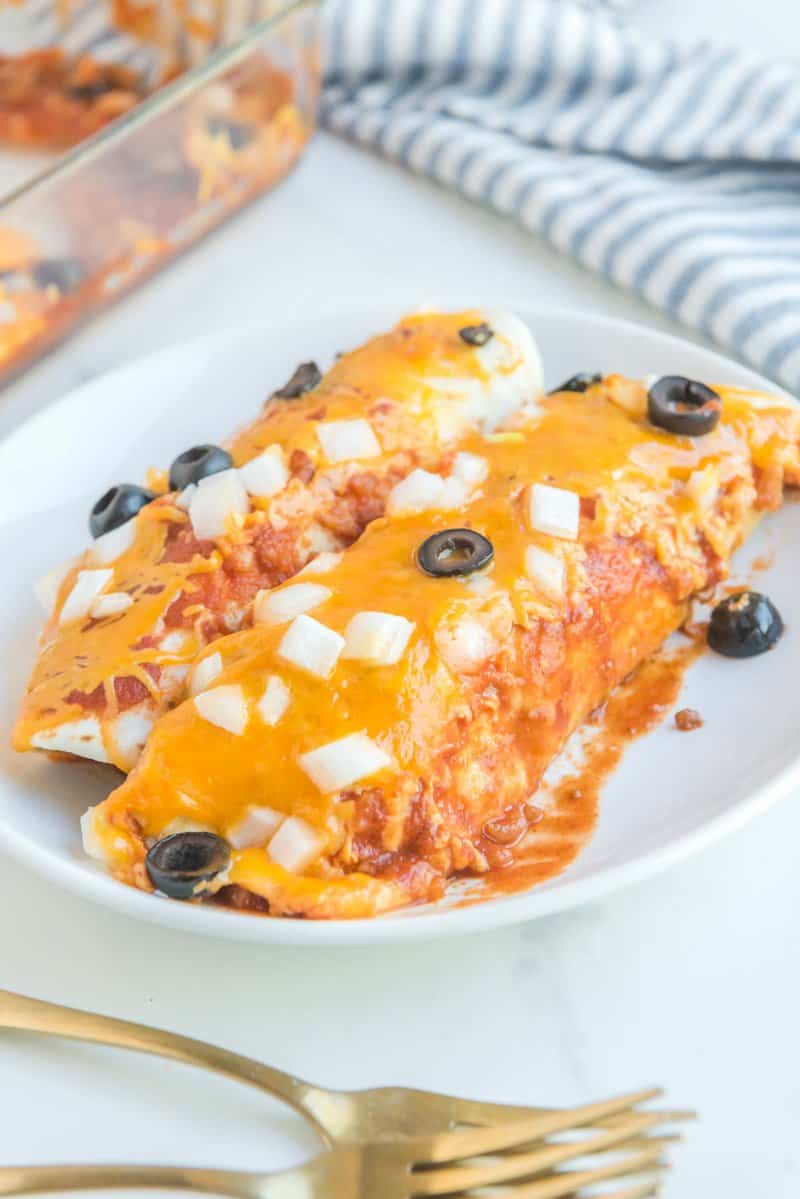 This post contains affiliate links. As an Amazon Associate, I earn from qualifying purchases.
About the Taco Bell Enchirito
Taco Bell is well-known for mixing and matching classic Mexican and Tex-Mex dishes to create delicious combinations, like the quesarito, a burrito rolled up with a cheese quesadilla as the tortilla. But one of the chain's original fusion menu items is the enchirito, which combines the best parts of a burrito and an enchilada.
The dish, made up of a traditional beef, bean, and cheese burrito smothered in red enchilada sauce and topped with shredded cheese, first appeared on the chain's menu in the 1970s. But whether or not you'll find it on the menu may vary, as it's been discontinued and reintroduced several times since.
Luckily, if you're craving one, there's no need to worry whether the Enchirito is currently available at your local Taco Bell or even about trying to order it off the "secret menu," for that matter. It's easy to make at home and just as mouthwatering as the real thing.
Why This is the Best Recipe for a Taco Bell Enchirito
With relatively simple ingredients, the enchirito gets its authentic taste from the spice mixture that seasons the beef and sauce. This combination perfectly mimics the real taco seasoning from Taco Bell.
In addition, it's simple to make in both small and large batches and provides an easy, affordable, filling dinner or meal prep lunch. Plus, who can turn down the intense cheesy, beefy, saucy flavor, one of the heartiest dishes to ever grace Taco Bell's menu?
Why You Won't Want to Miss this Delicious Taco Bell Treat
The Sauce – I think the sauce really makes the difference in this recipe. The original Taco Bell sauce has good flavor and just the right amount of spice without being overly hot.
You may even want to double the portion of the sauce so you will some on hand to pour over tacos or to use with your other favorite Mexican recipes. I love to use this sauce when I make homemade nachos.
Enchirito Ingredients
The list of ingredients in the Taco Bell enchirito recipe may be long, but don't let it stress you out. Most are likely already in your pantry or spice rack, and others are easy to find and typically affordable.
For the burrito's seasoned beef filling:
Ground chuck
Masa harina
Chili powder
Onion powder
Garlic powder
Seasoned salt
Paprika
Ground cumin
Garlic salt
Sugar
Dried minced onion
Beef bouillon powder
Water
For the enchirito sauce:
Canned tomato sauce
Water
Chili powder
Cumin
Minced onion
White vinegar
Garlic powder
Garlic salt
Paprika
Sugar
Cayenne pepper
For assembling the enchiritos:
Soft flour tortillas
Refried beans
Shredded cheddar cheese
White onion
Sliced black olives
Using fresh, high-quality spices is critical for best results, as the seasoning blend does a lot of the heavy lifting when it comes to flavor. Mixing the spice blends ahead of time can make the cooking process quicker and less stressful than in the moment.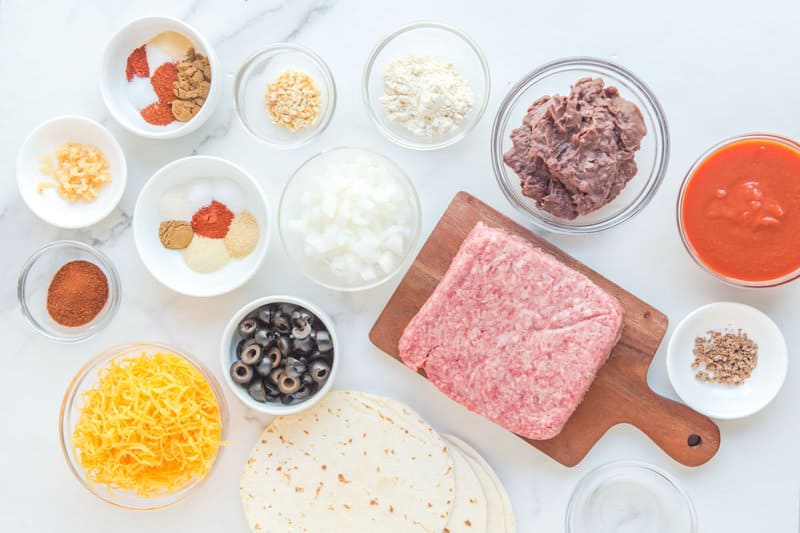 Ingredient Substitutions
Masa harina, a traditional Mexican flour made of dried ground corn treated with lime, is the best choice for a binder and thickener in the seasoned beef. If this isn't available, cornmeal or corn flour (not corn starch) can fill in if necessary.
While the spice blend is optimized for the best flavor, those sensitive to heat can skip the cayenne or reduce the chili powder. On the flip side, add a bit more of these spices or toss a few pickled jalapenos into the filling for additional heat.
The filling is also easy to tweak to your needs. Instead of ground beef, you can use chicken, chorizo, or even vegetarian options like tofu. Likewise, the refried beans can be swapped for black beans and cheddar for pepper jack, colby jack, or any other shredded cheese you desire. The enchirito can even be made gluten-free by replacing the flour tortillas with corn or other non-wheat flour alternatives.
How to Make Taco Bell Enchrito
The first step is making the seasoned beef filling:
Add the spices and masa harina to a small bowl and stir to combine.
Brown the crumbled beef in a large skillet over medium-high heat.
Drain the excess grease and rinse the cooked beef with water.
Return the beef to the skillet and add the seasoning mix and water.
Cook until the liquid has mostly evaporated, and then remove from the heat.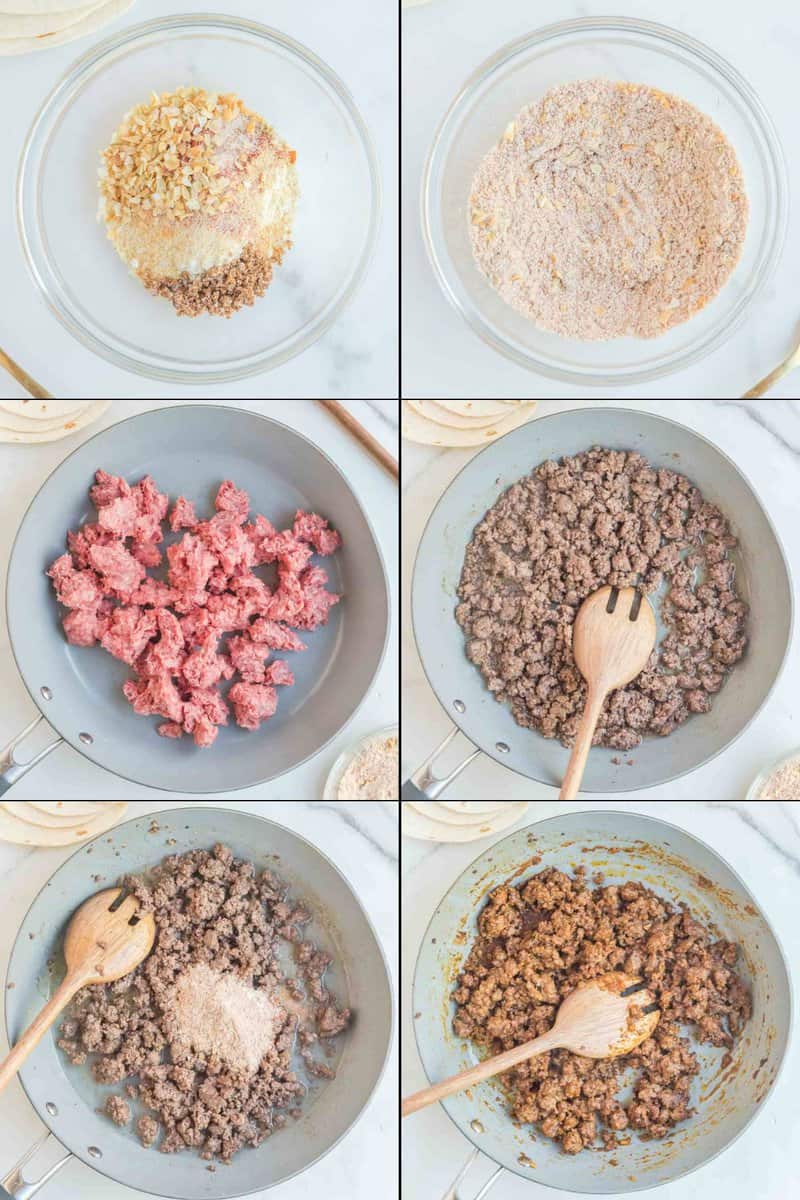 Then make the enchirito sauce:
Place all the sauce ingredients in a saucepan or skillet. Stir to combine.
Cook over low heat for 20 minutes.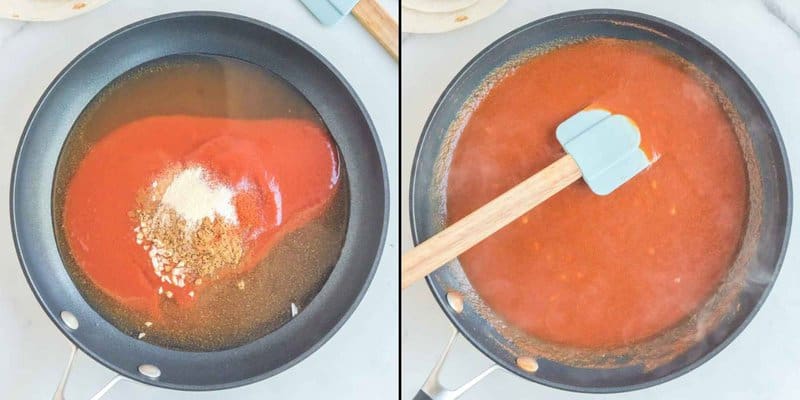 Finally, all that's left is to assemble the enchiritos:
Warm the refried beans in a small pan over medium-low heat. When warmed, spread over the tortillas.
Add a scoop of ground beef on top of the beans along the center of the tortillas.
Roll up the burrito and place it seam-side-down in a baking dish.
Spoon the enchilada red sauce over the burritos, and then sprinkle cheese, diced onion, and olive slices on top.
Bake at 350°F for about 15 minutes.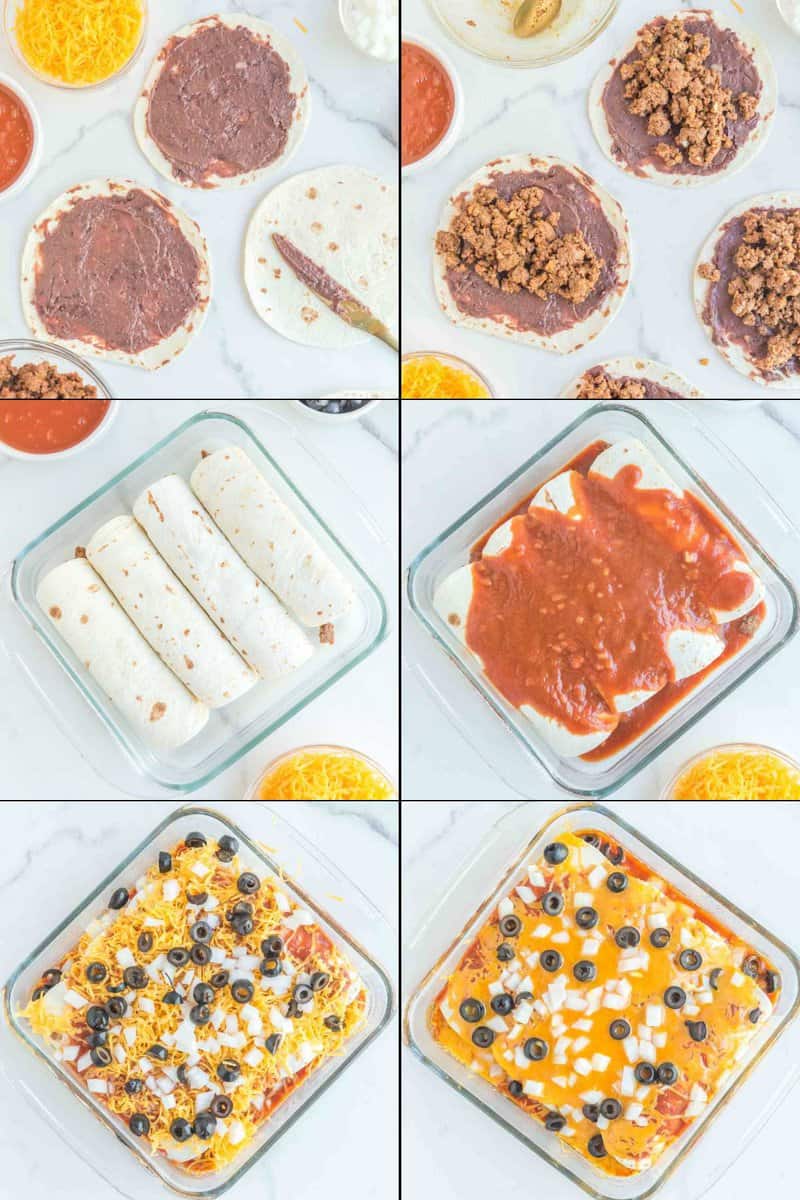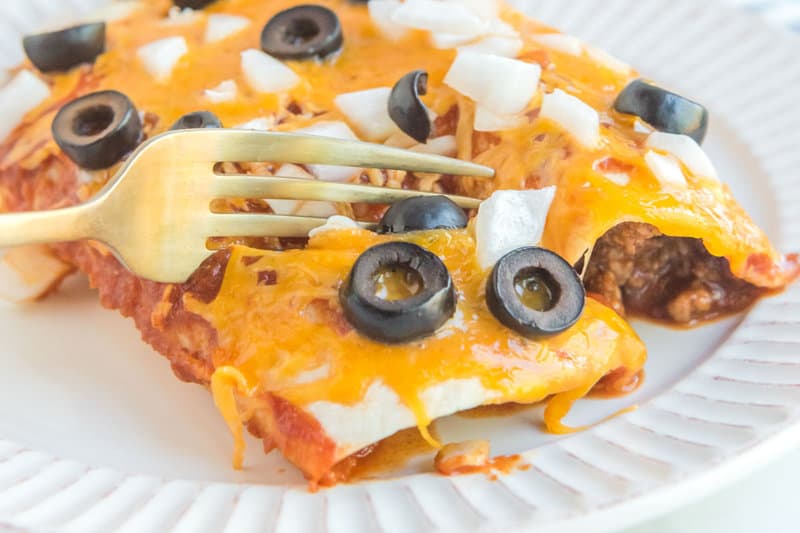 Fun Toppings for Your Enchiritos
The preparation above is the most faithful to the way you'd find the enchirito at its home restaurant. But luckily, your home kitchen has more options than Taco Bell. Try these additions:
Sour cream
Guacamole
Pico de gallo
Green onions
What Goes Well with the Taco Bell Enchirito
Make it a true Taco Bell-inspired Mexican feast by pairing your enchirito with a Taco Bell Soft Taco or a double decker taco, with a soft outside surrounding a crunchy inside shell. Since you'll already have some on hand, refried beans are a great choice for a side, as is Spanish rice or corn salsa.
How to Store Enchiritos
To store these and maintain their quality, follow these guidelines to store in the refrigerator.
Allow enchiritos to cool, but don't leave them at room temperature for more than two hours for food safety reasons.
Place the Enchiritos in an airtight container. You can use a plastic container with a tight-fitting lid or a glass container with a lid. Alternatively, you can wrap them individually in aluminum foil or plastic wrap.
Store them in the refrigerator. Properly stored enchiladas will last for 3 to 5 days in the refrigerator.
What's the Best Way to Reheat an Enchirito
The best way to reheat enchiritos is the same way you cooked them to begin with, in the oven.
Preheat the oven to 350°F (175°C). Remove your enchiritos from the fridge and let them come to room temperature as the oven heats up.
Place them in an oven-safe container. You can use the one they're currently stored in if it's safe for the oven.
Cover the dish with aluminum foil to prevent the enchiritos from drying out.
Heat in the oven for 20-25 minutes until completely warmed through to 165°F (74°C).
Remove the dish from the oven and let the enchiritos cool for a few minutes before enjoying.
While there's no denying it takes longer than popping it in the microwave, using the oven helps preserve texture and flavor far better. If you're in a rush, they can be heated up in the microwave on a microwave-safe plate, covered by a lid, or another microwave-safe plate. Heat them one to two minutes at a time until they're heated through.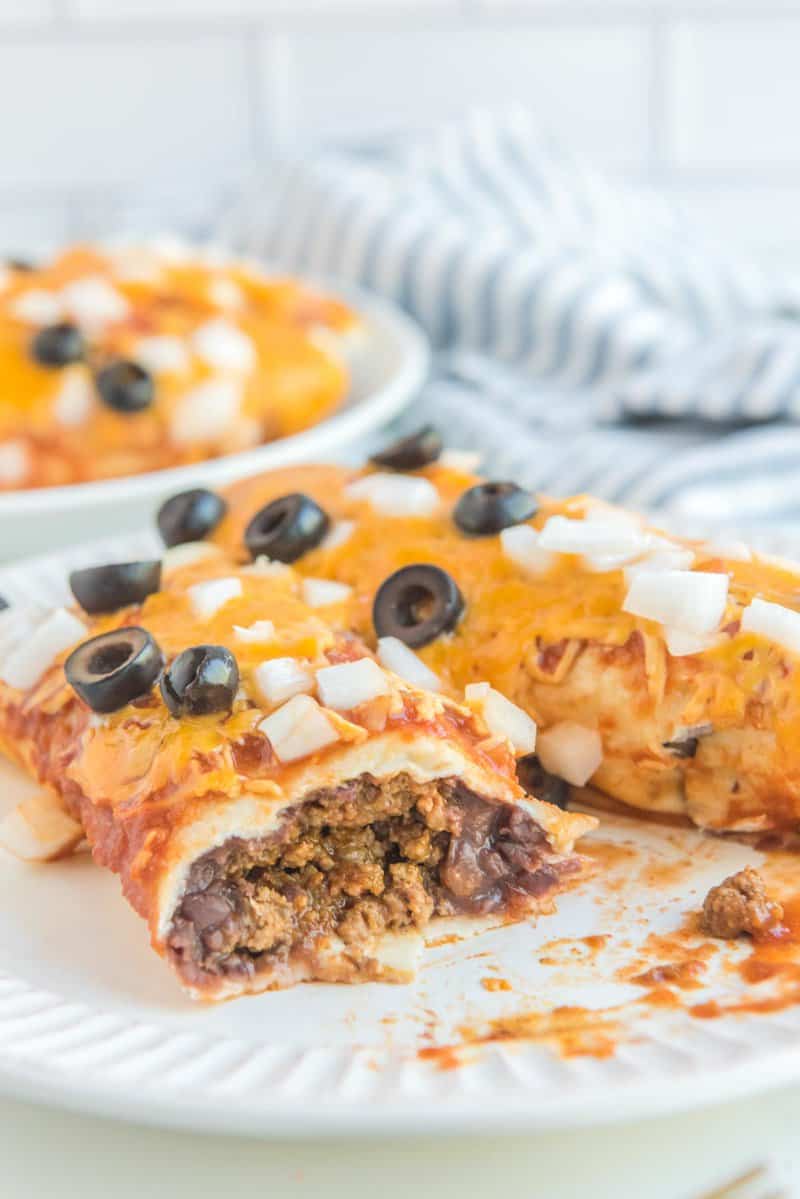 Love Taco Bell? Be sure to check out these recipes
Popular Mexican Recipes
Browse through my Mexican copycat recipes and easy main dish recipes to find delicious meals to make at home.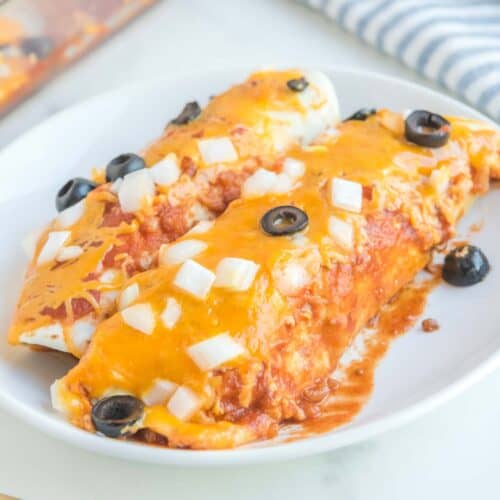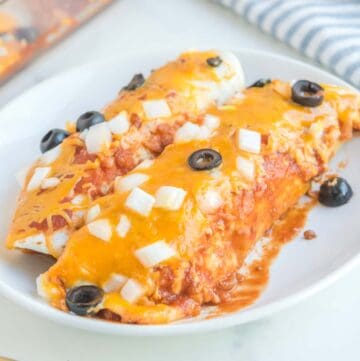 Ingredients
Beef
1 1/2

tablespoons

masa harina

4 1/2

teaspoons

chili powder

1/2

teaspoon

onion powder

1/2

teaspoon

garlic powder

1/2

teaspoon

seasoning salt

1/2

teaspoon

paprika

1/4

teaspoon

ground cumin

1/2

teaspoon

garlic salt

1/4

teaspoon

sugar

1

teaspoon

dried minced onion

1/2

teaspoon

beef bouillon powder

1 1/3

pounds

ground chuck
Sauce
8

ounces

tomato sauce

1/3

cup

water

1/4

teaspoon

chili powder

1 1/2

teaspoons

cumin

1 1/2

teaspoons

minced onion

1

tablespoon

white vinegar

1/2

teaspoon

garlic powder

1/2

teaspoon

garlic salt

1/4

teaspoon

paprika

1/4

teaspoon

sugar

1/4

teaspoon

cayenne pepper
Assembly
4

tortillas

1

cup

refried beans

heated

1

cup

shredded cheddar cheese

1/4

cup

chopped white onions

sliced black olives

optional
Instructions
In a small bowl, combine all the ingredients for the beef, except for the beef itself, and mix well.

Crumble the ground chuck into a large skillet (preferably nonstick) and brown, stirring well. Remove from the heat and drain the grease from the beef.

Return the beef to the pan and stir in the spice mix and 3/4 to 1 cup of water. Simmer uncovered on medium-low heat for 20 minutes, until most of the moisture has cooked away. Remove the pan from the heat before the meat is completely dry.

To make the sauce, combine all the ingredients for the sauce in a saucepan and mix well. Simmer at a very low temperature for 15 to 20 minutes. Remove from the heat and let cool.

Preheat the oven to 350°F.

To assemble the Enchirito, spread 1/4 of the heated refried beans onto a tortilla, followed by 1/4 of the ground beef. Roll up the tortilla and place it seam-side down in an ovenproof dish coated with non-stick spray. Repeat with remaining tortillas. Cover with the prepared sauce, cheese, chopped onions, and black olives, if desired.

Place the Enchiritos in the preheated oven for about 15 minutes, or until the cheese melts.
Notes
Note: Taco Bell never bakes up a pan of these enchritos. You can make them this way to serve to your family.
Nutrition
Calories:
678
kcal
|
Carbohydrates:
32
g
|
Protein:
39
g
|
Fat:
42
g
|
Saturated Fat:
18
g
|
Cholesterol:
137
mg
|
Sodium:
2104
mg
|
Potassium:
751
mg
|
Fiber:
5
g
|
Sugar:
6
g
|
Vitamin A:
1520
IU
|
Vitamin C:
4.7
mg
|
Calcium:
309
mg
|
Iron:
6.5
mg