Friendship Soup Mix in a Jar is a wonderful DIY gift from the kitchen. Get the easy recipe and find out how to make the best dry soup mix in a jar. It's simple to cook homemade soup with the mix, ground beef, canned tomatoes, and water. One of the best gift ideas for Christmas or a housewarming.
You can make this and give it to your friends. They will need additional ingredients to prepare the soup. Be sure to decorate the jar up a bit and give them instructions for soup preparation.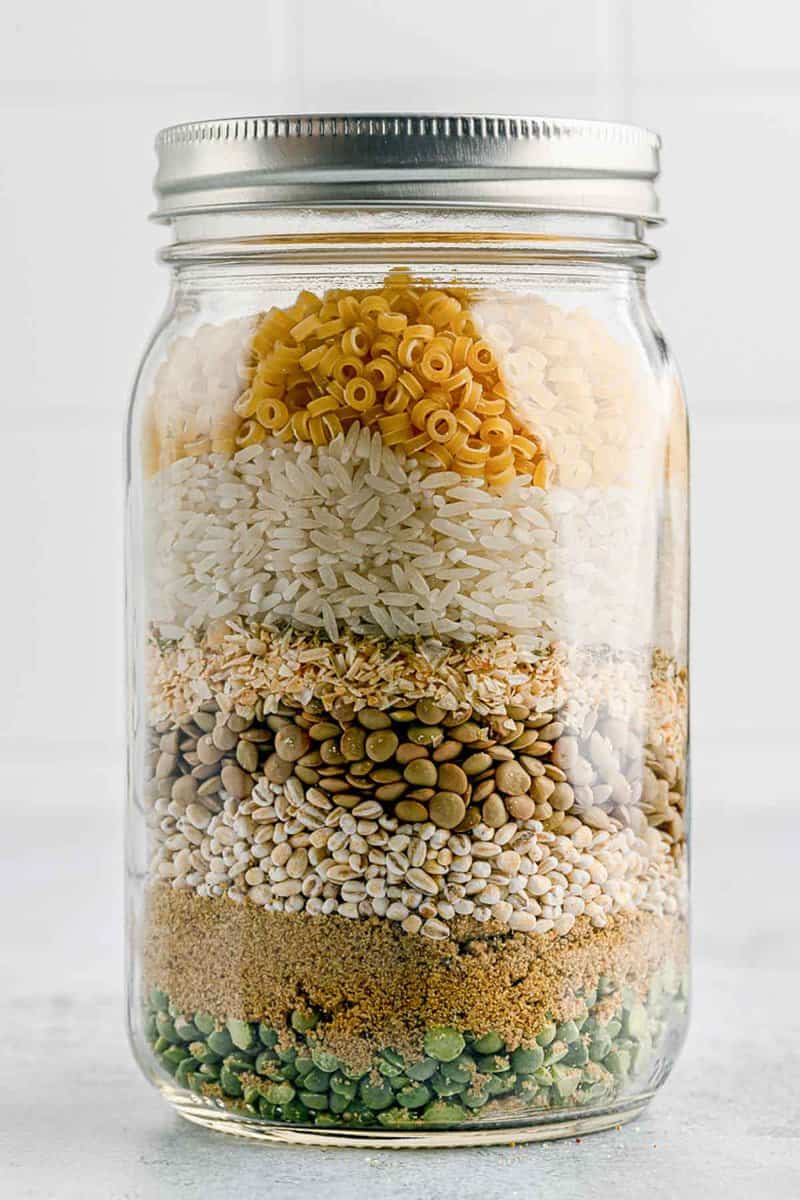 This post contains affiliate links. As an Amazon Associate, I earn from qualifying purchases.
Friendship Soup in a Jar
Using this recipe for Amish friendship soup, you are able to create a dry soup mix in a jar to gift to someone special or make a delicious, classical Amish soup for your whole family to dig into and enjoy.
This easy friendship soup recipe includes a delightful mix of yummy ingredients like split peas, barley, lentils, rice, tomatoes, onions, and macaroni pasta, along with ground beef, giving you a hearty soup your whole family will love.
Amish friendship recipes allow you to prepare dishes in an easily shareable form so that others can make the same meals in their own kitchens.
What Makes Friendship Soup Mix the Perfect Gift?
If you've never thought of giving a soup mix as a gift, this is perfect for your family and friends who you know are into cooking. All your gift recipients will be excited and overjoyed at the prospect of making soup from your present.
This DIY gift is simple to put together and looks really beautiful as a finished product. Friendship soup in a jar is a lovely presentation of a dry soup mix. All the colors give it the appearance of a fancy, cherished gift, which it is.
Tie a ribbon around the lid. Use twine to attach a gift card with the soup recipe printed or written on it.
Because all the ingredients are dry, your recipients will be able to enjoy a hearty, delicious soup whenever it suits them. And when they make their soup, they will surely remember that they have a friend in you!
Why You Should Try This Recipe for Friendship Soup
This recipe for friendship soup gives you a great soup for a big family sit down. It's hearty, filling, and completely delicious. This soup will definitely deserve a place in your soup recipe collection.
Ingredients for the Soup Mix in a Jar
Layer this pretty soup mix in glass Mason jars to give as gifts to your family and friends who love to cook. Here's what you need, listed in the order of placing the ingredients in the jar:
Dry split peas
Beef bouillon granules
Pearl barley
Dry lentils
Dried minced onion
Italian seasoning
Long-grain rice
Macaroni
If you want friendship bean soup in a jar, you can choose to add some beans.
You'll also need 1½ pint mason jars (24-ounce/3 cup capacity) and lids for the jars.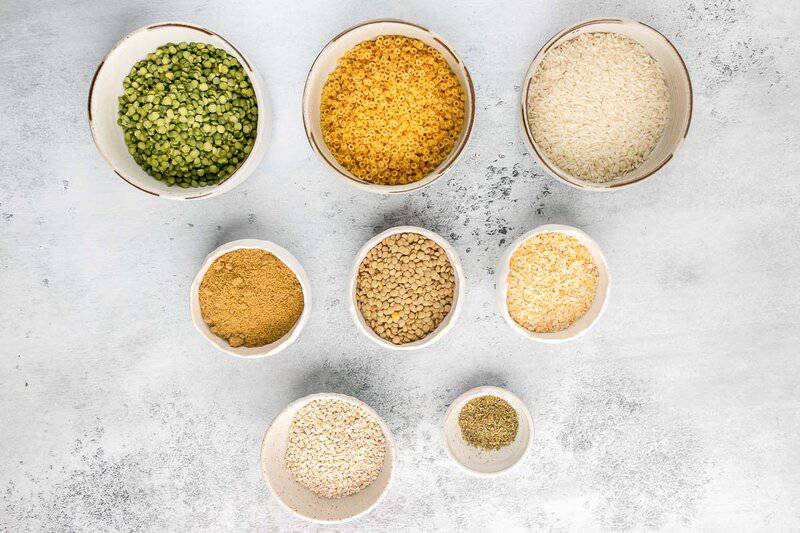 How to Make Friendship Soup Mix in a Jar
Measure out the ingredients.
Use a canning funnel to pour each ingredient into a mason jar and use a long spoon or gently tap the jar on the counter to level out each layer.
Seal the jar with a lid.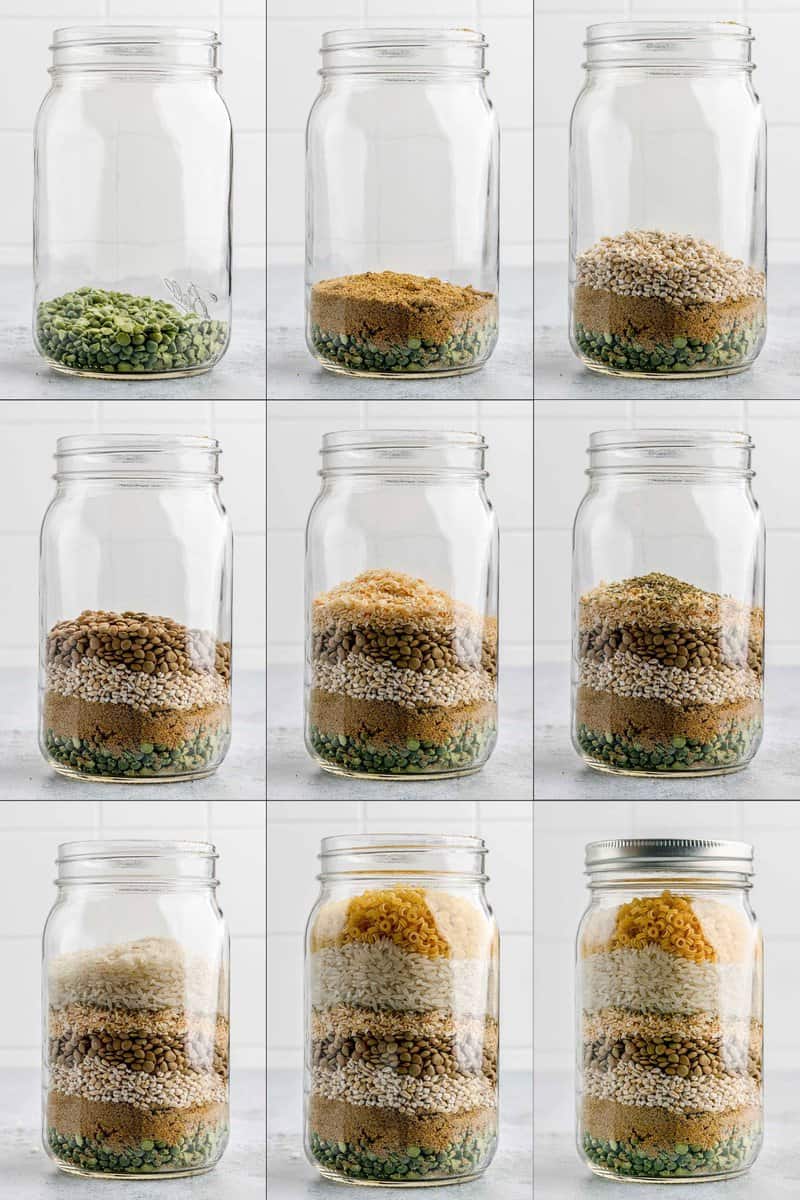 Tips for Filling the Jars
Wrap the pasta in plastic wrap and place it on top of the ingredients in the jar. This makes it easier to remove it when making the soup.
Don't put the bouillon granules at the bottom of the jar. They may absorb some moisture from the other ingredients and become rock solid and stuck to the bottom of the jar.
Amish Friendship Soup Ingredients
Dry soup mix
Ground beef
Diced tomatoes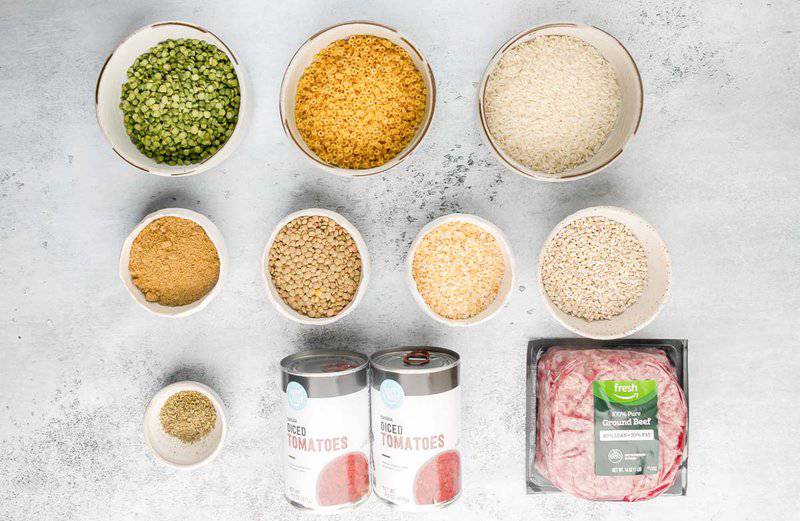 How to Make Friendship Soup
Once you have your dried soup mix, this will be one of the easiest and tastiest soups you will ever make. Here's what you do:
Set aside the macaroni from the top of the jar.
Brown the beef in a large pot or Dutch oven, drain off the grease, and return the beef to the pot.
Add the water, tomatoes, and soup mix, bring to a boil, then simmer for 45 minutes.
Add the macaroni and simmer for 15 to 20 minutes.
Taste and add salt and pepper if needed.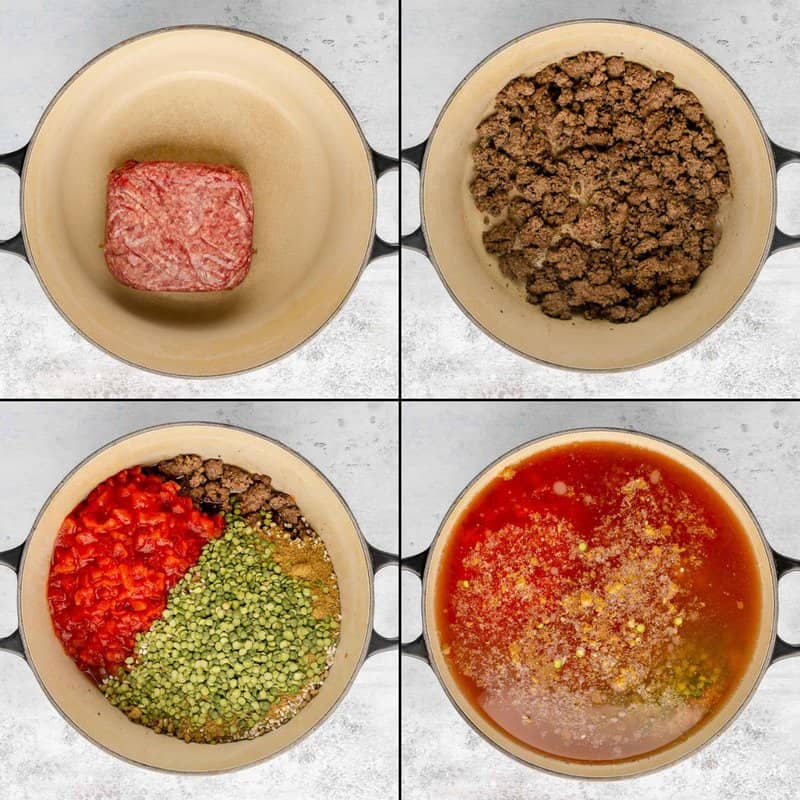 CopyKat Tip: You may find the split peas don't soften enough. If you don't care for crunchy split peas, you may choose to pre-cook them.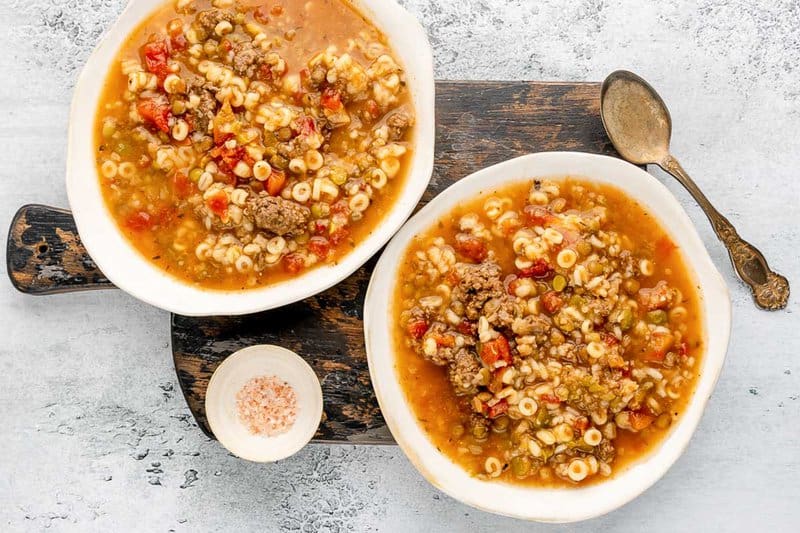 Friendship Soup Variations
One of the great things about this Amish friendship soup recipe is how versatile it is. Here are some ideas for variations.
Add any vegetables you want, e.g., carrots, celery, peas, etc.
Add some spices or a couple of bay leaves.
Substitute the ground beef with ground turkey, ground chicken, or ground lamb.
Substitute the pasta with uncooked white rice or brown rice.
Substitute the macaroni with other uncooked small pasta such as ditalini or orzo.
Substitute the water with beef broth for a richer-tasting soup.
Shredded cheese, a dollop of sour cream, or cream cheese make good toppers.
You can also add some beans to your dry soup mix to create friendship bean soup in a jar.
What You Can Serve With Friendship Soup
This friendship soup recipe makes a very filling soup. Serve it with a green salad and homemade dinner rolls – yummy!
Or, serve this lovely soup with some delicious sandwiches for a complete meal.
How to Store and Reheat Leftover Soup
Store leftovers in an airtight container for up to 1 week or freeze for up to 3 months.
Reheat soup on the stovetop or in the microwave.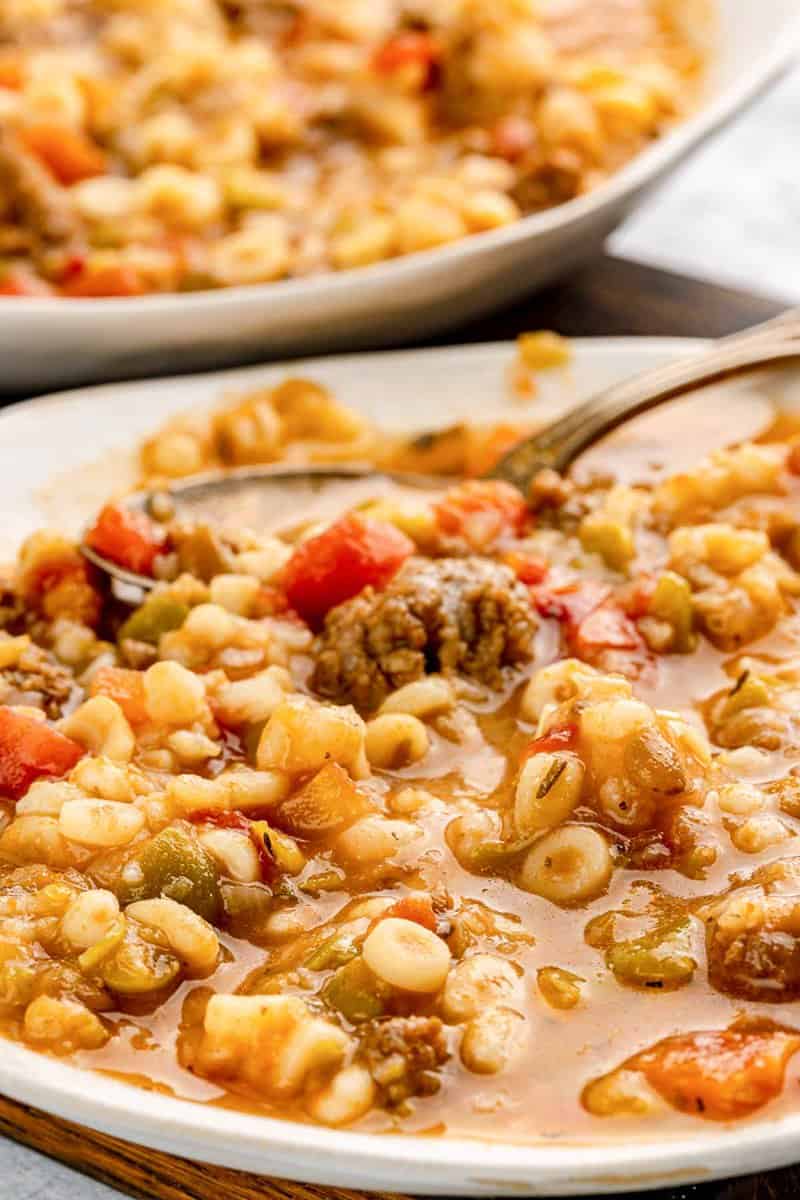 Favorite Soup Recipes
Popular DIY Recipes
Check out more of my easy soup recipes and the best DIY recipes on CopyKat!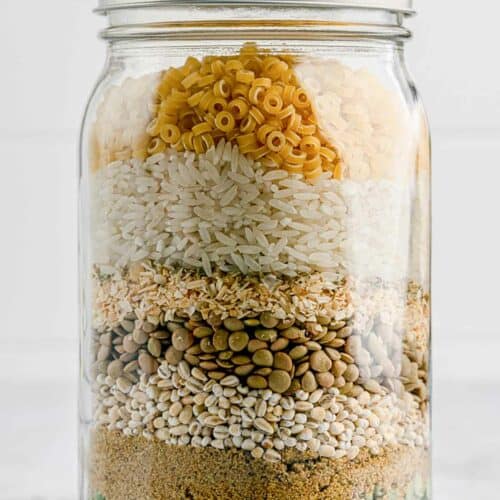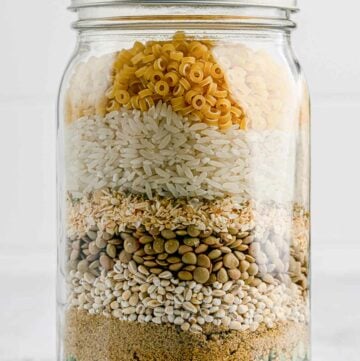 Ingredients
Dry Soup Mix
1/2

cup

dry Split Peas

1/3

cup

beef bouillon granules

1/4

cup

pearl barley

1/3

cup

dry lentils

1/4

cup

dried minced onion

2

teaspoons

Italian seasoning

1/2

cup

uncooked long grain rice

1/2

cup

alphabet macaroni or other small macaroni
Soup
1

pound

ground beef

3

quarts

water

1

28-ounce can

diced tomatoes
Instructions
Dry Soup Mix
In a 1½ pint jar, layer the eight dry soup mix ingredients in the order listed. Seal tightly.
Soup
Carefully remove macaroni from the top of the jar and set it aside.

In a large saucepan or Dutch oven, brown beef. Drain off the grease and return the beef to the pan.

Add the water, tomatoes, and soup mix. Bring to a boil.

Reduce heat, cover the pan, and simmer for 45 minutes.

Add the reserved macaroni. Cover and simmer for 15 to 20 minutes or until the macaroni, peas, lentils, and barley are tender.
Nutrition
Calories:
315
kcal
|
Carbohydrates:
34
g
|
Protein:
17
g
|
Fat:
11
g
|
Saturated Fat:
4
g
|
Cholesterol:
40
mg
|
Sodium:
105
mg
|
Potassium:
505
mg
|
Fiber:
7
g
|
Sugar:
2
g
|
Vitamin A:
85
IU
|
Vitamin C:
5.7
mg
|
Calcium:
62
mg
|
Iron:
3.3
mg