Homemade Kit Kat Bars are a wonderful treat to enjoy and share. These DIY candy bars are crunchy vanilla wafer cookies filled and covered in chocolate.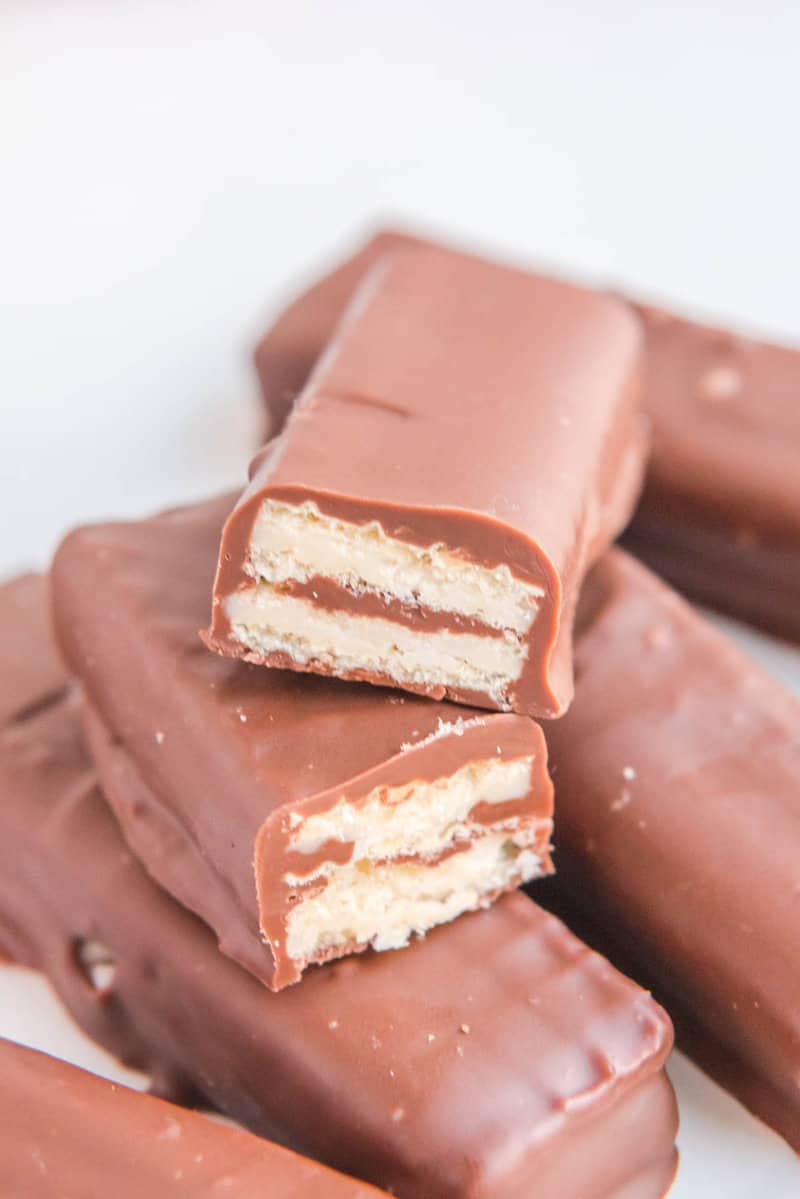 This post contains affiliate links. As an Amazon Associate, I earn from qualifying purchases.
What Makes Kit Kat Bars So Good?
Kit Kats are an oddity in the candy world. They are light and airy but satisfying enough to have remained one of the world's favorite candy bars for over 80 years.
Today you can buy hundreds (seriously) of different flavored Kit Kats, but most people still prefer the original wafer dipped in milk chocolate version over the other flavors.
Why You Should Try to Make These Homemade Kit Kat Bars
Some versions of copycat Kit Kats use club crackers or graham crackers instead of wafers and thick layers of chocolate instead of thin ones. While these recipes may make delicious desserts, you'll have to use your imagination to believe you are eating a Kit Kat bar.
On the other hand, this recipe may convince you that you are munching on the real deal.
Kit Kat Bar Ingredients
For Kit Kat candy bars, you'll need:
Vanilla wafers
Semi-sweet chocolate chips
Vegetable oil
The proper vanilla wafers for this recipe are rectangular ones with multiple flaky layers and fillings.
Chocolate melting wafers melt much better than chocolate chips but can be challenging to find in the grocery store.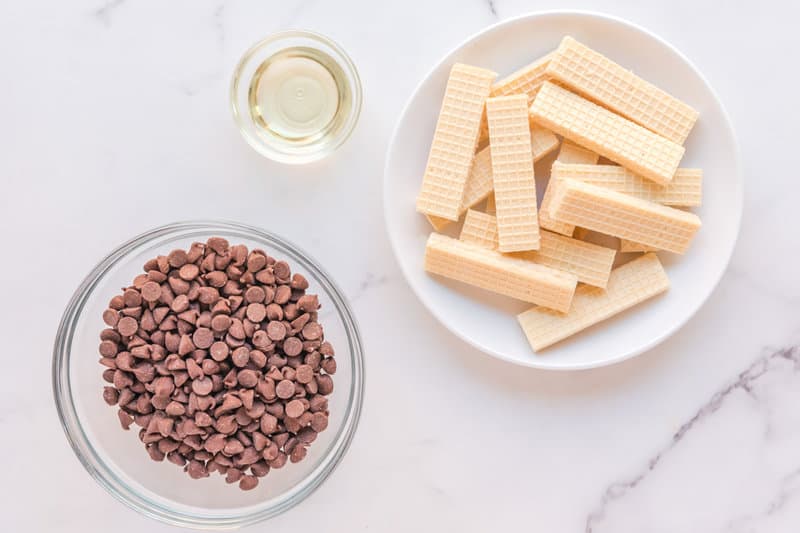 How to Make Copycat Kit Kats
To cut the vanilla wafers:
Split the vanilla wafers into individual pieces.
Turn one wafer on its long side. You'll see a cross-section of the layers.
Use a serrated knife to cut the vanilla wafer lengthwise into a top half and bottom half. Slice with a long, slow cutting motion to avoid crushing the wafer.
Lay the cut wafer next to each other with the filling side up on a wax paper-lined baking sheet.
Repeat with the remaining vanilla wafers.
To fill the wafers with chocolate:
Heat a half-cup of chocolate chips in a microwave-safe bowl in the microwave at 50 percent power for one minute. Stir the chocolate and continue heating and stirring in 30-second intervals until it is smooth.
Use a piping bag or a spoon to carefully drizzle a thin line of melted chocolate down the middle of the bottom half of the cut wafers.
Place the top half of the wafer on the bottom half.
Put the baking sheet with the filled wafers in the fridge for one hour.
To dip the vanilla wafers in chocolate:
Remove the chilled chocolate-filled wafers from the fridge.
Heat the milk chocolate at 50 percent power for one minute. Stir the chocolate and continue heating in 30-second intervals and stirring until smooth.
Stir the vegetable oil into the melted chocolate. The extra fat from the oil will thin out the melted milk chocolate and make it easier to coat the wafers evenly.
Use a chocolate dipping tool or fork to dip the wafers in the melted chocolate mixture.
Gently jiggle the dipped vanilla wafer over the bowl to shake off excess chocolate. Place the chocolate-dipped wafer on the wax paper-lined baking sheet.
Repeat the dipping process with the remaining vanilla wafers.
Return the baking sheet with the homemade Kit Kats to the fridge for at least an hour before serving.
Recipe Variations
While you may not be able to recreate the hundreds of different varieties of Kit Kats that are available around the world, here are two versions you can make at home:
Dark Chocolate Kit Kat Candy Bars. Use dark chocolate instead of milk chocolate. It takes a little longer to melt dark chocolate than milk chocolate,
White Chocolate Kit Kat Candy Bars. Replace the milk chocolate with white chocolate. Since white chocolate isn't actually chocolate, it takes less time to melt and can scorch easily. Reduce the heat time to 20-second intervals.
What to Serve With Homemade Kit Kats
Try dunking these Kit Kats in a glass of milk or tea.
How to Store a Kit Kat Bar
Keep these candy bars inside an airtight container in the fridge. Place a piece of waxed paper between each layer of Kit Kats to prevent them from sticking together.
Favorite Chocolate Candy Recipes
Popular Chocolate Desserts and Treats
Check out more of my easy candy recipes and the best DIY recipes on CopyKat!
Ingredients
15

vanilla sugar wafers

2

cups

semi-sweet chocolate chips

divided use

1

tablespoon

vegetable oil
Instructions
Line a large baking sheet with parchment paper.

Using a sharp knife, carefully cut each vanilla wafer in half through the middle, creating two thinner wafers. Place one half of each wafer on the baking sheet.

Place about 1/2 cup of chocolate chips in a small microwave-safe bowl and microwave on 50% power for 1 minute. Stir with a fork and return to the microwave for 30-second intervals on 50% power, stirring in between, until the chocolate is silky smooth.

When the chocolate is melted, put it in a piping bag with a small round attachment. You can also use a plastic zip-top bag with a corner cut off to create a small hole. Pipe the chocolate onto the upward face of each vanilla wafer half on the baking sheet, placing the second half of each wafer on top as soon as the chocolate is added. Refrigerate for 1 hour.

Near the end of the chill time, place the remaining chocolate chips in a medium-sized, microwave-safe bowl. Microwave on 50% power for 1 minute. Add the vegetable oil and stir. Continue to microwave the chocolate in 30-second intervals on 50% power, stirring in between, until the chocolate is silky smooth.

Using two forks or dipping tools, dip each wafer sandwich into the melted chocolate, covering it completely. Gently shake side to side as the wafer rests on the fork to sling off any excess chocolate before placing the chocolate-covered cookie back on the baking sheet. Refrigerate for at least 1 hour, until the chocolate shell is completely hardened.
Notes
Store these treats in the refrigerator when not serving. Keeping them at room temperature may cause these treats to melt or crack.
You can substitute the semi-sweet chocolate chips with a 10-ounce bag of dark chocolate or milk chocolate melting wafers, depending on your preference.
To create even more of a KitKat effect, you can place them on the baking sheet side by side immediately after dipping them into chocolate. Have the long edges of the wafer touch one another which will adhere them together.
You will have leftover chocolate in this recipe.
Nutrition
Calories:
155
kcal
|
Carbohydrates:
15
g
|
Protein:
2
g
|
Fat:
10
g
|
Saturated Fat:
5
g
|
Polyunsaturated Fat:
1
g
|
Monounsaturated Fat:
3
g
|
Trans Fat:
0.04
g
|
Cholesterol:
1
mg
|
Sodium:
26
mg
|
Potassium:
124
mg
|
Fiber:
2
g
|
Sugar:
10
g
|
Vitamin A:
11
IU
|
Calcium:
13
mg
|
Iron:
1
mg