If you are familiar with fruit dips, you will find this cream cheese fruit dip to be especially tasty. Instead of just cream cheese and marshmallow fluff, this dip has orange liqueur or juice, ground ginger, and a touch of grated orange peel to make it extra special.
This post contains affiliate links. As an Amazon Associate, I earn from qualifying purchases.
Why You Should Try This Marshmallow Cream Cheese Fruit Dip Recipe
This fruit dip with cream cheese recipe is simply amazing. It's so flavorful, especially when compared to an average yogurt dip, and everyone will want the recipe. Plus, it makes a great after-school snack for the kids. You can even enjoy it as a dessert.
If you have never tried a fruit dip before, this is the only fruit dip recipe you will ever need. The combination of sweet fruit and this creamy dip is irresistible – your taste buds will thank you!
Fruit Dip Cream Cheese – Ingredients You Will Need
This easy fruit dip recipe is a cinch to whip up on the fly. Here are the ingredients:
Light cream cheese
Marshmallow fluff or Marshmallow Creme
Orange-flavored liqueur or orange juice
Orange peel
Ground ginger
Check out this list of orange-flavored liqueurs.
What Is Marshmallow Fluff?
Marshmallow fluff doesn't actually contain marshmallows which are made with gelatin so they can hold their shape. Instead, fluff is a light-as-air, sweet, sticky spread with a texture similar to melted marshmallows.
You can buy it in a jar or easily make your own (which is beyond better!). Here's a link to a homemade marshmallow fluff recipe.
If you can't find marshmallow fluff, you can use marshmallow creme.
Three Ways to Soften Cream Cheese
Set the cream cheese in its original packaging out on the counter for 30 minutes to an hour.
Fill a bowl with hot tap water and place the cream cheese, still wrapped in foil, in the bowl for 5-10 minutes. If the foil has been opened, place the cream cheese in a resealable plastic bag.
Soften in the microwave. However, be careful because the cream cheese can melt and overcook. Use the "soften" setting if there is one. If not, cut the cream cheese into cubes and microwave on high for 15 to 20 seconds. If not softened sufficiently, stir and then continue to microwave at 10-second increments.
How to Make Fruit Dip With Cream Cheese and Marshmallow Fluff
Making this fruit dip with cream cheese couldn't be simpler. Here's all you need to do:
Place softened cream cheese in a large mixing bowl.
Whip the cream cheese with a hand mixer.
Add the remaining ingredients to the whipped cream cheese and blend until well combined.
Make ahead and refrigerate to allow the flavors to mingle.
Fruit Dip Recipe Variations
The orange/ginger flavor of this cream cheese fruit dip is a wonderful combination. However, if you would like to try some different flavors, you can omit the orange and ginger ingredients and substitute these:
Cream Cheese Lemon Dip: 1 tablespoon lemon juice and the zest of 1 lemon.
Cream Cheese Chocolate Dip: 1/4 cup cocoa powder and 1/2 cup miniature chocolate chips.
Cream Cheese Strawberry Dip: Instead of plain cream cheese, use strawberry cream cheese, and stir in 1 tablespoon of strawberry jam.
Cream Cheese Brickle Dip: 2 tablespoons brown sugar and 1/2 cup toffee bits.
Cream Cheese Cinnamon Spice Dip: 1/2 teaspoon ground cinnamon and 1/8 teaspoon ground nutmeg.
Cream Cheese Coconut Dip: 1/3 cup toasted coconut and 1/4 teaspoon coconut extract.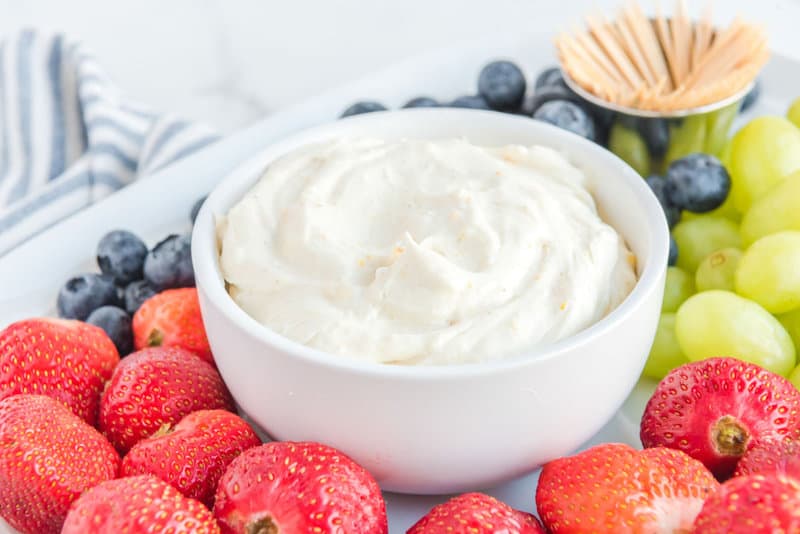 Fruit Dip With Cream Cheese – FAQ
Can you make this ahead of time? Yes. This dip is best made ahead and chilled so that the flavors mingle.
What type of fruit goes well with cream cheese fruit dip? Any fruit suitable for dipping will work – strawberries, grapes, pineapple, cherries.
Why is my cream cheese fruit dip lumpy? Ensure the cream cheese is at room temperature when you start to avoid lumps. If used straight from the refrigerator, there will be little lumps, no matter how long the cream cheese is beaten. However, if you end up with lumps, don't despair! Let the mixture sit at room temperature for 10-15 minutes, then beat with a hand mixer to work out the lumps.
How to Store Marshmallow Cream Cheese Fruit Dip
This fruit dip will be good for up to 5 days in the fridge in an airtight container.
Freezing is not recommended as the dip may become watery when thawed.
What to Serve With Fruit Dip With Cream Cheese
This fruit dip with cream cheese and marshmallow fluff is always a big hit at parties. It's fun to put out a whole assortment of dippers when you're having a party. This fruit dip is also pretty great for a family game or movie night snack.
This classic cream cheese fruit dip is easy to make and gives you a delicious dip for fruit. Make up a fresh fruit charcuterie board! Choose from a whole range of dippable fruit:
Apple slices
Bananas
Blackberries
Blueberries
Cantaloupe
Cherries
Grapes
Honeydew
Kiwi
Peaches
Pears
Pineapple
Orange wedges
Raspberries
Strawberries
Watermelon
Or make up some fruit kabobs. These are especially great if you're entertaining! Use wooden skewers and add a variety of fruits to each one.
Cream Cheese fruit dip is also wonderful with other things such as: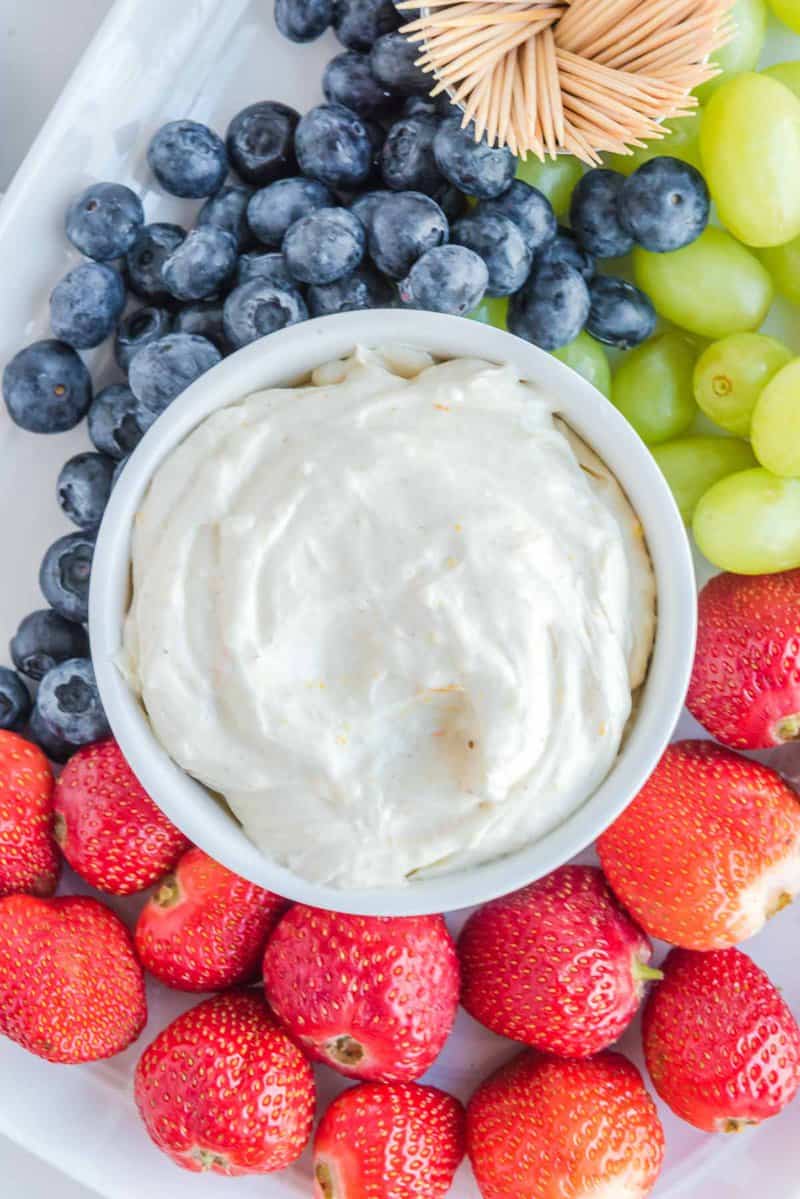 Love fruit dips? Try these recipes!
Favorite Dips To Make
And here are some more dip recipes (suitable for veggies and other things) for you:
Check out more of my easy dip recipes and the best recipes for game day on CopyKat!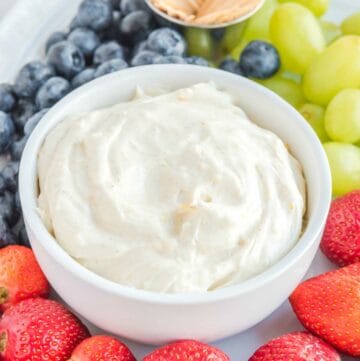 Ingredients
8

ounces

light cream cheese

7

ounces

marshmallow fluff or creme

1

tablespoon

orange-flavored liqueur or orange juice

1

teaspoon

freshly grated orange peel

1/2

teaspoon

ground ginger
Instructions
In a mixing bowl, use an electric

mixer

to combine all the ingredients until well blended.

Refrigerate the dip before serving to allow the flavors to mingle.
Nutrition
Calories:
140
kcal
|
Carbohydrates:
24
g
|
Protein:
2
g
|
Fat:
4
g
|
Saturated Fat:
2
g
|
Cholesterol:
15
mg
|
Sodium:
133
mg
|
Potassium:
70
mg
|
Sugar:
17
g
|
Vitamin A:
155
IU
|
Vitamin C:
0.3
mg
|
Calcium:
42
mg
|
Iron:
0.1
mg