Just ask a guest to sample this homemade Bloody Mary mix and they will never want their cocktail made any other way. This mix makes the ultimate Bloody Mary! I would dare to see a better flavor anywhere.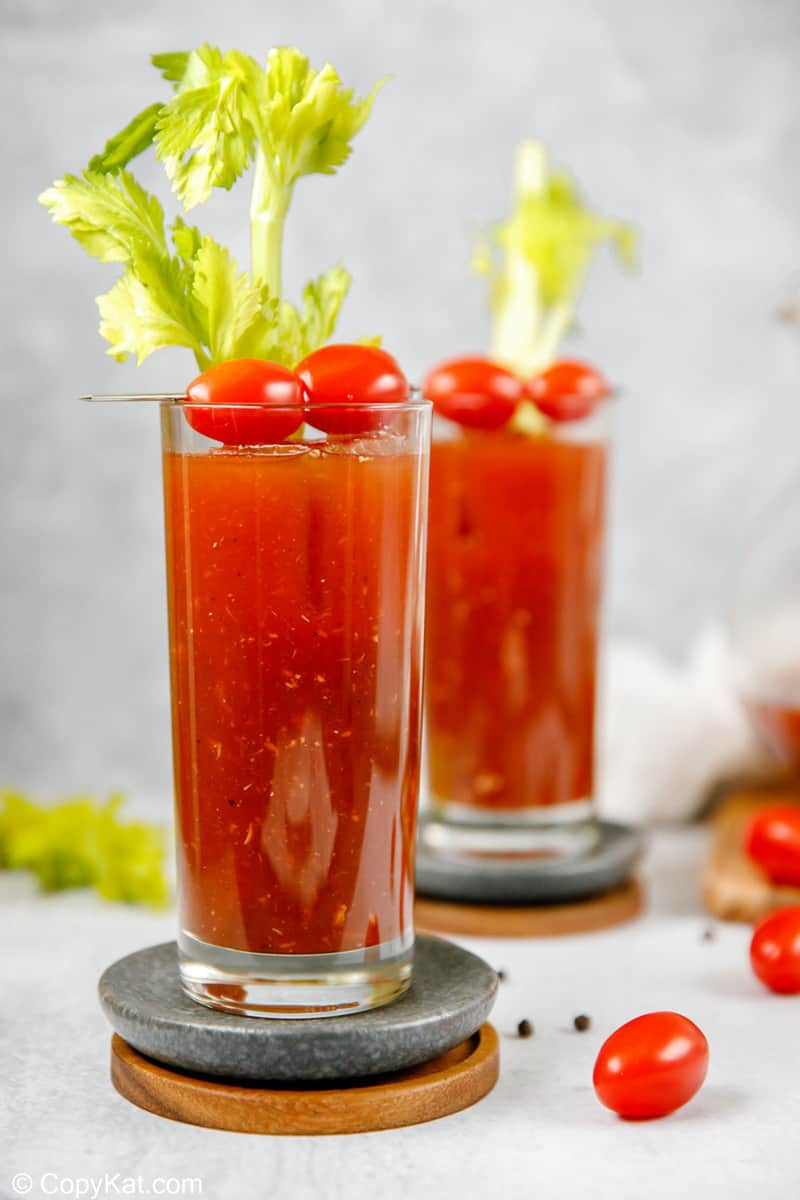 Homemade Bloody Mary Mix
Before buying any Bloody Mary mix from the supermarket, do yourself a favor and read the label. Do you really want to drink hydrolyzed corn protein, disodium guanylate, or high fructose corn syrup? You probably don't. So skip the pre-made mixes and make your own with this spicy Bloody Mary mix recipe.
What the Heck is a Bloody Mary?
The Bloody Mary is a legendary cocktail not only for being celebrated hangover 'cure,' but also for its rich history. Like any good cocktail, there are competing creation stories, but most culinary historians think the first Bloody Mary appeared during the 1920s in Paris at the New York Bar that later became the infamous Harry's New York Bar.
At first, the drink was little more than tomato juice with vodka and had the appealing name, "Bucket of Blood." But over time, bartenders refined the recipe into the modern cocktail. As for the name, most people believe the inspiration was Queen Mary Tudor, who acquired the nickname "Bloody Mary" during her reign, but others claimed the drink was named after various starlets of the day.
What's in the Best Bloody Mary Mix Recipe?
Well, let's get a few things straight; this version of Bloody Mary mix is actually a recipe for Bloody Mary Caesar-Style, sometimes called simply a "Caesar." The only difference between a Caesar and a classic Blood Mary is that a Caesar substitutes Clamato juice for the standard tomato juice. Clamato juice is just tomato juice that has some clam juice and spices added to it. The brininess of clam juice really helps highlight the other ingredients and makes a tremendous difference in the taste of the cocktail.
The second most crucial ingredient in this mix is horseradish. Horseradish is a must because it provides the backbone of the drink. If you can get hold of horseradish, grate it fresh for the best flavor, but if you can't, use a quality prepared horseradish like Gold's. Whatever you do, don't confuse horseradish sauce for prepared horseradish. They are not the same thing.
Don't try to save a few bucks and replace the celery salt with ordinary table salt. The addition of ground celery seed in the seasoned salt helps bring the freshness of the cocktail. Many bartenders like to garnish a Bloody Mary with a stalk of celery for the same reason.
The rest of the seasonings are pretty straightforward. Lea & Perrins Worcestershire Sauce is a must, as is Tabasco-brand hot sauce if you are after the traditional flavor of the drink. Always use fresh lemon juice and freshly ground black pepper for the best taste.
Find out what we are up to on Facebook!
Ingredients
Here's a list of what you need:
Clamato juice
Worcestershire sauce
Celery salt
Ground black pepper
Hot Sauce
Lemon juice
Horseradish
Vodka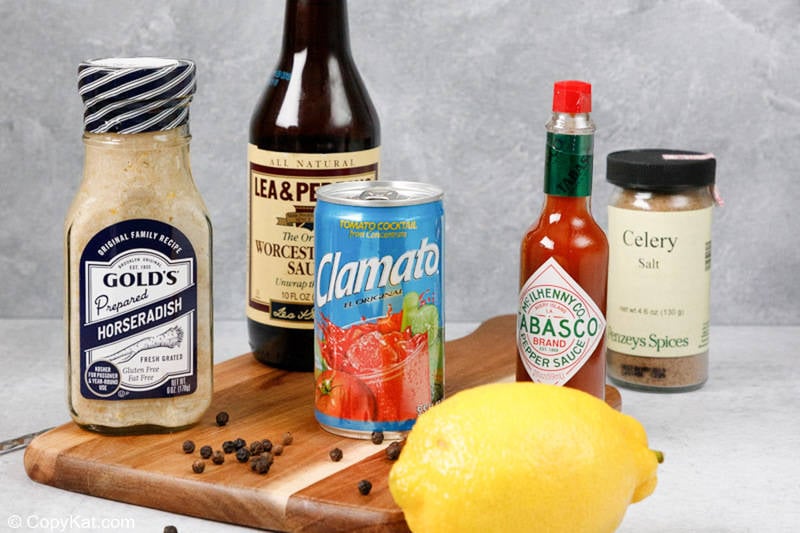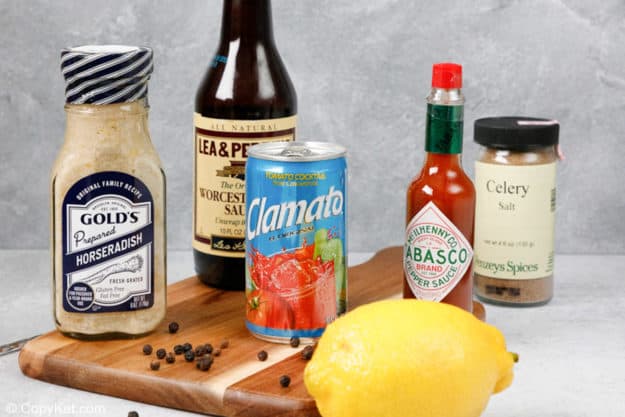 Ingredient Notes
Use prepared horseradish. Do not use creamy horseradish sauce.
Original Tabasco pepper sauce is the hot sauce I recommend for this Bloody Mary mix. Do not use flavored hot sauce.
How to Make Bloody Mary Mix
Pour Clamato juice into a pitcher.

Add Worcestershire sauce.

Add celery salt and black pepper.

Add hot sauce.

Add lemon juice.

Add horseradish.

Stir to combine.

Refrigerate if not using immediately.
How to Make a Bloody Mary Cocktail
Add vodka to the Bloody Mary mix. Stir to combine.

Pour into a glass.

Add ice.
Garnish with celery, vegetables, olives, or your favorite Bloody Mary toppings.
Tips for Serving This Spicy Bloody Mary Mix Recipe
Don't keep this mix already for too long. Once you make this recipe, you should plan on serving it as soon as possible. If you must make it in advance, store it in the fridge for no more than a few hours.
Serve a Bloody Mary in a high ball glass. Remember to fill the glass with ice and garnish. Besides the classic celery stalk, you can use green or black olives, pickle spears, pickled jalapeño peppers, lemon slices, or even cooked cold shrimp.
Vodka is not the only alcohol option. If you are not a vodka person, you are not out of luck. Try the same mix with bourbon, dark rum, or gin.
Enjoy making cocktails? Try these recipes!
Favorite DIY Recipes
Check out more of my easy cocktail recipes and the best DIY recipes here on CopyKat!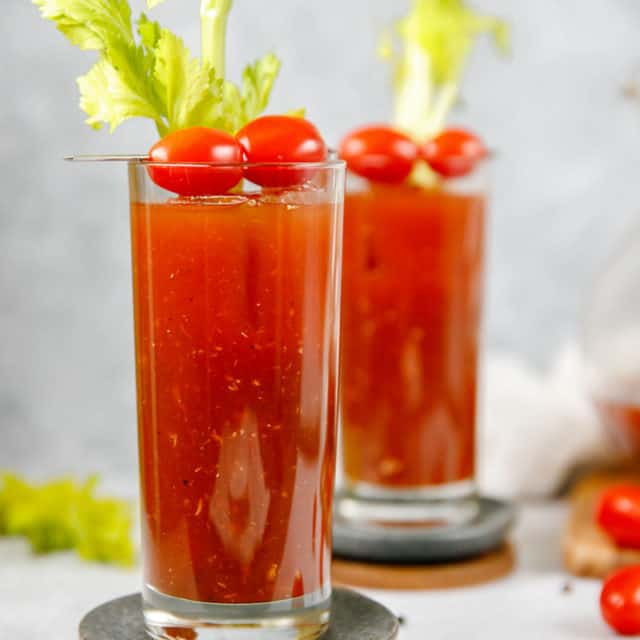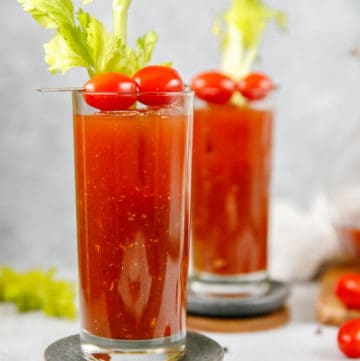 Ingredients
32

ounces

Clamato juice

5

tablespoons

Worcestershire sauce

¼

teaspoon

celery salt

½

teaspoon

ground black pepper

1

teaspoon

hot sauce

(Tabasco recommended)

3

teaspoons

lemon juice

1

tablespoon

horseradish

10

ounces

vodka
Instructions
Combine all ingredients except vodka.

Add vodka when you are ready to serve.
Notes
Do not use a flavored hot sauce. Original Tabasco pepper sauce is recommended for this recipe.
Use prepared horseradish. Do not use creamy horseradish sauce.
Nutrition
Calories:
220
kcal
|
Carbohydrates:
14
g
|
Protein:
1
g
|
Fat:
0
g
|
Saturated Fat:
0
g
|
Cholesterol:
0
mg
|
Sodium:
404
mg
|
Potassium:
689
mg
|
Fiber:
0
g
|
Sugar:
10
g
|
Vitamin A:
1035
IU
|
Vitamin C:
46.4
mg
|
Calcium:
45
mg
|
Iron:
2.1
mg