Bisquick Brownies are a simple way to make brownies. These chocolate frosted brownies taste delicious and are very easy to make. Give this recipe a try. Bisquick can be used for more than just biscuits.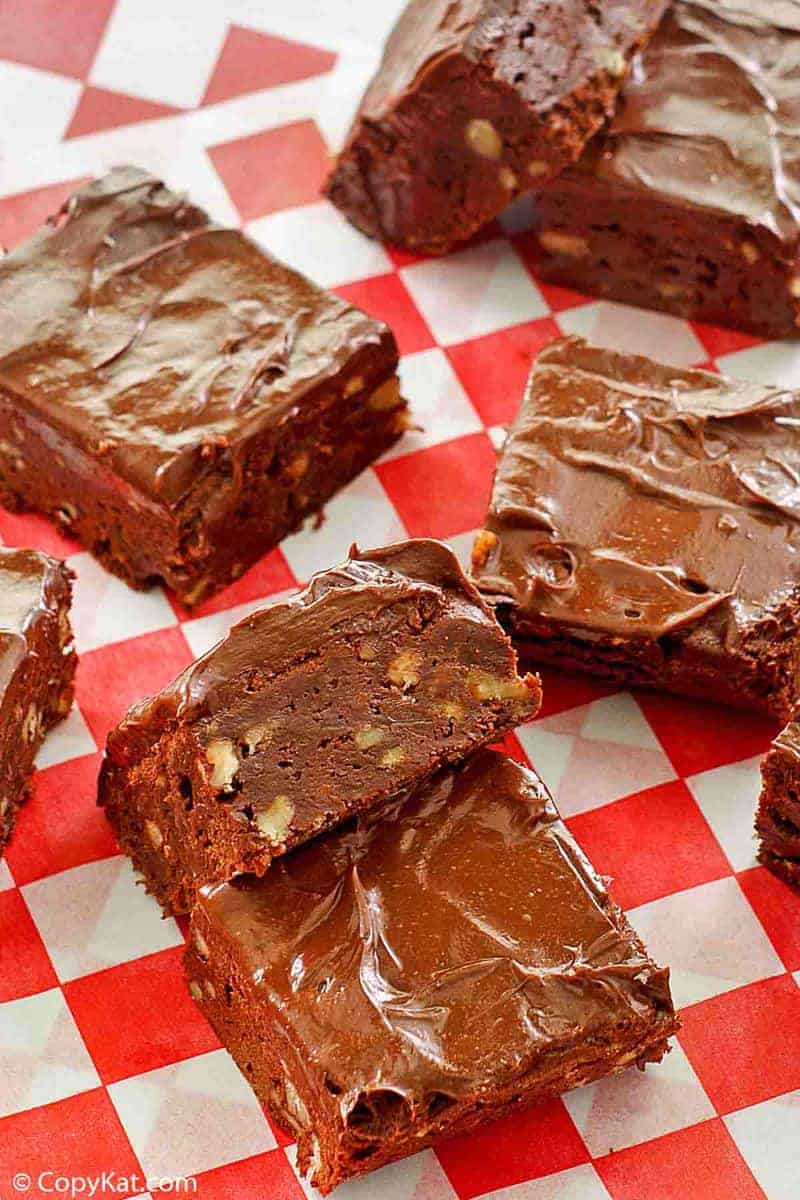 Bisquick brownies, what?
As strange as it may sound, Bisquick brownies are good. These easy-to-make, cake-like brownies made with sweetened condensed milk are as tasty as any store-bought brownie mix you can find! Dispell your preconceptions when it comes to Bisquick desserts and give this recipe a try. Once you do, you will definitely want to stock up on the ingredients!
Bisquick: What's in the Box?
If you think Bisquick is just for biscuits, muffins, and pancakes, think again. Although Betty Crocker may market Bisquick primarily as a pancake and waffle mix, it is much more versatile than that. When you look at the main ingredients inside the box, you'll find flour, oil, salt, and baking powder. These are the very same ingredients that are in dozens of desserts! Don't be scared. This Bisquick dessert recipe is guaranteed to turn out great and may introduce you to a whole new category of simple to bake and incredible treats!
Decorating Your Bisquick Brownies
Although sweetened condensed milk is part of the recipe, these brownies still turn out more cakey than fudgy. But don't despair if you are someone who prefers your brownies to be a bit more on the ooey-gooey side! The solution is to add an extra layer of ready-to-spread creamy chocolate frosting.
But you don't have to stop there! The lighter consistency and the mild chocolate flavor of these brownies make them ideal for getting creative with decorating them. There is no need to stick with chocolate-flavored frosting. You can try peanut butter or buttercream frostings. Turn the brownies into smores with marshmallow fluff and crumbled graham crackers. Or why not skip the decadent frosting altogether and opt for a light dusting of powdered sugar? You can create intricate designs using a stencil or a clean piece of lace.
Cutting Brownies the Right Way
Brownies are delicious, but they can be a real pain to cut. Here are a few tricks for helping you to keep your brownies from crumbling.
Although it can take real willpower, make sure the brownies are completely cool before cutting. An hour in the fridge will make cutting even easier.
Rub a little canola or other neutral oil on a knife before cutting. Some people prefer using a disposable plastic knife.
Start by placing your knife in the pan's center on the opposite side of you. Drag the blade in one continuous motion towards you. Then cut each half of the brownies in half again. Turn the pan 90 degrees.
Clean the knife with a paper towel and reapply oil.
Cut down the center of the brownies in the same continuous motion as before. Now is a good time to stop cutting. Smaller brownies tend to be more crumbly than larger ones.
How to Make and Store Bisquick Brownies with Sweetened Condensed Milk
Leave out the nuts. If you are making this recipe for guests, you may want to leave out the chopped pecans due to the increasing number of people with nut allergies.
Don't keep the brownies in the fridge. The best way to store these Bisquick brownies is in an airtight container on the counter. They will last for a few days without becoming hard. But you can microwave a hard brownie for 10 – 15 seconds to soften it up.
Check out all of our Bisquick desserts by following us on Facebook!
Ingredients
Here's what you need to make chocolate frosted brownies:
Semisweet chocolate morsels
Butter
Sweetened condensed milk
Egg
Bisquick biscuit mix
Pecans
Ready to spread chocolate frosting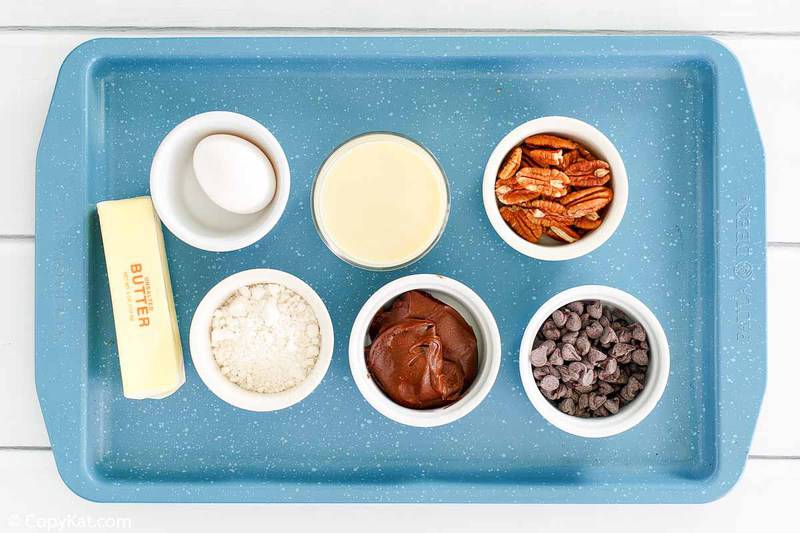 How to Make Brownies with Bisquick
Combine chocolate morsels and butter in a microwave-safe bowl. Microwave at high for 2 minutes, stirring once.
Stir in condensed milk, egg, Bisquick, and pecans.

Spoon into a greased 13X9-inch pan.

Bake at 350 degrees for 24 to 30 minutes.
Cool slightly on a wire rack.
Spread chocolate frosting on top while the brownies are still warm.
So next time you want to enjoy some freshly made brownies, grab that box of Bisquick mix and prepare some rich and nutty chocolate frosted brownies.
Don't have any Bisquick mix on hand? Find out how to make your own Bisquick.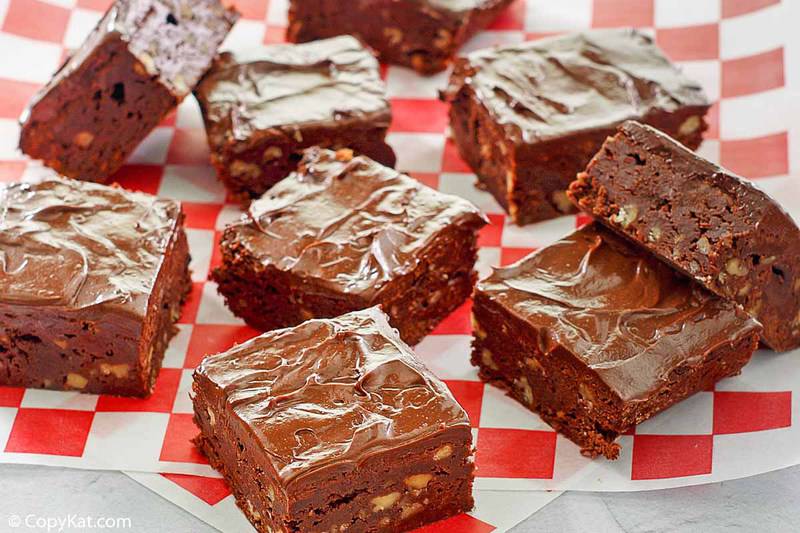 Love Brownies? Try these recipes
Popular Cookie Recipes
Be sure to check out more of my easy cookie recipes and the best homemade desserts.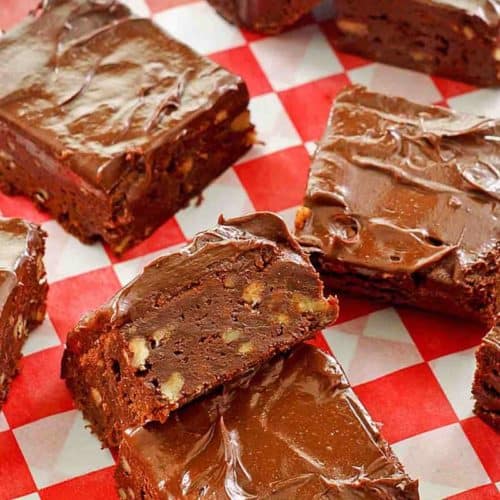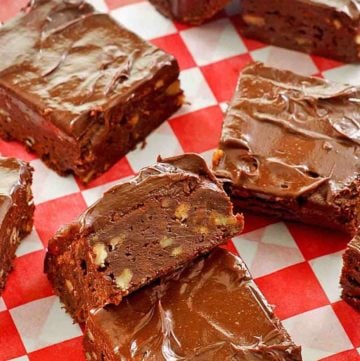 Ingredients
12

ounces

semisweet chocolate morsels

1/4

cup

butter

14

ounces

sweetened condensed milk

1

egg

2

cups

Bisquick biscuit mix

1 1/2

cups

chopped pecans

10

ounces

Ready to spread chocolate frosting
Instructions
Combine chocolate morsels and butter in a large microwave-safe bowl. Microwave at high for 2 minutes, stirring once. Stir in condensed milk and the next 3 ingredients. Spoon into a greased 13"x9" pan. Bake at 350 degrees for 24 to 30 minutes. Cool slightly on a wire rack. Spread on chocolate frosting while the brownies are still warm.
Nutrition
Calories:
291
kcal
|
Carbohydrates:
31
g
|
Protein:
3
g
|
Fat:
17
g
|
Saturated Fat:
6
g
|
Cholesterol:
18
mg
|
Sodium:
191
mg
|
Potassium:
211
mg
|
Fiber:
2
g
|
Sugar:
22
g
|
Vitamin A:
125
IU
|
Vitamin C:
0.5
mg
|
Calcium:
81
mg
|
Iron:
1.6
mg