You can enjoy these Golden Corral Sausage and Peppers. Sausage and peppers is an easy meal to prepare, and it takes just minutes to make this hearty dinner.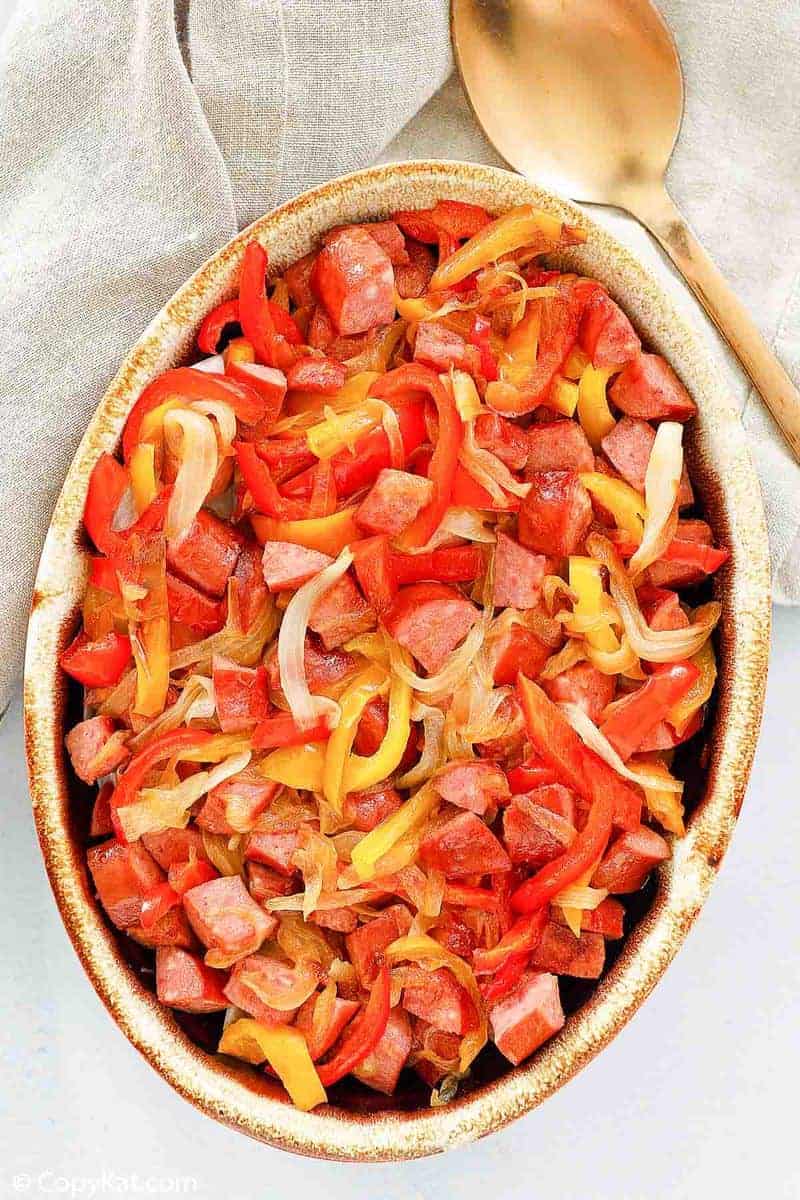 Are you looking for a super simple supper or a hearty side dish? Your search is over! This sausage and peppers recipe makes a delicious one-skillet meal that everyone in your family will love. It is an excellent recipe for those nights when you don't really feel like spending a whole lot of time in the kitchen, but still want to serve your family something that didn't come out of a bag. Whip up this a healthy, low carb, and keto-friendly dinner in minutes!
Which Sausage Should I Use?
In such a simple recipe, every single ingredient you use matters, but none more so than the sausages you select. With so much riding on your sausages, buy the best you can find. As for the style of sausages you use, that is totally up to your tastebuds. Here are some types of sausages you might want to try:
Smoked Kielbasa Sausage. This sausage style is originally from Poland and has a mild flavor. It is perfect for serving kids or anyone who doesn't appreciate spicy sausages. Some brands label their kielbasa just as 'Polish Sausage.'
Andouille Sausage. Although associated with Cajun and Creole cooking, andouille sausage is right at home in this recipe. It is loaded with spice and provides a powerful kick to your peppers and onions.
Tajín Sausages from Hillshire Farms. Tajín is a favorite seasoning in Mexico made from dried chile peppers, dehydrated lime juice, and sea salt. Tajín-flavored sausages are great for adding an authentic south-of-the-border flavor to your sausage and peppers.
Although this recipe calls for smoked sausages, you don't have to feel limited in your sausage selection. You can substitute fresh varieties like sweet or hot Italian sausages, as long as you precook them. Try this cooking method to keep your sausages from overcooking the outside while leaving the middle raw.
Place raw sausages in a medium saucepan. Fill with cold water to barely cover them. Put on the stove over medium-high heat just until the water begins to simmer. Remove the sausages and cut them as you wish. Heat oil in a pan over high and carefully put the cooked sausages into the pan. Cook until they turn a nice golden brown.
If you want, you can use chicken, turkey, or even vegetarian sausages in this recipe.
Tips for Cooking Serving Sausage and Peppers
Turn it into a sausage sandwich. Nothing could be easier, but remember that bad bread makes a lousy sandwich. To make the best sausage sandwich, use a good Italian roll or toast softer bread to help it hold up better. If you plan on making sausage, peppers and onions sandwiches from the start, keep your sausages in larger pieces.
Fancy up store-bought tomato sauce. Pasta with sausage, peppers and onions? Yes, please! Cut up any pieces that won't fit comfortably on a fork before adding them to your tomato sauce and heating on the stove and serving over your favorite pasta.
Try creating your new sausage and peppers recipes. Add some of your favorite vegetables. Cubed and sauteed potatoes or giardiniera (Italian pickled vegetables) are both great additions.
Get the latest recipes by following us on Instagram.
Ingredients
Here's what you need to make sausage peppers and onions:
Smoked sausage
Onions
Bell peppers
Garlic powder
Salt and pepper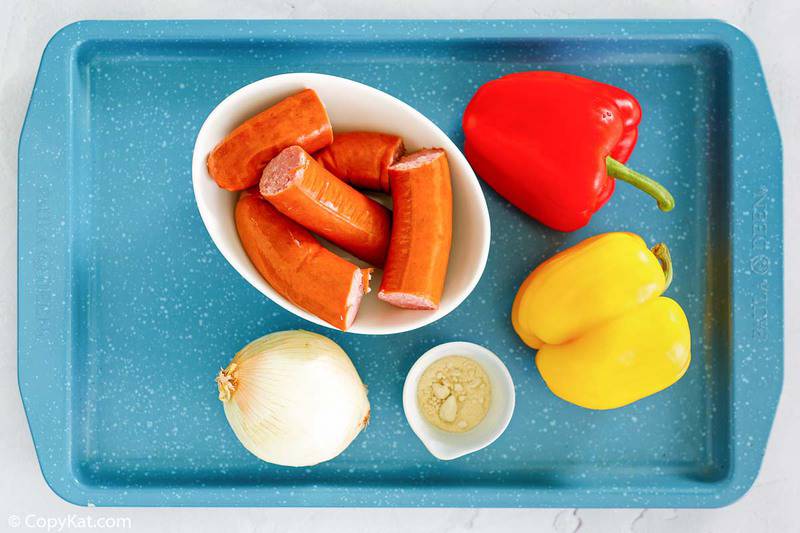 How to Make Sausage and Peppers
Cut sausage into bite-sized pieces.
Slice onions and bell peppers.
Sauté in vegetable oil over low heat until onions are soft yet not browned.

Add sausage and spices. Stir to combine with onions and peppers.
Cook until sausage is heated.
Serve in bowls or with sandwich rolls.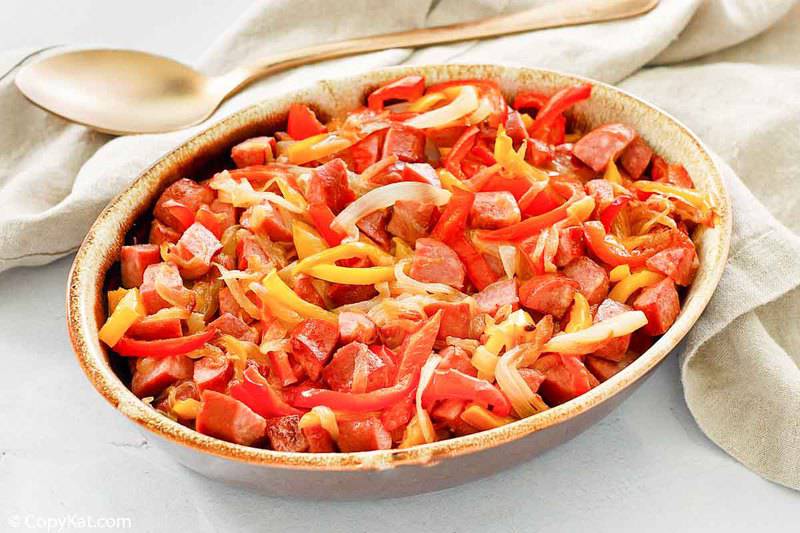 Love Sausage? Try these recipes
Easy Skillet Meals
Be sure to check out more of my quick and easy recipes and the best main dish recipes.
This recipe was graciously submitted by a fellow viewer, Ron Shifted.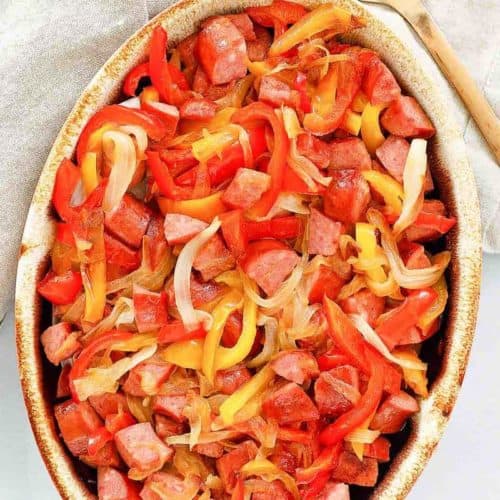 Ingredients
1

pound

chopped smoked sausage

2

cups

sliced onions

2

sliced bell peppers

1

teaspoon

salt

1/2

teaspoon

pepper

1/2

teaspoon

garlic powder
Instructions
Slice onions and bell peppers. Saute in 2 tbsp vegetable oil over low heat until onions are mild yet not browned. Add sausage until heated. Add spices while cooking.
Nutrition
Calories:
379
kcal
|
Carbohydrates:
10
g
|
Protein:
14
g
|
Fat:
30
g
|
Saturated Fat:
10
g
|
Cholesterol:
80
mg
|
Sodium:
1547
mg
|
Potassium:
360
mg
|
Fiber:
1
g
|
Sugar:
3
g
|
Vitamin A:
440
IU
|
Vitamin C:
23.8
mg
|
Calcium:
26
mg
|
Iron:
1.4
mg