This recipe for Olive Garden Bolognese has been on the Internet for years. It is rumored to be their actual recipe. I haven't seen this dish on their menu for a long time.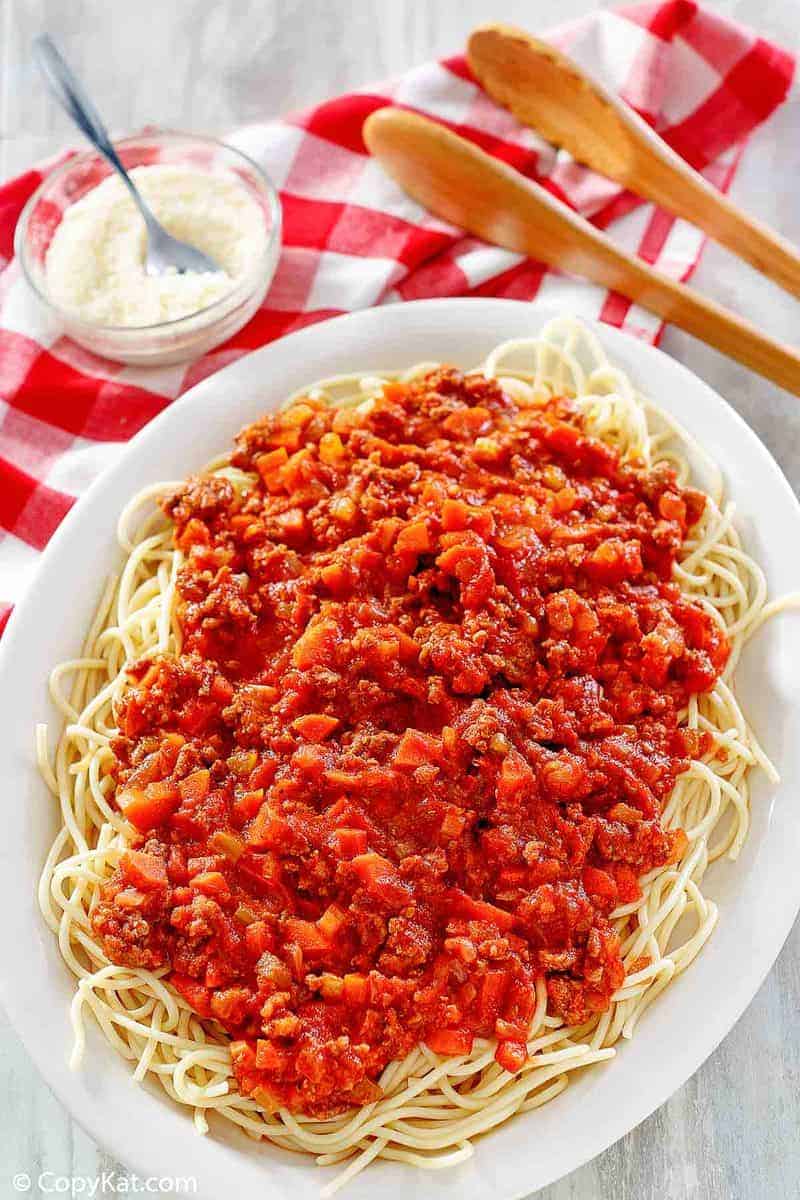 Olive Garden Bolognese vs Meat Sauce
Let's get one thing straight from the very beginning – this recipe doesn't make the same meat sauce that appears on the regular menu at Olive Garden. It makes something much, much better.
On occasion, and in only some parts of the country, and only if you are exceedingly lucky, you may one day find yourself at an Olive Garden that is running a seasonal special of Beef Bolognese. And if you do wind up in such a situation, be smart and skip the unlimited pasta, salad, and breadstick combo. Order the Beef Bolognese instead. You won't regret it.
But, why leave enjoying this sauce up to chance? You can enjoy the same great flavor available at the restaurant by making this simple Beef Bolognese sauce recipe at home.
What is Bolognese Sauce?
Authentic beef bolognese is rich and hearty, chockfull of an assort of meat and vegetables, and cooked for hours over low heat to develop the perfect amount of sweetness and consistency.
Officially, the sauce is known as Ragùalla Bolognese in Italian. A ragù being any meat sauce and Bolognese being the preferred style of ragù of the people living in the capital of the Emilia-Romagna region, Bologna.
While this recipe isn't strictly the traditional Ragù alla Bolognese you may expect to see in a trattoria in the Old Country, like most Italian-American dishes, it is a mash-up of old-school inspiration combined with American ingredients and tastes. The most essential thing is that this sauce is darn good.
Recipe Ingredients
Here's a list of what you need to make braised beef bolognese:
Olive oil
Onion
Carrot
Celery
Garlic
Ground beef
Dry red wine, Merlot or Pinot Noir recommended
Crushed tomatoes
Fresh rosemary (dry can also be used)
Fresh sage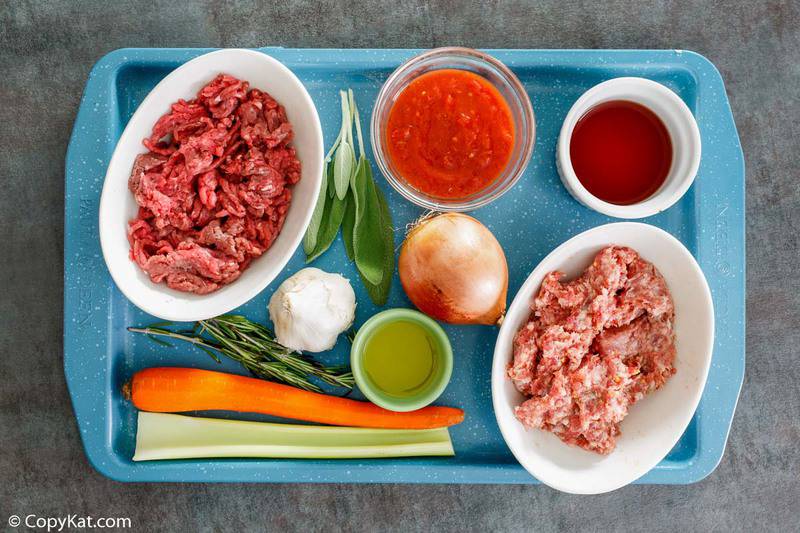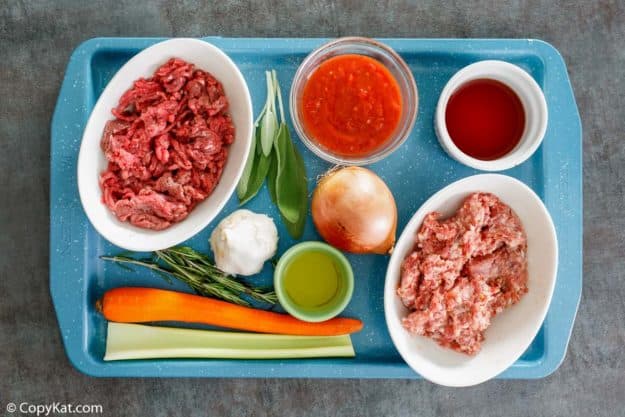 How to Make Olive Garden Beef Bolognese
Heat oil in a large pan over medium heat.
Add onion, carrot, celery, and garlic. Cook about 5 minutes, stirring occasionally.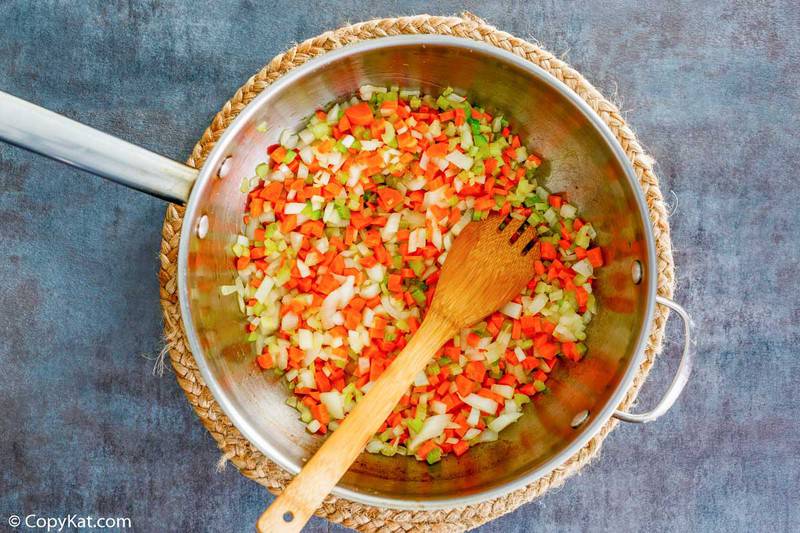 Add ground beef and cook for 10 minutes, stirring to break up and crumble the meat while it is cooking.
Add wine to de-glaze the pan and let it reduce.
Add tomatoes, rosemary, and sage. Stir to combine.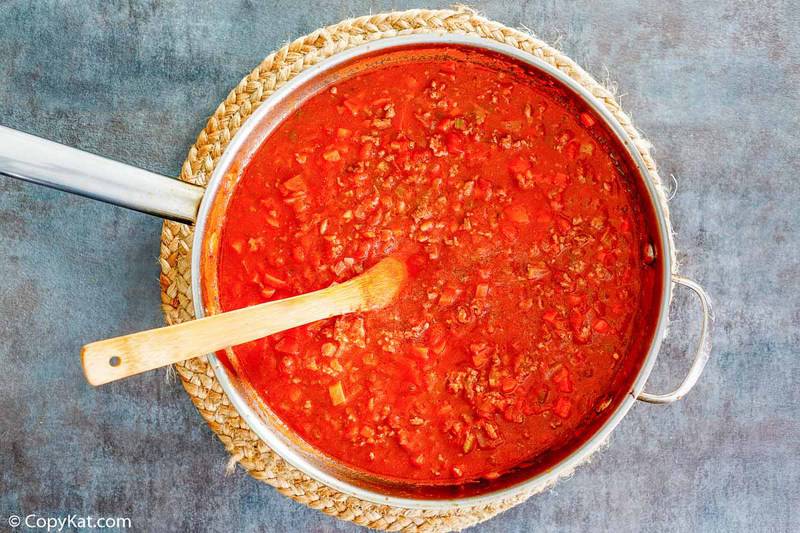 Reduce heat and simmer for about an hour.
Serve over fresh, hot pasta.
Choosing the Best Pasta to Serve with Bolognese Sauce
Amazingly, there are hundreds of pasta shapes out there, and despite what some Americans believe, it isn't just because it makes eating pasta "more fun".
The real reason why spaghetti is long and thin while rigatoni is short and hollow is that cooks designed these two kinds of pasta shapes to pair with different sauce styles.
Traditionally, Italians almost always serve Bolognese sauce with tagliatelle. Tagliatelle is a medium-sized, flat ribbon-cut pasta that provides the right amount of surface area for the thick and meaty Bolognese sauce to cling to without overtaking the star of the show.
You will often see Ragùalla Bolognese served with pappardelle in many Italian-American restaurants, a pasta similar to tagliatelle except even wider.
Other good options are pasta that is shaped like tubes such as rigatoni or penne.
Tips For Cooking, Serving, and Storing Bolognese Sauce
Try in a lasagna. This beef bolognese sauce works exceptionally well when making lasagna.
Serve on bread. A few spoonfuls of this sauce spread on a fresh slice of crusty Italian bread, maybe a dusting of parmesan, and a few splashes of olive oil make a great appetizer or light supper when served with a salad or soup.
Store bolognese in the fridge or freeze for later. Keep it in an airtight container in the fridge for three days, or freeze for up to two months.
Reheat on the stovetop. Thoroughly defrost before warming through on the stove over medium heat. Remember to stir occasionally to prevent the sauce from burning.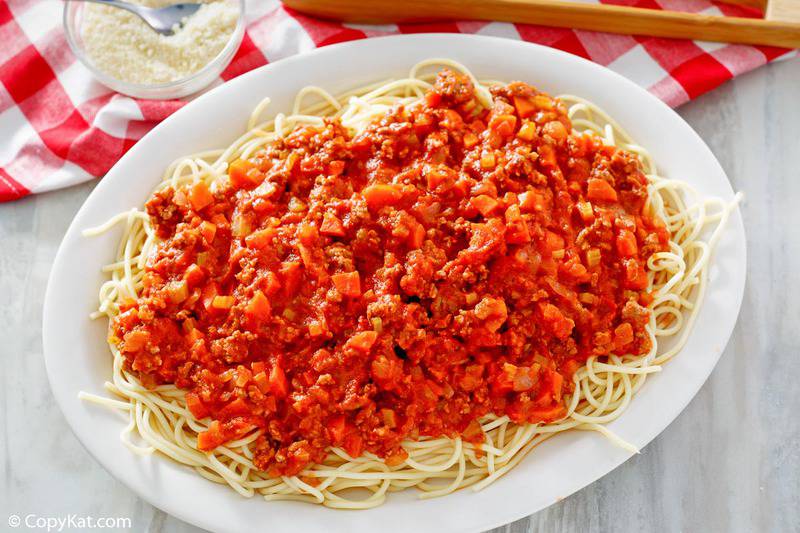 Love Olive Garden? Try these copycat recipes!
Favorite Italian Recipes
Be sure to check out more of my easy Italian recipes and the best Olive Garden copycat recipes.
Please stay connected with us by following us on Instagram!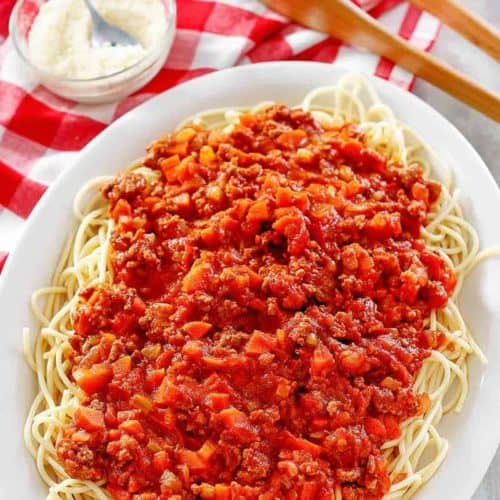 Ingredients
2

tablespoons

olive oil

1

cup

chopped onion

1

cup

chopped carrot

1

cup

chopped celery

2

teaspoons

chopped garlic

1/2

pound

ground beef

6

ounces

Italian sausage

removed from skin

1

cup

red wine

(Merlot or Pinot Noir recommended)

28

ounces

crushed tomatoes

chopped

1

teaspoon

fresh rosemary, chopped

(or 1/4 teaspoon dry)

1

teaspoon

fresh sage
Instructions
Heat oil in a large pan. Add celery, carrot, onion, and garlic and cook about 5 minutes. Add meat and cook 10 minutes over medium heat, stirring occasionally. De-glaze pan with wine; let it reduce. Add tomatoes and remaining ingredients and stir; simmer for about 1 hour. Serve over fresh, hot pasta.
Nutrition
Calories:
323
kcal
|
Carbohydrates:
13
g
|
Protein:
13
g
|
Fat:
21
g
|
Saturated Fat:
6
g
|
Cholesterol:
48
mg
|
Sodium:
410
mg
|
Potassium:
651
mg
|
Fiber:
2
g
|
Sugar:
7
g
|
Vitamin A:
285
IU
|
Vitamin C:
15
mg
|
Calcium:
68
mg
|
Iron:
3
mg