Every year I love to go back and see what you, the viewers thought were my best recipes of the previous year. Here are the top 25 most popular recipes. Popularity is based upon how many page views people like you generated. So let's get started.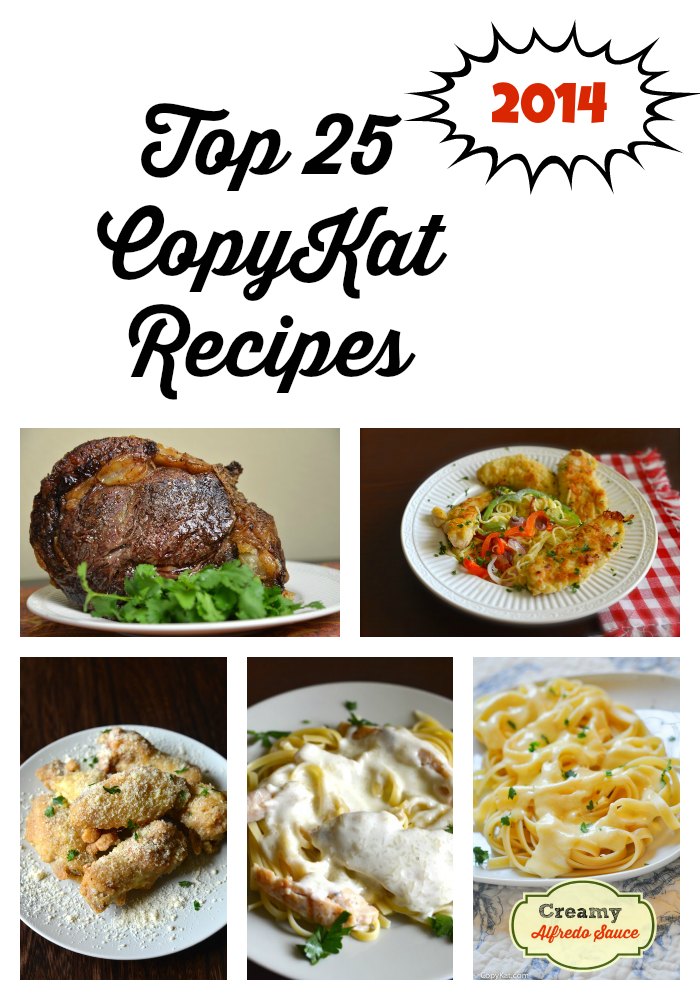 1. How to Make the Perfect Roast Beef – I know, it's not a CopyKat in the sense that this recipe comes from a particular place. Rather this is my best attempt to show you how to make roast beef really well.
2. Olive Garden Chicken Gnocchi Soup – This is my most popular soup by far. Recreate this Olive Garden soup recipe at home. Best of all you can add more chicken and more gnocchi if you dare.
3. Olive Garden Grilled Chicken and Alfredo Sauce – This recipe will show you how to prepare succulent grilled chicken and the Olive Garden Alfredo sauce just like they make it.
4. Olive Garden Salad Dressing – Yes, you can buy this at Sam's, Wal-Mart, or even Costco now days. That doesn't stop folks from whipping up a batch of this salad dressing at home.
5. Olive Garden Alfredo Sauce – Here is a fool-proof sauce you can make in the time it takes to cook the pasta. Even a novice cook can prepare this dish.
6. Olive Garden Chicken Scampi – This recipe was created to fulfill a readers request. Chicken is sauteed with peppers and more. Don't miss out on this one.
7. Hooters Fried Pickles – You can make these fried pickles at home, but you have to supply your own Hooter's girls.
8. Wendy's Chili – We all know they start with Hamburger patties that didn't sell just after they were grilled. My copycat version starts with fresh ground beef, I know you won't mind.
9. Jalapeno Poppers – Enjoy these crazy good jalapeno poppers. These taste better than any frozen ones you might buy. These are perfect for an appetizer, tailgating event, or even the Super Bowl party you want to have.
10. 13 Red Lobster Recipes – enjoy some of my copycat recipes and those of others. Don't miss out on all of these great Red Lobster recipes.
11. How to Make Pizza Dough – don't buy pizza dough from the store, make it from scratch. You will see how easily you can put this together from scratch.
12. Olive Garden Salad Mix – Want to make one of these salads at home? This is one of the most requested recipes from the Olive Garden.
13. Cheesecake Factory Oreo Cheesecake – You can prepare a cheesecake that tastes just as good as the Cheesecake Factory.
14. Melting Pot Cheddar Cheese Fondue – Want a romantic meal? This fondue is so easy to make, and it would make the perfect romantic evening.
15. How to Make Alfredo Sauce – Don't you dare buy this in a jar anymore. Make Alfredo sauce fresh from scratch. It is so easy to make.
16. Raising Canes Dipping Sauce – Prepare this amazing dipping sauce from scratch. It's perfect French fries, chicken tenders and so much more.
17. Olive Garden Bread Sticks – Yes, we are back at the Olive Garden for these famous bread sticks. Don't miss out on these.
18. Mexican Cornbread Casserole – This is my Grandmother's recipe. Seasoned ground beef, cornbread mix, and more combine for a delicious one pan meal.
19. Outback Steakhouse Baked Potato – Make an Outback Steakhouse Baked Potato just like they do. I will let you in on the secret of how they make that famous salt encrusted baked potato.
20. Cracker Barrel Fried Apples – I know their fried apples come from a jar. I will show you how to make them from scratch.
21. Popeyes Red Beans and Rice – You may love that chicken from Popeyes, here is my copycat recipe for their famous red beans and rice.
22. How to Make Bread Crumbs – Save money by making your own bread crumbs from scratch. Save yourself a trip to the store.
23. Olive Garden Zuppa Toscana – this is our last trip to the Olive Garden for this count down. This is my personal favorite recipe. I love this from scratch, you can add more potatoes and sausage if you desire.
24. Wingstop Garlic Parmesan Wings – These wings will be a bit hit for your Super Bowl party or even your special tailgating event.
25. Starbucks Banana Walnut Bread – Think of all of the money you will save when you make a whole loaf of this banana bread.