Smoked Meatloaf with BBQ sauce is so much better than a baked one. Impress your friends and family with an incredible dinner entree you cooked in a smoker.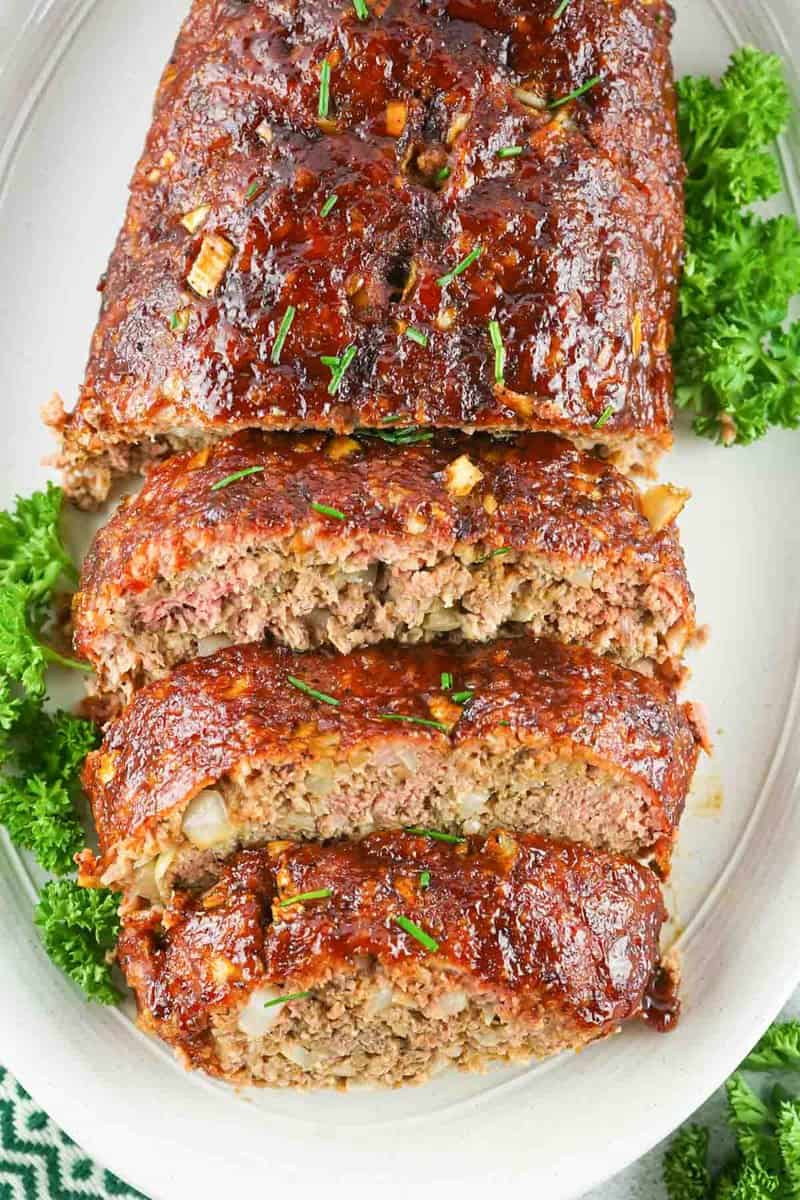 This post contains affiliate links. As an Amazon Associate, I earn from qualifying purchases.
Ultimate Comfort Food
If you were to conduct a random survey to find out which is America's most popular comfort food, you'd collect a lot of votes for meatloaf. Many folks have wonderful memories associated with meatloaf.
Maybe your grandmother's classic meatloaf recipe enjoyed with mashed potatoes. Maybe your mom's secret meatloaf recipe that she finally shared with you when you got married.
Or, it could also be that we love any kind of ground beef dish formed into a shape!
Why You Will Fall in Love With Smoked Meatloaf
If you have always loved meatloaf, you will be amazed by this smoked meatloaf recipe. Think of the smoke as acting like an extra ingredient that gives you a bonus by way of an incredible flavor and aroma.
Now, of course, meatloaf is delicious baked in the oven, but just imagine how incredible it can be smoked!
What Makes This Smoked Meatloaf Recipe the One You Will Make Again and Again?
This is the best smoked meatloaf recipe you will ever try because it produces a wonderfully moist meatloaf. You definitely won't end up with dry, crumbly meatloaf slices!
Best of all, this meatloaf tastes meaty because it's not full of filler ingredients, and the smoke flavor is a great enhancement!
This will be your go-to recipe for smoked meatloaf and deserving of a place in your family favorites recipe collection. Not only is this meatloaf incredibly flavorful, but it's just an easy meatloaf to make.
Smoked Meatloaf Recipe Ingredients
Smoked meatloaf pellet grill style needs just simple ingredients as follows:
Ground chuck
Ground pork
Eggs
Onion
Garlic
BBQ sauce
Breadcrumbs
Salt and pepper
What is the Best BBQ Sauce for Smoked Meatloaf?
You can use your preferred BBQ sauce for this smoked meatloaf recipe. Note it works best with a sweet, tomato-based BBQ sauce rather than one with a mustard or vinegar base.
How to Make Smoked Meatloaf
This best smoked meatloaf recipe is very easy to make. Just follow these simple steps:
Heat your smoker to 250°F
Add all the ingredients except half of the barbecue sauce to a large bowl.
Hand-knead the ingredients until just combined.
Mold the mixture into a log/loaf shape.
Place it in an aluminum pan in the smoker.
After 2 hours, brush the loaf with the remaining BBQ sauce.
Remove the smoked meatloaf when the internal temp is at 160°F.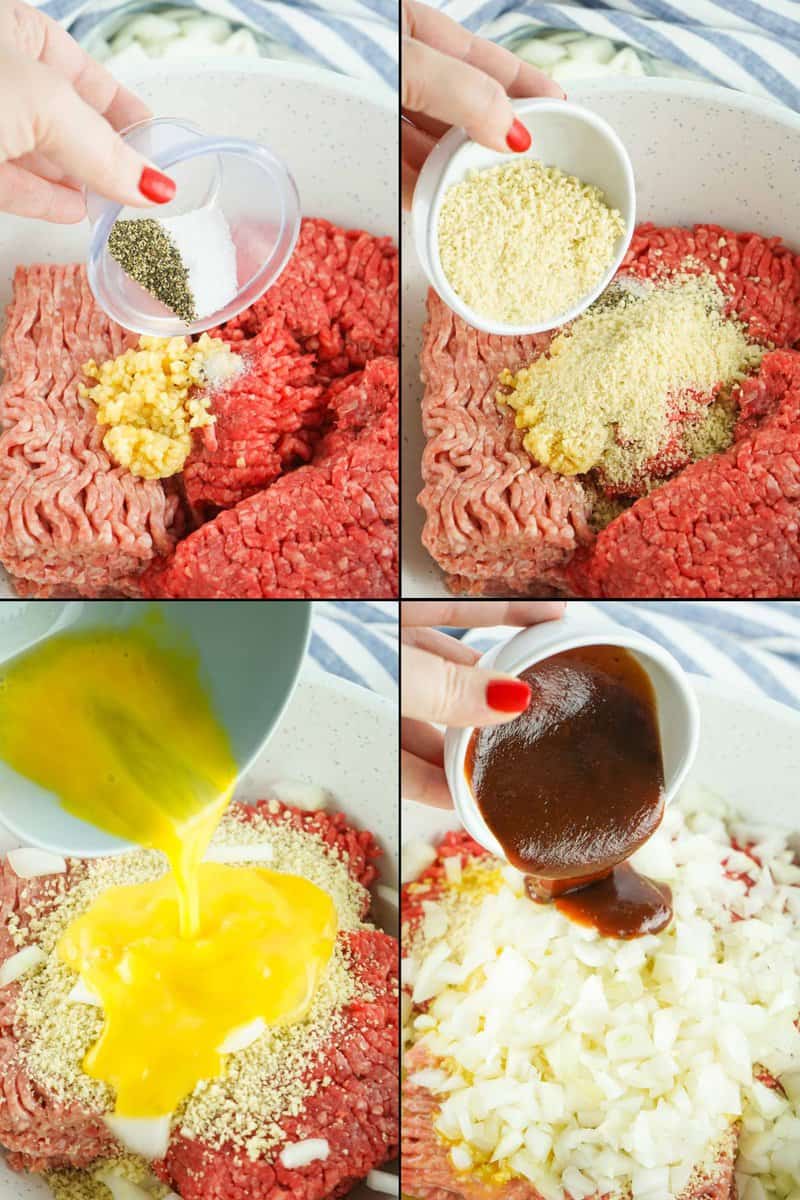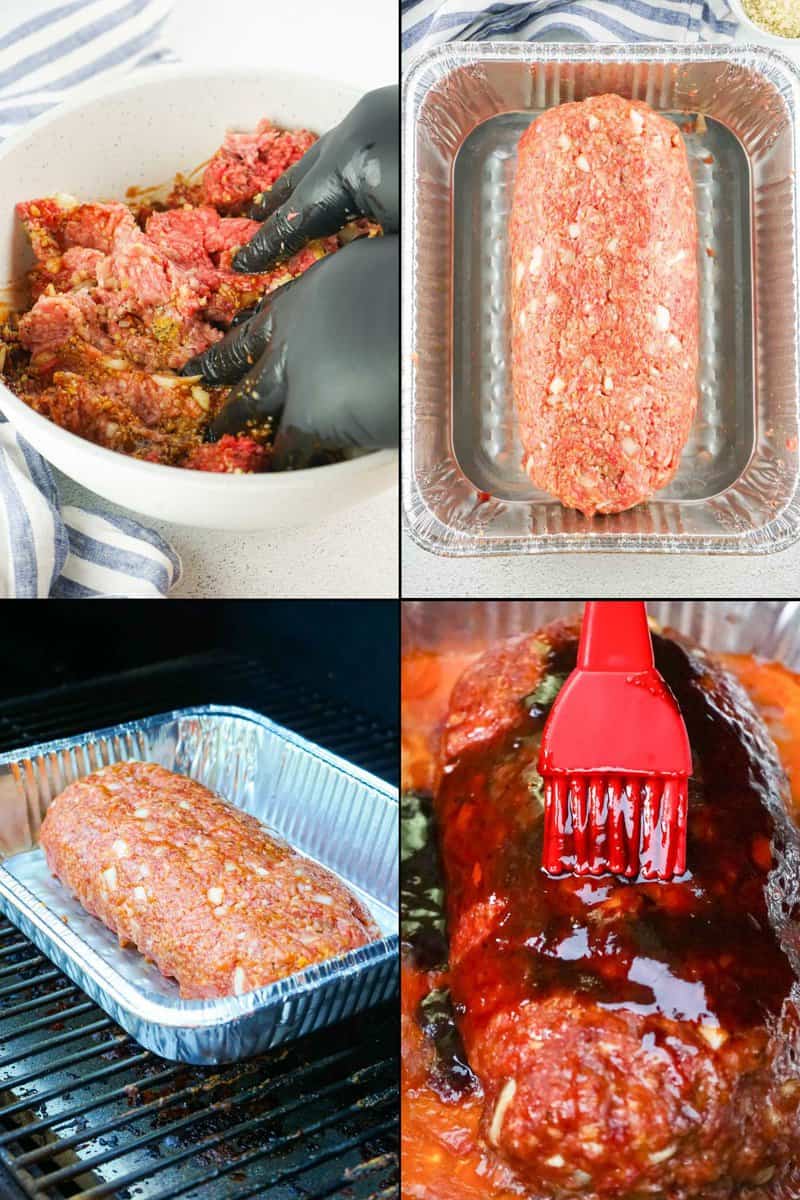 Recipe Notes
You can make this smoked meatloaf pellet grill style on any of the pellet smokers. Or, if you have a Traeger (a popular brand), you can make smoked meatloaf Traeger style.
Breadcrumbs in a meatloaf recipe act as a binder, but they can also soak up some of the juices. However, there is another way. Instead of breadcrumbs, use some sliced bread soaked in milk. The enzymes in the milk help to tenderize the beef.
Smoked Meatloaf Temperature – How to Tell When It's Done
Use a digital thermometer to check the smoked meatloaf internal temperature. Insert it into the center area of the meat. Once your meatloaf reaches 160°F, it's ready to be enjoyed by your anticipating family and friends!
What Kind of Pellets to Use
The best choice of wood chips are ones that impart a lot of smoky flavor into the meatloaf quickly. Hickory is a good choice. Maple, oak, mesquite, pecan, or cherry also work well.
Recipe Variations
Want to try some different flavors in your meatloaf? Here are some ideas:
Add cheese. Cheddar cheese is great and you can give it a kick of cheesy heat with pepper jack cheese. Add 1/2 cup to the meat mixture.
Add in some bacon, or make a smoked bacon wrapped meatloaf with bacon strips or a bacon weave.
Use Italian sausage instead of ground pork.
Add some green chilies or red pepper.
Don't care for BBQ sauce? Mix 1 cup of ketchup, 1 teaspoon of Worcestershire sauce, and 1/4 teaspoon of garlic powder and use it instead.
What to Serve With a Pellet Grill Meatloaf
This tender, seasoned meatloaf topped with a sticky glaze can be served with many delicious side dishes.
The Perfect Meatloaf Sandwich
Leftover slices make great smoked meatloaf sandwiches either used cold or reheated as follows:
While the meatloaf is reheating, toast slices of good quality bread.
Spread some mayo on the bread.
Add slices of meatloaf, some cheese (if desired) lettuce, tomato, and one or two slices of onion.
Top with the other piece of bread, and enjoy!
How to Store Leftover Meatloaf
Refrigerating: Place the meatloaf in an airtight container or wrap tightly in foil. You can also keep it in a loaf pan covered with plastic wrap or foil. It'll keep in the fridge for 3 to 5 days.
Freezing: Wrap the meatloaf in plastic cling film, then place it in an airtight storage container or freezer bag. It will keep in the freezer for 3 months. It can be kept frozen longer, but the flavor will begin to deteriorate.
Reheating: Defrost in the fridge the night before. The best way to reheat leftover meatloaf is in the oven at 250°F. Add a splash of water or broth to keep the meatloaf moist and cover the dish with aluminum foil. Bake for 25 minutes, or until heated through.
Popular Smoker Recipes
Would you like to increase your smoking and BBQ skills? There are many books about smoking food available to help you become a smoker pro.
Favorite Meatloaf and Ground Beef Dinner Recipes
Check out more of my easy dinner recipes and the best ground beef recipes on CopyKat!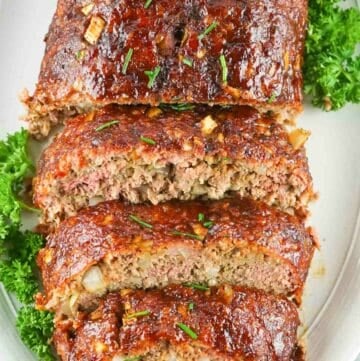 Ingredients
1½

pounds

ground beef chuck

1

pound

ground pork

½

cup

finely chopped onion

1

tablespoon

finely minced garlic

2

large eggs

slightly beaten

1

cup

bbq sauce

divided use

¾

cups

bread crumbs

1

teaspoon

salt

1/2

teaspoon

ground black pepper
Instructions
Heat your smoker to 250°F.

In a large bowl, add the ground beef, ground pork, onion, garlic, eggs, ½ cup BBQ sauce, bread crumbs, salt, and pepper.

Using your hands, knead the meat mixture until everything is well combined.

Mold the meat into a log/loaf shape.

Place the meatloaf in an aluminum pan.

Place meatloaf in the smoker once the smoker reaches 250°F.

Brush with the remaining BBQ sauce after about 2 hours of smoking.

Remove when the internal temperature is at 160°F.
Nutrition
Calories:
473
kcal
|
Carbohydrates:
20
g
|
Protein:
27
g
|
Fat:
31
g
|
Saturated Fat:
11
g
|
Polyunsaturated Fat:
2
g
|
Monounsaturated Fat:
13
g
|
Trans Fat:
1
g
|
Cholesterol:
142
mg
|
Sodium:
746
mg
|
Potassium:
510
mg
|
Fiber:
1
g
|
Sugar:
10
g
|
Vitamin A:
124
IU
|
Vitamin C:
2
mg
|
Calcium:
62
mg
|
Iron:
3
mg