Chick Fil A Sweet Tea is refreshing, smooth, and perfectly sweetened. It's the best sweet iced tea and costs less to make at home than getting it at a restaurant.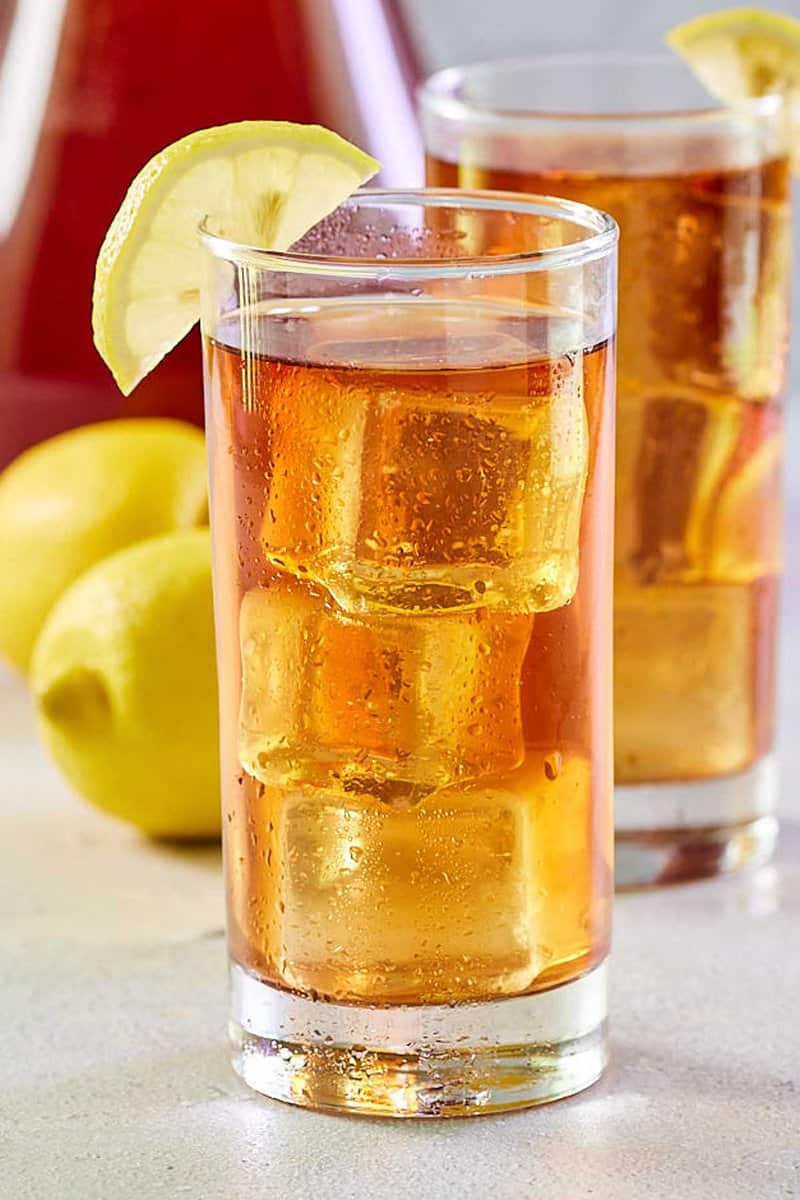 This post contains affiliate links. As an Amazon Associate, I earn from qualifying purchases.
What Makes Chick Fil A Sweet Tea So Good?
Chick Fil A is one of the best places to go whenever you're hankering for a delicious chicken sandwich. But you won't find one of the most popular official menu items served between two pieces of bread! That is because it is the chain's legendary Sweet Tea.
Made with high-quality ingredients, Chick Fil A sweet tea is a must-have every time you visit, but even if you can't make it to the restaurant, you can now enjoy the same authentic sweet tea at home with this recipe.
Why This is the Chick Fil A Sweet Tea Recipe You Must Try
There is nothing fancy about this Chick Fil A sweet iced tea recipe. After all, there is no need for things to get too complicated when it comes to sweetened iced tea.
While other versions ask you to add a pinch of baking soda, simple syrup, or an alternative sweetener, this recipe is just about as original and straightforward as it can be.
This copycat Chick Fil A sweet tea has spot-on flavor, the right amount of sweetness, and no bitterness.
Chick Fil A Sweet Tea Ingredients
To make the best sweet tea Chick Fil A style, you'll need:
Tetley Iced Tea Family Size Black Tea Bags
Real Cane Sugar (Granulated White Sugar)
Water
You don't have to use Tetley brand tea for this recipe. If your favorite brand of tea does not come in family-sized teabags, try substituting four regular tea bags for each family-sized bag.
Popular alternatives to Tetley that come in family-sized bags are Luzianne Iced Tea and Lipton Family Size Tea Bags.
To make unsweet tea, omit the sugar.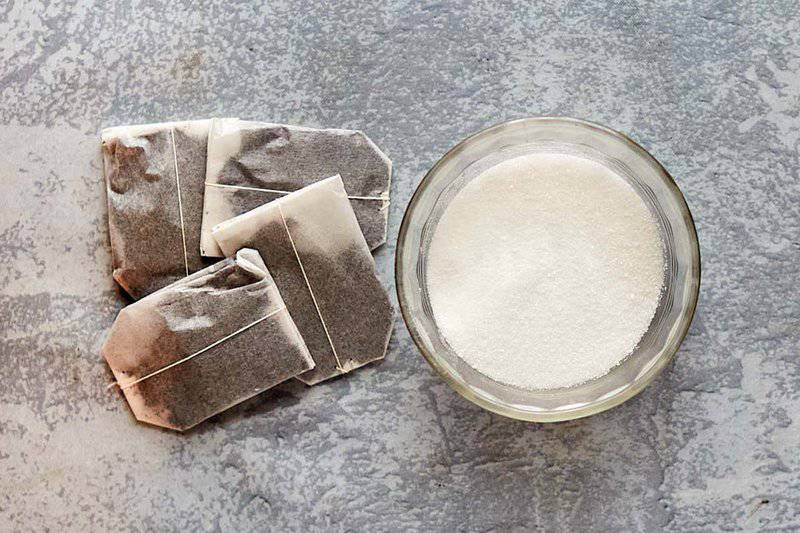 How To Make Chick Fil A Sweet Tea
To prepare this Chick Fil A sweet tea gallon recipe:
Bring 8 cups of water to a rolling boil in a large pot with at least a 6-quart capacity.
Turn off the heat and wait about 30 seconds before adding four family-sized tea bags directly into the pot.
Allow the tea to steep for about four minutes. You can try brewing for longer if you prefer a more robust tea. However, the longer you brew, the higher chance the tea will become bitter. It is best never to brew longer than 7 minutes.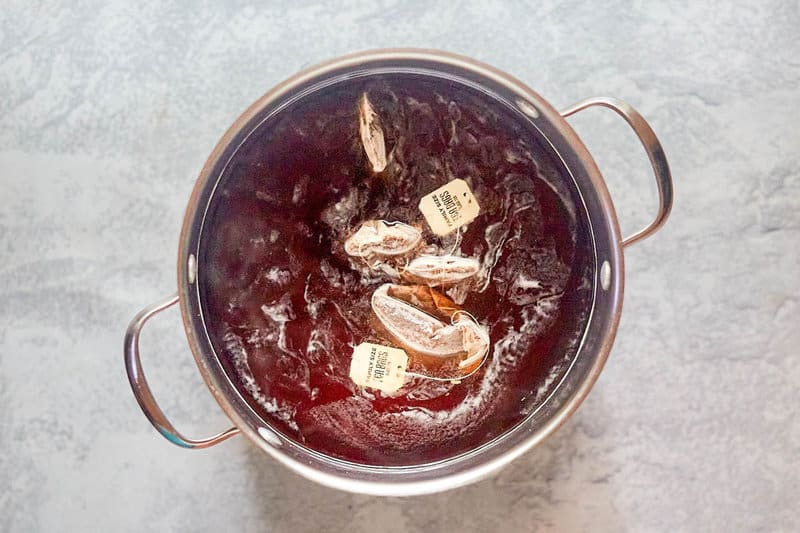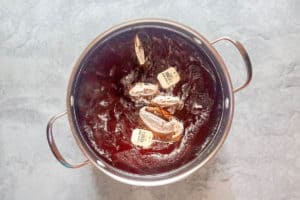 Discard the tea bags.
Add two cups of sugar and stir until the sugar completely dissolves.
Add 8 cups of cold water to the pot and stir.
Let the sweet tea cool without a lid. Once the sweet tea reaches room temperature, pour it into a glass pitcher.
Chill the pitcher in the fridge for at least an hour before serving.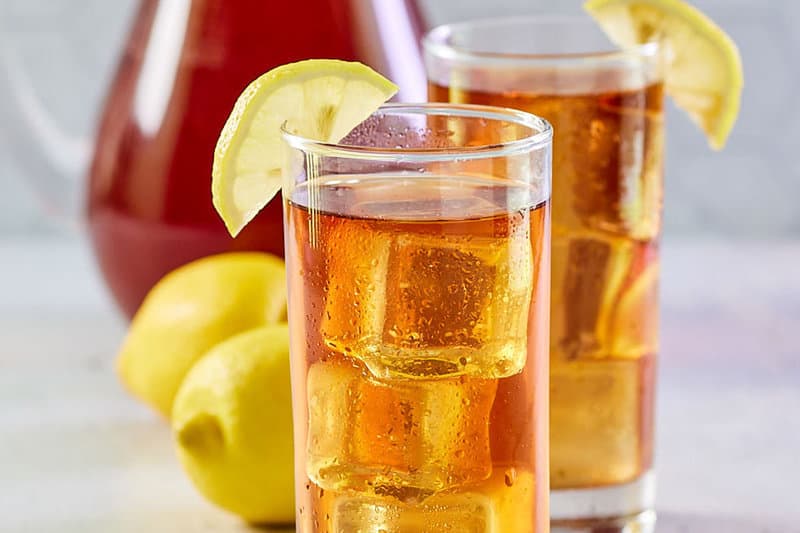 Chick Fil A Sweet Tea Lemonade
To make a sweet tea lemonade, combine half sweet tea and half lemonade in a glass or pitcher. Serve over ice and enjoy!
Use fresh-squeezed lemonade for the best flavor.
Make it sugar-free: Use diet lemonade and tea sweetened with an artificial sweetener.
What To Serve With Sweet Tea
Although many people consider sweet tea to be the perfect beverage for sipping when eating Southern classics like fried chicken or baby back ribs, it is more versatile than that. You can enjoy Chick Fil A Sweet Tea with any lunch or dinner; it is an ideal drink for cooling off in the middle of the afternoon.
The best way to serve sweet tea is in a tall glass filled with ice cubes. Garnish with fresh mint sprigs and lemon slices or lemon wedges.
How To Store Sweet Tea
Always put Chick Fil A sweet iced tea in the fridge to keep it fresh for longer.
How Long Does Sweet Tea Last
When you store sweet tea in the fridge, it can last up to five days in a pitcher with a lid. However, if you put it in an open container, you should finish it within 24 hours for the best taste.
Does Chick Fil A Sweet Tea Have Caffeine?
Yes, Chick-Fil-A sweet tea contains caffeine, 3.88mg per fluid ounce. A cup size (8 fluid ounces) contains 31mg of caffeine.
Another thing that's great about this copycat recipe is that you can make it at home using decaffeinated tea bags for caffeine-free tea. You'll make the best Chick-Fil-A iced tea for you and your guests.
Additional nutrition information can be found in the recipe card below.
More Chick-fil-A Copycat Recipes
Popular Iced Drink Recipes
Check out more of my easy drink recipes and the best copycat Chick Fil A recipes here on Copycat!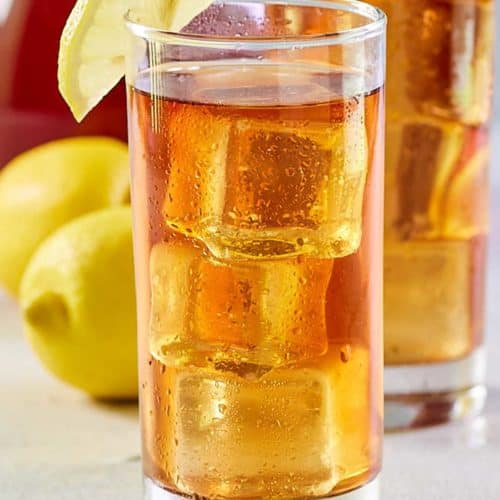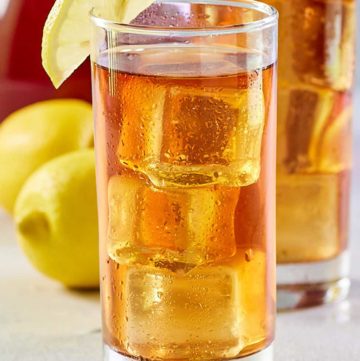 Ingredients
16

cups

water

divided use

4

family-size bags

Tetley iced tea blend

2

cups

sugar
Instructions
Bring 8 cups of water to a boil in a large pot over high heat.

Turn off the heat, add the tea bags to the water, and let steep for 4 minutes.

Remove the tea bags.

Add 2 cups of sugar, and stir until dissolved.

Add the remaining 8 cups of water, and stir.
Nutrition
Calories:
96
kcal
|
Carbohydrates:
25
g
|
Fat:
0.1
g
|
Sodium:
12
mg
|
Potassium:
1
mg
|
Sugar:
25
g
|
Calcium:
7
mg
|
Iron:
0.01
mg