Peanut Butter Frosting goes great on chocolate cake, cupcakes, and brownies. This is a very easy frosting to make. It requires no cooking.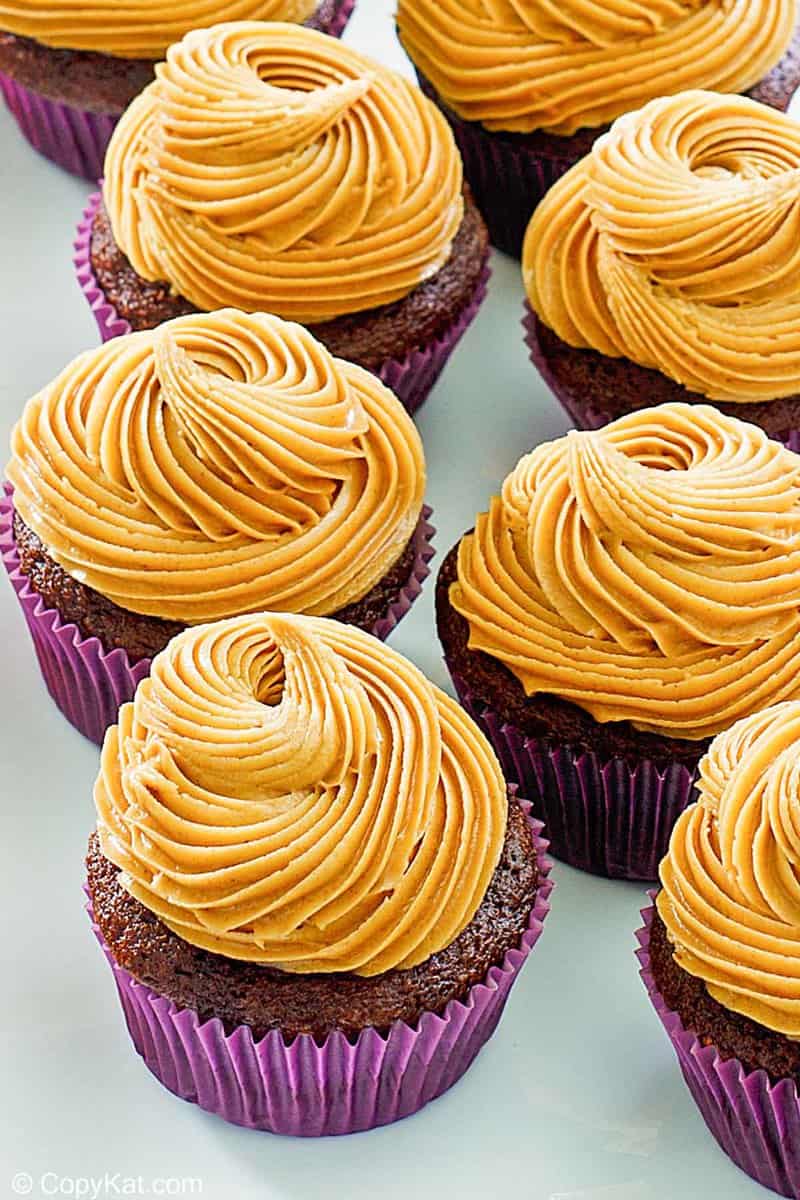 This post contains affiliate links. As an Amazon Associate, I earn from qualifying purchases.
A delicious and creamy peanut butter frosting recipe that you can use on so many different things! Plus it is extremely easy to make!
How to Make Peanut Butter Frosting From Scratch
When something is so tasty you always think it is going to be something hard to make on your own. Well, not this recipe! This peanut butter frosting is super easy to make from scratch with everything you have at home.
You just need some peanut butter, butter, powdered sugar, and vanilla extract. Everything will be mixed together either with a hand mixer or stand mixer.
It really is that simple! Try it out rather than buying the frosting premade. Premade frosting is nowhere near as good as this easy homemade recipe!
Will Any Type of Peanut Butter Work?
The simple answer is no. While the creamy or crunchy peanut butter from Jiff will work great, an all natural option will not.
The all natural peanut butters that have the oil that separates out do not work because they are too oily. The frosting will not set up well and will look wet.
How Much Will This Recipe Make?
When making a recipe it's always nice to know how much to expect beforehand. For this recipe, you will be able to cover:
12 to 15 cupcakes
A 9×13 inch pan
A double layer round cake
So based on how many cupcakes you need or how many layers of cake you are making you can easily double the recipe if you are making larger quantities. Plus, if you like to layer your cake or cupcakes a little thicker I take that into consideration too.
What Goes Well With Peanut Butter Frosting?
While I would argue most anything, even a spoon 😉 let me give you a few ideas.
I like to make this recipe up when I am making a chocolate cake, or chocolate cupcakes.
You can even pull out two graham crackers and make a dessert sandwich by putting the peanut butter frosting between them.
It is especially good on brownies just out of the oven. You can make up the peanut butter frosting while the brownies are cooking. Then I like to spread it on when they are warm so the frosting melts just slightly. So good!!
You can use this recipe on chocolate sugar cookies too, and top it off with some crumbled reese. Talk about a delicious treat!
The Best Way To Store This Peanut Butter Frosting Recipe
Just like most buttercream type frostings, this will be best stored in an airtight container in the fridge. Because there is butter in the frosting, the fridge is the best option.
However, when you want to use the frosting, let it sit out on the counter for a half hour to an hour. This will let the frosting soften back up again.
Then, just give it a good stir and it is ready to go! Believe me you do not want to have hard frosting when trying to frost a cake or cupcakes. It will not turn out well, you'll end up ripping the cake.
Recipe Ingredients
Here's a list of what you need:
Creamy peanut butter
Butter
Powdered sugar
Vanilla extract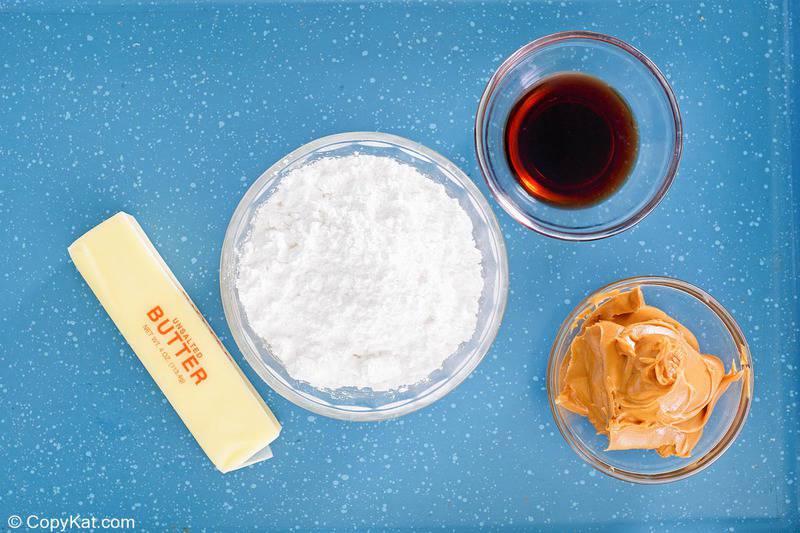 How to Make Peanut Butter Frosting
Put the peanut butter and butter in a bowl and beat with an electric mixer until smooth.
Sift powdered sugar to remove lumps.
Add powdered sugar and vanilla to the peanut butter mixture.

Beat until combined and smooth.
Spread the frosting on cake, cupcakes, or brownies.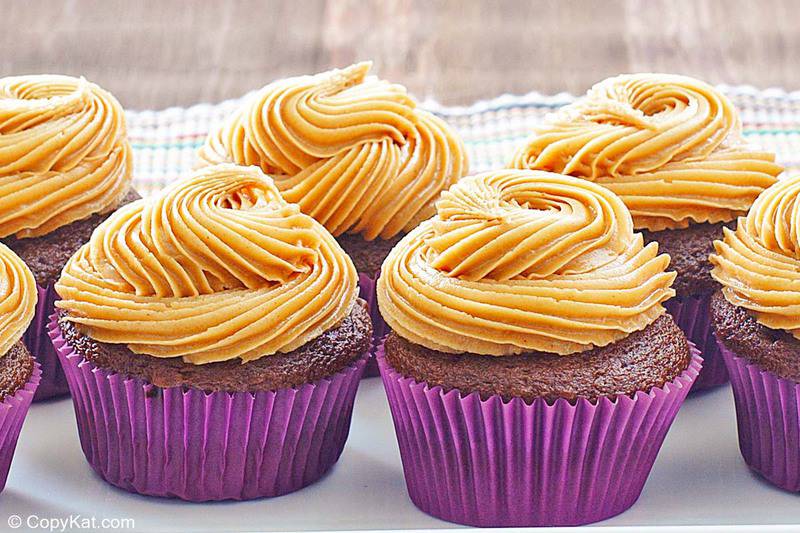 Love peanut butter? Try these recipes!
Popular Nut Recipes
Check out more of my easy dessert recipes and the best DIY recipes here on CopyKat!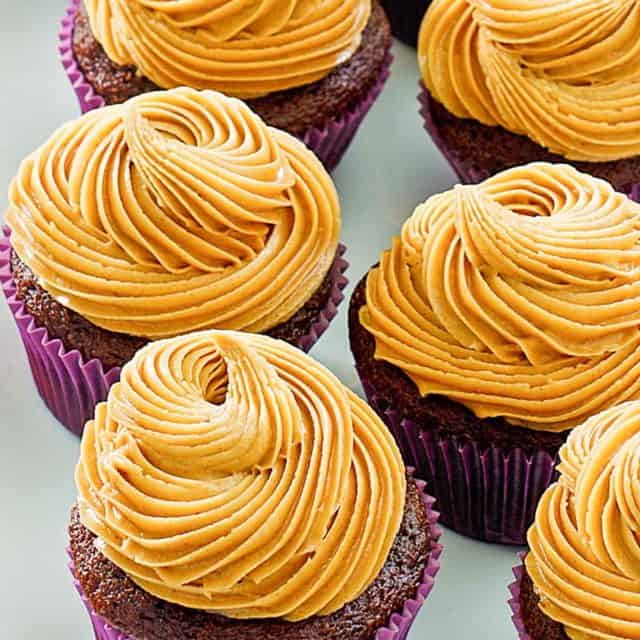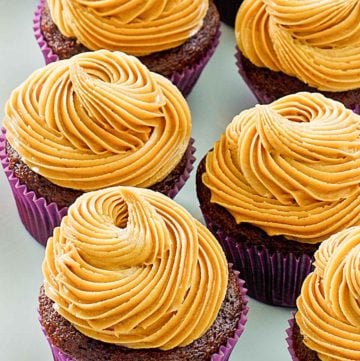 Ingredients
1

cup

creamy peanut butter

3

tablespoons

butter

2/3

cup

powdered sugar

1

teaspoon

vanilla extract
Instructions
Place peanut butter and butter in a bowl.

Beat with an electric mixer until smooth.

Sift powdered sugar making sure to remove any lumps.

Add powdered sugar and vanilla extract to the peanut butter mixture.

Beat until combined and smooth.
Nutrition
Calories:
178
kcal
|
Carbohydrates:
10
g
|
Protein:
5
g
|
Fat:
13
g
|
Saturated Fat:
4
g
|
Cholesterol:
7
mg
|
Sodium:
123
mg
|
Potassium:
139
mg
|
Fiber:
1
g
|
Sugar:
8
g
|
Vitamin A:
85
IU
|
Calcium:
10
mg
|
Iron:
0.4
mg