Quench your thirst with a stunning Starbucks Dragon Drink! It's creamy with a perfect blend of tropical fruit flavors. This vibrant pink beverage is sure to delight your taste buds. Save money and make this delicious and refreshing beverage at home with this easy copycat recipe.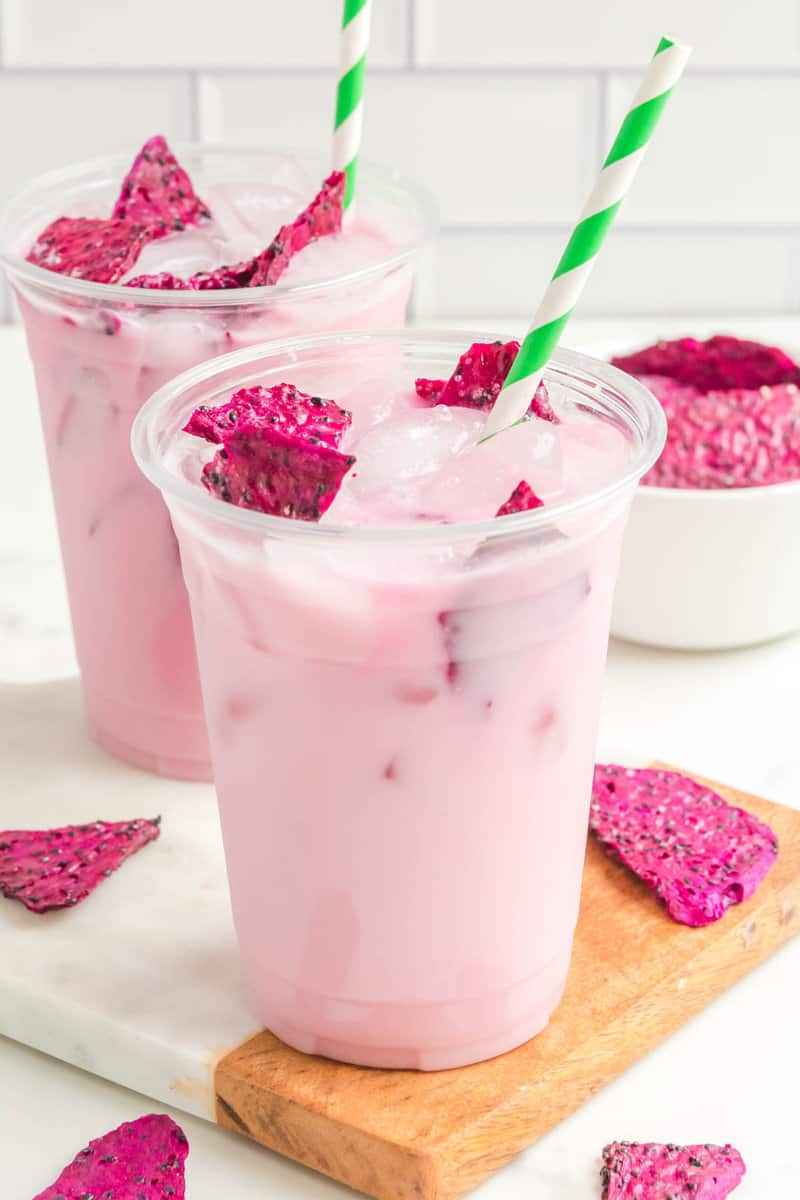 This post contains affiliate links. As an Amazon Associate, I earn from qualifying purchases.
Why Is the Starbucks Dragon Drink So Good?
These days, everyone seems to have some sort of Starbucks addiction. But if you ever crave something other than your favorite coffee drink, try one of the chain's fruit-based refreshers, like the Dragon Fruit Drink. This sweet, tart, and creamy creation with a bright pink color is a unique way to cool off.
So, what is the Starbucks Dragon Drink anyway? It's a popular iced drink with a blend of mango juice, powdered dragon fruit, white grape juice, and creamy coconut milk with bits of dried dragon fruit. One sip of the Dragon Fruit Drink from Starbucks with its tropical flavor is all it takes to transport you to the islands.
This deliciously creamy coconut milk beverage is dairy-free.
Why You Should Try This Recipe
Many people consider dragon fruit a superfood because it's high in nutrients and may help to boost the immune system. Regardless of any reported health benefits, this juice just tastes amazing.
If you have tried the mango dragon fruit refresher drink at Starbucks and like it, don't be put off by the cost of some of the ingredients. You will definitely save money in the long run compared to how much you spend at the cafe.
And if you are wondering, does Starbucks Dragon Drink have caffeine? The answer is yes! The original version you get at Starbucks contains green coffee and has some caffeine, but this copycat Starbucks Dragon Drink doesn't have any green coffee in it, so it's caffeine-free!
Copycat Starbucks Dragon Drink Ingredients
To make this Dragon Drink Starbucks recipe, you'll need:
Mango juice
Unsweetened coconut milk
White grape juice
Pink dragon fruit powder
Dried dragon fruit pieces
Ice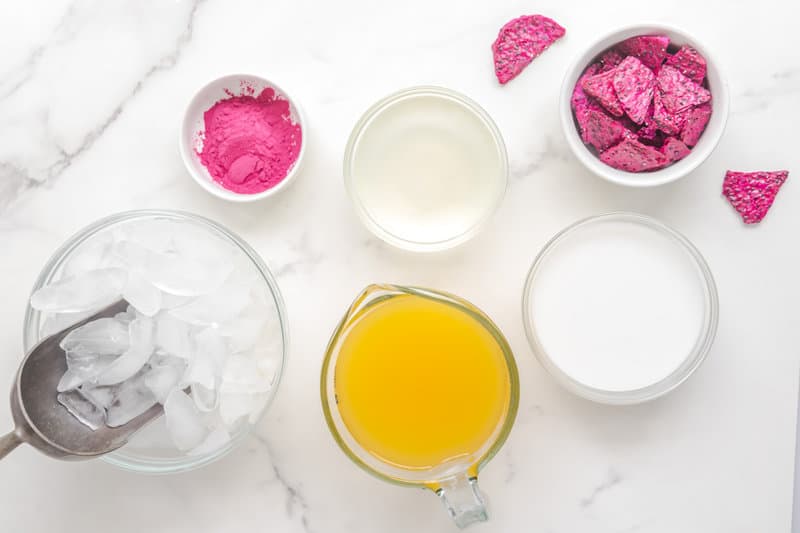 Ingredient Notes
Choose 100 percent fruit juice for this recipe. Don't use any juice with added sugar because the dragon fruit is pretty sweet on its own.
Pink dragon fruit powder and dried dragon fruit pieces are two ingredients that may take a little effort to find. But, like almost anything else, you can find them online. Check out the Where to Find the Ingredients section below to find out more.
How to Make the Dragon Drink Starbucks Style
To prepare this Dragon Drink Starbucks copycat recipe:
Combine the mango juice, coconut milk, and grape juice in a pitcher or mixing bowl with a spout.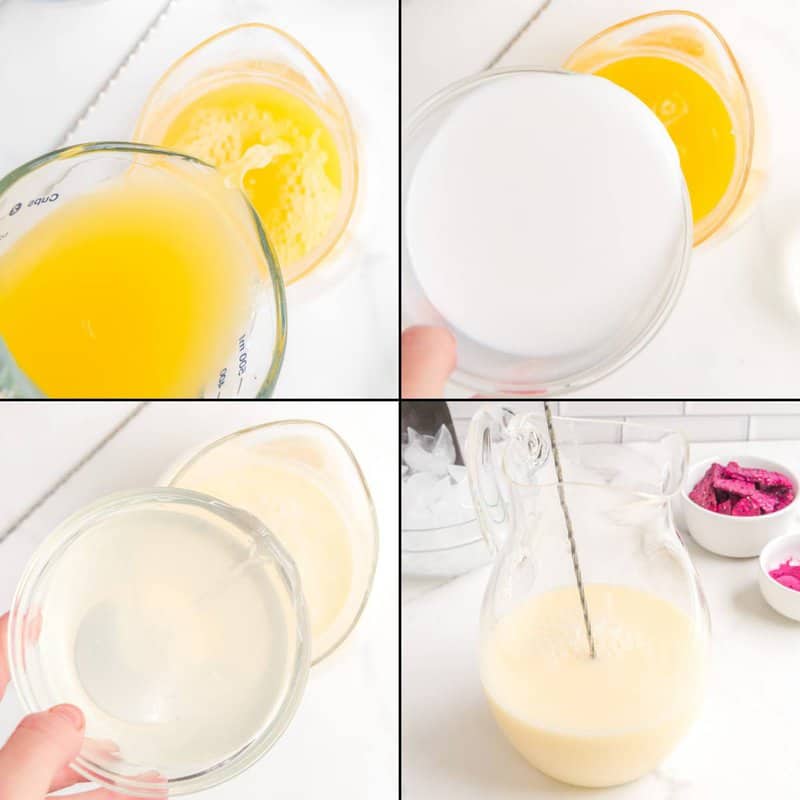 Whisk in the pink dragon fruit powder to the mango-coconut milk mixture until it dissolves.
Fill the serving glass with alternate layers of ice and freeze-dried dragonfruit pieces.
Pour the drink into the glass and slip in a straw.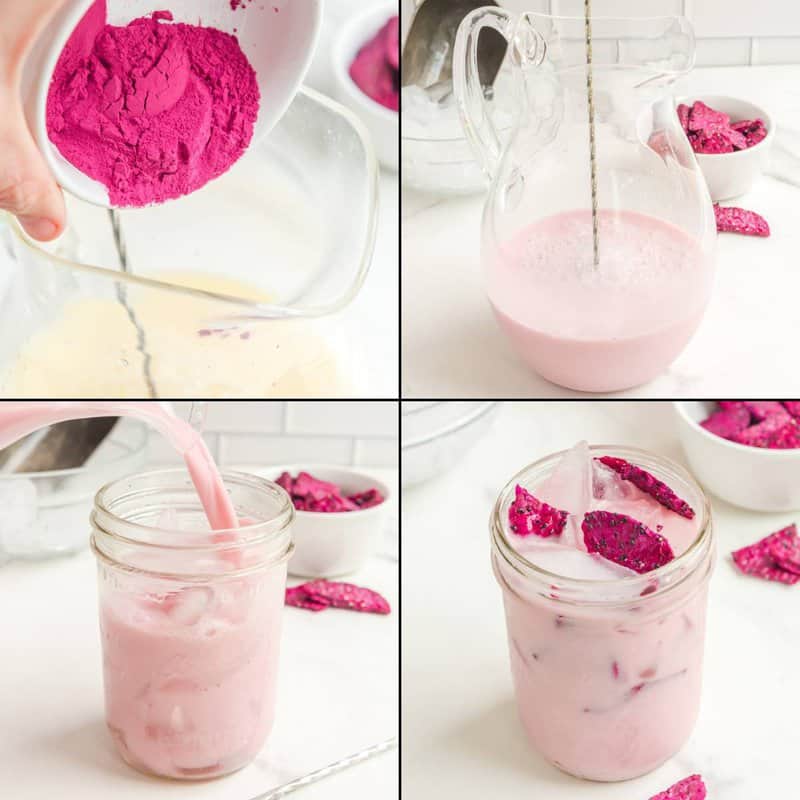 Alternatively, you can combine the ingredients in a cocktail shaker or mason jar and shake them until well blended.
Where to Find the Ingredients For Starbucks Dragon Drink Recipe
You're lucky if your local grocery store stocks freeze-dried dragon fruit powder or freeze-dried dragon fruit pieces. Most people need to go online to buy the ingredients for this recipe.
Amazon has several brands of both. Look for a brand that is 100 percent pure dragon fruit and is for cooking and not purely as a health supplement. Some brands of dried dragon fruit can be expensive, but a few are less expensive and still taste good.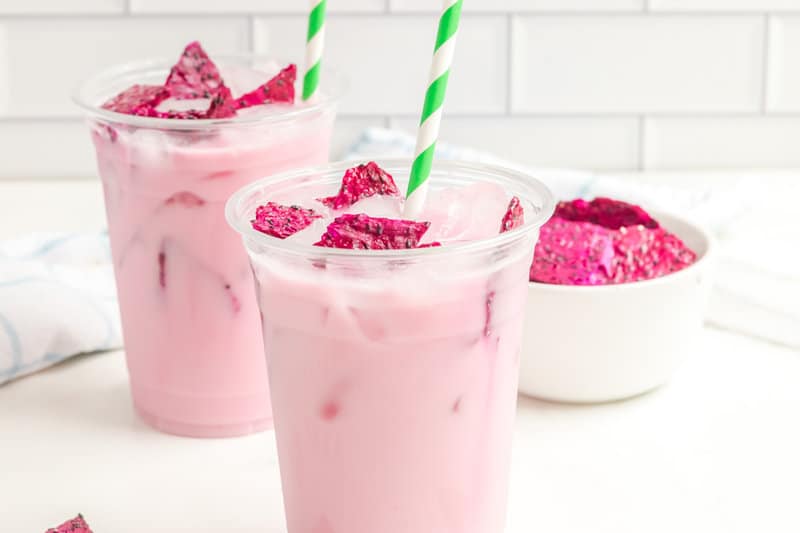 What to Serve It With?
A straw is all you need to enjoy your Starbucks mango dragonfruit refresher but feel free to get a little more creative. Try topping the drink with whipped cream or vanilla cold foam. Don't want or can't find dried dragon fruit? Leave it out, or use dried mango or dried pineapple chunks instead.
If you need a bit of a jolt to get going, add a half-teaspoon of green coffee extract for some caffeine. You'll probably be able to find green coffee extract in the same place you buy the pink dragon fruit powder.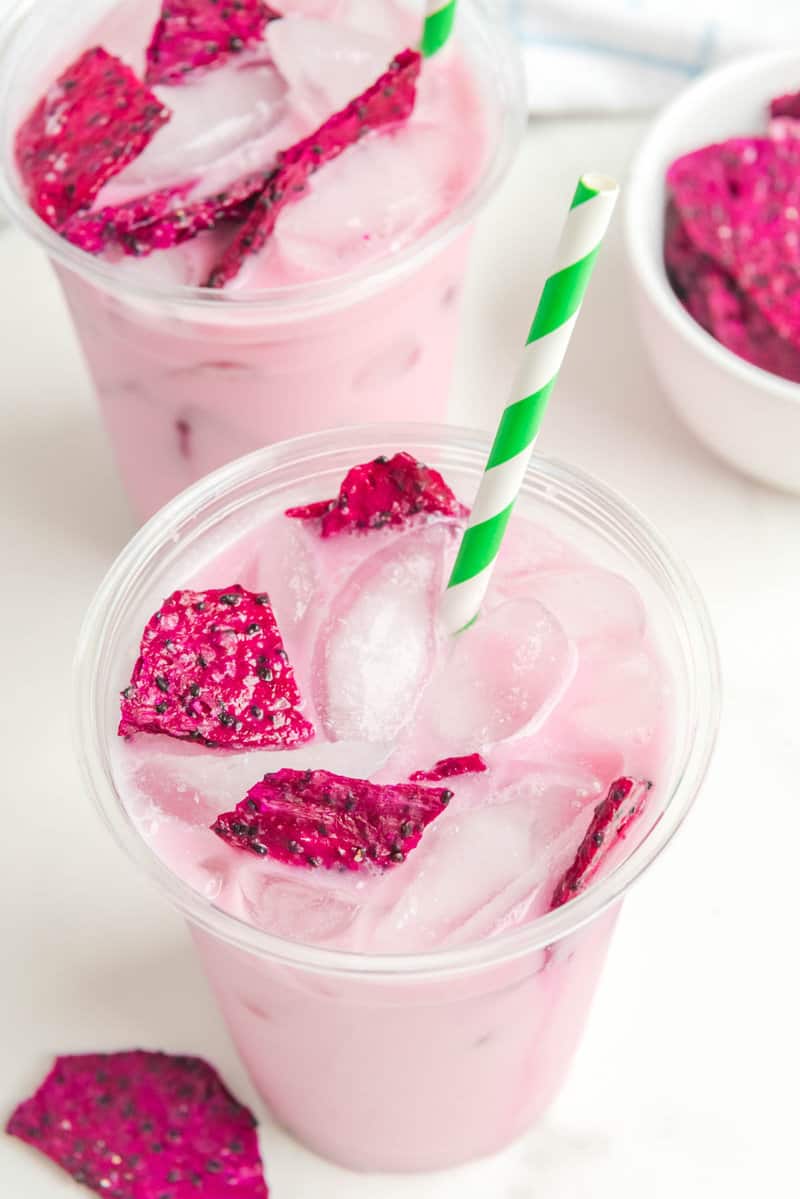 More Starbucks Drinks Copycat Recipes
Find even more copycat recipes for Starbucks Refreshers.
Favorite Refreshing Fast Food Drinks
Check out more of my easy drink recipes and the best copycat Starbucks recipes on CopyKat!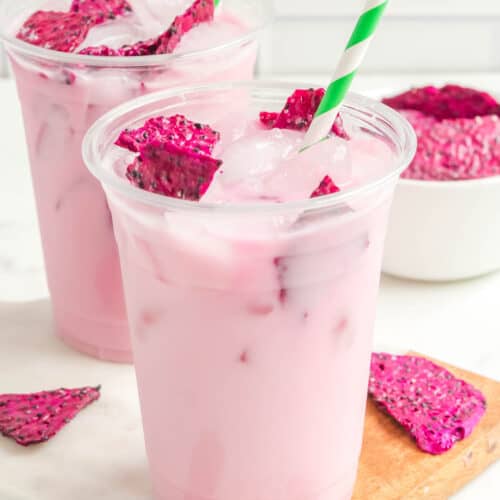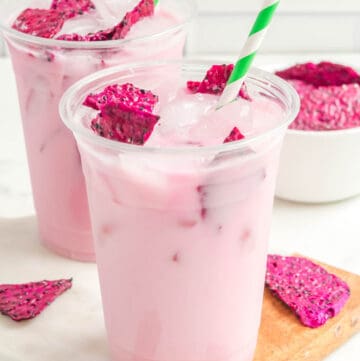 Ingredients
2

cups

mango juice

1

cup

coconut milk

1/2

cup

white grape juice

1

teaspoon

pink dragon fruit powder

ice

to serve

1/2

cup

dried dragon fruit pieces

to garnish
Instructions
Combine the mango juice, coconut milk, and grape juice. Mix well.

Add the dragon fruit powder and stir or whisk until fully incorporated.

Pour over ice and garnish with dried dragon fruit pieces.
Notes
For caffeine, you can add 1/2 teaspoon green coffee bean extract.
Nutrition
Calories:
424
kcal
|
Carbohydrates:
51
g
|
Protein:
3
g
|
Fat:
25
g
|
Saturated Fat:
21
g
|
Polyunsaturated Fat:
0.3
g
|
Monounsaturated Fat:
1
g
|
Sodium:
66
mg
|
Potassium:
375
mg
|
Fiber:
1
g
|
Sugar:
45
g
|
Vitamin A:
1742
IU
|
Vitamin C:
39
mg
|
Calcium:
70
mg
|
Iron:
6
mg