Starbucks makes more than coffee. Have you tried their Starbucks Passion Tea Lemonade? It's a refreshing drink with bright citrus and fruit flavors.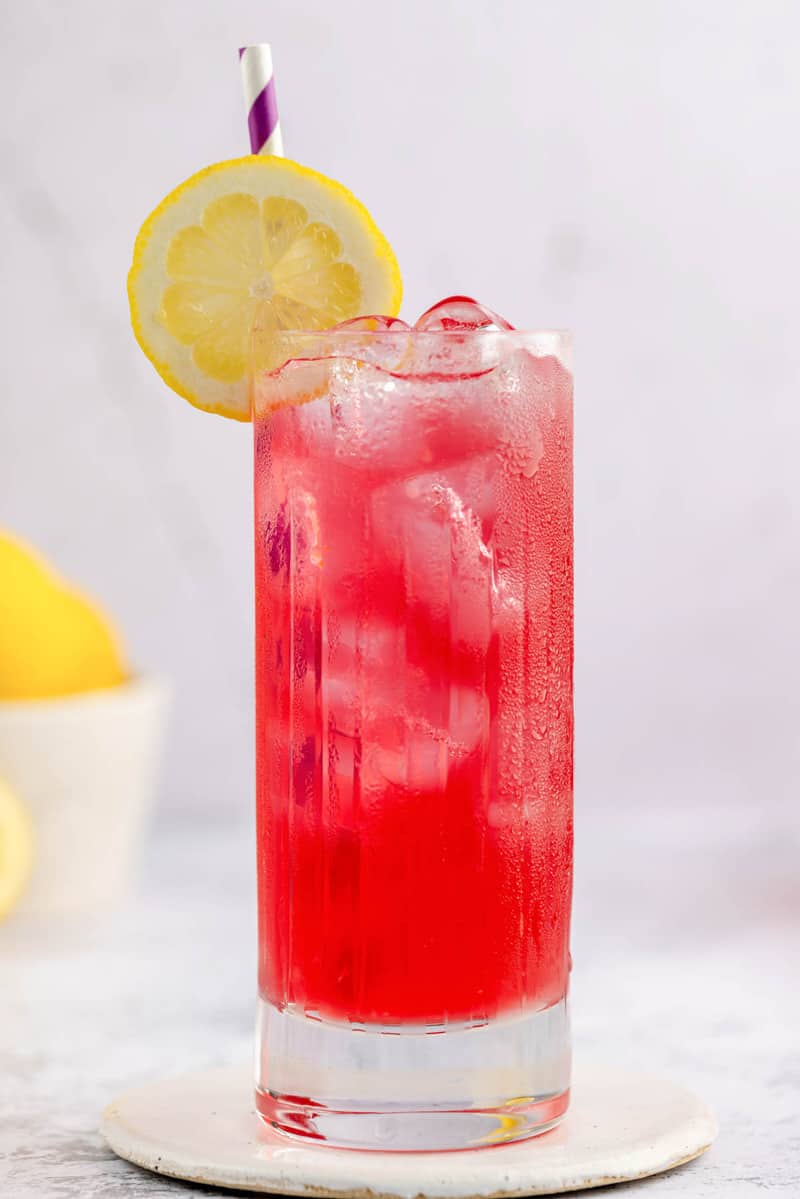 This post contains affiliate links. As an Amazon Associate, I earn from qualifying purchases.
Starbucks Tea Drinks
If you go to Starbucks only for coffee you are missing out on a whole side of the menu full of non-coffee drinks. They have hot and iced teas that are delicious. They also have non-coffee frappuccinos that are a nice treat. And we can't forget all their pastries, sweets and lunch items. There is a whole other world of goodies to order besides coffee.
Passion Tea with Lemonade
The passion tea lemonade is one of those non-coffee drinks that will likely become a new favorite after you try it. It is made with passion fruit tea and lemonade and is the perfect combination of sweet and tart.
The passion fruit iced tea lemonade combines hibiscus, lemongrass, and apple to create a truly unique drink. The addition of lemonade makes it even more refreshing.
It's Starbucks' version of the well-known Arnold Palmer drink. This copycat Starbucks drink is a nice cold beverage on a warm day or when you might not want a coffee.
What Makes the Starbucks Passion Tea Lemonade So Refreshing
Is there anything better than a tall, ice-cold glass of lemonade on a hot summer day? For generations, front porch sippers have preferred lemonade for its sweet and tart flavor that makes lips pucker while quenching the mightiest of thirsts.
But Starbucks is on a mission to change that with a new, even more refreshing drink, the Starbucks Iced Passion Tango Tea Lemonade. It takes a cold glass of iced tea to a whole new flavor level.
What Does Passion Tea Lemonade Taste Like?
Drawing inspiration from the classic Arnold Palmer, this recipe takes lemonade and combines it not with ordinary sweet tea but with iced passion fruit tea instead.
Passion fruit tea has a natural sweetness and delicate tropical flavors that transform this recipe into something not only at home on the sunny white-sand beaches of Mo'orea but also on the shady maple-lined streets of middle America.
Is There Caffeine in the Starbucks Passion Tea?
Feel free to enjoy this passion fruit tea lemonade Starbucks recipe any time of the day or night without worrying about caffeine keeping you up. Tazo Iced Passion Tea is entirely caffeine-free!
Starbucks Passion Tea Lemonade Ingredients
Tazo iced passion tea bags
Filtered Water
Lemonade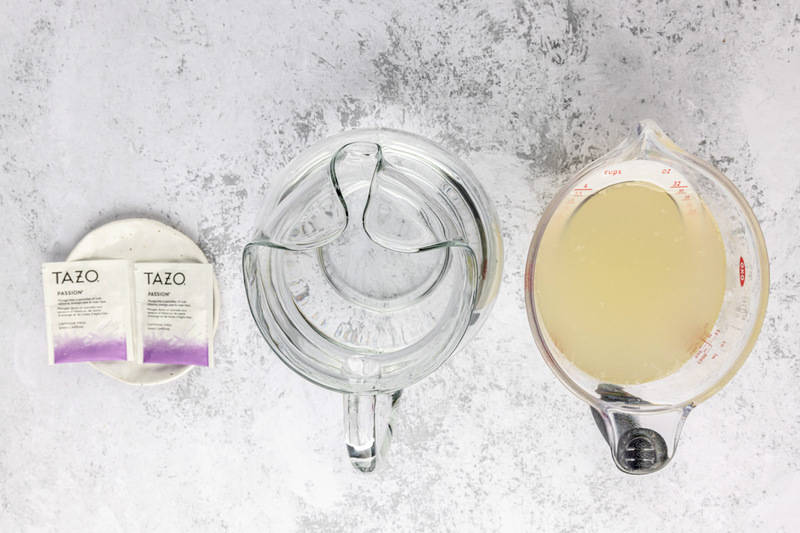 The secret to the Passion iced tea is using the Tazo Passion Tea Bags. You can buy this herbal tea on Amazon, or in many grocery stores.
How to Make Passion Tea Lemonade
To make this copycat Starbucks iced passion tea lemonade recipe, follow these directions:
Bring four cups of filtered or bottled water to a boil in a kettle.
Remove the kettle from the heat and let it sit for about thirty seconds. Allowing the water to cool slightly before brewing reducing it to the optimal temperature range of between 203 and 208 degrees Fahrenheit.
Place two passion fruit tea bags in the pitcher and pour the hot water over the top.
Let the tea steep for about 8 minutes. Taste to make sure the tea is strong enough to stand up to the lemonade. However, it is better to err on the side of under brewing the tea than over brewing it. Leaving the tea bags in the water for too long can lead to an unpleasant acidic taste.
Pour in the lemonade and stir.
Put the pitcher in the fridge until serving.
Pour into a tall glass filled with ice cubes. Garnish with a lemon wheel and a straw.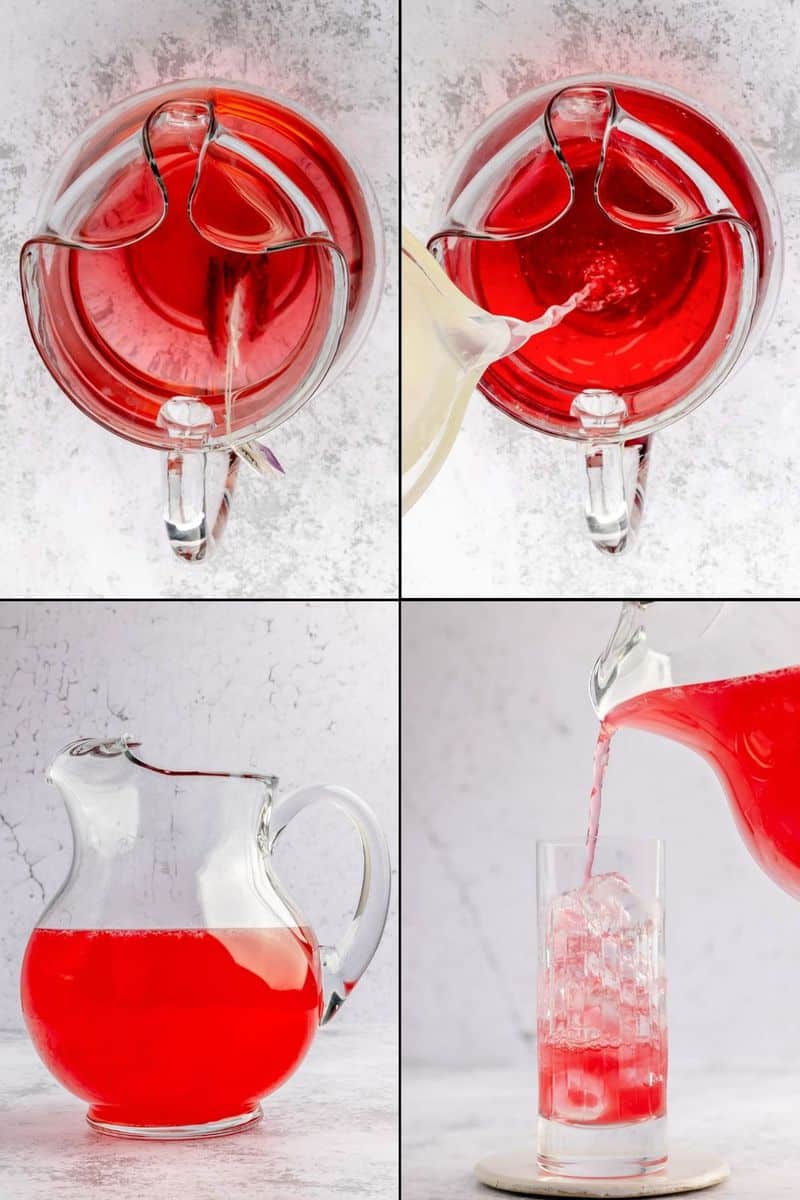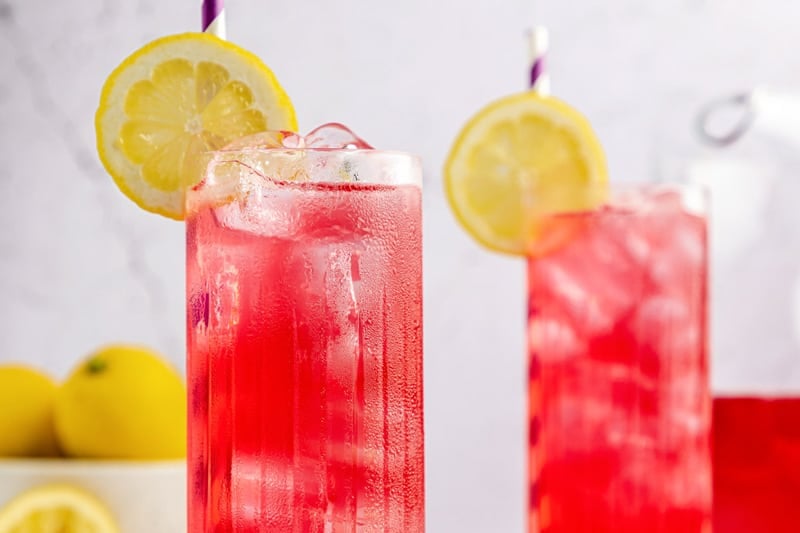 Homemade Passion Tea Lemonade
The great thing about this drink is that you can make it at home for a fraction of the cost. The recipe makes a pitcher of the passion fruit lemonade so you can keep it in the fridge and have it on hand.
You can pick up the Tazo passion fruit tea at your local grocery store in the coffee aisle. They have an iced passion blend that is perfect for re-creating this yummy drink at home.
Can You Customize This Iced Passion Tea Lemonade Starbucks Recipe?
Of course, you can!
Start by changing the type of lemonade you use. Skip the store-bought, and make homemade lemonade with fresh lemon juice.
Add more flavors to the mix. Go a little further and use a flavored lemonade like pineapple, watermelon, or strawberry lemonade. Or add one or two flavored syrups to the lemonade.
Make a slushie out of it. Make a pitcher of Passion Tea Lemonade and pour it into two ice cube trays. Reserve some Passion Tea Lemonade and put it in the fridge. Freeze the passion tea lemonade until just frozen. Crush the cubes in a blender with enough unfrozen passion tea lemonade to make a slushie
Turn it into a passion tea cocktail. If you want something a little wilder, try adding a few shots of rum, tequila, or vodka to the blender before making the slushie.
How to Serve This Fruity Lemonade
Simply set out the pitcher, large glasses, ice, and garnishes. Your guests can make their own drinks. Just wait for them to mention how it is now their favorite drink.
How To Store Passion Tea Lemonade
Once you make this copycat Starbucks passion tea lemonade recipe, keep the pitcher of it in the fridge for up to five days. Don't put ice in the pitcher, or you will water the drink down.
Do you love coffeehouse drinks? Be sure to check out my Copycat Coffeehouse Recipes ebook. There are over 40 coffeehouse recipes in it.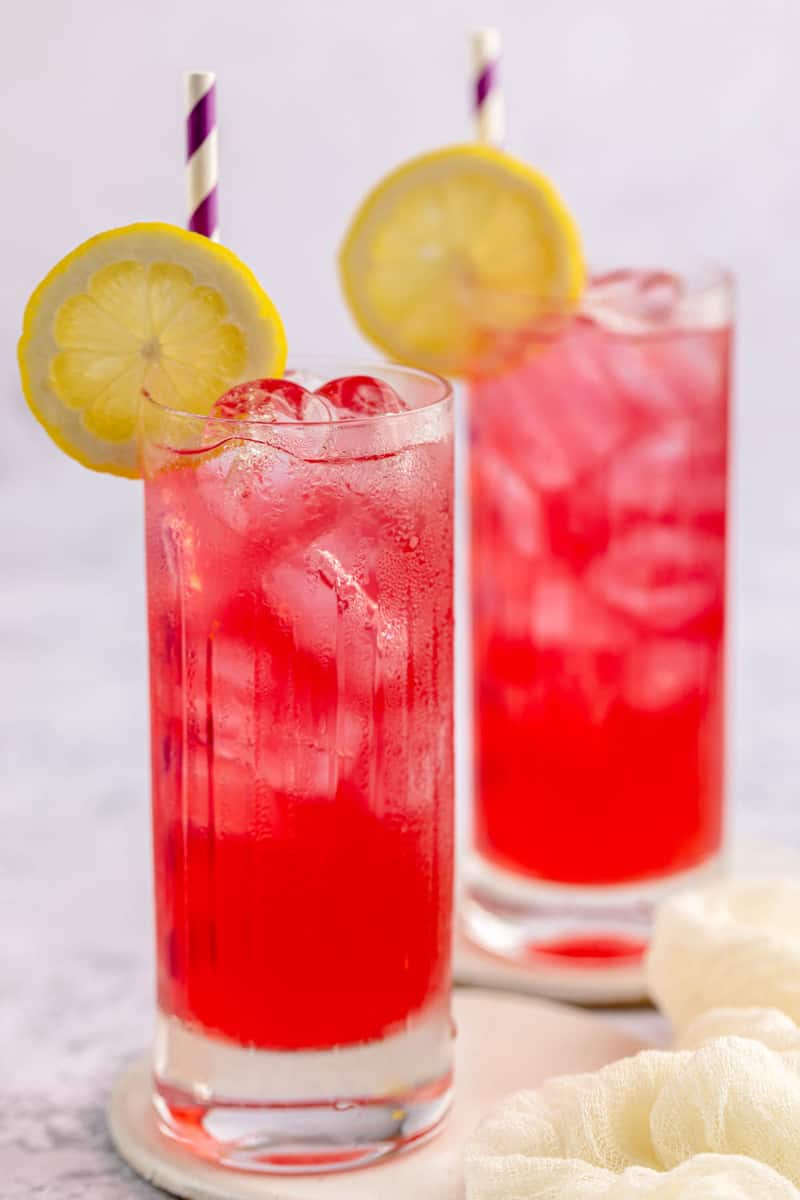 More Copycat Starbucks Recipes
More Refreshing Drink Recipes to Try
Be sure to check out more Starbucks copycat recipes and the best fast food to make at home here on CopyKat!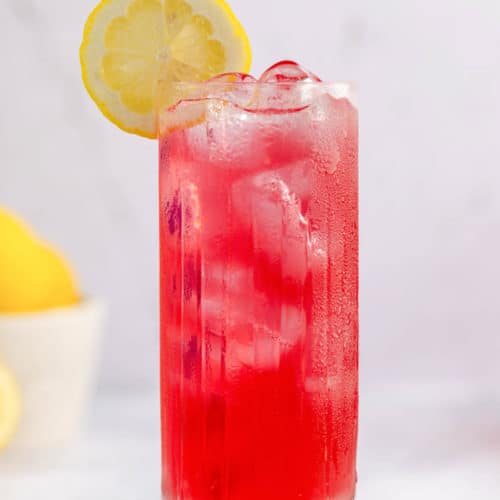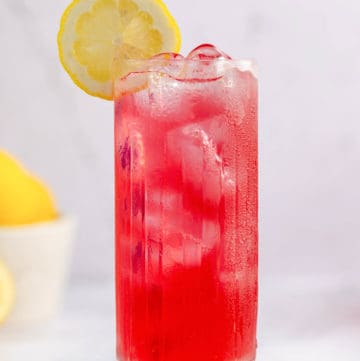 Ingredients
4

cups

water

2

Tazo Iced Passion tea bags

4

cups

lemonade

lemon slices

to garnish (optional)
Instructions
Bring 4 cups of water to a boil. Carefully pour the hot water over the tea bags in a large pitcher. Steep the tea for 5 to 10 minutes, and then remove the tea bags.

Pour the lemonade into the pitcher and stir to combine.

Serve over ice and garnish with lemon slices if desired. Store the remaining tea in the refrigerator.
Nutrition
Calories:
119
kcal
|
Carbohydrates:
29
g
|
Protein:
0
g
|
Fat:
0
g
|
Saturated Fat:
0
g
|
Cholesterol:
0
mg
|
Sodium:
27
mg
|
Sugar:
27
g
|
Calcium:
8
mg