Have you ever wanted to make the Perfect Pot Roast? Have you tried making these before and perhaps you wondered why it didn't turn out exactly the way you wanted.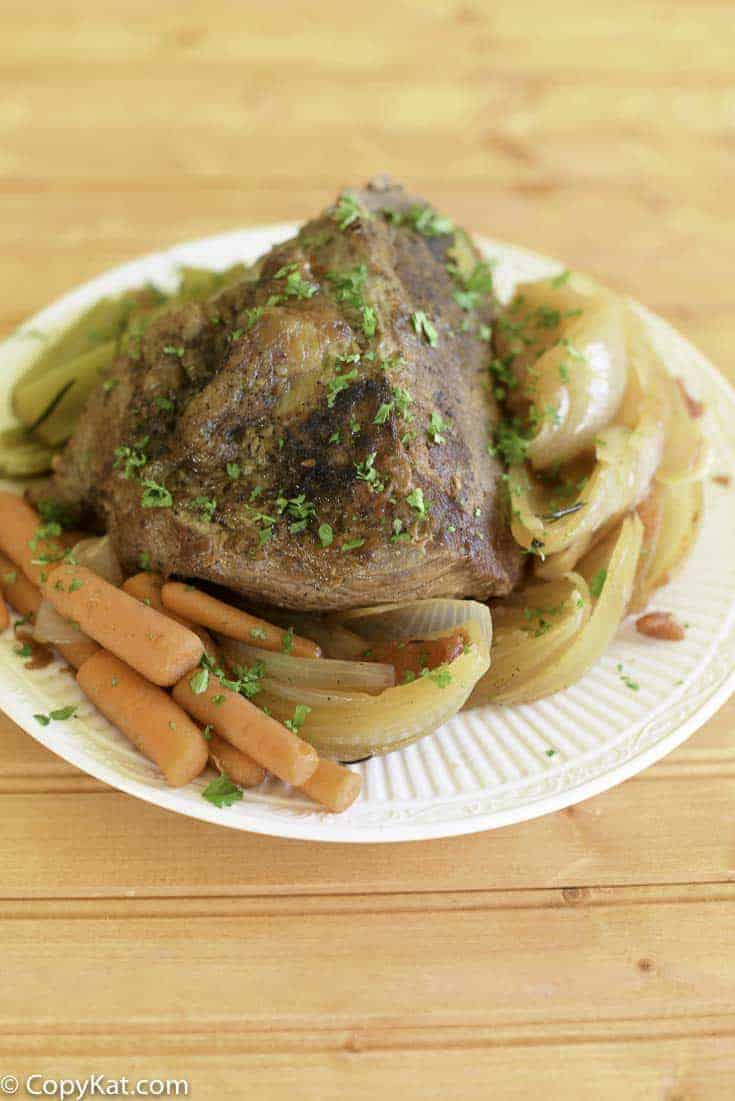 Maybe you have tried making a pot roast before, and it didn't come out quite like you wanted. This recipe can help you turn a pot roast into something you can make at home. My grandfather had the best pot roast recipe, growing up, I loved going to my Grandparent's house and enjoying a delicious roast. He would get home earlier than my grandmother so often he would start dinner, then go pick her up at work.
A pot roast is an economical way to feed a large number of people. Often relatively inexpensive cuts of meat are used for a pot roast. My personal favorite type of pot roast is a chuck roast. A chuck roast is well marbled and tends to be relatively inexpensive. If you don't want to use a chuck roast you could use a trimmed brisket or a round roast like an eye of round.
There are two primary ways of preparing a roast; there is a dry roasting method, those are typically used for cuts of beef that are more tender, for example, a tenderloin or a rib eye roast would be cooked with a dry cooking method. For cuts of meat that are tougher braising, cooking in liquid is the way to prepare a tender cut of beef.
My recipe is made in the oven; I like to use a dutch oven for making a roast. Sure, you can prepare this in a slow cooker, but sometimes I love using my oven. You will begin preparing this pot roast by liberally seasoning your roast with salt and pepper. You will then add a couple of tablespoons of oil to a large pan over medium-high heat, and you will brown the roast on all sides. Browning of this meat will make it extra flavorful. Once the meat is browned on all sides you will want to add in all of the remaining ingredients; you will pop the lid on, and then bake in the oven at 350 degrees. The meat will take at least 20 minutes per pound to cook, or until the roast reaches 150 degrees. If your roast is a little tough after cooking, you should cook the roast for a bit longer.
Meat can vary, and it is isn't realistic that every cut of meat will behave like every other cut of meat. Sometimes you may need to cook your roast a little longer; it's ok. With additional cooking time, it will come out tender.
Now let's talk about what you should serve with your roast. I like to make mashed potatoes when I serve roast.
Be sure to pin this roast, so you can save it for later.
Are you looking for more ideas in making a pot roast? Be sure to check out these great ideas.
Hard Cider Braised Pot Roast
Soy Braised Pot Roast with Carrots
The Ultimate Pot Roast
Ingredients
4

pound

chuck roast

14

ounces

canned tomatoes

12

ounces

Guinness

1

cup

celery sticks

cut into thirds

1

cup

carrots

you can use baby cut carrots

2

medium

white onions

cut into quarters

3

cloves

garlic

sliced

3

bay

leaves

salt

and

pepper

vegetable

oil

for browning
Instructions
Begin by heating a couple of tablespoons of oil in a large pot. Heat the oil until it is hot. While the oil is heating, liberally salt and pepper the roast. Brown the roast in the pot with the heated oil until the sides are brown. You are not going to fully cook the roast at this time. Add in all of the remaining ingredients. Put a lid on the pot and cook at 350 degrees. Please see the cooking chart a good guide is 1 hour plus 15 minutes for each pound of beef. http://www.haverhillbeef.com/cookinginstructions.html
Nutrition
Calories:
369
kcal
|
Carbohydrates:
7
g
|
Protein:
36
g
|
Fat:
21
g
|
Saturated Fat:
9
g
|
Cholesterol:
125
mg
|
Sodium:
217
mg
|
Potassium:
821
mg
|
Fiber:
1
g
|
Sugar:
3
g
|
Vitamin A:
2310
IU
|
Vitamin C:
6.8
mg
|
Calcium:
62
mg
|
Iron:
4.5
mg