This brown sugar boiled frosting is made from brown sugar, evaporated milk, and miniature marshmallows. You also have the option of dusting the frosting with coconut. This boiled frosting recipe is from the archives of my grandmother.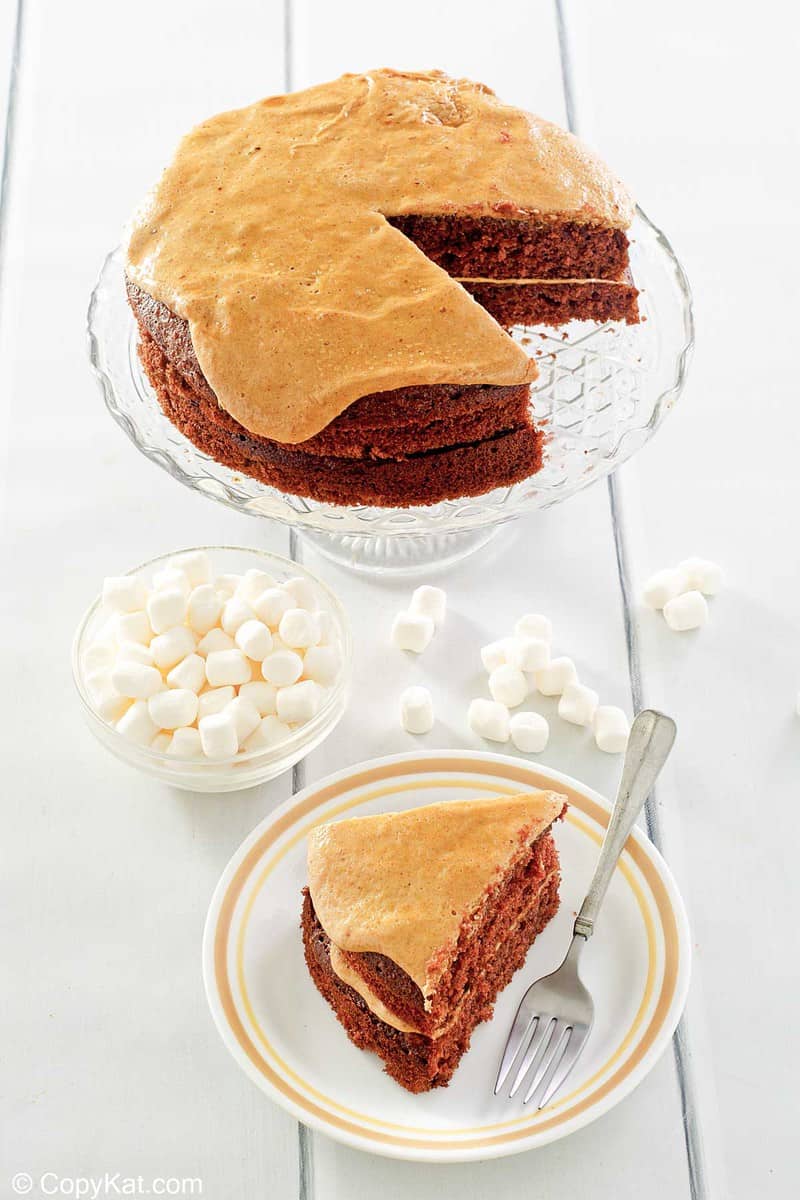 This post contains affiliate links. As an Amazon Associate, I earn from qualifying purchases.
Old Fashioned Boiled Milk Frosting
Perhaps boiled is not a word that comes to mind when you think of frosting. After all, frosting is the luxurious better half of a cake or cupcake!
But for those with long memories or grandmothers who lean toward the traditional, the phrase boiled frosting will evoke yearning and nostalgic delight.
Instead of reaching for a can of frosting, why not make your own with this boiled frosting recipe? The caramel color makes it perfect for cakes and desserts for the winter holidays when warm comfort is needed.
What is Brown Sugar Boiled Frosting?
Boiled or cooked frosting is a creamy cake frosting. It's a delicious frosting that tastes somewhere between buttercream frosting and whipped cream.
This frosting adds the perfect finishing touch to all kinds of baked goods.
Why This is the Best Recipe for Brown Sugar Boiled Frosting
When made with eggs, this type of frosting when is sometimes referred to as seven-minute frosting. This is because it takes roughly seven minutes of cooking and constant beating to make the frosting.
This boiled frosting recipe does not include eggs and is, therefore, much easier and simpler to make – no beating with an electric mixer is required.
It's creamy, tastes incredible, and will make your cakes look amazing!
It's true that grabbing a tub of frosting from the baking aisle is quick and easy. However, making your own boiled frosting or boiled icing allows you to control the ingredients and ensures that your frosting or icing is fresh.
What is the difference between frosting, icing, and glaze?
When it comes to decorating a cake, the words frosting and icing are often used interchangeably. However, in reality, they have several differences, and, strictly speaking, boiled frosting should not be referred to as boiled icing.
Frosting
Frosting is thick, fluffy, and spreadable. The main ingredient is fat (butter, cream, or cream cheese – this recipe uses evaporated milk).
Frosting is opaque and can hold its shape in various designs, making it perfect for piping roses or borders. Frosting is often also used as a filling between cake layers.
Icing
Icing is thinner than frosting and flows instead of needing to be spread. The main ingredient is sugar.
Icing can be spread or drizzled. It doesn't hold a shape well and is more translucent and shiny than frosting (it becomes more opaque as it cools).
Glaze
Glaze is the shiniest and thinnest of the three coatings. Glazes are typically a mixture of sugar and liquid.
Glazes are usually translucent and are wonderful poured over pastries such as fruit tarts. You can also pour thin glazes over cakes and cookies or pastries. Glazed donuts, anyone?
Brown Sugar Frosting Ingredients
There are no complicated ingredients in this boiled frosting recipe. Here's what you will need.
Brown sugar
Evaporated milk
Miniature marshmallows
Vanilla extract
How to Make Brown Sugar Frosting
This recipe for boiled frosting couldn't be simpler and easier to make.
Combine the sugar, evaporated milk, and vanilla in a saucepan.
Boil for 4 minutes over medium heat.
Remove from the heat and add the marshmallows.
Stir until the marshmallows have melted and the frosting is smooth.
Spread the frosting on whatever you want to frost.
Recipe Tips for Boiled Frosting
Be careful not to cook the mixture over heat that's too high. The sugar will begin to turn to candy, which will make the mix crunchy. You want the frosting to be smooth.
Also, don't allow your frosting to cool too much before spreading. It will firm up while cooling to the point it won't easily spread.
Sprinkle coconut over the frosting for an extra bit of color and flavor.
Variations on Brown Sugar Frosting
This cooked frosting has a sticky texture, making it easy to embellish.
Nuts: Top your frosted cake or cupcakes with chopped nuts – walnuts, pecans, cashews.
Fruit: Small fruits such as berries or even candied citrus peel are also great.
Lemon or Orange Frosting: Omit the vanilla and substitute 2 to 3 teaspoons of finely grated lemon or orange zest and 1/2 teaspoon of lemon or orange extract.
How to Use Boiled Frosting
Boiled milk frosting is perfect for cakes, especially simple chocolate cake, yellow cake, or white cake. This frosting can be spread onto cupcakes, or even sugar cookies if you want a frosting with notes of molasses.
How to Store Boiled Frosting
You can store this frosting in the refrigerator until you are ready to use it, as long as it is sealed tightly. It will keep for a day or two.
When you want to use it, bring it back to room temperature and beat it lightly before frosting.
After spreading your boiled icing on your cake or cupcakes, you can store the baked goods at room temperature. However, refrigerating them will keep your frosting fluffy and soft for longer.
Boiled frosting is not suitable for freezing. You can freeze most cakes just fine, but wait to frost them before serving.
Favorite Icing and Frosting Recipes
Do you love frosting your baked creations? Here are some more frosting recipes to keep you happy.
Popular Frosted Cake and Cupcake Recipes
Check out more of my easy dessert recipes and family favorite recipes here on CopyKat!
This recipe is from the archives of my grandmother, Ethel Eynard. Jefferson City, MO. 1971.
Ingredients
1

cup

firmly packed brown sugar

1/8

teaspoon

vanilla extract

1/4

cup

evaporated milk

2/3

cup

miniature marshmallows

shredded, sweetened coconut

optional topping
Instructions
In a saucepan, combine the sugar, vanilla, and milk, and stir until sugar dissolves.

Place the mixture over medium heat and boil for 4 minutes.

Remove from the heat and add the marshmallows, mixing until dissolved.

Spread the frosting on a cake, cupcakes, or cookies.

Sprinkle coconut over the top if desired.
Notes
Recipe is from the collection of my Grandmother's recipes, Ethel Eynard. 
Nutrition
Calories:
128
kcal
|
Carbohydrates:
31
g
|
Protein:
0
g
|
Fat:
0
g
|
Saturated Fat:
0
g
|
Cholesterol:
2
mg
|
Sodium:
19
mg
|
Potassium:
60
mg
|
Sugar:
29
g
|
Vitamin A:
20
IU
|
Vitamin C:
0.2
mg
|
Calcium:
44
mg
|
Iron:
0.2
mg