We all hear that we should drink more water, but plain water can be boring, cucumber lemon water a great way to enjoy water? Why not why flavorful water infused with cucumber and fresh fruit? You can make this refreshing Strawberry Lemon Cucumber Water drink and hydrate your body in a tasty way.
This post contains affiliate links. As an Amazon Associate, I earn from qualifying purchases.
Homemade Cucumber Water
Sometimes at fancy Spas or some upper scale gyms they often serve cucumber-infused water. Spa water is completely refreshing, and yes, it is delicious. You can make this healthy drink at home.
Yes, you can buy fruity cucumber waters, but they tend to have ingredients that we can't pronounce. You can make homemade hydrating water that costs much less than store-bought. So toss out that juice box, and make some cucumber-infused water.
Lemon Cucumber Water with Strawberries
You deserve to take a break from your hectic life and relax. But if getting away for the day to a spa is out of the question, you can bring a few spa elements home.
Send away the kids and the spouse and pamper yourself. Turn on some relaxing music, light a scented, run a hot, soothing bath, and don't forget plenty of spa-inspired Lemon Cucumber Water With Strawberries.
Why This Is the Recipe You Should Try for Homemade Lemon Cucumber Water
There are a ton of recipes for cucumber-infused water online. That may make you wonder, is cucumber water good for you?
While some people believe infusing water with fruits and vegetables can provide health benefits such as weight loss and an immunity boost, others aren't so sure. By infusing your favorite fruits, vegetables, and even herbs, you can get a boost of antioxidants from your water.
But what is certain is drinking cucumber strawberry water tastes better than plain water and is a lot healthier than soft drinks.
Benefits of Cucumber Water
Drinking fruit-infused cucumber water has benefits. It is made with natural ingredients. You benefit from the natural oils and flavors of the fruit, but you do not get the calories of fruit juice.
When you drink an ample amount of water each day you benefit your joints because they are fully lubricated, your organs and function fully when you are hydrated properly. Your skin looks soft, you will counter the dehydration from coffee and alcohol. With the recommended amount of water, you will feel full.
My Strawberry Lemon Cucumber water is made for specific reasons:
Cucumbers will help rid your body of toxins, so it is there for detox.
Lemons are added to help balance your ph.
Strawberries are there to promote bone and heart health.
Ingredients You Will Need To Make Lemon Cucumber Detox Water
To make this fruit-infused water, you'll need:
Cucumber
Lemon
Strawberries
Water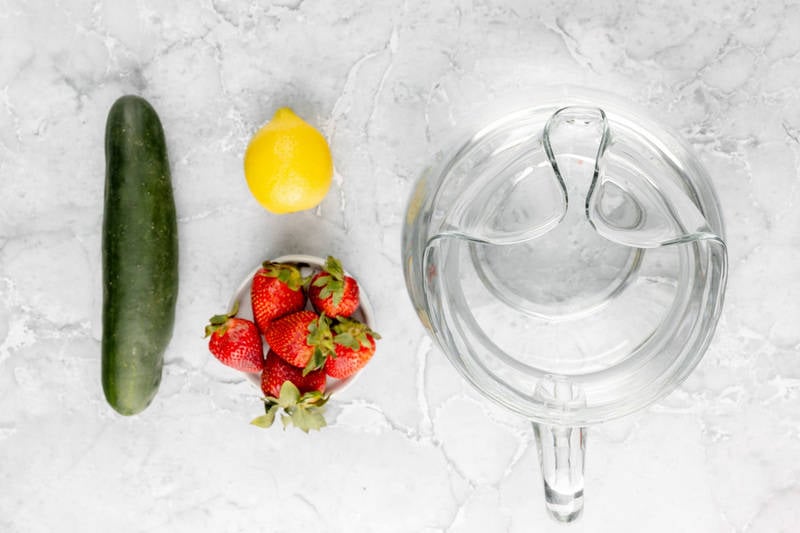 Ingredient Notes
Taste the cucumbers before using them for this recipe. Some cucumbers have a slightly bitter flavor, and you don't want to use them in this recipe. English cucumbers are a good choice since they are usually less bitter and have smaller and fewer seeds than other varieties.
It would be best to try to buy an organic lemon for this recipe since you will steep the lemon peel in water. But even an organic lemon can have wax on the outside, so make sure to scrub it well before using it.
Use spring water for the best flavor.
How To Make Detox Water
To make strawberry lemon water:
Wash the strawberries, cucumber, and lemon well. Using a fruit and vegetable spray helps to remove any stubborn residue on the surface is good.
Cut the strawberries in half and slice the lemon and cucumber thinly.
Place the cut strawberries and lemon slices and cucumber slices into a pitcher.
At this point, you can mash them gently to release extra flavor if you want to shorten the infusion time or leave them whole.
Fill the pitcher with cold water and let the flavors infuse for at least 15 minutes. See below for more suggestions about infusing times. You may want to add some ice cubes to the pitcher if you are going to serve it immediately.
More infused water recipes
There are almost endless ways to infuse water. Here are a few suggestions, but feel free to come up with your favorite combinations, and don't forget to share them in the comment section:
Cucumber and Mint Water: Peel and thinly slice half of an English cucumber. Infuse water with the sliced cucumber with three springs of fresh mint leaves before straining and then serving in tall glasses.
Lemon, Cucumber, Mint, and Ginger Water: Thinly slice half a lemon, half an English cucumber, two sprigs of mint, and an inch of fresh ginger, thinly sliced. Add to a pitcher of water and let infuse. Strain and serve.
Watermelon, Ginger, and Mint Water: Use two cups of diced watermelon, two inches of fresh ginger thinly sliced, and two sprigs of mint leaves. Get the best flavor by muddling the ingredients in the pitcher. Strain before serving.
Tips for How Long You Should Leave the Fruit in the Water
The sliced fruit and veggies floating in the pitcher can make the water look impressive, but you shouldn't let them steep forever. Most people find the optimal infusion time is between one and two hours at room temperature and three to four hours in the fridge.
Does the Flavor of the Water Improve Over Time
The intensity of the strawberry lemon water will increase up to a certain point, but then the water will start to develop an unpleasant tanginess and perhaps even become bitter.
How To Store Cucumber Water
Keep the pitcher of flavored water in the fridge. After infusing the water for the optimal time, strain out the solids and return the flavored water to the refrigerator.
You may want to get a handy infusing pitcher like this one: Prodyne Fruit Infusion Flavor Pitcher
How Long Is Fruit Infused Detox Water Good For?
Try to drink the infused water within 24 hours for the freshest flavor. You can keep the water for up to five days in the fridge, but any longer than that risks spoilage. It is important when making detox water recipes, that you do not leave the fruit and herbs in the water for too long.
I hope you give this recipe a try. Infused water is a great substitute for soda. You can be adventurous and try many more flavors. You are only limited by your imagination. One of my favorites is a Thai basil and lime water! So delicious!
Popular Refreshing Drinks
Light Summer Side Dish Recipes
Check out more of my easy drink recipes and the best summer recipes here on CopyKat!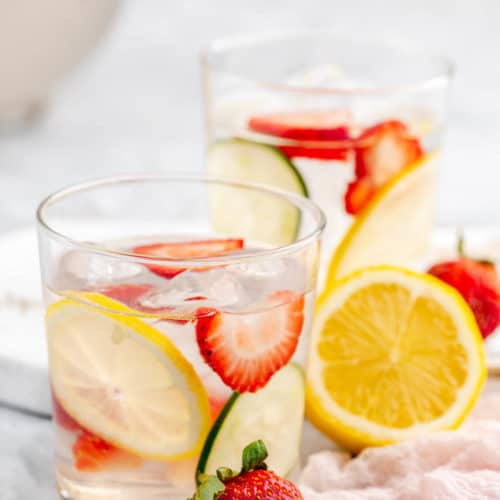 Ingredients
3

ounces

cucumber

sliced

1/2

small lemon

sliced

4

ounces

strawberries

washed, cored, and sliced

2

quarts

water
Instructions
Place the cucumber and fruit in a pitcher, and add water to fill the pitcher.

Allow it to infuse for at least 15 minutes before drinking. The optimal flavor is at 2 hours.
Notes
Store infused water in the refrigerator. If you aren't going to drink right away remove the cucumber and fruit because it can make the water bitter if left in for too long.
Nutrition
Calories:
7
kcal
|
Carbohydrates:
1
g
|
Protein:
0
g
|
Fat:
0
g
|
Saturated Fat:
0
g
|
Cholesterol:
0
mg
|
Sodium:
16
mg
|
Potassium:
48
mg
|
Fiber:
0
g
|
Sugar:
1
g
|
Vitamin A:
10
IU
|
Vitamin C:
11.6
mg
|
Calcium:
14
mg
|
Iron:
0.1
mg