Making sweet iced tea that is served in so many restaurants takes a knack. While it isn't difficult it does take some special steps in making the iced tea. Our suggestion would be to start with an iced tea such as Lipton's or Luzianne.
Making a pitcher of southern sweet iced tea is easy! Keep reading to learn more about making this refreshing beverage. Armed with this recipe, and these tips you will soon be making the best sweet tea ever.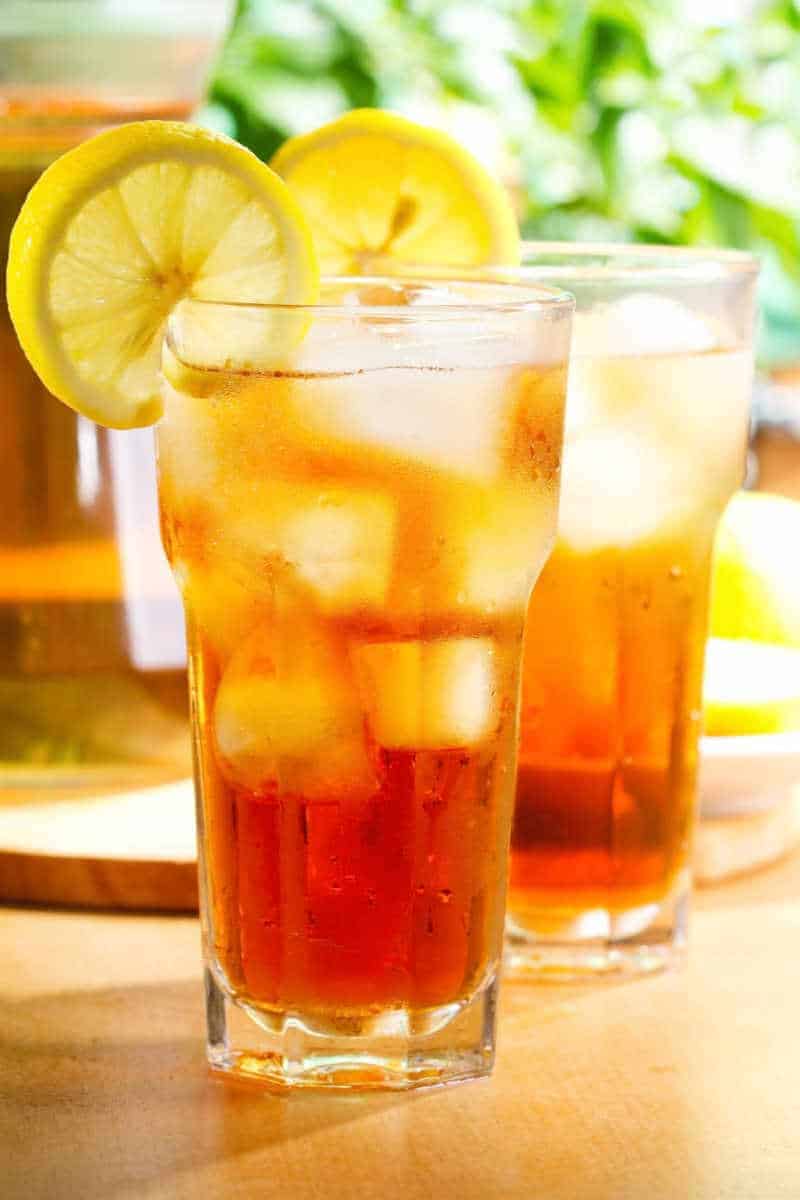 This post contains affiliate links. As an Amazon Associate, I earn from qualifying purchases.
What Makes Sweet Iced Tea So Refreshing?
Sweet tea is the classic Southern summer beverage. But even if you don't live in the South, there is just something satisfying about sipping an ice-cold glass of fresh sweet tea when the weather gets warm.
Whether hosting friends or just having a family supper, a pitcher of homemade sweet tea is always welcome.
Why This Is the One Recipe for Sweet Iced Tea You Must Try
Making sweet tea is easy, but making great-tasting sweet tea isn't so simple. But once you learn the basics of this recipe, you'll be well on your way to mastering this summertime staple. You will soon unlock the secrets to the best tea ever! We can even help you adjust the sweetness for your personal preference.
How Much Sugar in Sweet Tea vs Soda?
Most store-bought sodas these days don't contain any real sugar at all! Big soda brands prefer cheaper corn syrup as a sweetener, but a few smaller brands still use sugar in their soda recipes.
It isn't uncommon for these colas to have three or more cups of sugar per gallon. Even if you like your tea really sweet, cola will probably have a lot more sugar per serving.
Sweet Iced Tea Ingredients
Here's a list of what you need: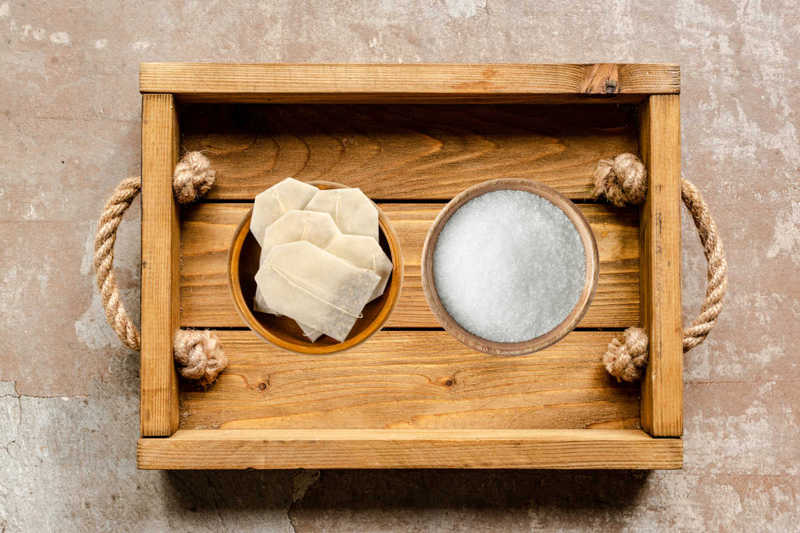 How to Make Sweet Tea (Southern-Style)
Pour boiling water into a 2-quart pitcher.
Add tea bags and steep the tea for a couple of minutes. Do not steep the tea for too long, or you may experience bitterness from the tannins in the tea.
Remove and discard the tea bags.
Add sugar and stir until dissolved.
Fill the pitcher with ice.
Add enough cold water to fill the pitcher.
Enjoy your iced tea.
You can adjust the amount of sugar to make your tea sweeter or less sweet.
Recipe Notes
How Much Sugar is in Sweet Tea?
Sweet tea must have sugar, but just how much sugar to put in your sweet tea is a matter of personal preference. A good starting place is one cup of sugar per gallon of water, but feel free to adjust that amount to suit your taste.
How Many Tea Bags for a Gallon of Iced Tea?
It depends on which brand of tea you use. Luzziane calls for four tea bags per gallon of water, while you only need to use one of Lipton's Iced Tea bags to make the same amount of tea.
What Is the Ratio of Tea To Water for Iced Tea?
The best way to measure tea is with a scale. For one gallon of sweet tea, you should use one ounce, or a little more than 28 grams, of loose tea.
Sweet Tea Flavorings
While there are plenty of folks that would never mess with a traditional sweet tea recipe, if you are looking for ways to update it, try these three easy suggestions:
Lemoncello Sweet Tea: Whether you call it an Arnold Palmer or a Half & Half, the combination of lemonade and iced tea is refreshing. Adding a shot of limoncello to six ounces of sweet tea makes a very delicious and very adult version that's perfect for a sundowner or brunch cocktail.
Just Peachy Sweet Tea: Drain a can of diced peaches, reserving the syrup. Spread the peaches out on a baking tray and put the tray in the freezer until the peaches freeze solid; about two hours. To serve, pour an ounce of peach syrup into each glass and add a sprig of thyme along with some of the frozen peaches. Fill the rest of the glass with sweet tea, stir, and serve.
It's a Good Day Citrus Tea: A little fresh-squeezed fruit juice adds a great big ray of sunshine to even the cloudiest afternoons. Measure two tablespoons of fresh orange juice and a teaspoon of lemon juice into a glass of sweet tea, stir and garnish with an orange wheel.
Sweet Tea Serving Suggestions
Serving a guest a glass of sweet tea is basic hospitality in the South, but why not impress them by giving them something to munch on? These three snacks pair perfectly:
Dainty Chicken Salad Sandwiches: Cut the crust off two thin slices of raisin bread and toast well. Spread a thin layer of mayonnaise on both pieces of bread. Put a scoop of Fancy Nancy Chicken Salad between the two slices of bread and cut the sandwich into four triangles to serve.
Cold Fried Chicken: Southern picnics are never complete without a piece or two of cold fried chicken. Put aside any misgivings you may have and try it for yourself. You may just find you are cooking more chicken than you need just for the leftovers!
Pasta Salad: Like sweet tea, you should always have a bowl of cold pasta salad in the fridge during the hot months for a quick meal. Try this Pasta Salad for an incredibly simple and delicious light meal or hearty snack.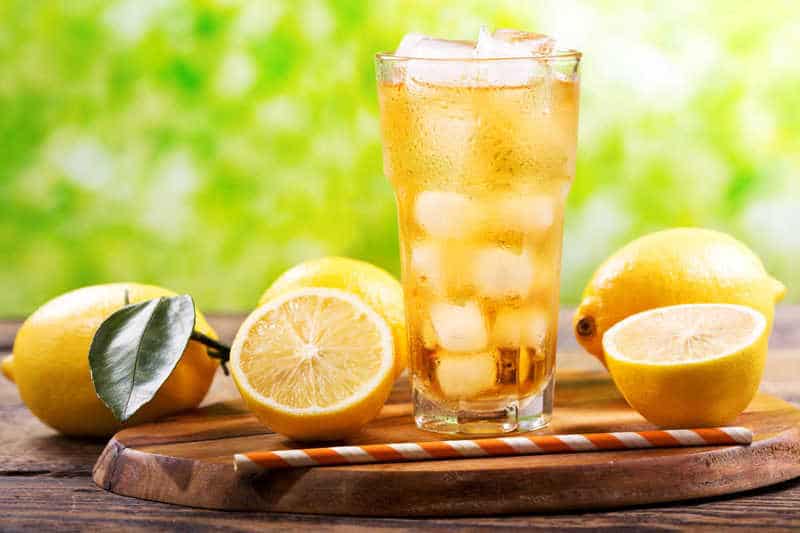 Sweet Tea Frequently Asked Questions
How Do You Sweeten Iced Tea?
There is only one choice for authentic Sweet Iced Tea: real sugar!
Why Do You Put Baking Soda in Sweet Tea?
A pinch of baking soda can help counteract the acidity of tea and make it taste smoother and sweeter with less sugar. If you ever find yourself queasy after drinking sweet tea, the baking soda trick will help stop it.
How Much Baking Soda Do You Put In a Gallon of Sweet Tea?
Less is more in this case. Just a two-finger pinch is enough for an entire gallon of this sweet iced tea recipe. Add a little too much, and your tea will taste flat or even develop a soapy flavor!
What Is the Best Tea for Sweet Tea?
Talking about the best tea brand for making homemade sweet tea can get you in a bit of trouble, especially in the South. Everyone has a go-to brand, and for many people, that's Luzianne Iced Tea. Luzianne is made explicitly for brewing sweet tea, and its flavor and strength are ideal for this recipe. Of course, not everyone likes Luzianne, and another popular brand is Lipton, especially the Lipton variety that is meant for making cold tea.
What Is the Difference Between Sweet Tea and Sweetened Iced Tea?
Although similar, there is a distinct difference between sweet tea and sweetened iced tea based on the brewing method, the type of sweetener used, and when you add the sweetener to the tea.
For proper sweet tea, you must always brew the tea using water that is right off the boil and add the sugar to the water while it is still hot. On the other hand, for sweetened iced tea, you can use any brewing method and sweetener you want. A lot of people use the cold-brewing method to help reduce acidity and honey, simple syrup, or even agave syrup as sweeteners.
I hope you give this recipe a try next time you are looking for the perfect southern sweet tea recipe.
Favorite Refreshing Beverage Recipes
Popular DIY Recipes
Check out more of my easy drink recipes and the best DIY recipes here on CopyKat!
Ingredients
8

cups

water

4

small

tea bags or 2 family-sized tea bags

1/2

cup

sugar
Instructions
Bring the water to a boil in a large pot over high heat.

Pour the boiling water into a 2-quart pitcher.

Add tea bags.

Steep the tea for 1 to 2 minutes only. If the tea bags are left in longer, the tea may become bitter.

Remove tea bags.

Add the sugar and stir until it is dissolved.

Fill the pitcher with ice.

Add cold water to fill up the pitcher.

Enjoy your iced tea.
Notes
You can adjust the amount of sugar to make your tea sweeter or less sweet.
Nutrition
Calories:
48
kcal
|
Carbohydrates:
12
g
|
Fat:
1
g
|
Sodium:
12
mg
|
Potassium:
1
mg
|
Sugar:
12
g
|
Calcium:
7
mg
|
Iron:
1
mg