Pineapple White Wine Sangria is a light and refreshing tropical cocktail. Made with pineapple juice and coconut water, this tasty drink has the flavors of a pina colada.
Take a trip to the tropics with this pineapple white wine sangria. This fruity drink is perfect for sipping on a hot summer day.
Sangrias are perfect for summertime sipping. The fruit, wine, and spices combine amazingly well, but it may not suit everyone's taste. A few people dislike red wine, others may find it a little heavy, and some just want to try something a little different. This white wine sangria recipe is something that's very different. It's lighter, crisper, more nuanced, and much simpler to make than traditional sangria. The pineapple juice and coconut water give this white wine sangria a pleasing flavor similar to a pina colada. After trying a glass, you may find yourself with a new favorite sangria. Why not mix up a few for your next BBQ?
How to Make Sangria with White Wine
This recipe is straightforward enough. All it really requires is pouring everything into a shaker, giving it a few good shakes, and serving, preferably with a pineapple garnish, over ice. But like all recipes, you must start with the highest quality ingredients to get the best results.
While any white wine will do, Moscato lends a particular complexity to this cocktail. Moscato wine comes from Italy's Muscat grapes and is famous for its flavors of orange blossom, peach, and honeysuckle. The wine ranges in sweetness from semi-sweet to very sweet, but a bottle that is more on the semi-sweet side works best in a Moscato sangria.
As for the non-alcohol mixers, opt for fresh-squeezed pineapple juice, if available. But if that is not possible, choose a brand without any pulp nor additional sugar. The same goes for the coconut water — the purer and fresher, the better.
A Few Variations to Try
A pina colada-flavored white wine sangria is just one option. If you would like to try others, consider these:
Strawberry Sangria
Mix 8 ounces of strawberries with a tablespoon of sugar. Leave the strawberries covered overnight in the fridge, and by morning you should notice a significant amount of juice. Reserve half of the strawberries and use a muddler to crush the remaining strawberries along with the liquid. Combine half of the crushed strawberries and juice in a shaker along with fresh ice and 8 ounces of Moscato wine. Shake well and pour into a glass with ice. Add half the remaining whole strawberries and stir. Garnish with a fresh strawberry.
Peach Sangria
Combine 3 ounces of peach puree, an ounce of peach schnapps, and 8 ounces of Moscato wine in a shaker with ice. Shake well pour into a glass over ice. Garnish with a slice of fresh peach.
Sparkling Sangria
Combine 2 ounces each of coconut water and pineapple juice in a shaker with ice. Shake well and pour into a glass with ice. Top with sparkling Moscato wine. Garnish with a pineapple wedge.
Tips for Serving a Moscato Sangria
Sangria is better when shared. You can make multiple servings and serve in a punch bowl or pitcher. If you are not going to serve immediately, don't add ice to avoid overly diluting the cocktail.
Serve in extra large wine glasses or any large glass with a wide rim. Remember that the main ingredient in sangria is wine, and wine tastes better when it can breathe.
See what we are up to on Facebook.
Ingredients
Here's a list of what you need:
White wine
Pineapple juice
Coconut water
Pineapple
Maraschino cherries
What White Wine for Sangria
Wondering what type of white wine to use for sangria? It depends on how sweet you want your cocktail.
Moscato for the sweetest.
Semi-dry Riesling or Gewürztraminer for a little sweetness.
Pinot Grigio, Sauvignon Blanc, or Chardonnay are dry and will not add any sweetness.
Your favorite! Because you already enjoy it so use it for this drink.
Look at the wine label to see if there are any pineapple flavor notes. Using a white wine that has a pineapple flavor is a great choice for this sangria.
How to Make Pineapple White Wine Sangria
Refrigerate all ingredients until cold.
Pour wine into a cocktail shaker.

Add pineapple juice.

Add coconut water.

Shake until well blended.
Place some pineapple and cherries in wine glasses.
Pour the sangria into the glasses.
Garnish with pineapple if desired.
Recipe Tips
Add more pineapple juice or coconut water for a lighter cocktail.
Add a shot of rum or vodka for a stronger drink.
If using canned pineapple, make sure it is in 100% pineapple juice and has no added sugar or syrup.
Love pineapple? Try these recipes!
Favorite Sangria Recipes
Check out more of my easy cocktail recipes and the best summer recipes here on CopyKat!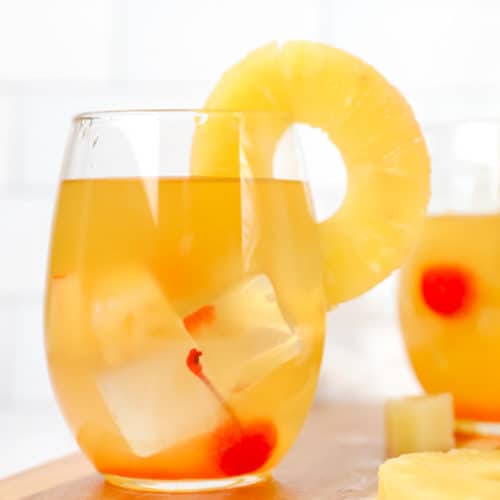 Ingredients
8

ounces

white wine

Moscato, semi-dry, or dry

2

ounces

pineapple juice

2

ounces

coconut water

1

cup

pineapple

6

maraschino cherries
Instructions
Refrigerate all ingredients before making the sangria. You want them cold and not at room temperature.

Pour the wine, pineapple juice, and coconut water into a shaker. Add ice if desired.

Shake until well blended.

Place pineapple pieces and cherries in wine glasses.

Pour blended sangria into the glasses.

Garnish with pineapple if desired.
Notes
You can add additional pineapple juice and coconut water if desired. Adding more pineapple juice and coconut water will make for a lighter cocktail.
Nutrition
Calories:
41
kcal
|
Carbohydrates:
5
g
|
Protein:
0
g
|
Fat:
0
g
|
Saturated Fat:
0
g
|
Cholesterol:
0
mg
|
Sodium:
39
mg
|
Potassium:
151
mg
|
Fiber:
0
g
|
Sugar:
3
g
|
Vitamin C:
4
mg
|
Calcium:
14
mg
|
Iron:
0.5
mg