Pei Wei Mongolian Beef is one of the favorite menu items of so many people.  You can enjoy this sweet crispy beef in a tangy sauce straight out of your own kitchen.  You can prepare your own Mongolian beef, it isn't too hard to do.  Pei Wei's Mongolian beef is made with beef tenderloin, scallions, and fresh button mushrooms.


If you have never heard of Pei Wei, it is a restaurant chain owned by the same people who own P.F. Changs. Many of the recipes are very similar. So if you like P.F. Changs Mongolian beef, you may like this recipe.
Pei Wei makes their Mongolian beef with tenderloin, but you can use skirt steak. It won't be quite the same, but skirt steak works very well. If you are going to use a skirt steak you need cut the meat on a bias, meaning you need to cut it diagonally.
Then take a meat tenderizer and pound the meat a little to get a more tender cut of beef. It won't be quite the same, because tenderloin just isn't skirt steak, but it works very well.
I don't recommend reheating this dish, it doesn't stay in an ideal state when leftover. So be sure to eat this one after it is prepared. Many dishes reheat well, but this isn't one.
Do you enjoy Asian Inspired recipes? Check out these Asian inspired recipes
Chinese Hot Mustard
Benihana Fried Rice
Benihana Salad Dressing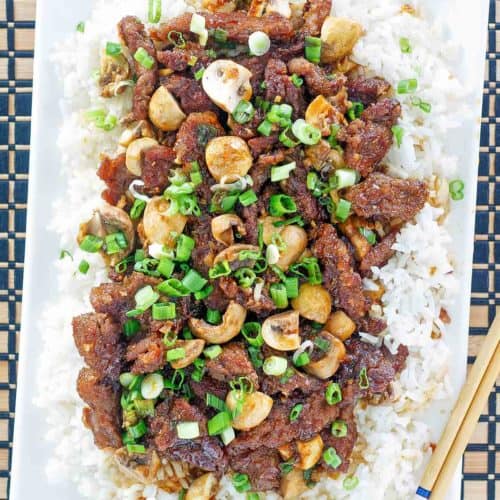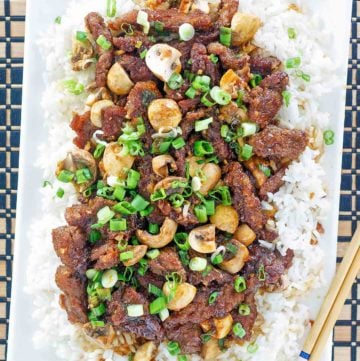 Ingredients
8

ounces

beef tenderloin

or skirt steak

4

tablespoons

cornstarch

4

tablespoons

vegetable oil

1

teaspoon

sesame oil

1/2

teaspoon

fresh grated ginger

2

garlic cloves minced

1/3

cup

soy sauce

1/3

cup

water

1

teaspoon

Maggi seasoning

1

teaspoon

rice wine vinegar

1/2

cup

brown sugar

4

ounces

white button mushrooms, stem removed and quartered

2

-

3 scallions diced
Instructions
Slice beef very thin, approximately 1/4 to 3/8 inches thick.  Place meat between sheets of plastic wrap and use a meat tenderizer and gently pound meat into uniform pieces.  If you are using skirt steak cut the meat diagonally, it will help make the meat more tender. 

Place cornstarch in a bowl and dip steak pieces into cornstarch and shake off excess cornstarch. Allow the cornstarch dipped pieces of meat to rest for 5 t0 10 minutes so the coating sticks to the meat.

While the meat is resting you can continue to prep the remaining ingredients.

In a wok, heat vegetable oil and sesame oil. Saute beef until just done, and the outside begins to crisp. Remove meat from pan. You may need to do this a few pieces at a time.

Once all of the meat has been cooked and removed from the pan, add minced ginger and garlic. Saute ginger and garlic for approximately 60 seconds, the remaining oil should become very fragrant. 

Add soy sauce, water, Maggi seasoning, brown sugar, and rice wine vinegar. Stir until the sauce thickens.

Return meat to the pan and add quartered button mushrooms to the pan. Cook for another 60 seconds or so and add half of the chopped scallions.

When serving the Mongolian beef add remaining scallions to the dish.
Nutrition
Calories:
879
kcal
|
Carbohydrates:
73
g
|
Protein:
26
g
|
Fat:
55
g
|
Saturated Fat:
33
g
|
Cholesterol:
79
mg
|
Sodium:
2405
mg
|
Potassium:
680
mg
|
Fiber:
1
g
|
Sugar:
55
g
|
Vitamin C:
1.2
mg
|
Calcium:
61
mg
|
Iron:
4.3
mg