Pei Wei Mongolian Beef is one of the favorite menu items of so many people. You can enjoy this sweet crispy beef in a tangy sauce straight out of your own kitchen.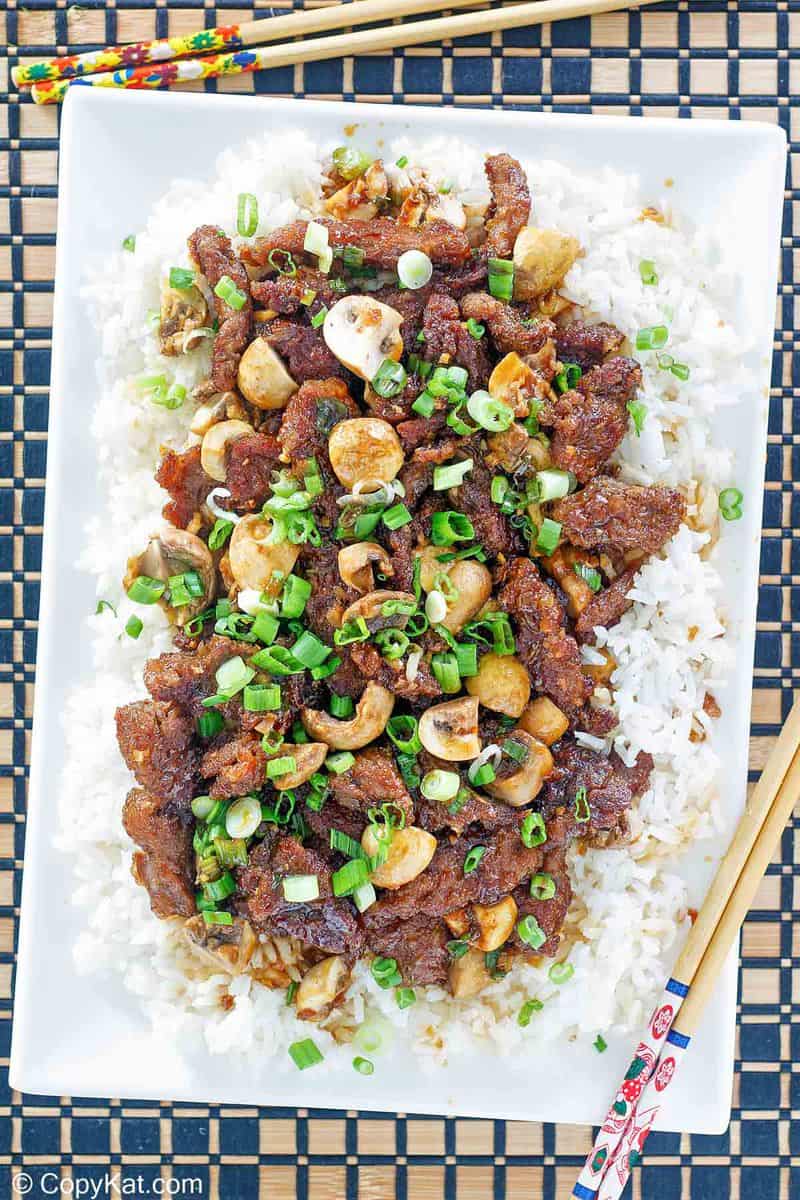 You can prepare your own Mongolian beef, it isn't too hard to do. Pei Wei's Mongolian beef is made with beef tenderloin, scallions, and fresh button mushrooms.
If you have never heard of Pei Wei, it is a restaurant chain owned by the same people who own P.F. Changs. Many of the recipes are very similar. So if you like P.F. Changs Mongolian beef, you may like this recipe.
Mongolian Beef has been the star of Mongolian BBQ joints and a popular Chinese restaurant dish for decades. Although you are now more likely to see Orange Beef or Beef and Brocolli on the local Chinese takeout menu, many people still can't get enough of Mongolian Beef with its crispy meat and vegetables in a simple stir-fry sauce. Pei Wei Mongolian Beef isn't hard to make, and it's definitely worth cooking.
Where Did Mongolian Beef Come From?
The history of Mongolian Beef is confusing and contains more myths than a bad Kung Fu movie. First, the wide-reaching belief that the origin of the dish comes from the habit of Mongols putting meat under their saddles to tenderize as they roamed across the plains is simply not true. Mongolian Beef is not even from Mongolia at all. It's Taiwanese!
The truth is that back in the 1950's a comedian and restaurant Wu Zhaonan created a chain of BBQ restaurants in Taipei. Originally from Beijing, Wu wanted to open restaurants featuring his beloved Beijing-style barbeque. But due to the political issues between Taiwan and China, Wu decided to claim the cooking style was Mongolian instead! Wu's Mongolian BBQ restaurants became so popular that other restaurant owners started adding the chain's favorite recipes, like Mongolian Beef, to their own menus.
The Best Beef to Use for Pei Wei Mongolian Beef
You can use just about any cut of beef for this dish as long you slice it thinly. Flank, sirloin, and rump steak are good choices, but perhaps the ideal cut is skirt steak. Not only is skirt steak full of flavor, but it's relatively cheap. As a bonus, the cut has plenty of fat, which is a good thing when it comes to stir-frying. Nonetheless, skirt steak does have one major drawback. It is known for being a bit tough and chewy. But there are a couple of ways around that.
The first trick is to cut skirt steak across the grain of the meat. A skirt steak is basically a rectangle, and it may seem logical to slice across the short side like a loaf of bread. But that would be a mistake. The grain runs the short way across a piece of skirt steak. If you cut with the grain, you will get overly chewy pieces of meat. Instead, slice the skirt steak lengthwise into about three to four-inch sections. Then cut the skirt steak at an angle, across the grain, into half-inch thick slides.
The second secret is to give the slices a good whack with the flat side of a meat tenderizer. Place the slices in a single layer between two pieces of parchment paper or plastic wrap. Gently pound the meat. Don't use an up-and-down motion. Instead, push the meat with the meat tenderizer in all directions from the center of each slice. The goal is to spread the meat's fibers and ensure that the slices are all the same thickness to cook evenly.
Tips for Cooking and Serving Pei Wei Mongolian Beef
Serve with cauliflower rice. Skip the starch and choose healthier cauliflower rice. If you have never eaten it before, it tastes much better than it sounds, and it's well worth a try.
Cook the beef quickly over high heat. Once the outside of the meat is crispy, remove it from the pan to cool. Overcooking makes the beef chewy.
See what we are up to on Facebook!
Ingredients
Here's a list of what you need:
Beef tenderloin or skirt steak
Cornstarch
Vegetable oil
Sesame oil
Fresh ginger
Garlic
Soy sauce
Water
Maggi seasoning
Rice wine vinegar
Brown sugar
White button mushrooms
Scallions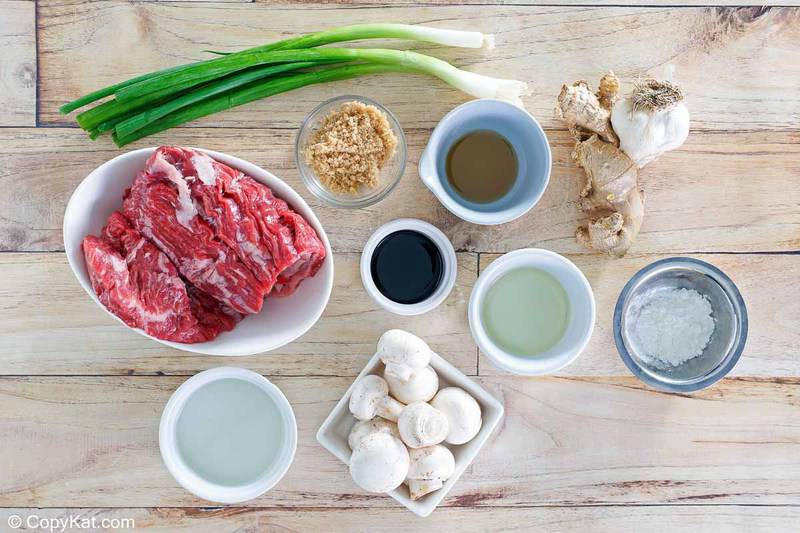 Ingredient Notes
Pei Wei makes their Mongolian beef with tenderloin, but you can use skirt steak. It won't be quite the same, but skirt steak works very well. If you are going to use a skirt steak, you need to cut the meat on a bias, meaning you need to cut it diagonally.
Then take a meat tenderizer and pound the meat a little to get a more tender cut of beef. It won't be quite the same, because tenderloin just isn't a skirt steak, but it works very well.
How to Make Pei Wei Mongolian Beef
Slice beef very thin and place meat between sheets of plastic wrap.
Use a meat tenderizer and gently pound meat into uniform thickness.
Place cornstarch in a bowl and dip steak pieces into cornstarch and shake off the excess.

Allow the cornstarch dipped pieces of meat to rest for 5 to 10 minutes.
In a wok or large skillet, heat vegetable oil, and sesame oil.
Sauté beef in batches until just done and the outside begins to crisp.

Remove meat from the pan.
Add minced ginger and garlic to the pan and sauté ginger and garlic for 1 minute.
Add soy sauce, water, Maggi seasoning, brown sugar, and rice wine vinegar. Stir until the sauce thickens.
Return meat and mushrooms to the pan.
Cook for 1 minute then add scallions and stir to combine.
Serve with chopped scallions sprinkled on top.
I don't recommend reheating this dish, it doesn't stay in an ideal state when leftover. So be sure to eat this one after it is prepared. Many dishes reheat well, but this isn't one.
Do you enjoy Asian recipes? Try these!
Favorite Beef Recipes
Check out more of my easy Asian recipes and the best restaurant copycat recipes here on CopyKat!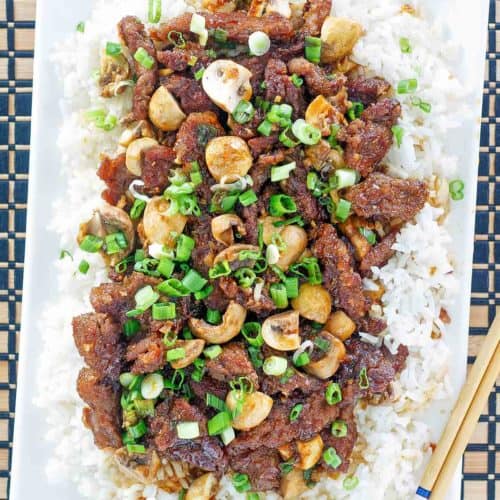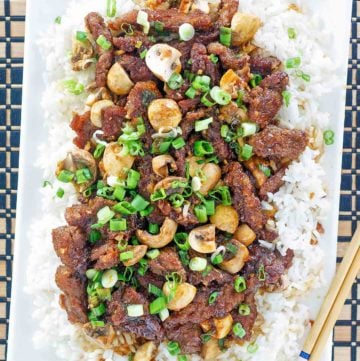 Ingredients
8

ounces

beef tenderloin

or skirt steak

4

tablespoons

cornstarch

4

tablespoons

vegetable oil

1

teaspoon

sesame oil

1/2

teaspoon

fresh grated ginger

2

garlic cloves minced

1/3

cup

soy sauce

1/3

cup

water

1

teaspoon

Maggi seasoning

1

teaspoon

rice wine vinegar

1/2

cup

brown sugar

4

ounces

white button mushrooms, stem removed and quartered

2

–

3 scallions diced
Instructions
Slice beef very thin, approximately 1/4 to 3/8 inches thick.  Place meat between sheets of plastic wrap and use a meat tenderizer and gently pound meat into uniform pieces.  If you are using skirt steak cut the meat diagonally, it will help make the meat more tender. 

Place cornstarch in a bowl and dip steak pieces into cornstarch and shake off excess cornstarch. Allow the cornstarch dipped pieces of meat to rest for 5 t0 10 minutes so the coating sticks to the meat.

While the meat is resting you can continue to prep the remaining ingredients.

In a wok, heat vegetable oil and sesame oil. Saute beef until just done, and the outside begins to crisp. Remove meat from pan. You may need to do this a few pieces at a time.

Once all of the meat has been cooked and removed from the pan, add minced ginger and garlic. Saute ginger and garlic for approximately 60 seconds, the remaining oil should become very fragrant. 

Add soy sauce, water, Maggi seasoning, brown sugar, and rice wine vinegar. Stir until the sauce thickens.

Return meat to the pan and add quartered button mushrooms to the pan. Cook for another 60 seconds or so and add half of the chopped scallions.

When serving the Mongolian beef add remaining scallions to the dish.
Nutrition
Calories:
879
kcal
|
Carbohydrates:
73
g
|
Protein:
26
g
|
Fat:
55
g
|
Saturated Fat:
33
g
|
Cholesterol:
79
mg
|
Sodium:
2405
mg
|
Potassium:
680
mg
|
Fiber:
1
g
|
Sugar:
55
g
|
Vitamin C:
1.2
mg
|
Calcium:
61
mg
|
Iron:
4.3
mg