Whip up a mouthwatering teriyaki beef stir fry in less than 30 minutes! This quick and easy recipe brings tender beef, frozen veggies, and store-bought teriyaki sauce together for the ultimate weeknight dinner. You can make the best beef teriyaki stir fry and serve it over rice or noodles for a healthy meal.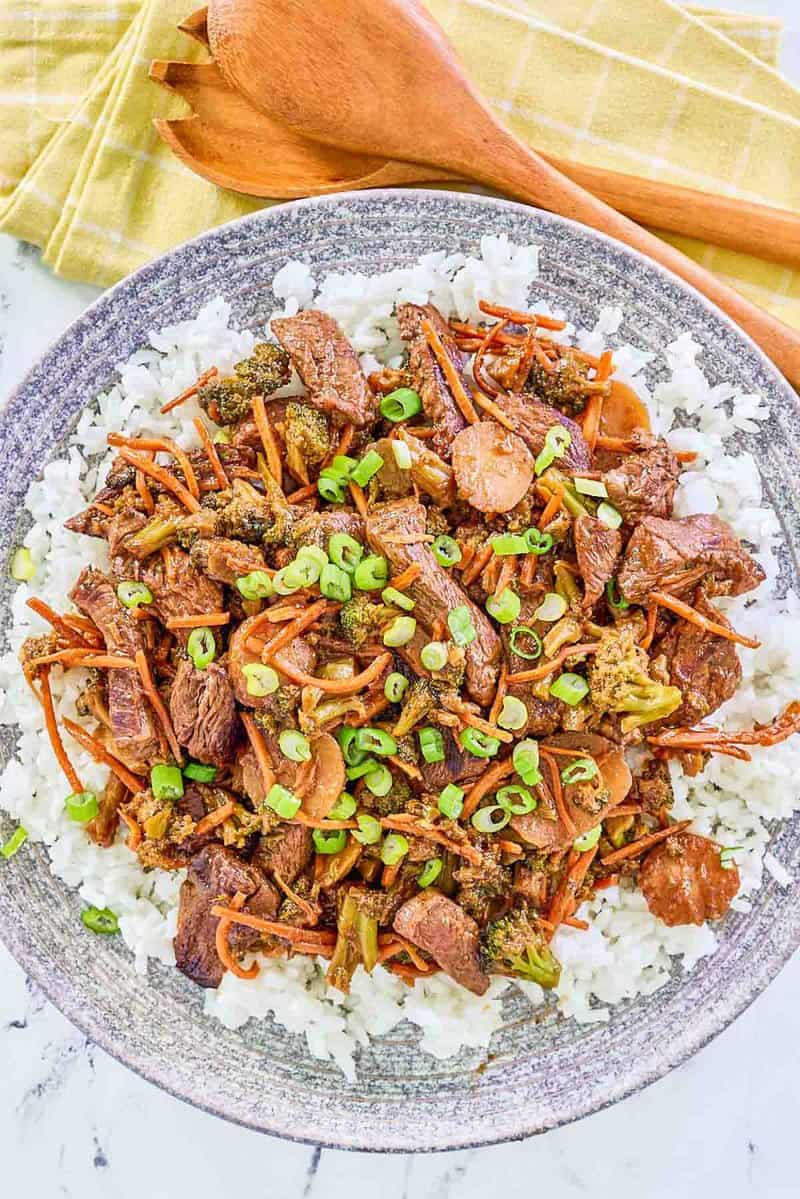 This post contains affiliate links. As an Amazon Associate, I earn from qualifying purchases.
What Makes Teriyaki Beef Stir Fry So Good?
Asian stir fry is a favorite for its great taste, but did you know it could be easy to make, too? This Beef Teriyaki Stir Fry with frozen vegetables delivers restaurant flavors that anyone can make for a fraction of the cost of buying it.
Serve this to your family, and they'll wonder where the takeout boxes are!
Why You Should Try This Beef Teriyaki Stir Fry Recipe
This easy teriyaki beef stir fry comes together in a matter of minutes and is the perfect alternative to ordering delivery on a weeknight. By using frozen prepared vegetables, you can save a lot of prep time without sacrificing flavor. And you can use the frozen ones straight from the freezer – no need to thaw them.
Unlike other stir fry recipes, this one doesn't contain any hard-to-find ingredients, so you can pick up what you need at your local market.
You'll use store-bought teriyaki sauce so don't need to make homemade teriyaki sauce.
You don't need a fancy wok to make a stir-fry. You can use a cast iron skillet or a stainless steel skillet, they both will work well.
Ingredients You Will Need
To make a Beef Teriyaki Stir Fry with frozen vegetables, you'll need:
Sirloin tip steak
Teriyaki sauce
Water
Cornstarch
Sugar
Cooking spray or vegetable oil
Frozen mixed vegetables
Water chestnuts
Ingredient Notes
You don't need a fancy cut of beef. Use sirloin tip or skirt steak. Just remember to slice it against the grain.
Traditional teriyaki sauce and modern-style teriyaki sauce will work fine in this recipe. You can also use other types of stir-fry sauces to expand your flavor options. Ginger-Garlic or Schezuan Sauce are two good alternatives.
Buy frozen mixed vegetables that are prepped for use in a stir fry. If you want to use fresh vegetables but don't want to spend time cutting them up, you can find pre-sliced refrigerated stir fry mixes with bell pepper, broccoli florets, green beans, mushrooms, and snow peas.
Water chestnuts add a bit of a crunch but not much flavor. If you can't find them in the store, it is OK to leave them out.
How to Make Beef Stir Fry With Teriyaki Sauce
To prepare this dish:
Slice the sirloin tip steak into thin slices across the grain. Freezing the meat for about 30 minutes before cutting will help. Set aside and allow the meat to come up to room temperature.
Stir the teriyaki sauce, water, cornstarch, and sugar in a small bowl until the cornstarch and sugar dissolve. Set aside for later.
Heat a large skillet or flat-bottomed wok over high heat.
Spray the hot pan with cooking spray or add a half tablespoon of vegetable oil.
Add the cut beef to the hot pan and cook until you lightly brown the meat. Remove the beef from the pan and set it aside until later.
Add the frozen vegetable to the pan and toss well for about 30 seconds to quickly defrost.
Pour the sauce mixture and add the water chestnuts to the pan. Bring the sauce to a simmer.
Return the beef along with any drippings to the pan and cook until the vegetables are hot.
Serve immediately.
How to Turn This Into Beef Broccoli Teriyaki Stir Fry
It is best to use fresh broccoli to make this variation, but you can use frozen broccoli if that is all you have available. If you are using fresh broccoli, you will have to steam it for about two to three minutes and then stop the cooking process by running cold water over it. Make sure you don't overcook the broccoli when steaming.
To cook the Beef Broccoli Teriyaki Stir Fry, follow the directions above, but substitute the steamed broccoli for the mixed vegetables.
What to Serve With Beef Stir Fry
Many people like to pile this stir fry on top of a bed of white rice, but you can also use brown rice, cauliflower rice, noodles, or quinoa. Pair this dish with Cream Cheese Wontons, a salad with Japanese Dressing, or a bowl of Egg Drop Soup for an Asian-inspired meal.
How to Store Beef Stir Fry With Teriyaki Sauce
Allow the stir fry to cool to room temperature before transferring to an airtight container and putting it in the fridge. Try to use up any extra stir fry within a day or two.
What Is the Best Way to Reheat Beef Stir Fry
To reheat on the stove, add a tablespoon or two to a hot pan along with the leftover stir fry. Cook until hot and serve.
You can also reheat the stir fry in the microwave. Put the leftovers in a bowl, cover the bowl with a paper towel, and nuke for 90 seconds. Stir well. If the beef stir fry isn't hot enough, heat for another 30 seconds.
Love Asian inspired meals? Try these recipes!
Favorite Beef Recipes
Check out more of my easy beef recipes and the best Asian recipes on CopyKat!
Ingredients
1/2

cup

teriyaki sauce

1/4

cup

water

1

tablespoon

cornstarch

1

teaspoon

sugar

3/4

pound

sirloin tip steak

cut into thin strips

1

16-ounce bag

frozen vegetables (broccoli, carrots, sugar snap peas)

1/4

cup

water chestnuts
Instructions
Combine the teriyaki sauce, water, cornstarch, and sugar in a small bowl. Stir to combine.

Spray a large skillet with nonstick cooking spray. Cook the beef strips in the skillet over medium-high heat for 7 to 8 minutes, stirring occasionally.

Add the sauce, frozen vegetables, and water chestnuts to the skillet and bring to a boil. Quickly reduce the heat to medium and cook for 7 to 10 minutes or until the vegetables are heated through, stirring occasionally. Remove from the heat and serve on a bed of rice.
Video
Nutrition
Calories:
210
kcal
|
Carbohydrates:
19
g
|
Protein:
23
g
|
Fat:
4
g
|
Saturated Fat:
1
g
|
Cholesterol:
51
mg
|
Sodium:
1463
mg
|
Potassium:
538
mg
|
Fiber:
3
g
|
Sugar:
6
g
|
Vitamin A:
3595
IU
|
Vitamin C:
7.3
mg
|
Calcium:
51
mg
|
Iron:
2.8
mg