Traditional Beef Stroganoff combines slow-simmered beef, mushrooms, onions, and sour cream and is served over rice or noodles. This dish was originally created for the Russian Stroganoff family by a French chef, this is a family favorite around my house.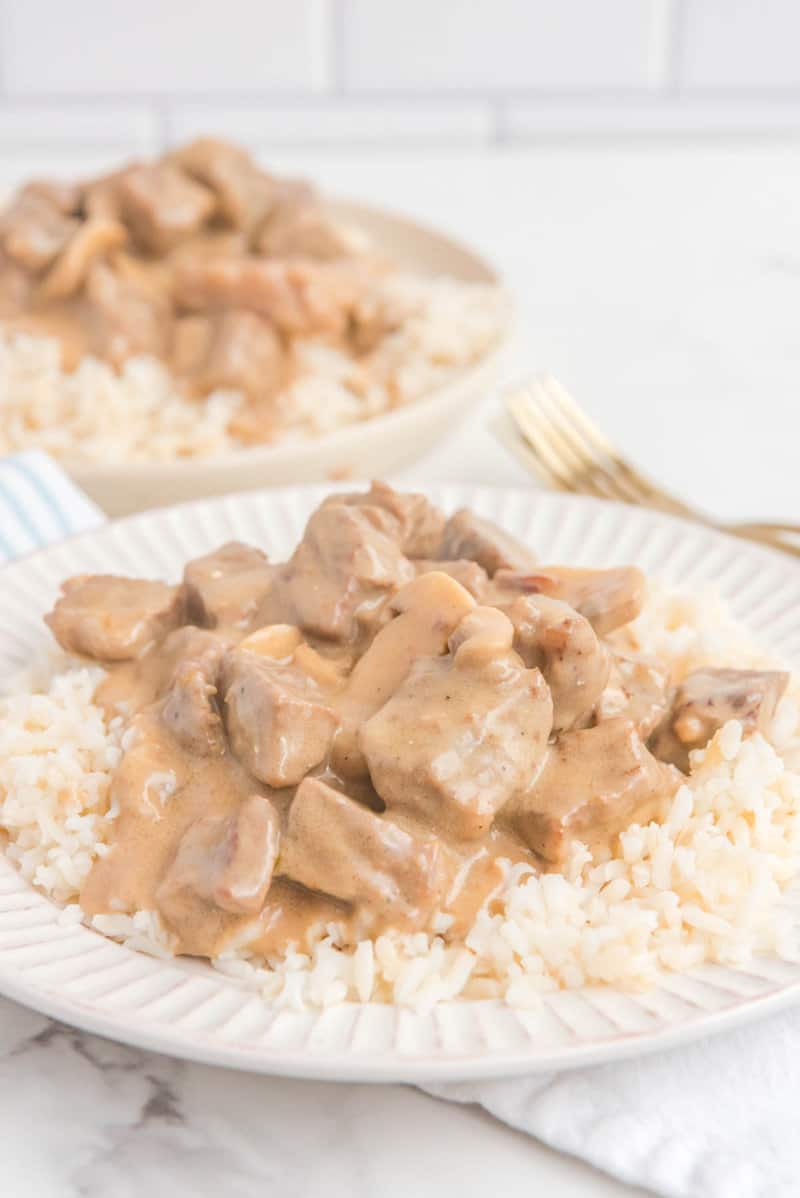 This post contains affiliate links. As an Amazon Associate, I earn from qualifying purchases.
Old-Fashioned Beef Stroganoff
This old-fashioned beef stroganoff recipe combines slow-simmered beef, mushrooms, onions, and sour cream. Served on top of a tangle of buttery noodles, rich and creamy beef stroganoff is comfort food at its best. It's no wonder beef stroganoff has become a family favorite for many.
What Is Russian Beef Stroganoff?
Stroganoff (or Stroganov) is a simple and comforting Russian dish that dates back to the mid-19th century. This traditional dish is named for a member of the Stroganov family, a group of highly successful Russian merchants and landowners.
Legend has it that it was created by a French chef employed by Count Pavel Stroganov in the grand kitchen of St Petersburg's glorious pink Stroganov Palace. The chef entered the dish in an 1891 cooking contest and won!
After the fall of Tsarist Russia, the dish became popular in China. Then, during WWII, Russian and Chinese immigrants and US servicemen brought beef stroganoff to the US.
Why You Should Try This Recipe for Beef Stroganoff
This easy beef stroganoff recipe involves tender beef and savory mushrooms bathed in a creamy sauce for an elegant entrée that is not time-consuming to make.
This best beef stroganoff recipe is so full of flavor you might assume it's complicated to prepare, but it's actually quite the opposite. This from-scratch recipe for beef stroganoff can be made with a minimum of prep time. So, when you want to impress the family or your guests but don't have all day to do it—this recipe for beef stroganoff is a guaranteed hit!
If you've been scared off by underwhelming cafeteria versions of beef stroganoff, now is the time to give this delicious dish another chance.
Traditional Beef Stroganoff Recipe – Ingredients You Will Need
These are the ingredients you will need to make this old-fashioned beef stroganoff recipe.
Sirloin
Canned mushrooms
Green onions
Butter
All-purpose flour
Sour cream
Sauterne wine
Beef bouillon cube
Beef consommé
Dijon mustard
Salt and pepper
What Is the Best Beef to Use for Old-Fashioned Beef Stroganoff?
The best cut of beef for easy beef stroganoff is one that is fairly tender and suitable for quick cooking. Sirloin steak or flank steak are good options.
The important thing to know is that the steak should be sliced across the grain. This shortens the meat fibers and makes the meat more tender with less cooking.
How to Make Beef Stroganoff
This easy beef stroganoff involves very little prep. Here's what to do:
Cut the beef into bite-size pieces or 2-inch strips, brown in a Dutch oven, and set aside.
Cook the onions and mix in the flour with the drippings.
Return the meat and onions and add the dissolved bouillon cube and consommé. Use a wooden spoon to scrape up the brown bits on the bottom of the pan. Stir until smooth.
Add the mustard, cover, and simmer to cook very slowly for about 1 hour.
Add the mushrooms with their liquid, Sauterne, and sour cream.
Serve over rice or noodles.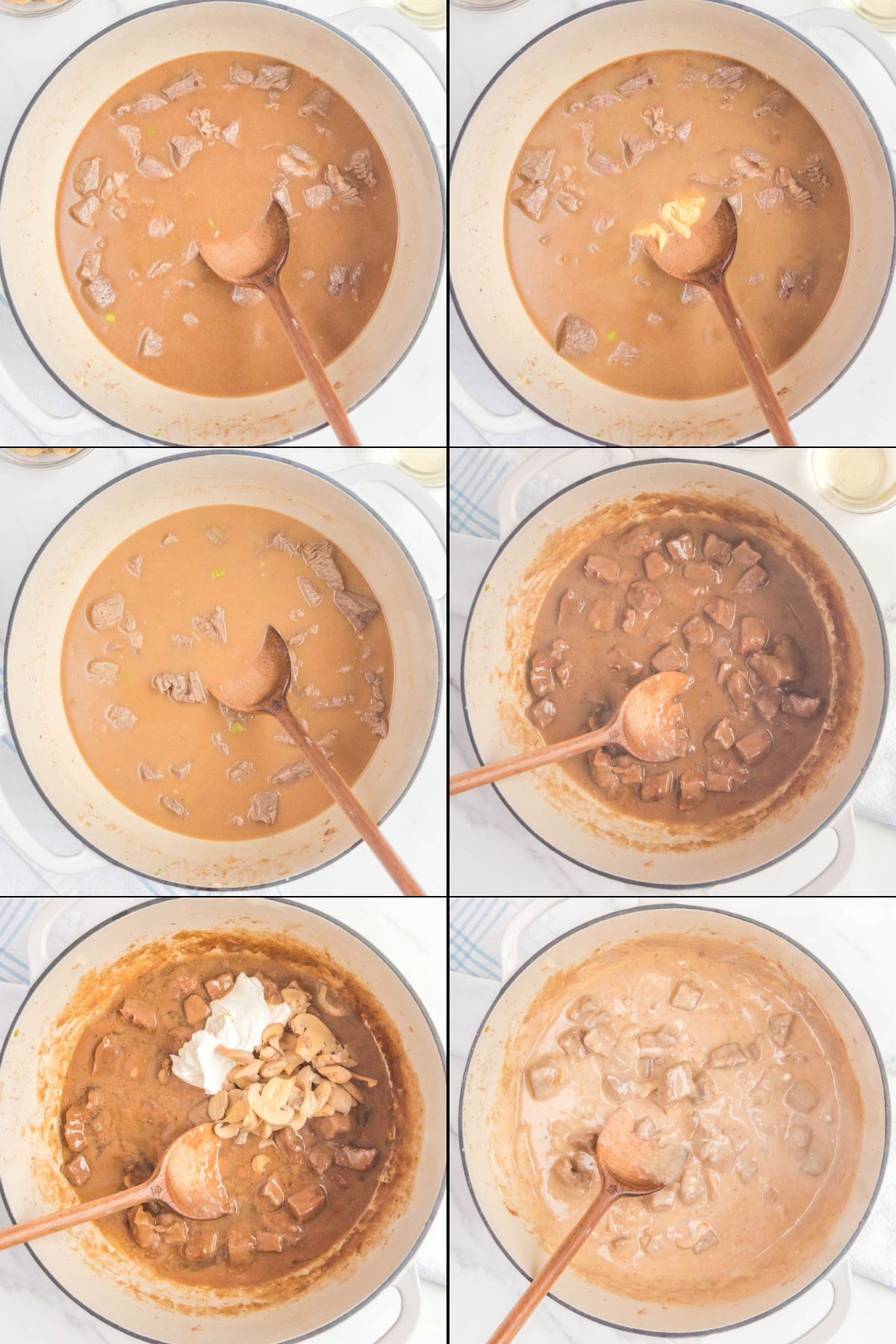 What to Serve With Creamy Beef Stroganoff
In Russia, traditional beef stroganoff is often enjoyed with fried shoestring potatoes. It can also be served over rice or mashed potatoes.
Here in the US, pasta is the most popular accompaniment to classic beef stroganoff, particularly twisted egg noodles.
Try this easy beef stroganoff recipe over gold and red baby potatoes that have been lightly mashed and seasoned.
It's also great served over baked potatoes.
If you want a side, choose something simple such as a green salad, green beans, or asparagus.
You can garnish the dish with fresh chopped parsley or thyme.
Whatever way you choose to serve this recipe for beef stroganoff, some crusty bread to soak up the delicious creamy stroganoff sauce is a must!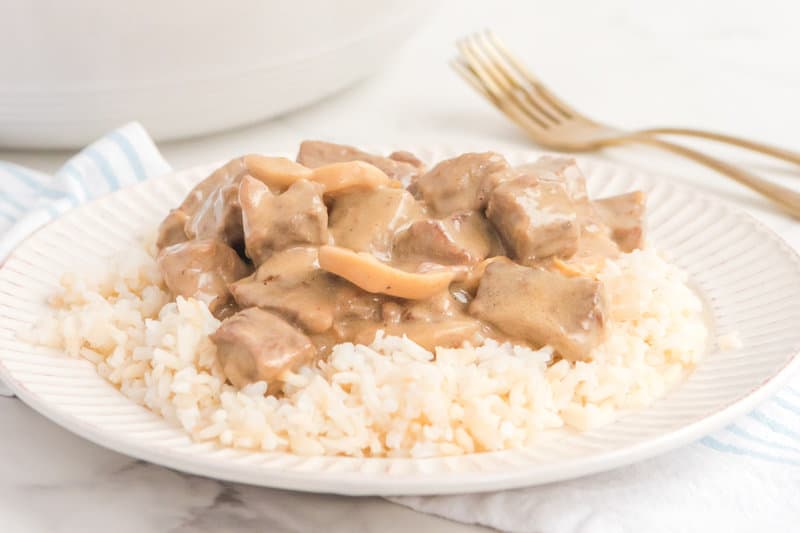 How to Store Leftovers
Refrigerator: To store leftover cooked stroganoff, spoon it into an airtight container and place it in the fridge for 3 to 5 days. To reheat, place the stroganoff in a skillet over medium heat until completely warmed through.
Freezer: Place in a plastic freezer bag or sealed container, making sure to get as much air out as possible. Store in the freezer for up to 2 months. Before reheating, allow it to thaw in the refrigerator overnight.
Make Ahead: You can easily prepare this traditional beef stroganoff recipe ahead of time for an even easier weeknight dinner.
Favorite Beef Recipes
Popular Dinner Recipes
Check out more of my easy dinner recipes and the best recipes for beef on CopyKat!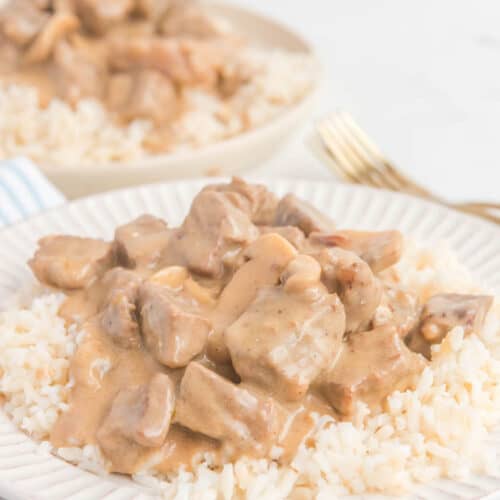 Ingredients
2 1/2

pounds

sirloin

cut into bite sized pieces

salt and pepper to taste

1/2

cup

butter

1/2

cup

green onions

chopped, only the white part

5

tablespoons

all-purpose flour

1

Beef

bouillon Cube, dissolved in one cup hot water

1

can

beef consomme

1

teaspoon

Dijon mustard

6

ounces

mushrooms

canned

1/3

cup

Sauterne Wine

1/3

cup

sour cream
Instructions
Remove all fat from the beef. Cut the beef into 2-inch strips across the grain of the meat. Salt and Pepper the strips. Heat the butter in a Dutch oven and brown the beef, turning frequently to brown evenly. Set the meat aside and cook the onions until they are transparent. Set the onions aside.

Add the flour to the drippings and mix well. Return the meat and onions to the Dutch oven, and add beef bouillon cube, water and beef consomme. Stir the mixture until is smooth. Add mustard, cover and cook very slowly for 1 hour or until the meat is tender. Add the mushrooms do not drain off liquid, saute and sour cream. Serve over rice or noodles.
Nutrition
Calories:
347
kcal
|
Carbohydrates:
5
g
|
Protein:
33
g
|
Fat:
20
g
|
Saturated Fat:
10
g
|
Cholesterol:
121
mg
|
Sodium:
401
mg
|
Potassium:
624
mg
|
Fiber:
0
g
|
Sugar:
0
g
|
Vitamin A:
475
IU
|
Vitamin C:
1.7
mg
|
Calcium:
61
mg
|
Iron:
2.8
mg