Planet Hollywood Thai Shrimp Pasta is an incredibly delicious meal! Linguine is tossed with a flavorful homemade Thai sauce, sauteed vegetables, and topped with shrimp and peanuts. If you enjoy shrimp, noodles, and Thai cuisine, this dish is for you!
This post contains affiliate links. As an Amazon Associate, I earn from qualifying purchases.
What Makes the Planet Hollywood Thai Shrimp Pasta So Good?
Sure, this may not be 'authentic' Thai cooking, but it is darn tasty, so who cares? If you love spice, shrimp, and Asian flavors, trying this recipe is a no-brainer. There is so much going on here flavor-wise that it will surely become a family favorite.
Why You Should Try This Thai Pasta Recipe
Although the ingredient list is long, and you may need to purchase several of the items online, this is the kind of recipe that is a welcome departure from the everyday. Plenty of Thai shrimp pasta recipes online are simpler to prepare than this one, but none of those have such deep and complex flavors as this version.
To make it more worthwhile, remember that you can double the Thai sauce portion of this recipe and use it as a glaze for grilled pork chops or chicken breasts.
Thai Shrimp Pasta Ingredients
For the Thai sauce, you'll need:
Ketchup
Rice vinegar
Sesame oil
Hot chili oil
Garlic powder
Onion powder
Hoisin sauce
Fresh chopped garlic
Ginger, chopped
Lemon juice
Chinese mustard powder
Light soy sauce
Water
Sweet chili sauce
Peanut butter
Crushed red pepper flakes
For the pasta, you'll need:
Butter
Garlic, chopped
Shrimp, peeled and deveined
A variety of mixed julienned vegetables. Celery, carrots, bell pepper, and onions are great choices.
Fresh cilantro leaves
Peanuts
Linguine, cooked
Green onions, sliced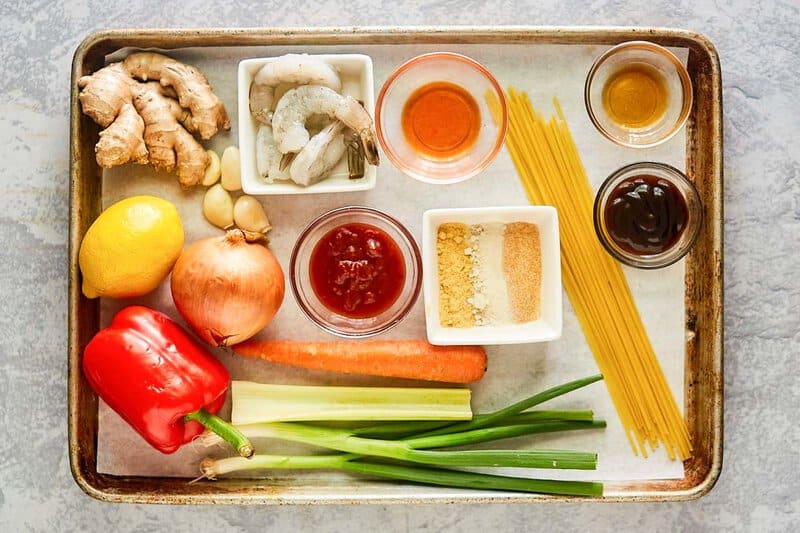 Ingredient Notes and Substitutions
Thai chili oil is much more than just oil and chilies. For the best flavor, use it if you can. Thai and True is a good brand, but it isn't cheap. If you want a more budget-friendly alternative, you can use a Chinese-style hot chili oil. Although it won't have all the flavors of a Thai version, it will get you most of the way there.
S&B Oriental Hot Mustard Powder is a good choice for Chinese mustard powder. If you can't find Chinese mustard powder, use Colman's Mustard Powder as a 1:1 substitute.
Sweet chili sauce is sweet, tangy, and hot. You can find it in most supermarkets or online. Since it is a major flavor component of this recipe, use a good sweet chili sauce.
Use medium-sized shrimp. The 16/20 or 26/30 count size is great. If you don't know how to peel and devein shrimp, this YouTube video can help.
How to Make Thai Pasta
To make the Thai sauce:
Blend all the ingredients for the sauce except for the crushed red pepper flakes until smooth.
Pour the sauce into a container and add the crushed red pepper flakes.
Cover and put in the fridge.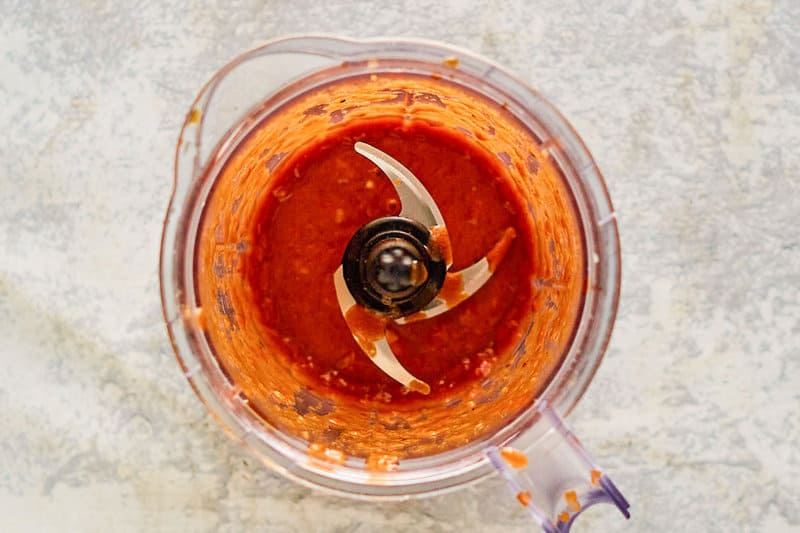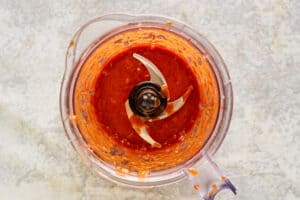 To prepare the pasta:
In a large skillet or saute pan over medium heat, saute the chopped garlic in butter until fragrant, about a minute.
Add the peeled and deveined shrimp. While stirring occasionally, cook the shrimp until pink. Add more butter if the skillet gets dry, and don't overcook the shrimp.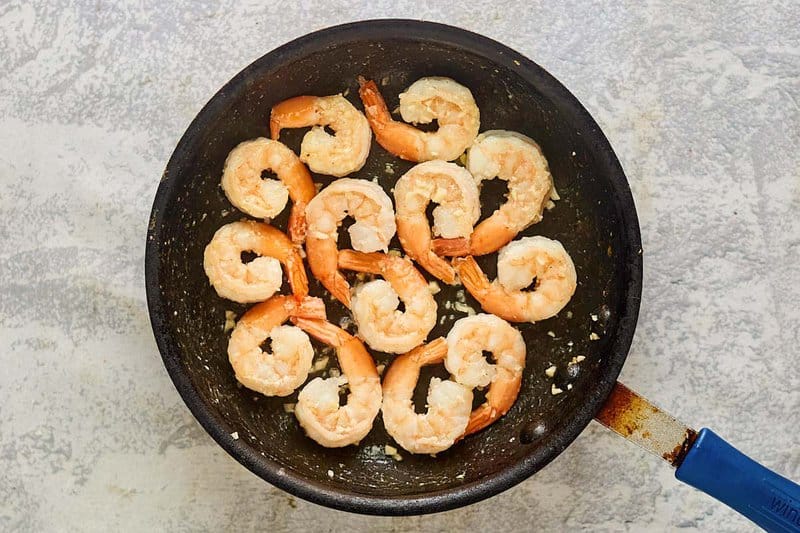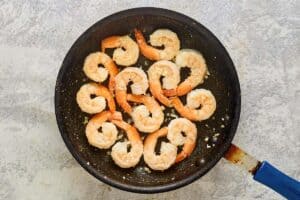 Add the julienned vegetables, half of the fresh cilantro leaves, half of the peanuts, and a half-cup of the Thai sauce to the skillet. Toss to coat the ingredients with the Thai sauce and remove the skillet from the heat after warming the sauce.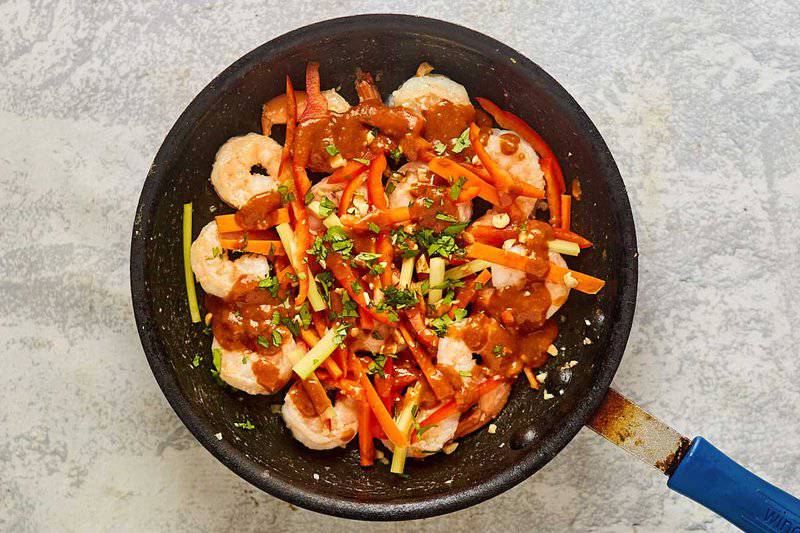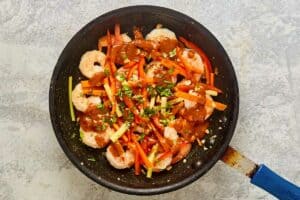 Pick out the cooked shrimp and set them to the side for later.
Toss the cooked pasta with a cup Thai sauce and divide pasta into bowls.
Place the shrimp around the rims of bowls.
Garnish center of each bowl with the cooked shrimp, sliced green onions, the remaining cilantro leaves, and peanuts.
Serve with additional Thai sauce on the side.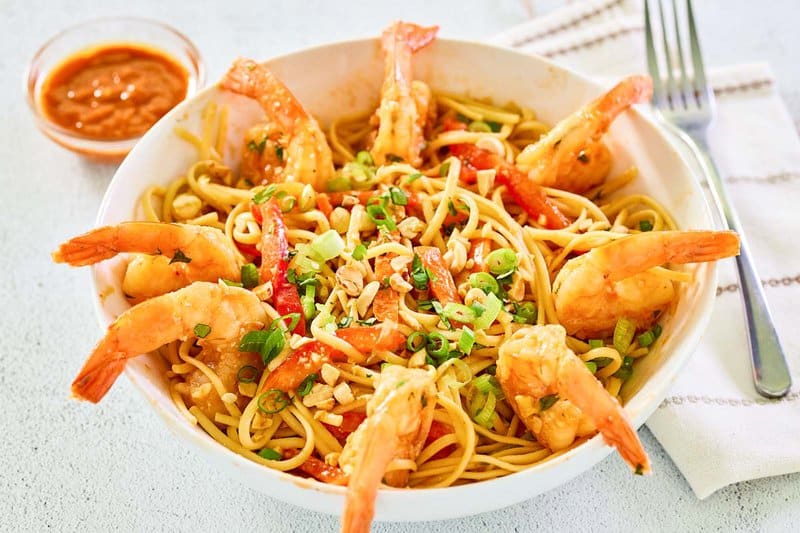 What to Serve With Thai Shrimp Noodles
An Asian-style salad is a good, fresh side dish. Spring and summer rolls are also nice additions.
How to Store Thai Pasta
For the best flavor and texture, cook only as much shrimp pasta as you want to eat at the time. However, if you have any leftovers, you can keep them in an airtight container in the fridge for about 24 hours before the pasta softens and the shrimp start to turn.
The sauce on its own will keep in a storage container in the refrigerator for up to five days.
What Is the Best Way to Reheat the Pasta
Warming the pasta on the stovetop is an excellent way to prepare any leftovers from this Thai pasta recipe.
Place a pan over medium heat, and when it is hot, pour in a few tablespoons of water.
Add the pasta and continuously stir until everything is warmed through, about two to three minutes.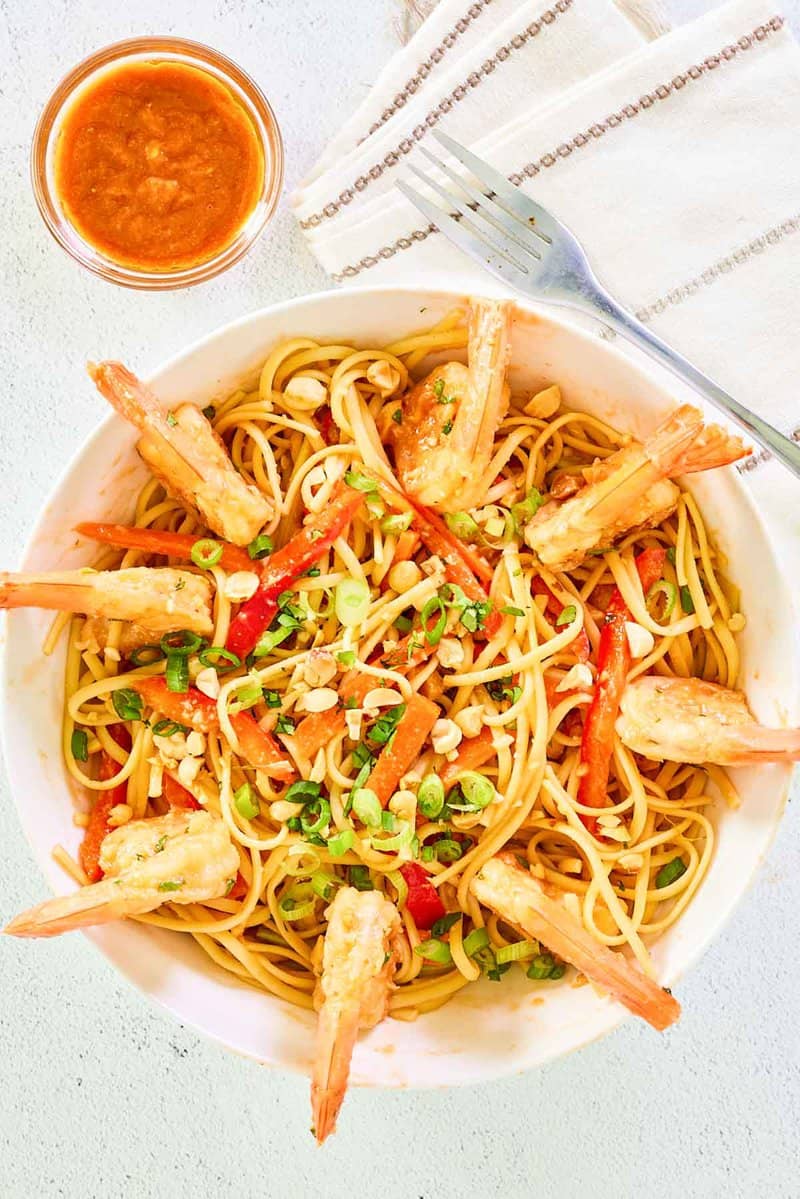 Popular Thai Recipes
Favorite Shrimp Recipes
Check out more of my easy shrimp recipes and the best Asian recipes on CopyKat!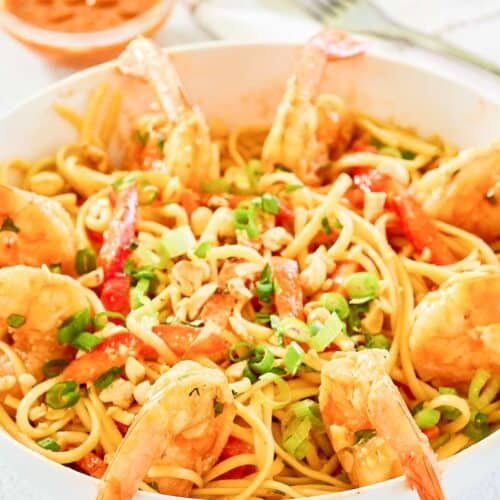 Ingredients
Thai Sauce
2

tablespoons

ketchup

3/4

teaspoon

rice vinegar

1 1/2

teaspoons

sesame oil

1/2

teaspoon

hot and spicy oil

or chili oil

1/2

teaspoon

garlic powder

1/2

teaspoon

onion powder

1 1/2

teaspoons

hoisin sauce

1/2

teaspoon

chopped garlic

1/2

teaspoon

chopped ginger root

1/8

cup

lemon juice

1/2

teaspoon

Chinese mustard powder

2

tablespoons

soy sauce

1 1/2

teaspoons

water

1/4

cup

sweet chili sauce

1/2

teaspoon

peanut butter

1/2

teaspoon

crushed red pepper
Pasta
1

teaspoon

butter

plus more if needed

1

teaspoon

chopped garlic

2

pounds

shrimp

peeled and deveined (16/20 or 26/30 count)

1

cup

julienne-cut vegetables

celery, carrots, bell pepper, and/or onion

1

tablespoon

chopped cilantro

divided use

1

tablespoon

chopped peanuts

divided use

10

ounces

linguine

prepared according to the package directions

2

tablespoons

chopped green onions

to garnish
Instructions
Sauce
Place all the sauce ingredients except for the crushed red pepper in a

blender

and blend well.

Then stir in the crushed red pepper.

Transfer the sauce to an air-tight container and store in the refrigerator. The sauce will keep for 4 to 5 days.
Pasta
Place a sauté pan over medium heat. Add the butter and garlic to the pan and cook for 1 minute.

Add the shrimp and cook for 3 minutes, turning occasionally to ensure even cooking. Add additional butter if the pan becomes too dry.

Add the julienned vegetables, half of the cilantro, half of the peanuts, and 1/2 cup of Thai sauce (or more to taste) and mix well. Remove the pan from the heat.

Remove the shrimp from the vegetable mixture and set the shrimp aside.

Combine the vegetable mixture with the prepared linguine and toss to coat.

Divide the pasta with vegetables and sauce between 4 serving bowls.

Place the reserved shrimp, tails up, around the rims of the bowls, facing toward the middle.

Garnish the center of each bowl with the green onions and the remaining peanuts and cilantro.
Nutrition
Calories:
631
kcal
|
Carbohydrates:
74
g
|
Protein:
59
g
|
Fat:
9
g
|
Saturated Fat:
1
g
|
Cholesterol:
574
mg
|
Sodium:
2568
mg
|
Potassium:
526
mg
|
Fiber:
5
g
|
Sugar:
12
g
|
Vitamin A:
3175
IU
|
Vitamin C:
19.5
mg
|
Calcium:
361
mg
|
Iron:
6.6
mg