Dunkin Donuts Stuffed Biscuit Bites are great for a hearty satisfying breakfast. These stuffed biscuit bites with bacon, egg, and cheese are easy to make with refrigerated biscuit dough and are great for a homemade breakfast on the go.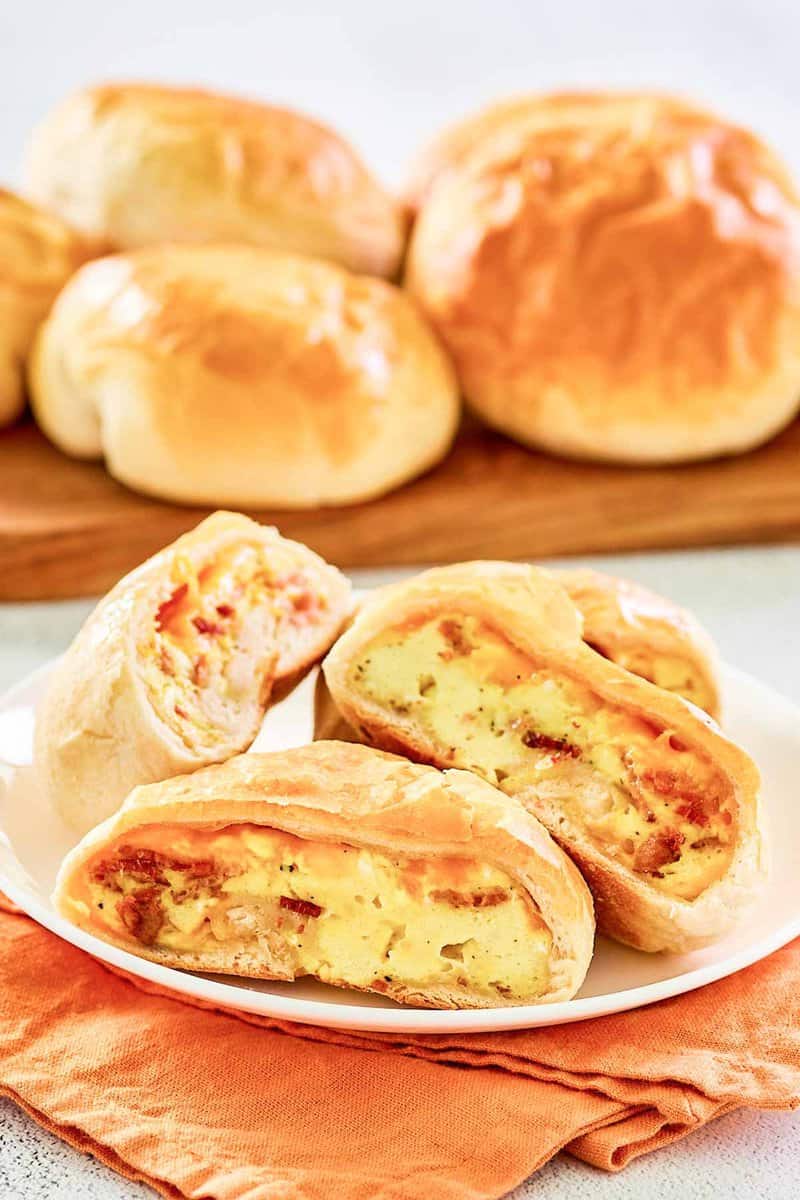 This post contains affiliate links. As an Amazon Associate, I earn from qualifying purchases.
What Makes Dunkin Biscuit Bites With Bacon So Good?
A biscuit sandwich with bacon, eggs, and cheese on a biscuit sounds like a pretty great breakfast. Savory bacon, fluffy eggs, and melty cheddar cheese in a biscuit sounds like a fantastic breakfast on the go.
Dunkin Stuffed Biscuit Bites With Bacon are super convenient to take with you no matter where you go, and they are so delicious that you won't feel like you are compromising on taste. The super-snackable biscuits are not only great for a warm breakfast, but they're also perfect for an afternoon snack.
Why You Should Try This Recipe
Mornings are hectic, and anything you can do to make them run a little more smoothly is well worth it. That should include making a batch of bacon biscuit bites in advance and reheating them during the week.
Pop a frozen biscuit bite in the microwave, and breakfast is ready before your coffee finishes brewing. You won't have to visit the drive-in on the way to work, saving you time and money.
Recipe Ingredients
To make bacon and eggs biscuit bites, you'll need:
Eggs
Salt
Black pepper
Half & Half
Butter
Bacon, cooked
Cheddar cheese, shredded
Refrigerated biscuit dough
Water
Ingredient Notes
You can use any refrigerated biscuit dough, but Pillsbury Grands work well.
Most pre-shredded cheese contains anti-clumping additives that prevent the cheese from melting well. Try shredding the cheese off a block for the creamiest filling.
Baking bacon is easy and a great way to cook it without much fuss.
How to Make Stuffed Bacon Biscuit Bites
To cook the bacon:
Preheat the oven to 400°F.
Place the bacon strips on a baking sheet.
Bake for 15 to 17 minutes, or until the bacon is browned and crisp.
Crumble the crispy bacon into small pieces.
Reduce the oven temperature to 375°F.
To prepare the filling for Dunkin Biscuit Bites:
Reserve one egg and whisk the others in a large mixing bowl with salt, black pepper, and Half & Half.
Place a skillet over medium heat and add the butter.
When the butter stops foaming, cook the whisked egg mixture to a soft scramble.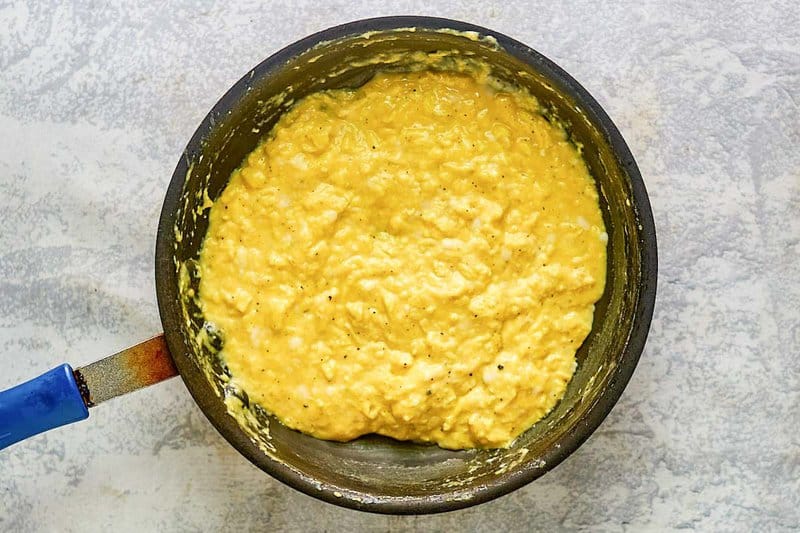 Crumble the cooked bacon into the eggs and stir half the shredded cheese.
Remove the skillet from the heat.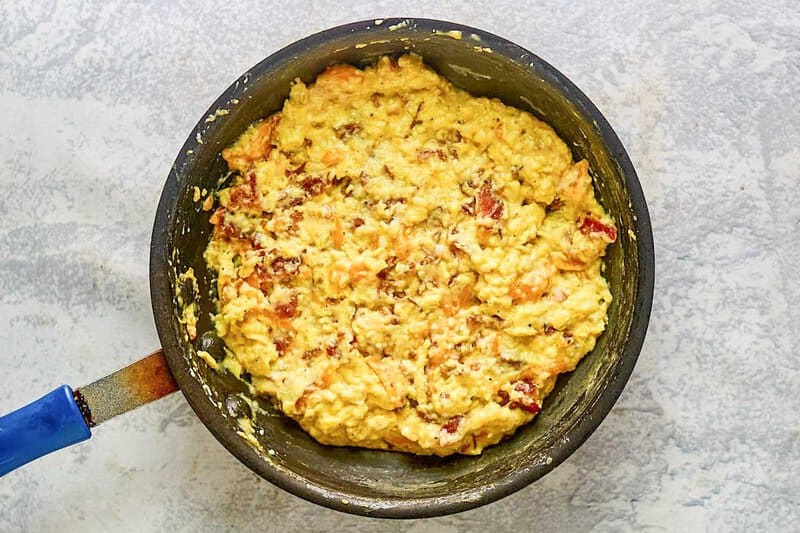 To assemble the biscuit bites:
On a lightly floured work surface, roll out a piece of the refrigerated biscuit dough into a disc until it is roughly double in size.
Add some reserved shredded cheese to the center of each biscuit dough round and place a heaping tablespoon of the scrambled mixture on top of the cheese.
Bring the opposite edges of the dough round together and pinch to seal.
Repeat with the remaining pieces of dough.
To bake the Dunkin Bites:
The oven should be at 375°F (reduced from 400°F after baking the bacon).
Place the stuffed biscuits seam-side down onto a parchment paper-lined baking tray.
Make an egg wash by whisking together the remaining egg and two tablespoons of warm water.
Use a pastry brush to brush the egg wash onto the top and sides of the stuffed biscuits.
Bake for 15 minutes until the bites are golden brown and shiny.
Cool the biscuit bites on a wire rack.
Serve warm or cool to room temperature if you will store them for later.
What to Serve With Dunkin Stuffed Biscuit Bites With Bacon
A large cup of coffee and a hash brown patty or tater tots will complete this perfect breakfast.
Recipe Variations
Feel free to experiment by adding a few cooked vegetables to the filling. Peppers and onions are classics, but you may want to try others, like sliced asparagus or chopped pickled jalapeno peppers.
You should probably avoid veggies that contain a lot of water, including spinach, mushrooms, and tomatoes, to prevent your bites from getting soggy.
How to Store Them
Let the bacon bites cool before transferring them to an airtight container and putting them in the fridge. Bites will stay fresh in the refrigerator for up to three days. To keep them longer, freeze them:
Lay the cooled bacon bites on a baking tray.
Freeze them for around three hours.
Wrap the frozen bites in plastic and store them in a freezer-safe container for up to three months.
What's the Best Way to Reheat Them
Reheat thawed bites in the oven:
Bring the chilled bites to room temperature on the counter.
Preheat the oven to 350°F.
Place the bites on a baking tray and cover them with aluminum foil.
Heat in the oven for 8 to 10 minutes or until hot.
To reheat a single frozen bite in the microwave, wrap it in a paper towel and zap it for a minute and a half at 50 percent power. Let the bite rest for a minute or so before eating.
More Dunkin Donuts Copycat Recipes
Favorite Copycat Fast Food Breakfast Recipes
Check out more of my easy breakfast recipes and the best copycat fast food recipes on CopyKat!
Ingredients
12

ounces

bacon

6

eggs

salt

pepper

1/2

cup

half & half

2

tablespoons

salted butter

4

ounces

cheddar cheese

shredded from a block, divided use

1

package

refrigerated Pillsbury Grands biscuit dough

makes 8 biscuits

1

egg

2

tablespoons

water
Instructions
Preheat the oven to 400°F.

Place a baking rack inside of a rimmed baking sheet, and lay the bacon strips onto the rack, leaving about 1/4 inch of space between each slice of bacon. Bake for 15 to 17 minutes, or until the bacon is browned and crisp. Crumble the bacon into small pieces.

Reduce the oven temperature to 375°F.

Heat a skillet over medium heat.

While the skillet is heating, whisk together the eggs, salt, pepper, and half & half in a bowl.

Place the butter in the hot skillet. Once melted, add the whisked eggs and cook, stirring occasionally, until scrambled. Then add the crumbled bacon and half of the shredded cheese.

Lightly flour a wooden cutting board. Roll each piece of biscuit dough flat into a circle.

Divide the scrambled eggs and the remaining shredded cheese among the biscuits.

Gather the edges of the dough over the center and pinch to seal.

Make an egg wash by whisking 1 egg and 2 tablespoons of water together. Brush each biscuit with egg wash.

Bake in the preheated oven for 15 minutes.
Nutrition
Calories:
546
kcal
|
Carbohydrates:
30
g
|
Protein:
18
g
|
Fat:
39
g
|
Saturated Fat:
14
g
|
Polyunsaturated Fat:
7
g
|
Monounsaturated Fat:
15
g
|
Trans Fat:
0.2
g
|
Cholesterol:
199
mg
|
Sodium:
1005
mg
|
Potassium:
298
mg
|
Fiber:
1
g
|
Sugar:
3
g
|
Vitamin A:
508
IU
|
Vitamin C:
0.1
mg
|
Calcium:
169
mg
|
Iron:
3
mg