Immerse yourself in the deliciousness of Luby's coconut meringue pie! A buttery, flaky crust cradles a luscious coconut custard filling, topped with a fluffy meringue cloud that's lightly toasted for an extra touch of indulgence. This old-fashioned pie is the perfect fusion of sweetness and texture, making it an unforgettable dessert for any occasion.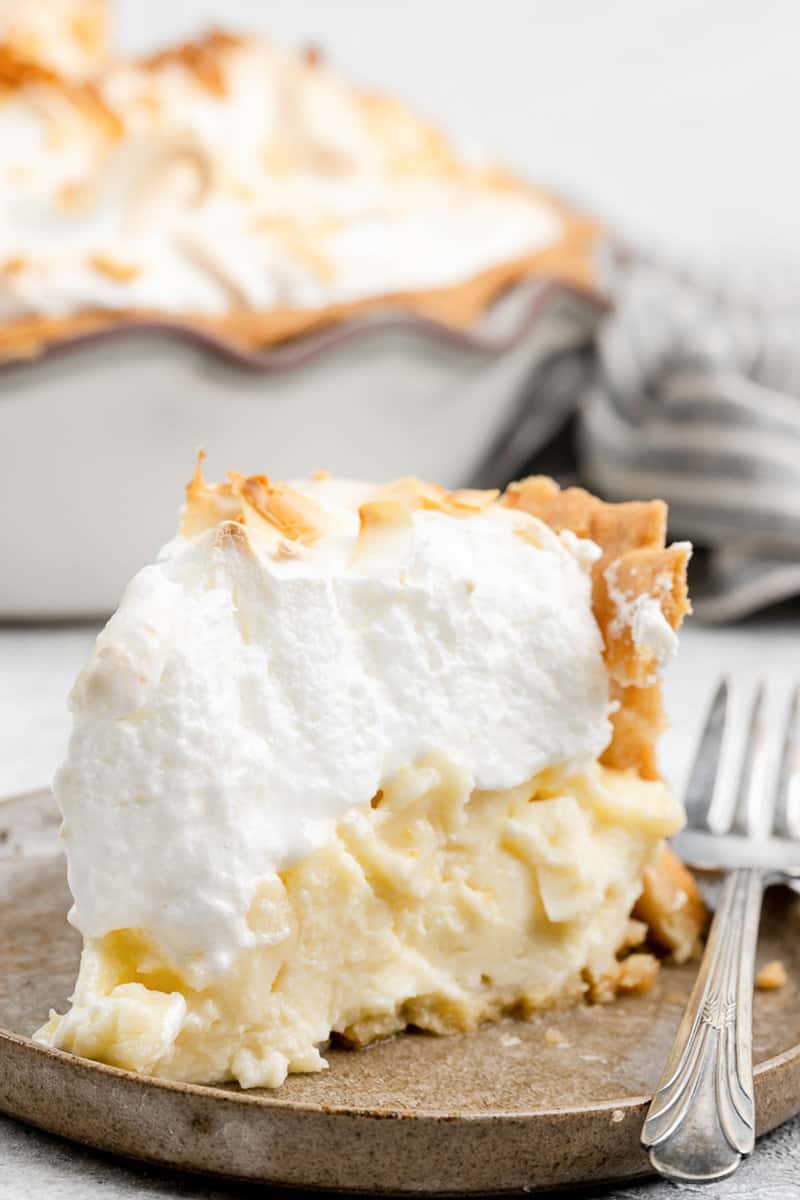 This post contains affiliate links. As an Amazon Associate, I earn from qualifying purchases.
What Makes the Luby's Coconut Cream Meringue Pie So Good?
Coconut may not be for everyone, but if you are a fan of coconut-flavored desserts, you'll definitely want to try making this copycat version of the Coconut Meringue Pie from Luby's. The chilled, thick filling, light, fluffy topping, and crispy crust not only taste incredible but offer a combination of textures that is tough to beat. This pie is easy to make and difficult to resist.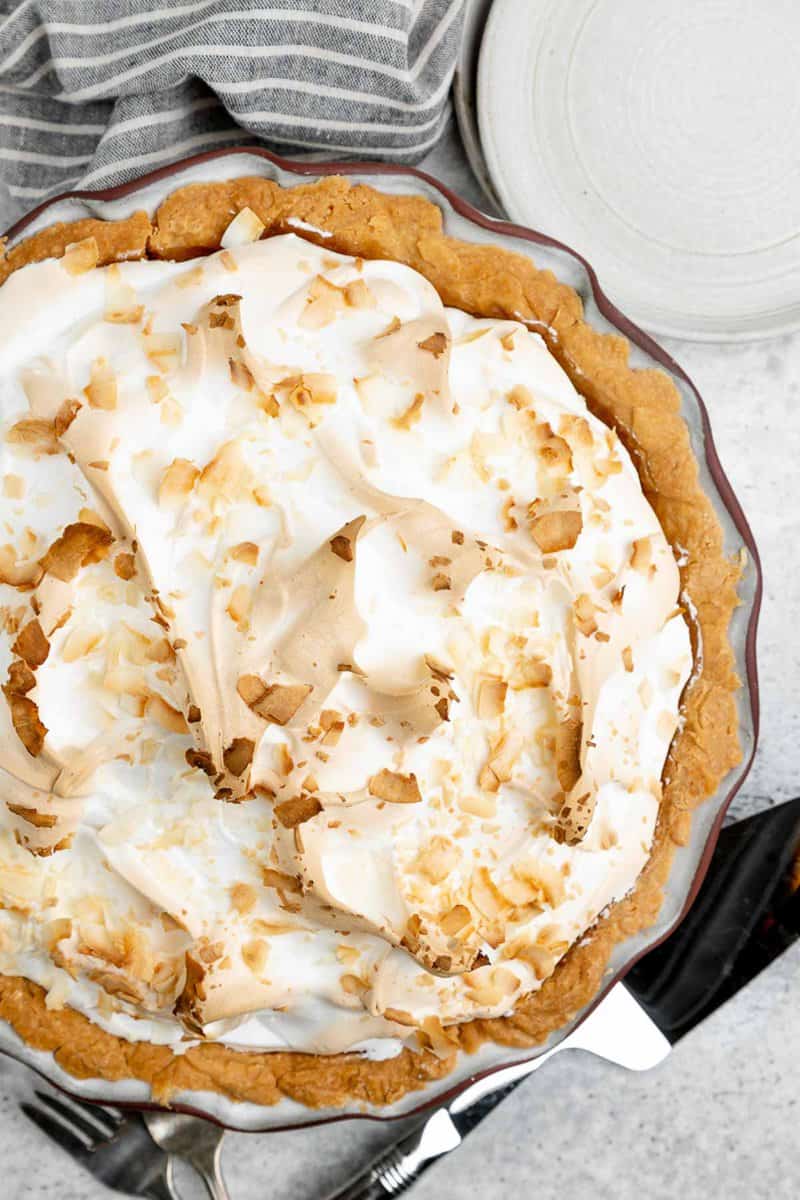 Why You Should Try This Recipe
Nothing's worse than a pie with a filling that won't even hold together long enough to make it to the plate. Well, the coconut cream filling in this recipe sets perfectly and remains in one piece, yet it is utterly creamy.
The trick is adding marshmallows to the filling. But that's not the only secret in this recipe. The cream of tartar in the meringue not only creates a super-smooth consistency but makes it extra stiff without drying out.
Coconut Cream Meringue Pie Ingredients
This coconut meringue pie recipe makes two pies.
For the pie filling, you'll need:
White sugar
Eggs
Cornstarch
Pure vanilla extract
Salt
Half & Half
Unsalted butter
Miniature marshmallows
Shredded coconut
Baked 9-inch pie shells
Miniature marshmallows ensure that they entirely melt when combined with the other ingredients. If you only have regular marshmallows, rough chop them before using them.
If you want additional coconut flavor you can add a ½ teaspoon of coconut extract to the filling. You can also use coconut sugar instead of regular granulated sugar.
Quality store-bought crusts are fine for this recipe, but homemade is better. Use your favorite recipe, or try making a double recipe of Martha Stewart Pie Crust. Blind bake the pie crusts weighted down with beans or pie weights and allow them to cool before starting the rest of the recipe.
For the meringue topping, you'll need:
Egg whites (save the egg yolks for another use)
Cream of tartar
Sugar
Flaked coconut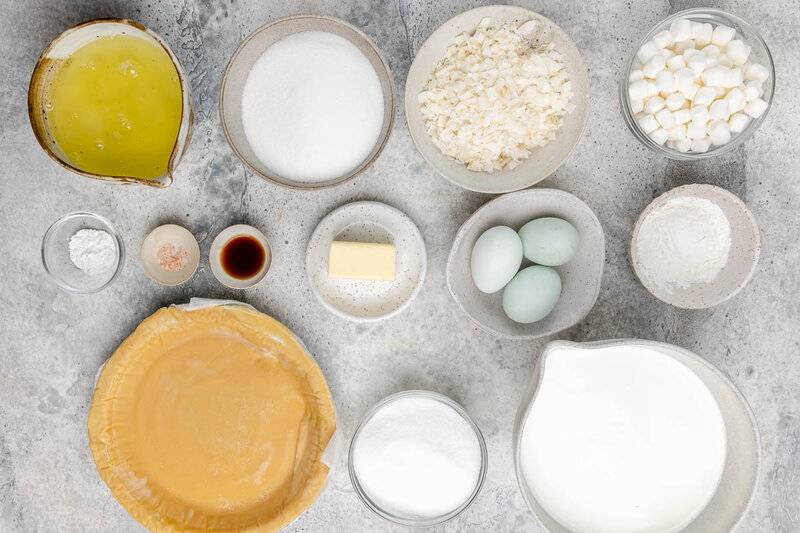 How to Make Coconut Cream Pie With Meringue
To make the filling:
Stir together the sugar, eggs, cornstarch, vanilla, and salt in a mixing bowl. Set aside for later.
Put the half & half and butter in a saucepan and place the saucepan over medium heat.
While stirring, slowly bring the half & half mixture to a simmer.
When the half & half mixture reaches a simmer, turn down the heat.
Drizzle a few tablespoons of the hot mixture into the egg mixture while stirring. Slowly pour about a third of a cup into the egg mixture to temper the eggs.
Pour the tempered egg mixture into the saucepan.
While stirring constantly, cook the filling for about a minute more to thicken.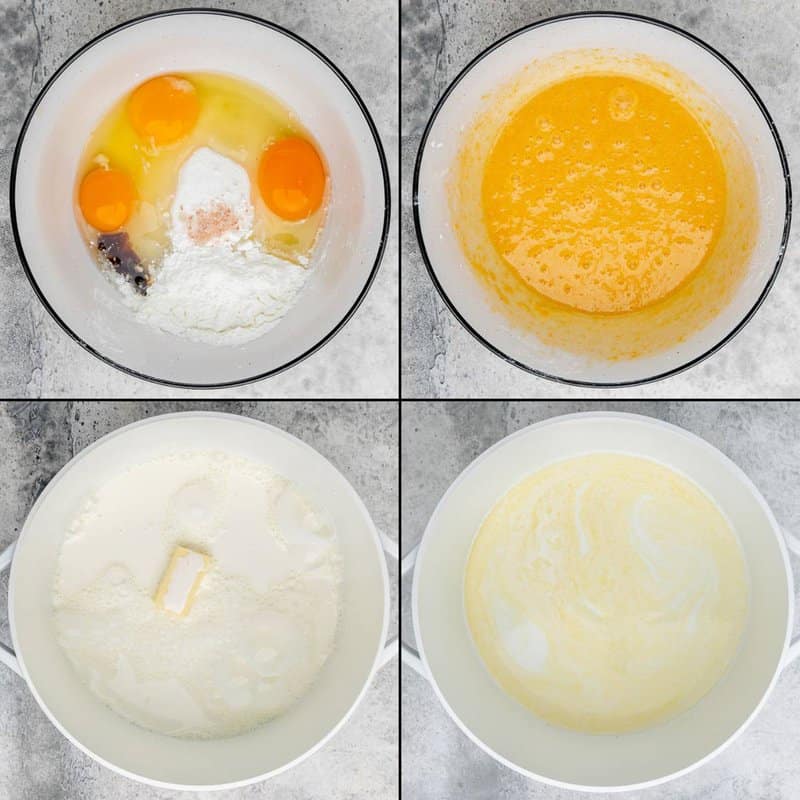 Stir the marshmallows and flaked coconut into the saucepan and mix until the marshmallows melt. Don't worry if the filling looks a little too thick at this stage.
Remove the saucepan from the heat and spoon half the filling onto each pre-baked pie crust. Use an offset spatula to smooth the top of the filling and force out any air bubbles.
Allow the filling to cool to room temperature and refrigerate for at least two hours.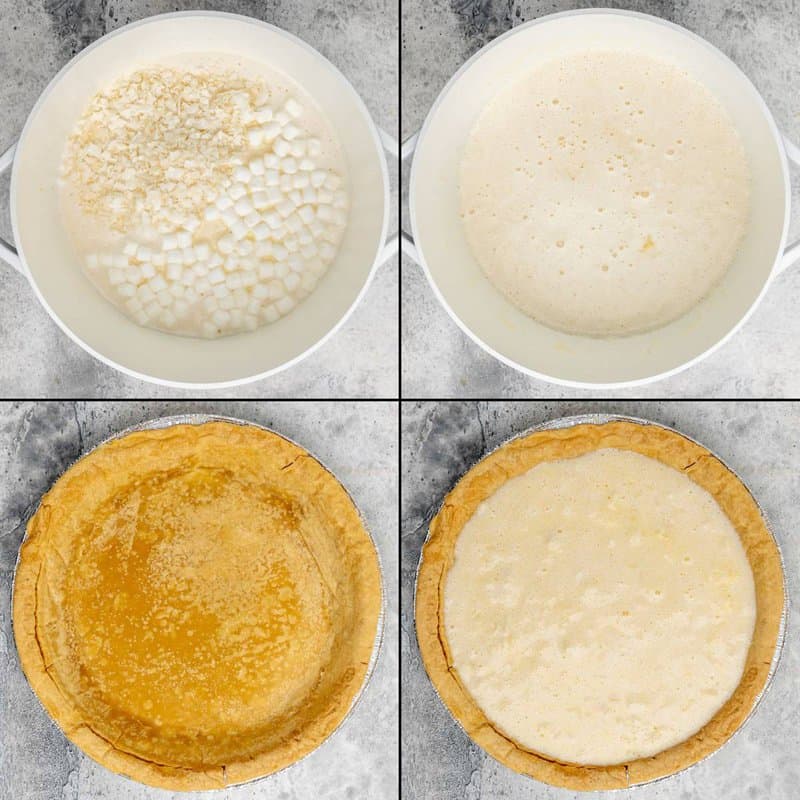 To make the meringue:
Combine the egg whites and cream of tartar in a mixing bowl. If you have a copper bowl, use it, but any mixing bowl will work.
Use an electric mixer on medium speed to beat the egg whites until they reach soft peaks. Then add the sugar and beat until you reach the stiff peak stage.
To assemble and bake the pie:
Preheat the oven to 350°F.
Use an offset spatula to spread half of the meringue over the top of each filled pie crust.
Sprinkle the top of each pie with half of the remaining flaked coconut.
Bake the pies in the oven for 12 to 15 minutes until the meringue is golden brown.
Cool the pies to room temperature and put them in the fridge until thoroughly chilled before serving. After the pies cool, cover if you don't plan to serve them immediately.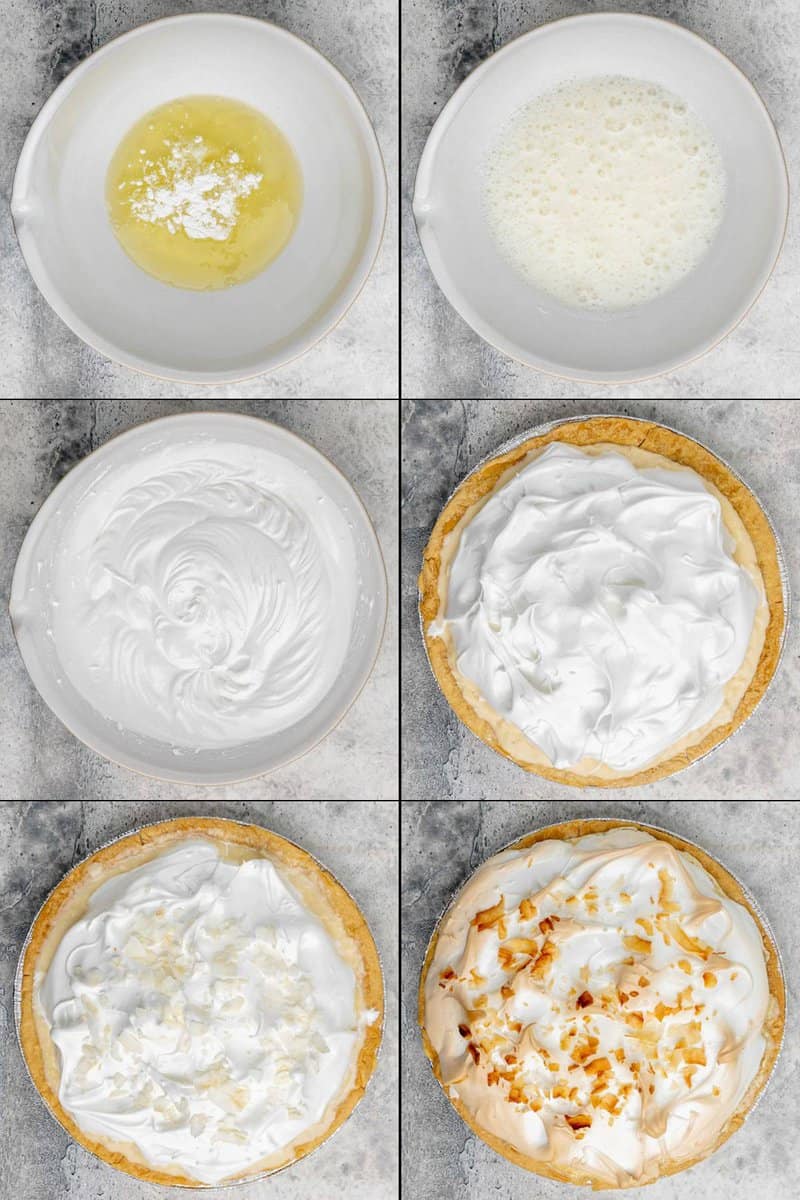 What Else You Can Serve With Coconut Meringue Pie?
The acidity really cuts through the sweetness in this coconut pie, making a cup of coffee or tea an excellent drink choice. You can also serve fresh fruit such as chopped pineapples, strawberries, or raspberries on the side for additional tang. A drizzle of caramel sauce, almonds, or macadamia nuts are also great additions.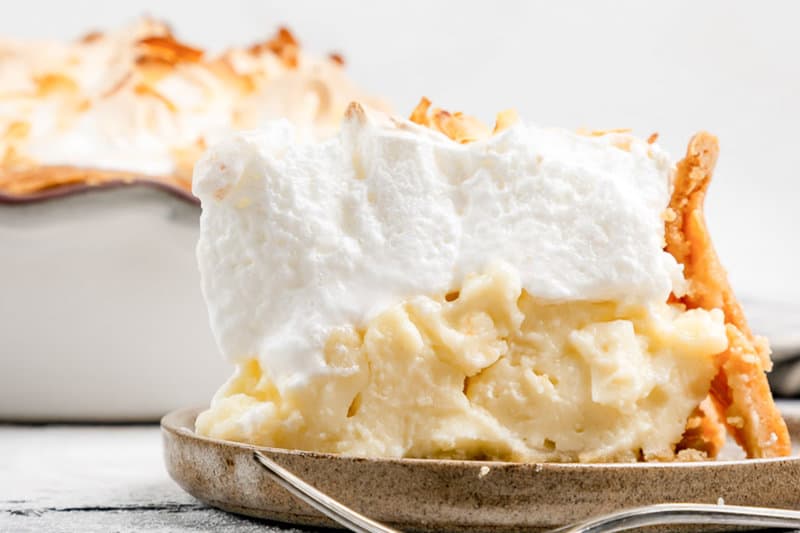 How to Store a Coconut Cream Pie With Meringue
Put the prepared pie or leftovers in an airtight container such as a pie keeper or loosely wrap it in plastic or foil and store it in the fridge. The pies will not freeze well.
How Long Can You Keep a Coconut Meringue Pie?
The pies will stay fresh for up to three days in the fridge, but the consistency will change over time, so eating them as soon as possible is best.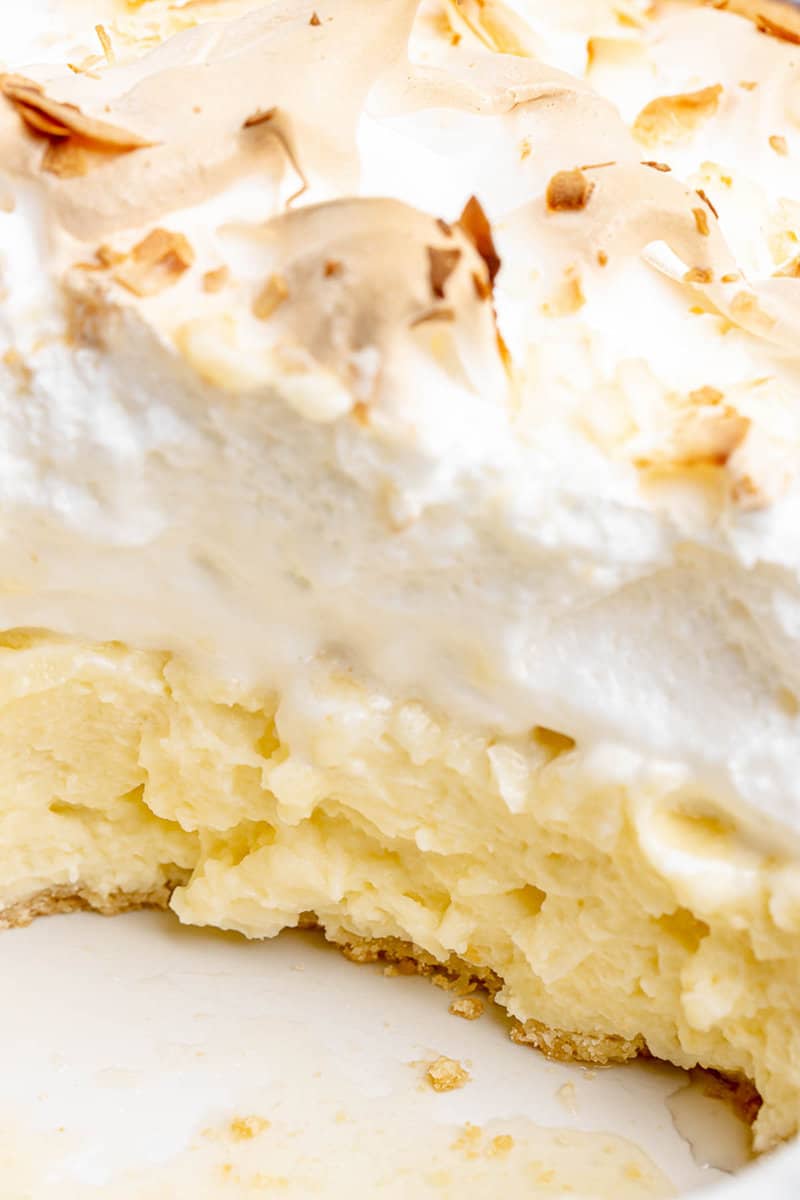 More Luby's Copycat Recipes
Popular Pie Recipes
Check out more of my easy pie recipes and the best copycat restaurant recipes on CopyKat!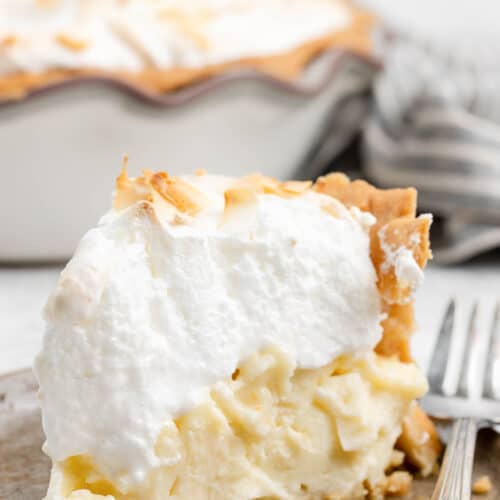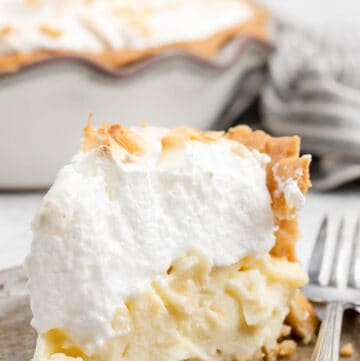 Ingredients
5

cups

half-and-half

4

ounces

butter

1

cup

sugar

3

eggs

1/4

cup

cornstarch

1

teaspoon

vanilla extract

1/4

teaspoon

salt

1

cup

miniature marshmallows

1 1/4

cups

flaked coconut

2

baked pie shells
Meringue
1 1/4

cups

egg whites

1

teaspoon

cream of tartar

1 1/2

cups

sugar
Instructions
For filling, combine half-and-half and butter in a saucepan. Bring just to boil over medium heat.
I




In a medium bowl, whisk together sugar, eggs, cornstarch, vanilla, and salt until cornstarch is completely dissolved and the mixture is well-blended. Gradually add to the mixture in saucepan, stirring constantly with a wire whisk. Cook, stirring constantly, about 1 minute or until thickened. Add marshmallows and 3/4 cup of the flaked coconut. Cook and stir until marshmallows melt and mixture is well-blended. Pour into pie shells. Refrigerate at least 2 hours.

Heat oven to 350 degrees.

For meringue, in a large bowl, beat egg whites and cream of tartar until soft peaks form. Add sugar, a small amount at a time, whisking constantly until stiff peaks form. Spread half the meringue over each pie to edge of crust. Sprinkle each with 1/4 cup of the remaining coconut on each pie.

Bake 12-15 minutes or until lightly browned. Refrigerate until served. If you don't manage to eat all of your pie in one sitting, be sure to store the remainder in the refrigerator.
Nutrition
Calories:
451
kcal
|
Carbohydrates:
51
g
|
Protein:
7
g
|
Fat:
25
g
|
Saturated Fat:
14
g
|
Cholesterol:
73
mg
|
Sodium:
253
mg
|
Potassium:
228
mg
|
Fiber:
1
g
|
Sugar:
33
g
|
Vitamin A:
490
IU
|
Vitamin C:
0.7
mg
|
Calcium:
93
mg
|
Iron:
1
mg