Starbucks Pumpkin Cream Cold Brew is a delicious and creamy iced coffee drink with fall flavor. Homemade pumpkin sweet cream is simple to make and great for making a DIY pumpkin cream cold brew at home anytime.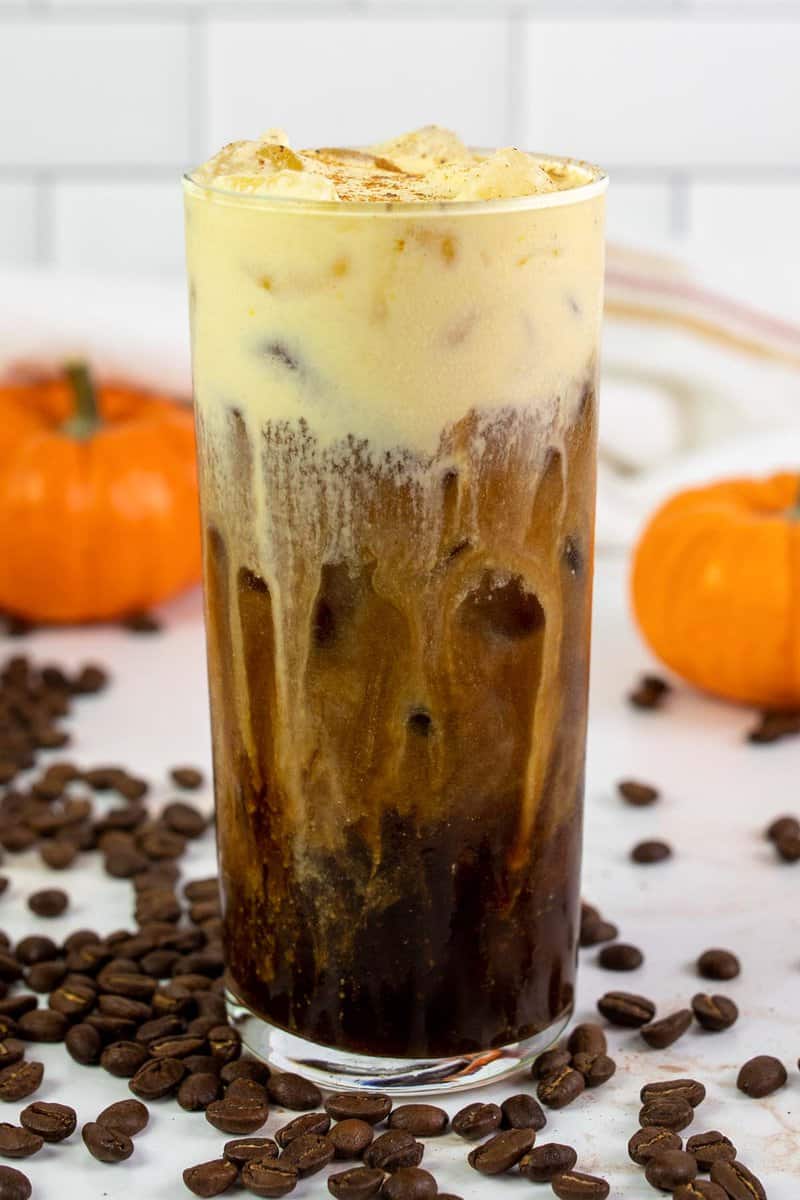 This post contains affiliate links. As an Amazon Associate, I earn from qualifying purchases.
What Makes the Starbucks Pumpkin Cream Cold Brew the Perfect Fall Treat?
From pies to lattes, autumn treats are all about pumpkins. Recreate a seasonal Starbucks pumpkin-based beverage with this DIY Pumpkin Cream Cold Brew. It's a popular fall drink at the coffee shop and now you can make it at home.
Enjoy the smooth spiced vanilla flavor of the cold brew with an irresistible head of pumpkin cream at home.
What Makes This Recipe the One You Want To Make For Your Own Pumpkin Cream Cold Brew?
You can find many homemade Pumpkin Cream Cold Brew recipes online, but most rely on pumpkin spice-flavored simple syrup or premixed pumpkin pie spice. Real spices are a must for the best taste, and a pumpkin spice blend full of intense flavors like clove and cardamon can overpower the other ingredients.
The homemade pumpkin sweet cream is so much better than store-bought pumpkin creamer. Using real pumpkin puree gives this copycat Starbucks version the same flavor.
This version uses just cinnamon and nutmeg for the right amount of flavor without winding up tasting like a gas station pumpkin pie.
Pumpkin Cream Cold Brew Ingredients
To make this pumpkin cream cold foam for this drink, you'll need:
Whole milk makes the most decadent foam, but it can take a while. Lower-fat milk options are easier to froth but don't have the same velvety texture.
To assemble a Pumpkin Cream Cold Brew, you'll need:
Check out this method if you don't know how to make homemade cold-brew coffee. If waiting overnight is too long, you can always use a cold brew concentrate or instant cold brew powder instead.
How To Make Starbucks Pumpkin Cream Cold Brew
To prepare the pumpkin-flavored cold cream:
Place all the pumpkin cream ingredients except the cream in a blender.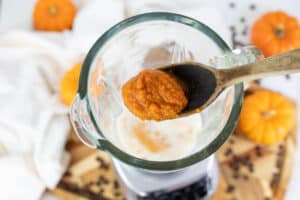 Blend on the puree setting until smooth.
Slowly pour in the heavy cream while the blender is running on low.
After the pumpkin cream reaches a smooth consistency, turn off the blender.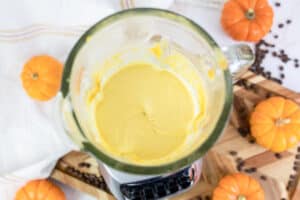 Pour the pumpkin cream into a container or mason jar and keep it in the fridge with a lid on until needed.
To serve the homemade Pumpkin Cream Cold Brew:
Fill a large 16-ounce serving glass halfway with ice.
Pour a half ounce of vanilla syrup into the serving glass.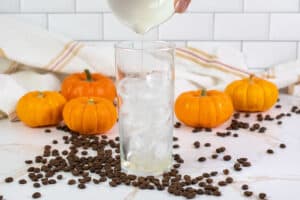 Pour a cup of cold brew coffee into the glass.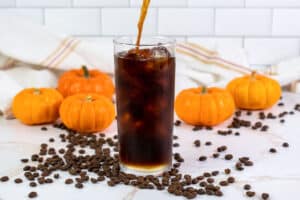 Stir well with a long-handled spoon.
Top with pumpkin cream.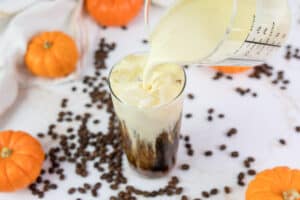 Garnish with a sprinkle of cinnamon and nutmeg if desired.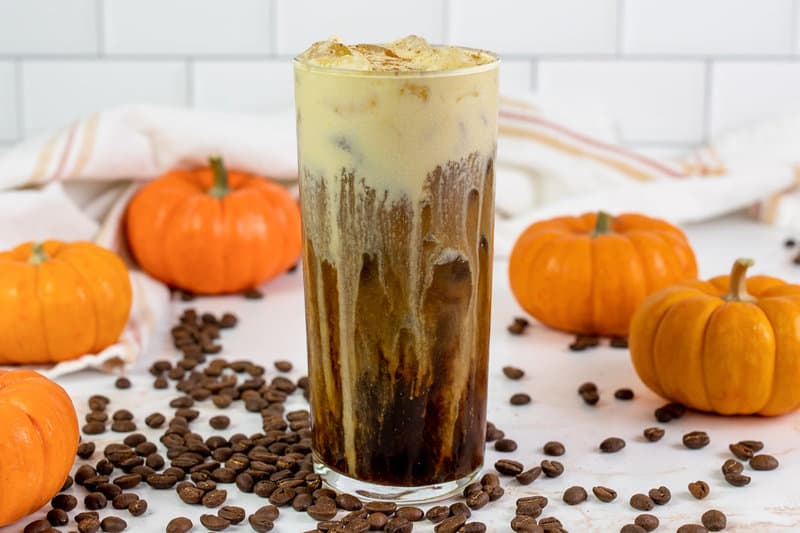 How To Store the Pumpkin Cream
Keep any extra pumpkin cream in an airtight container in the refrigerator.
How Long Does Pumpkin Cream Last?
The pumpkin foam will stay fresh in the fridge for up to three days. You'll need to blend the pumpkin cream for a few seconds or use a milk frother to whip air into it before using it in the recipe.
Cold brew will taste its best if you drink it within 48 hours but will remain drinkable for up to five days. Try keeping the cold brew in the smallest container possible to prevent excess air from ruining the flavor.
Other Uses for Pumpkin Cream
Are you looking for something hot to warm you up? Stir an ounce of the pumpkin cream into a regular cup of coffee for a seasonal treat. Anyone who likes a bit of a tipple may want to try this Hot Pumpkin Cream Rum:
Warm the full recipe for Pumpkin Cream in a saucepan over low heat, serving continuously.
Once hot, take the saucepan off the heat and stir in a half cup of spiced rum.
If you want frothier drinks, use a hand frother before serving them in two Irish coffee mugs.
Garnish with a dollop of whipped cream and a sprinkling of cinnamon sugar.
Pumpkin Cream Cold Brew Recipe Variations
There are a lot of ways for you to customize this recipe. Here are a couple of different options to experiment with:
What To Serve With a Copycat Pumpkin Cream Cold Brew
Since this DIY Pumpkin Cream Cold Brew is such a flavorful drink, pair it with something fairly basic. Pound cake, madeleines, and sugar cookies are all great options.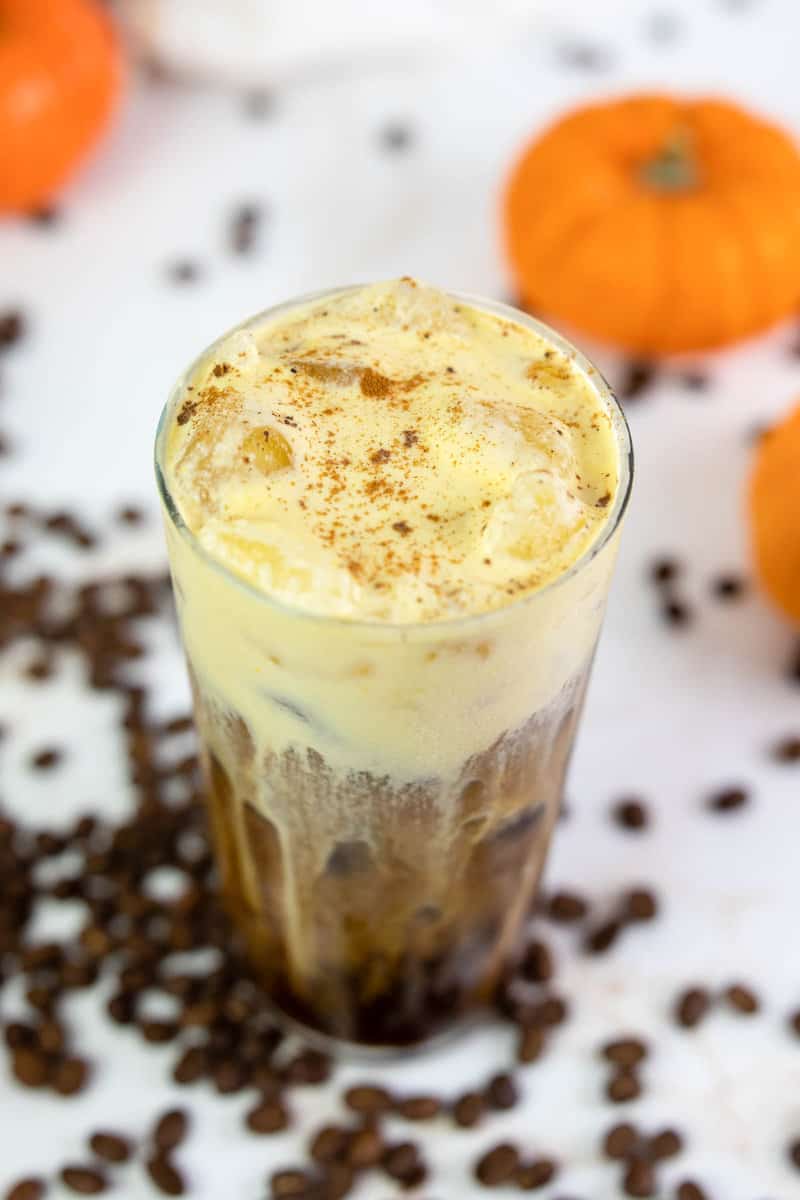 Popular Starbucks Copycat Recipes
Favorite Pumpkin Recipes
Check out more of my tasty drink recipes and the best copycat Starbucks recipes on CopyKat!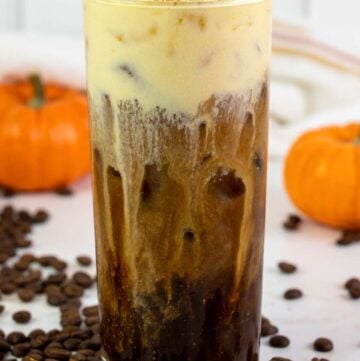 Ingredients
Pumpkin Sweet Cream
½

cup

milk

3

tablespoons

pumpkin puree

¼

cup

vanilla syrup

½

teaspoon

cinnamon

¼

teaspoon

nutmeg

1/16

teaspoon

salt

tiny one-finger pinch

½

cup

heavy cream
Cold Brew Coffee with Pumpkin Cream
ice

1

tablespoon

vanilla syrup

1

cup

cold brew coffee

3

tablespoons

pumpkin sweet cream

1

dash

ground cinnamon

1

dash

ground nutmeg
Instructions
Pumpkin Sweet Cream
Place milk, pumpkin puree, vanilla syrup, cinnamon, nutmeg, and salt in a blender. Blend until smooth.

Add heavy cream, and blend until it foams up and begins to thicken.
Cold Brew Coffee with Pumpkin Cream
Fill a 16-ounce glass halfway with ice.

Add 1 tablespoon vanilla syrup.

Pour cold brew coffee over the ice.

Gently pour pumpkin cream into the glass.

Sprinkle cinnamon and nutmeg on top.
Notes
You can purchase vanilla syrup in the grocery store, it is sold near where coffee supplies are sold. You could also use our copycat Starbucks Vanilla Syrup recipe to make this delicious coffee. 
Nutrition
Calories:
268
kcal
|
Carbohydrates:
18
g
|
Protein:
2
g
|
Fat:
22
g
|
Saturated Fat:
14
g
|
Polyunsaturated Fat:
1
g
|
Monounsaturated Fat:
6
g
|
Cholesterol:
68
mg
|
Sodium:
33
mg
|
Potassium:
194
mg
|
Fiber:
1
g
|
Sugar:
17
g
|
Vitamin A:
886
IU
|
Vitamin C:
0.4
mg
|
Calcium:
59
mg
|
Iron:
1
mg