Dunkin Donuts Iced Caramel Macchiato is a creamy coffee drink with rich flavor. You can save money when you make an iced caramel macchiato with simple ingredients at home.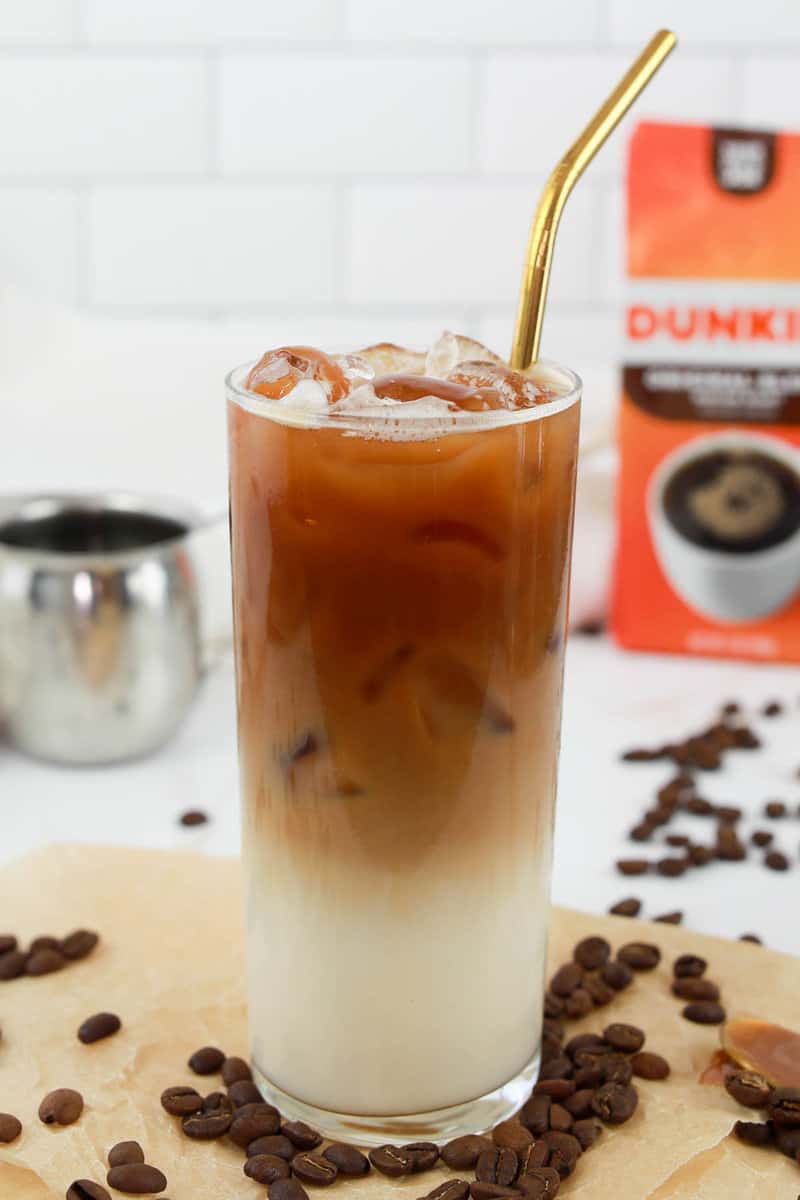 This post contains affiliate links. As an Amazon Associate, I earn from qualifying purchases.
What Makes the Dunkin Iced Caramel Macchiato the Perfect Afternoon Pick-Me-Up Drink?
The mid-afternoon slump can take many forms. It may make you snappy or feel lazy and unproductive. But a Dunkin Iced Caramel Macchiato delivers the caffeine and sugar to help you feel like yourself again!
This Caramel Iced Macchiato Dunkin style recipe is easy to prepare, and you don't even need to have an espresso machine handy. That means you can whip up one anywhere, even in the office!
What Makes This Recipe So Good?
The authentic caramel sauce sets this recipe apart from other caramel-flavored iced coffees. The rich sauce smooths out any of the rough edges of the espresso coffee flavor without it having too much sweetness.
If you are a fan of a lightly sweetened iced coffee beverage, you are going to love this version.
Ingredients For Dunkin Donuts Iced Caramel Macchiato
To make this recipe, you'll need:
Espresso or extra-strong coffee
Whole milk
Caramel syrup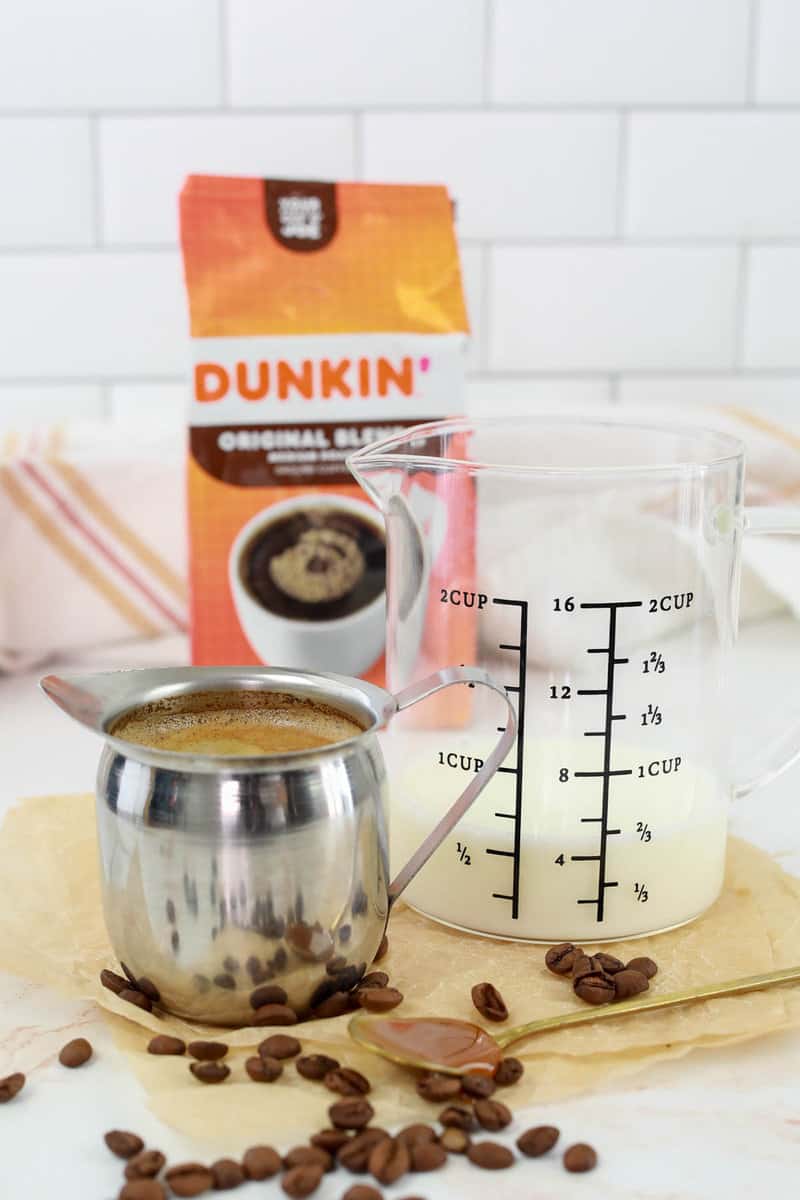 Ingredient Notes
You don't need an espresso machine to make this recipe. See the section below on preparing an Iced Caramel Macchiato without freshly brewed espresso.
A high-quality caramel sauce is critical for this recipe. Skip the caramel-flavored sauces, and choose something made from real caramel, like King's Cupboard Organic Caramel Sauce.
Authentic caramel sauces cost more, but their flavor makes them totally worth it. You can also use salted caramel sauce if you prefer the taste.
How To Make Iced Caramel Macchiato Dunkin Style
Brew the espresso. Since this is an iced drink, you can make the espresso in advance and keep it in the fridge, but it is not a must. The small amount of hot espresso won't water down the macchiato too much. If you don't have an espresso machine, check out the section below to discover alternatives that work perfectly in this recipe.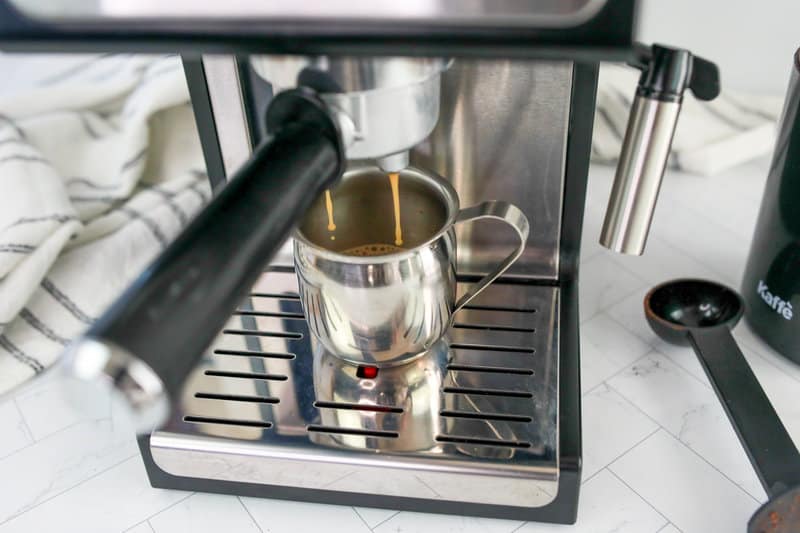 Pour the milk into the serving glass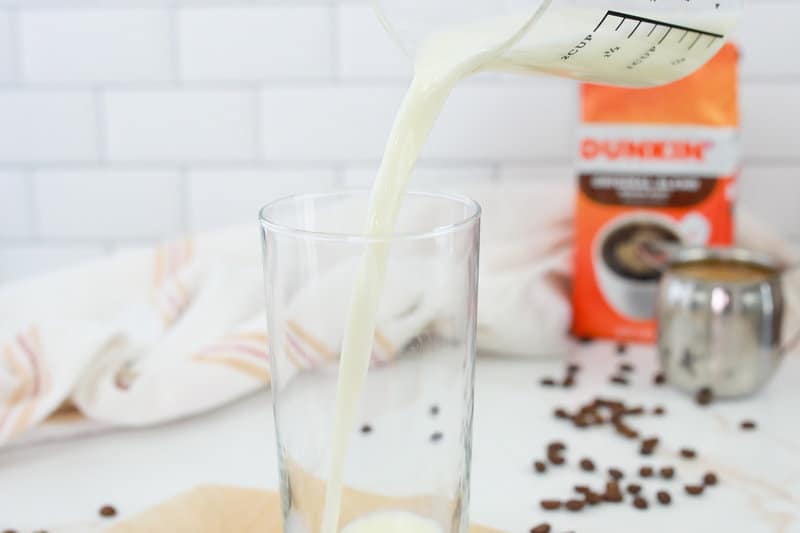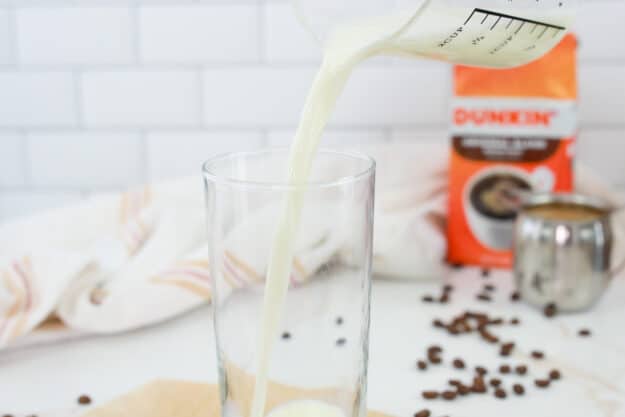 Add the caramel sauce.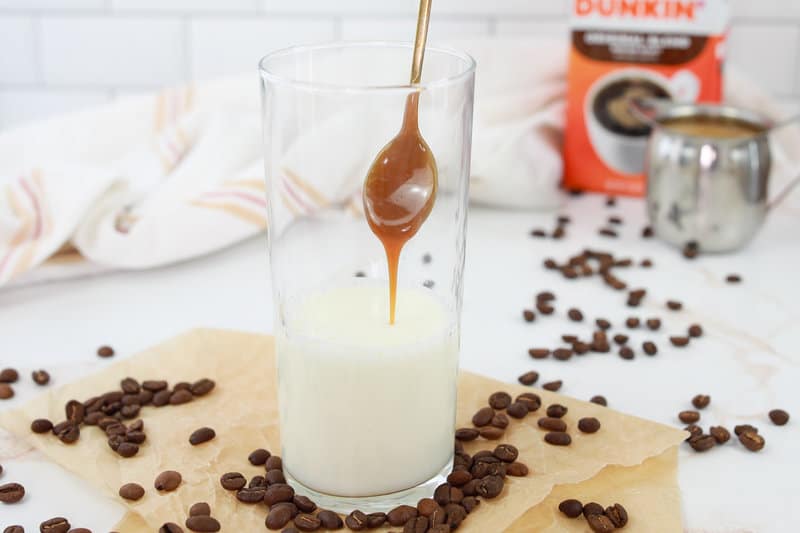 Stir well then fill the glass with ice cubes.
Pour two shots of espresso slowly over the ice.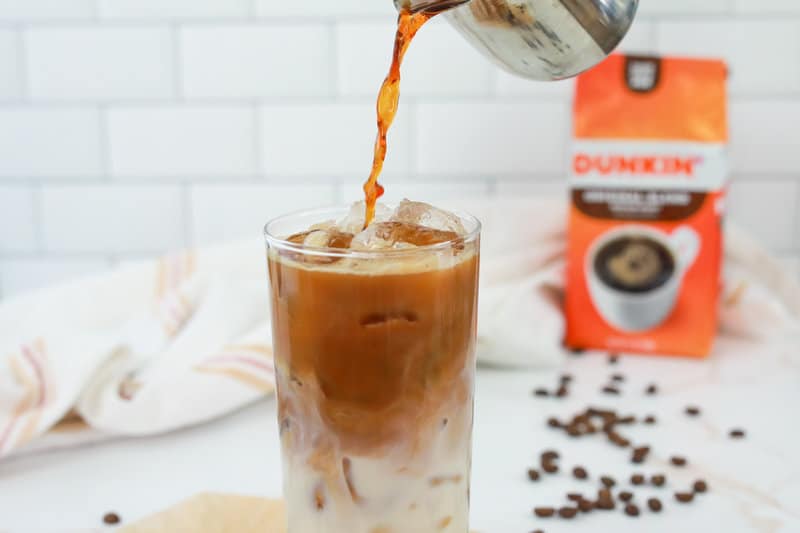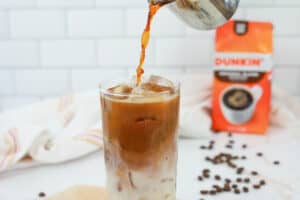 Don't stir if you want a nice layer effect in the glass.
Sip from the glass or use a straw.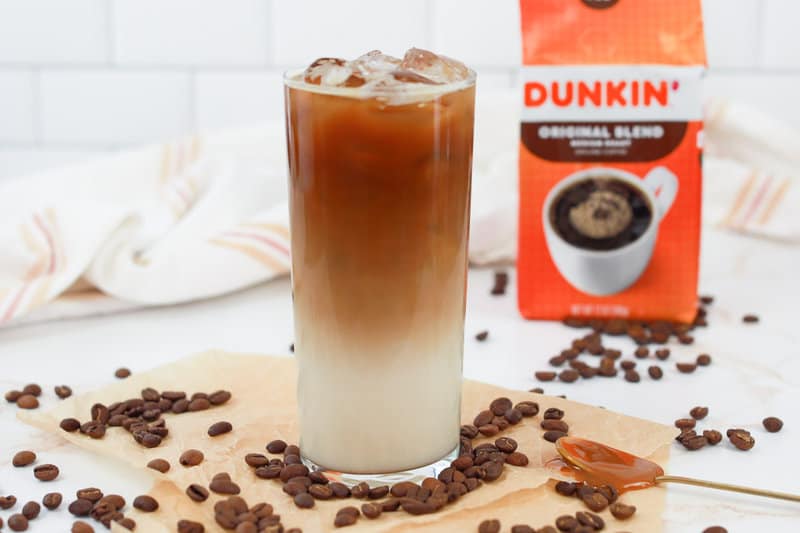 No Espresso Maker? Here Is How To Make Strong Coffee at Home
Don't skip this Caramel Iced Macchiato Dunkin recipe just because you don't have an espresso machine at home. Go ahead and brew an extra strong cup of coffee by one and a half times the usual amount of coffee you use in your standard brewing method.
Pick up a package of Dunkin' Espresso-Style extra dark roast coffee directly from the donut shop if you decide to go this route. For some reason, it just tastes better than the Dunkin coffee you can buy in the supermarket. You can even make cold brew coffee with it.
Alternatively, you can use an instant espresso powder like Medaglia D'Oro Instant Espresso Coffee.
What Goes With an Iced Caramel Macchiato
Dunkin Donuts Iced Caramel Macchiato doesn't come with any garnish at the restaurant, but feel free to top your homemade version with a dollop of whipped cream and caramel drizzle.
If you are feeling a bit hungry, avocado toast, a blueberry scone, croissant, or a toasted bagel and cream cheese pair well with a Dunkin Iced Caramel Swirl Macchiato.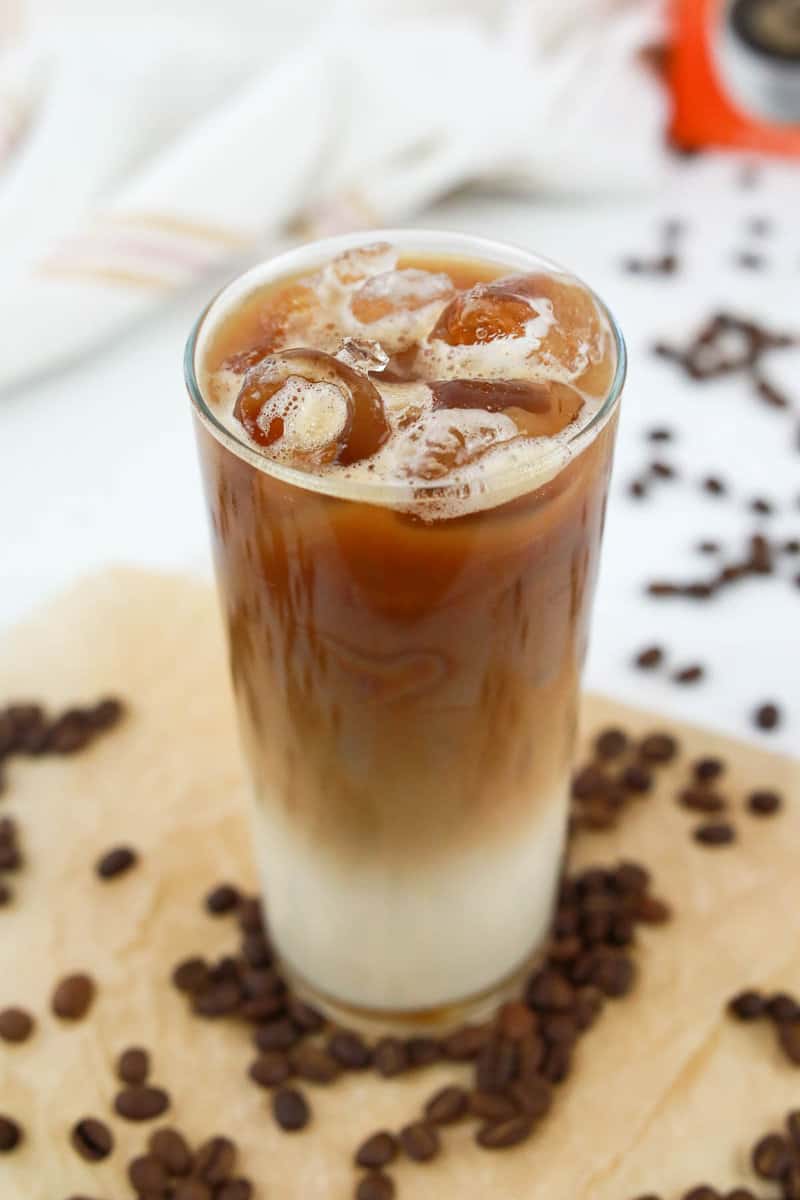 Love Dunkin Donuts? Try These Copycat Recipes
Favorite Coffee Drinks
Check out more of my easy drink recipes and the best copycat fast food recipes on CopyKat!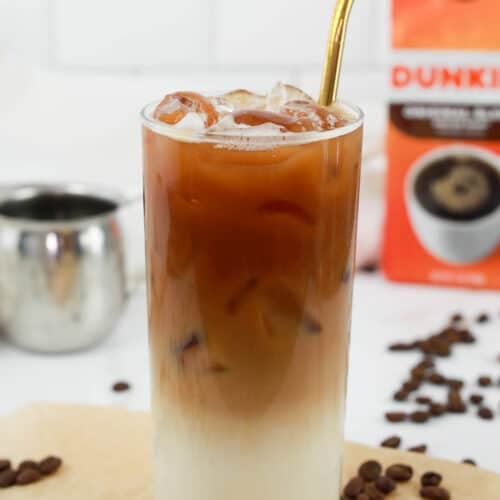 Ingredients
2

ounces

espresso

(2 shots)

1/2

cup

milk

1

tablespoon

caramel sauce

(the ice cream topping kind, not the liquid kind)

ice
Instructions
Prepare espresso.

Pour milk into a glass.

Add caramel syrup and stir well, about 30 seconds or until the caramel syrup is mixed into the milk.

Add ice.

Slowly pour espresso on top.
Nutrition
Calories:
122
kcal
|
Carbohydrates:
18
g
|
Protein:
4
g
|
Fat:
4
g
|
Saturated Fat:
2
g
|
Polyunsaturated Fat:
0.2
g
|
Monounsaturated Fat:
1
g
|
Cholesterol:
15
mg
|
Sodium:
123
mg
|
Potassium:
261
mg
|
Sugar:
17
g
|
Vitamin A:
216
IU
|
Vitamin C:
0.2
mg
|
Calcium:
161
mg
|
Iron:
0.1
mg