Chart House Spinach Salad is a hearty spinach salad that contains crisp bacon, hard-boiled eggs, mushrooms, and onions. What's more, all of this deliciousness is bathed in a warm bacon salad dressing. You will find this Chart House Spinach Salad recipe hard to resist.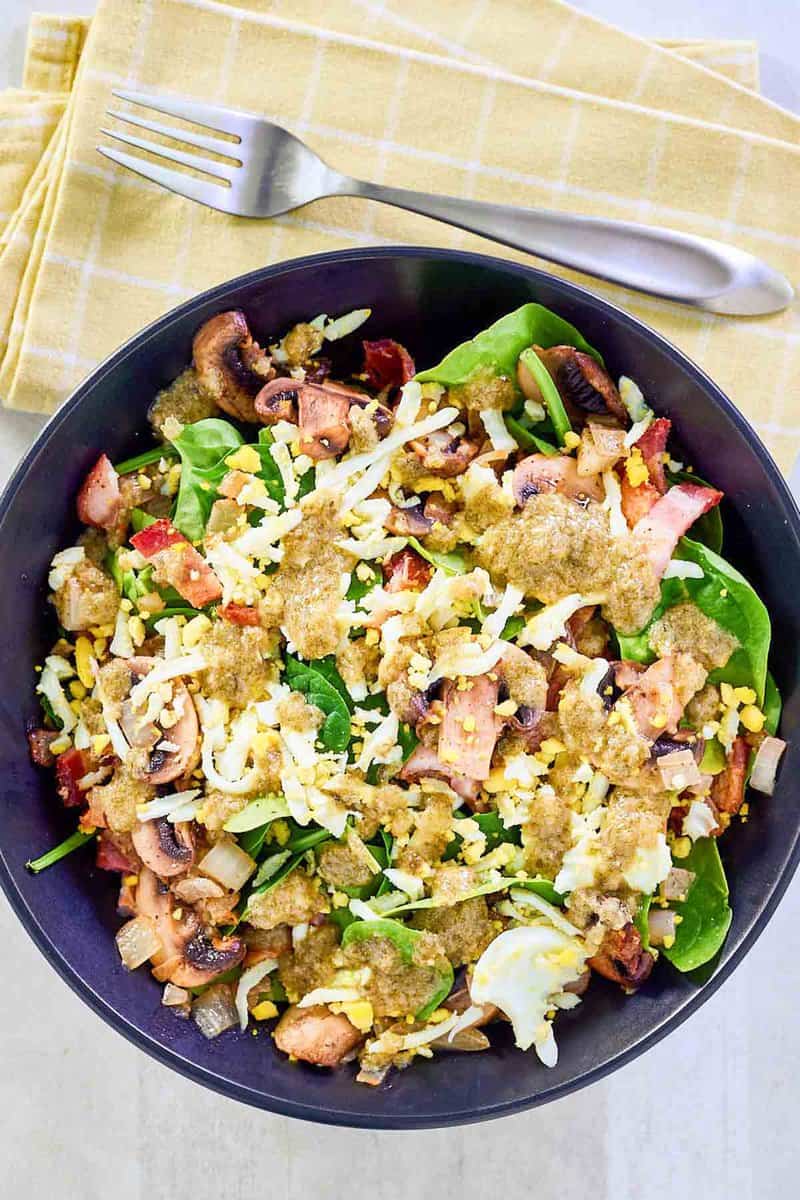 This post contains affiliate links. As an Amazon Associate, I earn from qualifying purchases.
Why You Should Try This Easy Spinach Salad Recipe
This spinach salad with bacon is out-of-this-world tasty and will surely rank as one of your top salad recipes. It's a colorful salad with great flavors and textures tossed with a wonderful spinach salad dressing. It's also easy and inexpensive to make so it won't strain your budget.
This salad gives you a full meal because it has everything – fresh spinach, hard-boiled eggs that keep you feeling full, sautéed mushrooms and onion, crisp bacon, and a tangy warm vinaigrette spinach salad dressing recipe to pull it all together.
Spinach Salad With Egg – Ingredients
Here's what you need to make this Chart House Spinach Salad recipe:
Salad Ingredients:
Spinach
Hard-boiled eggs
Bacon
Mushrooms
Onion
Dressing Ingredients:
Red wine vinegar
Vegetable oil
Olive oil
Dry mustard
Sweet pickle relish
Capers
Salt
Sugar
CopyKat Tip: Save time by buying pre-washed baby spinach.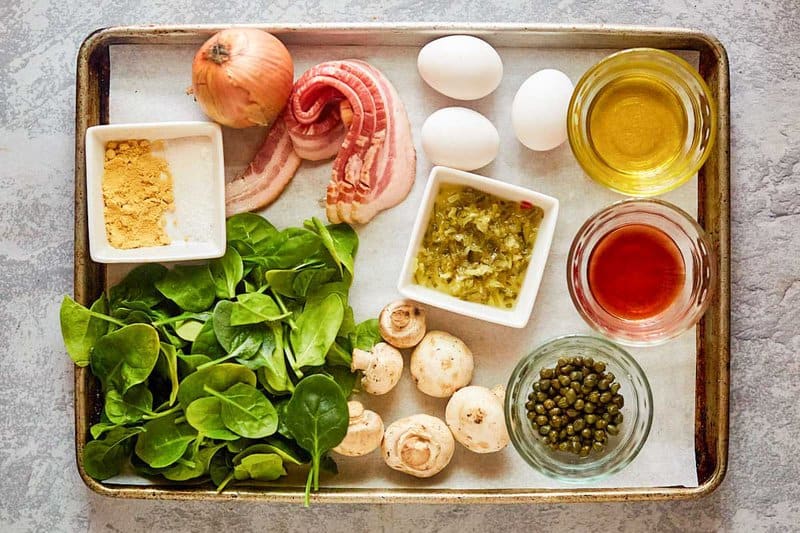 Equipment Needed
How to Make This Easy Spinach Salad With Mushrooms
You can follow this Chart House Spinach Salad recipe and produce this spinach salad in all of its warm, bacon-y glory. Here are the steps:
Whisk to blend together the vinegar, salt, pickle relish, mustard, sugar, and capers.
Stir in the oils to complete the dressing and set it aside.
Shred the eggs and set them aside.
Remove the stems from the spinach. Clean the leaves and pat dry.
Cook the bacon until crispy. Drain it on paper towels.
Cut the bacon into pieces and sprinkle the crisped bacon over the spinach.
Sauté the onion and mushrooms.
Stir in 1 cup of dressing and bring to a boil.
Pour the hot dressing over the spinach and toss.
Garnish with the eggs and serve with additional dressing.
Note: You might like your hard-boiled eggs left in whole slices for more flavor rather than grating them.
Chart House Spinach Salad Recipe – Possible Variations
You can elevate this simple spinach salad even further with some tasty additions:
Add some chopped sausage.
Add some cheese – feta cheese or goat cheese are great ones.
Add some fruit – sliced apples, blueberries, strawberries, dried cranberries, mandarin oranges, raspberries, or raisins.
Add some nuts – almonds, pecans, pistachios, pine nuts, or walnuts.
Top with strips of grilled chicken.
Throw in any odds and ends of vegetables you've been wondering what to do with.
Substitute the red wine vinegar in the dressing with balsamic vinegar.
Substitute the sugar in the dressing with honey.
What is spinach?
Spinach belongs to the same family as beetroot and chard and shares a similar taste profile with these vegetables. It combines the slightly salty flavor of chard with the bitterness of beet greens.
Although there are more types of spinach than you have possibly imagined, this dark leafy green vegetable can be grouped into three major categories – savoy, semi-savoy and flat-leafed.
How to Get Your Family to Eat More Spinach
We all know that spinach is good for you – it's packed with vitamins and minerals. Spinach is a great staple to add to your family's diet, but let's face it, plain old spinach isn't very exciting. However, when you combine spinach with other foods, you can make something delicious. Here are some ideas:
Microwave strips of fresh spinach combined with lemon juice, olive oil, and mozzarella or cheddar cheese. Your kids will actually eat these!
Combine spinach, red bell peppers, and hummus and spread on whole wheat flatbread for a healthy and filling snack.
Sauté fresh spinach with onions, garlic, and olive oil for a quick and nutritious side dish.
In a blender, combine spinach, onions, garlic, chicken broth, and a russet potato to make a hearty soup.
Combine spinach, feta, red onions, apples, and toasted almonds, for a classic spinach salad. Toss with a mustard vinaigrette.
Blend fresh or frozen spinach, pineapple, strawberries, banana, Greek yogurt, and chia seeds to make a delicious and healthy green smoothie.
Combine spinach, artichoke hearts, mayonnaise, Monterey Jack, and Parmesan cheese for a classic dip.
What to Serve With This Easy Spinach Salad
This spinach salad with egg is perfect for a light lunch with some yeast rolls. Or pair it with grilled chicken tenders or baked salmon, and dinner is done!
How to Store Leftover Spinach Salad
This spinach salad with bacon is best when served and consumed immediately, but if you have leftovers, you can refrigerate them in an air-tight container. Enjoy your leftover spinach salad cold the next day or warm in a pan before serving.
For the best results, store your salad in the refrigerator in an airtight container without the additional dressing and add it later.
Love spinach? Try these recipes!
Favorite Salad Recipes
Check out more of my easy salad recipes and the best copycat restaurant recipes on CopyKat!
This was found in a great book with tons of restaurant recipes from the Los Angeles area – Dear SOS: 30 Years of Recipe Requests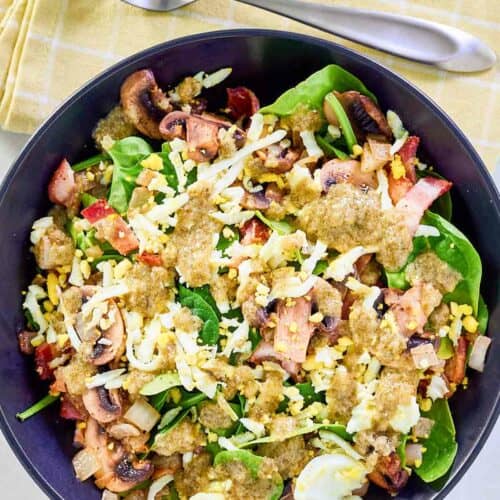 Ingredients
1/2

cup

red wine vinegar

1 1/2

teaspoon

salt

1

tablespoon

sugar

1/2

teaspoon

dry mustard powder

1

teaspoon

sweet pickle relish

1/2

teaspoon

chopped capers

1 1/2

cup

vegetable oil

1 1/2

teaspoon

olive oil

3

hard-boiled eggs

1 1/2

pounds

fresh spinach

1/4

pound

chopped bacon

1/2

cup

minced onion

1/2

pound

sliced mushrooms
Instructions
In a mixing bowl, combine the vinegar, salt, sugar, mustard powder, pickle relish, and capers. Add the vegetable oil and olive oil and mix well. Store the dressing in an air-tight container in the refrigerator.

Grate the eggs on a medium-sized grater. Cover and set aside.

Wash the spinach and remove any tough stems. Drain and pat dry with paper towels. Then transfer to a large bowl.

Sauté the bacon until crisp. Remove the bacon from the pan and sprinkle it over the spinach.

Add the onions and mushrooms to the skillet and sauté in the remaining bacon drippings until tender. Add 1 cup of the prepared dressing to the skillet and bring to a boil.

Pour the contents of the skillet over the spinach and toss. Garnish with the grated eggs and serve with additional dressing.
Notes
I like my eggs left in whole slices for more flavor. You may wish to grate your hard boiled eggs as directed in this recipe.
Nutrition
Calories:
169
kcal
|
Carbohydrates:
7
g
|
Protein:
7
g
|
Fat:
12
g
|
Saturated Fat:
6
g
|
Cholesterol:
79
mg
|
Sodium:
631
mg
|
Potassium:
636
mg
|
Fiber:
2
g
|
Sugar:
3
g
|
Vitamin A:
8080
IU
|
Vitamin C:
25.2
mg
|
Calcium:
96
mg
|
Iron:
2.8
mg