There is a wonderful thing going on in the restaurant world, and that would be the revitalization of the hamburger. It seems like places are finally giving the hamburger the respect that it deserves. Smashburger is one of my favorite places to get a hamburger, and they have this sauce, the Smash Sauce, that is hard to beat.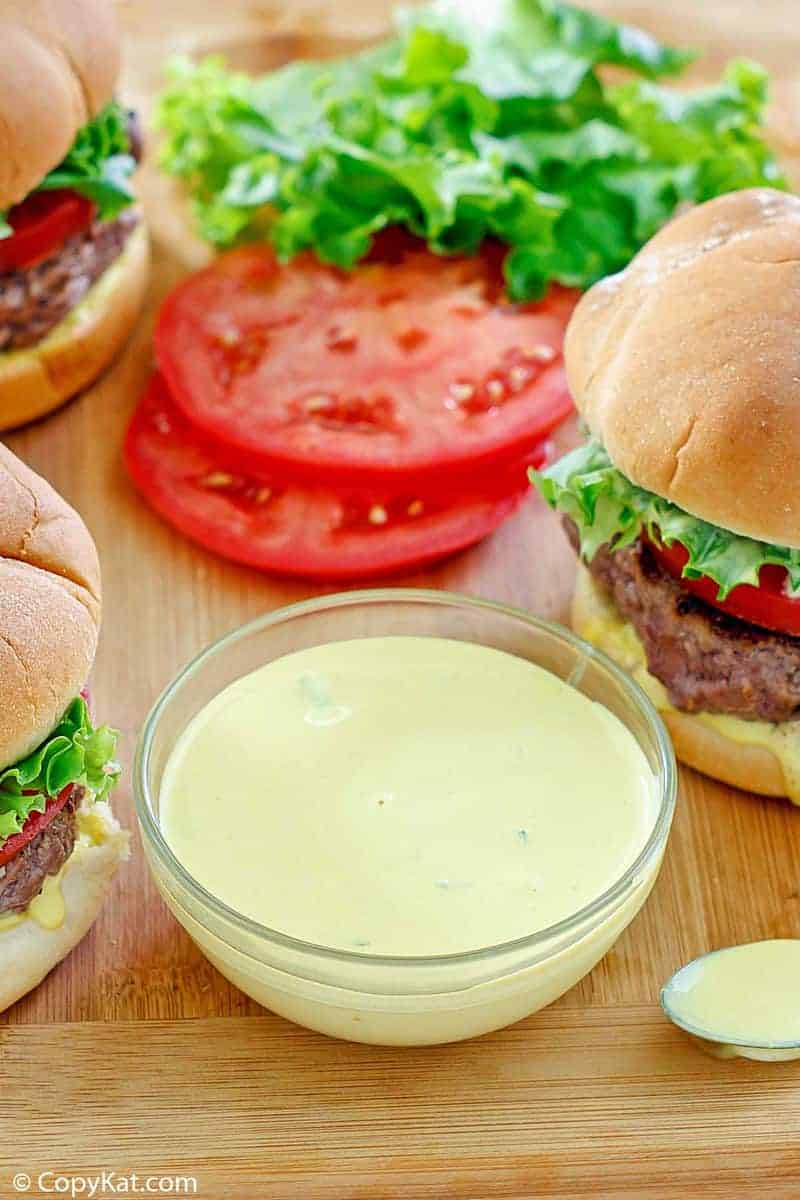 Smashburger's hamburger patties are not your typical burgers. What makes them unique is how the cooks press the patties thin on the griddle and fry them long enough to develop a crispy crust before serving on a soft bun. But no Smashburger is complete without a large dollop of Smash Sauce. The sauce's creaminess tempered by a good dose of acidity complements the thin crispy burger patty perfectly. Check out the following Smash Sauce recipe to make your own at home!
What is Smash Sauce?
Smash Sauce is a simple mayonnaise-based sauce with plenty of yellow mustard thrown into the mix along with a few chopped dill pickles and some pickle juice for an additional tang. A splash of vegetable oil helps bring the whole sauce together, and then it goes into the fridge for at least four hours to let the flavors mingle.
The Smash Sauce recipe calls for prepared yellow mustard, and while you certainly can use any bottle of yellow mustard you have on hand, people have strong opinions regarding which type is the best. Many people believe that French's brand mustard is a must for the most authentic tasting sauce. A few people insist you can only mimic the real sauce's taste by using French's dijon-style mustard. Experiment and see which type of yellow mustard you like the best in this Smash Sauce recipe.
Making a Smashburger-Style Burger
While smash sauce is excellent on ordinary burgers, french fries, or just about anything, it really shines when served on top of a Smashburger-style burger. Making Smashburger-style hamburgers goes against every rule of burger-making, but somehow they always turn out delicious. If you want to make a Smashburger-style burger at home, follow the steps below:
Form the ground beef into 4-ounce pucks. Let the formed patties sit at room temperature for 5 to ten minutes.
As the patties are coming to room temperature, preheat a large skillet or better, yet, a griddle over medium heat. To get the best results, you need to have enough surface area to give yourself enough room to really squish the patties without coming into contact with each other.
Season the beef patties liberally with salt and pepper on both sides.
Increase the heat to high, and lay the patties on the cooking surface with at least three inches of space surrounding each one.
Use a sturdy griddle spatula, the kind without any slots, to flatten the patty. You can use another spatula to help you to apply enough pressure.
Cook for 90 seconds.
Use the spatula to scrape the patty cleanly from the cooking surface and flip.
Add cheese if you want, and cook on the other side for just 30 seconds.
Place directly on a prepared bun.
Tips For Serving and Storing Smash Sauce
Spread the sauce directly on the bun. Spread half the sauce on the top bun and the other half on the bottom bun. This trick will not only evenly distribute the flavor but will help protect the bun from getting soggy.
Keep in the fridge in an airtight container. The sauce should stay fresh for about two weeks.
You can stay in the loop by friending us on Facebook!
Ingredients for Smash sauce
Here's what you need to make Smashburger sauce:
Mayonnaise
Yellow prepared mustard
Pickle juice
Dill pickle
Vegetable oil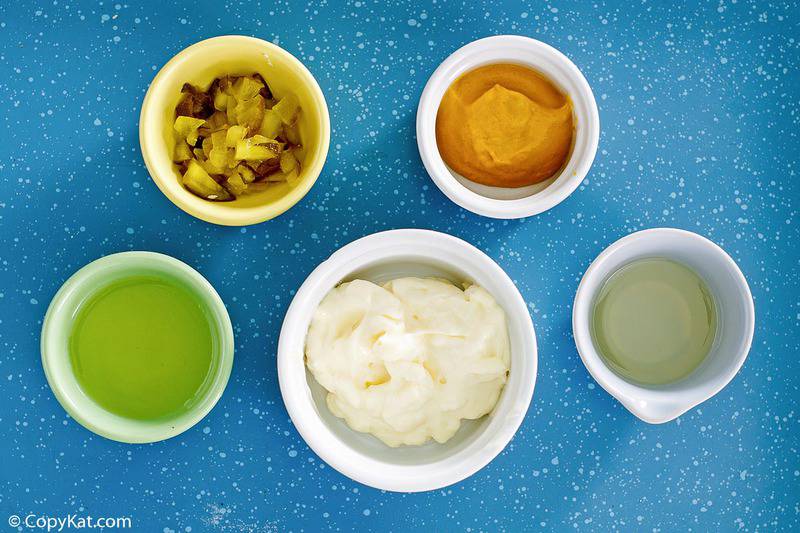 How to Make Smash Sauce
In a small bowl combine chopped dill pickles, mayonnaise, yellow mustard, and 2 teaspoons of dill pickle juice in a small bowl.

Stir well and let rest in the refrigerator for a couple of hours before serving.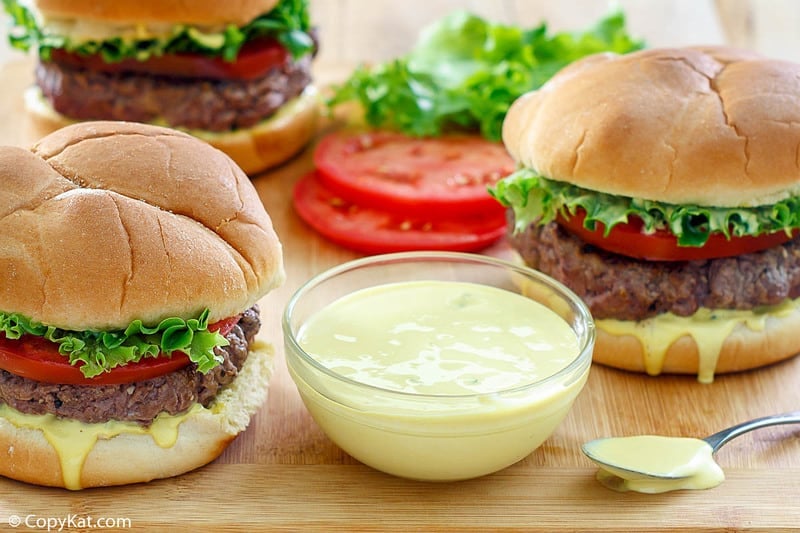 Love Burgers? Check out these recipes
Popular Fast-Food Sauce Recipes
Be sure to take a look at more of my copycat fast-food recipes and easy sauce recipes.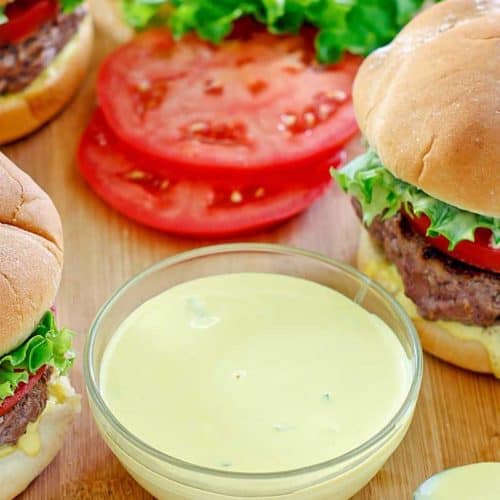 Ingredients
1/2

cup

mayonnaise

1/4

cup

yellow prepared mustard

2

teaspoons

pickle juice

2

teaspoons

chopped dill pickle

1

teaspoon

vegetable oil
Instructions
In a small bowl combine chopped dill pickles, mayonnaise, yellow mustard, and 2 teaspoons of dill pickle juice.

Stir well, and let rest in the refrigerator for a couple of hours before serving.
Notes
Yellow prepared mustard is the normal mustard that you would have on any hot dog or hamburger.

The dill pickle juice is critical for the recipe, the sauce has a sour tang, but not too many pickles, so this is how we get this wonderful dill flavor.

A touch of vegetable oil is needed because the sauce is thin, and you can't really thin this one with water.

This sauce is perfect on a hamburger and makes a wonderful sauce to dip your french fries into.
Nutrition
Calories:
84
kcal
|
Carbohydrates:
0
g
|
Protein:
0
g
|
Fat:
9
g
|
Saturated Fat:
1
g
|
Cholesterol:
4
mg
|
Sodium:
165
mg
|
Potassium:
8
mg
|
Fiber:
0
g
|
Sugar:
0
g
|
Vitamin A:
5
IU
|
Vitamin C:
0.1
mg
|
Calcium:
4
mg
|
Iron:
0.1
mg