Durgin Park is a famous restaurant in the North East of the US.   You can enjoy these special baked beans anytime with our recipe.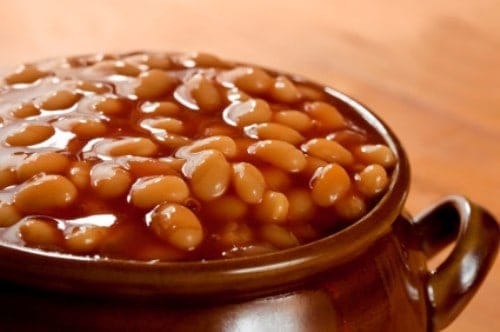 Durgin Park Baked Beans
Durgin Park Baked Beans
Author:

CopyKat Recipes

Recipe Type:

CopyKat Recipes, Main dish Recipes, Side Dish Recipes

Prep time:

10 minutes

Cook time:

10 minutes

Serves:

10
These beans make a tasty side for any meal!
Ingredients
2 pounds white beans

1 teaspoon baking soda

1 large yellow onion, peeled

1 pound bacon, chopped

8 tablespoons sugar

2/3 cup molasses

2 teaspoon dry mustard

4 teaspoons salt

1/2 teaspoon pepper
Directions
Soak the beans overnight in water to cover. Drain. Rinse. Add water to cover and the baking soda. Bring to a boil. Reduce the heat. Simmer for 10 minutes. Drain. Rinse. Preheat the oven to 300 degrees. Place the onion in the bottom of a 3 quart ovenproof casserole. Add half the bacon, add the beans, and top with remaining bacon. Mix the sugar, molasses, mustard, salt, and pepper together. Pour over the beans. Add just enough water to barely cover. Do not stir. Cover. Bake for six hours, you may need to add a little water, be careful not to get the beans to wet.
Yield: 16 servings
Print Recipe