Who doesn't love pushing their spoon through a crackling sugar-coated crust? I know creme brulee is a favorite restaurant recipe. Some nicer restaurants serve creme brulee. Did you know it isn't hard to make? You can recreate this special dessert at home.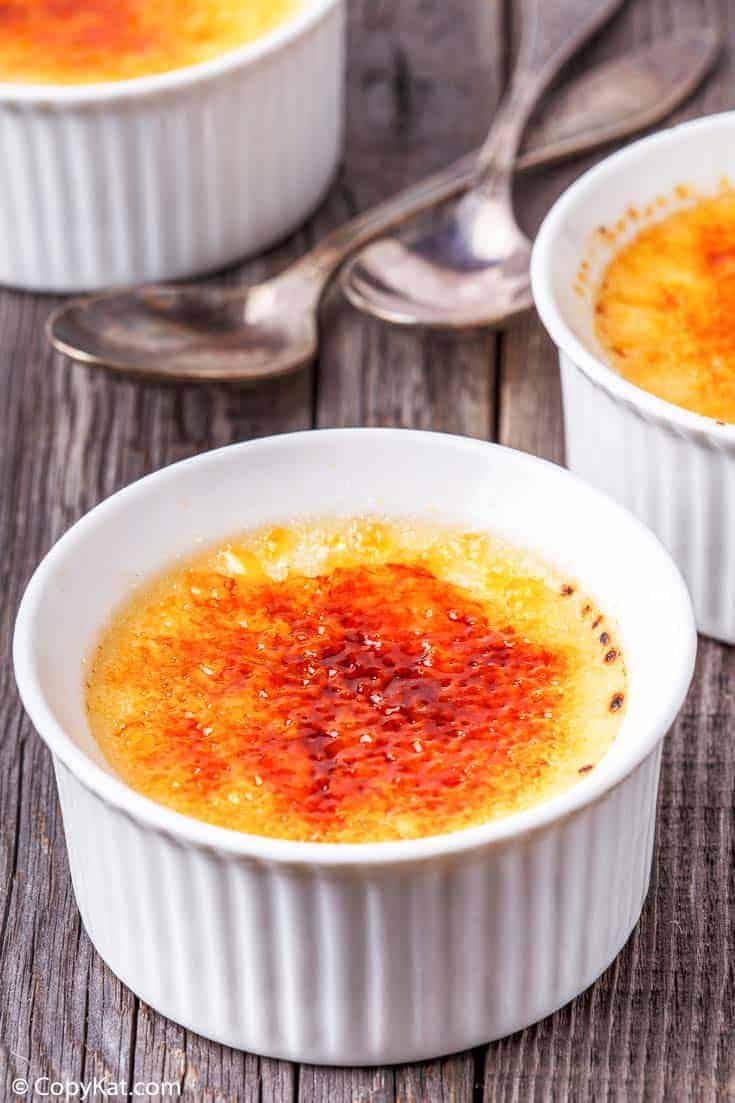 This post contains affiliate links. As an Amazon Associate, I earn from qualifying purchases.
I don't know why it is but it seems like most good restaurants serve creme brulee. It seems like a mysterious dessert. It would seem like it is difficult and hard to prepare. I promise it isn't a difficult dessert to make.
Creme brulee is almost an economical after-dinner treat to make. It has very few ingredients in it and it tastes sublime. This recipe is for a vanilla bean variety. By using a vanilla bean you will get a wonderfully complex vanilla flavor.
What I really like about this dessert is that you can make the custards a couple of days ahead of time. Then just before dinner, you can add the sugar coating that we all love.
The Ingredients in Creme Brulee
Creme brulee has a few basic ingredients. You will need heavy cream, eggs, sugar, and a vanilla bean.
Heavy cream is known by several different names. It is well obviously known as heavy cream, but some people call it whipping cream. You must use the heavy cream as half and half or even milk will not give this custard the creaminess that we all love.
I am also using a vanilla bean in the custard. I like to use a vanilla bean because it really has a nice flavor. You can reuse the vanilla bean. You could make some vanilla sugar with the leftover bean.
You can find inexpensive vanilla beans at Costco, or even online at Beanilla.
I am using regular sugar in this recipe. If you have organic sugar it is also really good to use both in the custard and on the top.
Special Equipment
I personally like to use a regular blow torch from the hardware store. I think they are cheaper and work just as well as the BonJour Crème Brûlée Chef's Professional Culinary Torch with Fuel Gauge
. I can also use the blow torch to do a sugar-coated crust on ham.
Do not use an industrial blow torch from someone's welding kit. It may use a fuel that isn't safe for human consumption.
Love custard and pudding? Try these recipes: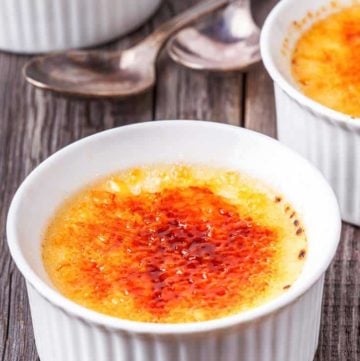 Ingredients
1

quart

heavy cream

1

vanilla bean

1/2

cup

sugar

6

egg yolks

1/4

cup

sugar

for brulee.
Instructions
Pour heavy cream into a heavy-bottomed pot. Split vanilla bean open with a sharp knife. Scrape out vanilla beans and put the seeds in the pot. Add the vanilla bean to the pot. Boil the cream for about 30 seconds, and then allow the cream to cool.

Preheat oven to 300 degrees. Whisk together egg yolks and sugar until they are light and creamy. Add a small amount of the warmed cream into the egg yolks whisking briskly. Continue to add warmed cream in small amounts until it is fully incorporated. Do not add the milk too quickly, but do it very slowly.

Fill 6 ramekins with custard. Place ramekins in a baking dish. Add boiling water to the baking dish. Bake custards for 30 minutes or until set. Allow the custards to cool to room temperature place in the refrigerator for a couple of hours before you make the brulee. The custards may not seem fully set when you remove them out of the oven, but they continue to set while they cool.

Blot the custard dry with a paper towel before sprinkling with sugar. Add about 1 to 1/2 teaspoons of sugar to the top of each ramekin. Ignite the flame and sweep the flame from the outside to the inside of the ramekin. You will need to rotate the ramekin as you swipe the flame across the custard. You can refrigerate these about an hour before serving.
Nutrition
Calories:
646
kcal
|
Carbohydrates:
29
g
|
Protein:
3
g
|
Fat:
58
g
|
Saturated Fat:
36
g
|
Cholesterol:
226
mg
|
Sodium:
60
mg
|
Potassium:
118
mg
|
Sugar:
25
g
|
Vitamin A:
2335
IU
|
Vitamin C:
0.9
mg
|
Calcium:
103
mg
|
Iron:
0.1
mg