This was a favorite of ours at a recent visit to a restaurant that has really delicious pies.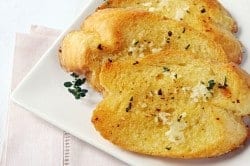 Restaurant Style Garlic Toast
Restaurant Style Garlic Toast
Author:

CopyKat.com

Recipe Type:

Bread Recipes, CopyKat Recipes

Prep time:

10 minutes

Cook time:

15 minutes

Serves:

8
This Garlic toast is a great addition to any meal!
Ingredients
1 Loaf Whole French Bread (Sliced Diagonally)

1 Stick Butter

1/4 cup Olive Oil

2 teaspoon Finely Minced Garlic

1/2 teaspoon Paprika

1/4 teaspoon Garlic Salt

1 tablespoon Fresh Basil Finely Minced

1 teaspoon Parsley

8 ounces Mozzarella Finely Shredded

4 ounces Parmesan Cheese Shredded
Directions
In a small sauce pan melt butter, oil, garlic, paprika, salt, basil and parsley until blend. Heat oven to 400 and spread melted herb mixture on sliced bread and bake until the bread is just turning golden remove from oven and layer with mozzarella and parmesan on top. Place bake in oven until cheeses are melted and serve warm.
Prepared Bread is great served on top of a steaming bowl of French Onion Soup.
Print Recipe