Everyone enjoys a spicy cheese dip such as Queso.  Whenever you go to a Mexican restaurant the temptation is always to order Queso, we will show you how to make this at home with our recipe.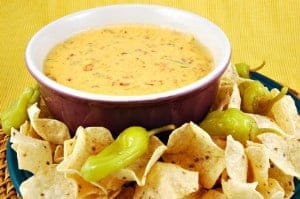 Thanks to tammie58 for sharing her recipe.
True Mexican Queso
Author:

Tammie58 CopyKat Recipes

Recipe Type:

Dips/Sauces, Reader's Reicpes

Prep time:

10 minutes

Cook time:

10 minutes

Serves:

10
Enjoy this tasty homemade queso.
Ingredients
Double boiler

1 large Tomato Diced

1/4 Medium Green Bell Pepper Diced small

1/4 Medium Onion Chopped finely

2 Cans Chopped Green Chilies with juice

1 tablespoons Garlic Powder

1 teaspoon Onion Powder

2 teaspoons Salt

1 cup butter

3 pounds Velveeta Cheese, cubed into 1/2" cubes

2 1/2 Cups Milk
Directions
Prepare all ingredients for cooking. Do Not Use Water at this time. Keep water on Simmer on additional burner.
On medium heat in Large saucepan melt 1 stick butter and all ingredients except garlic powder, onion powder, salt, cheese and milk. When all veggies are tender and onions translucent add to the double boiler and then add your cheese. When cheese has melted add the remaining ingredients. Cook over low heat and stir occasionally for 1/2 hour so that all of the flavors blend well.
This queso can be stored in the fridge for up to 14 days in air tight container. To reheat use a microwave or over a pan of water.
Excellent over enchiladas, tortillas just wrapped with butter or over your favorite nachos.
Print Recipe