The Hard Rock Cafe Potato Soup is an irresistible creamy potato soup. The Hard Rock Cafe is typically located in resort areas, so if you want a bowl of this soup, chances are you will need to make it from scratch.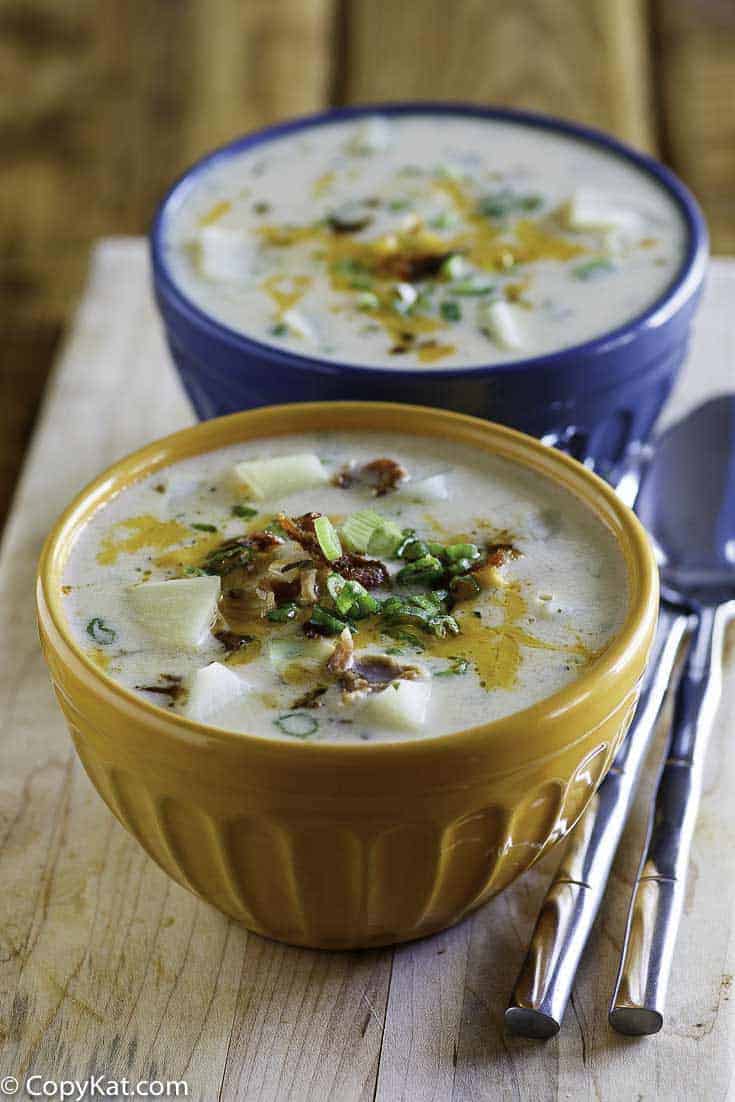 Everybody loves a good potato soup. Hard Rock Cafe's Potato soup is famously good.
The first Hard Rock Café opened in 1971 in the posh, Mayfair section of London. But it wasn't until years later that they became known for their rock-and-roll memorabilia. As legend has it, Eric Clapton asked to hang one of his old guitars over his regular table at the restaurant to make it his special spot whenever he visited. When Pete Townshend saw it, he gave one of his old guitars to the restaurant with the note "Mine's as good as his! Love, Pete." Today, The Hard Rock Cafe's collection includes over 80,000 items and is the largest, privately owned library of Rock and Roll memorabilia in the world.
The Hard Rock Café introduced Potato Soup to their menu sometime after expanding the restaurant chain into the USA. Although the menu changes from location to location, Hard Rock Café's Potato Soup is often "in rotation" in many of its big-city restaurants during the colder months. One ingredient you may not expect in Hard Rock Café's Potato Soup is the Tobasco sauce.
Tabasco sauce was created in Maryland, in 1868 and is still made the same way today. Tobasco peppers are mashed into a paste and set aside to age for up to three years. Then it is strained and mixed with vinegar and aged for another month before it is ready for distribution. There is even a reserve edition, which has been aged for 8 years. The company is one of only a handful of US companies to receive a Warrant Royal from Queen Elizabeth II. They are official "Supplier of Tabasco Sauce to HM The Queen."
When making this soup, follow these tips to ensure yours is as good as Hard Rock's.
Bake the potatoes the night before to cut down on preparation time. You can also use equal amounts of leftover mashed potatoes.
If you worry about the cheese clumping, toss your grated cheese with 1 tablespoon of flour or cornstarch before adding it to your pot. This will keep it from sticking together.

You can also try removing your soup from the stovetop before adding the grated cheese and green onions. The soup should be hot when you add the cheese, but not boiling as the high temperature will encourage the cheese to clump.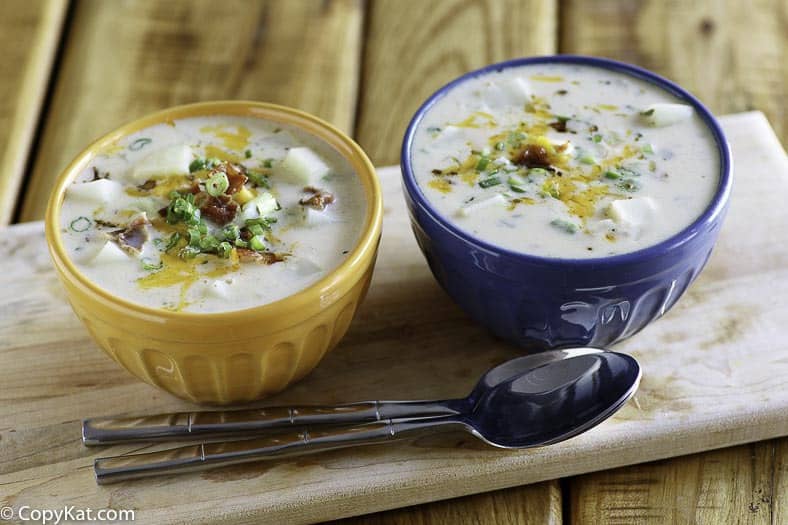 Make Hard Rock Cafe Potato Soup at home
Love Potato Soup? Try these favorite Potato Soup recipes
Grandma's Potato Soup
Bennigan's Ultimate Baked Potato Soup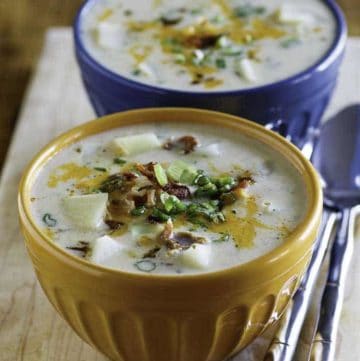 Ingredients
8

Slices

Bacon fried crisp

1

cup

diced yellow onion

2/3

cup

Flour

6

cup

chicken broth

4

cup

diced peeled baked potato

2

cup

heavy cream

1/4

cup

chopped fresh parsley

1 1/2

tablespoon

granulated garlic

1 1/2

teaspoon

dried basil

1 1/2

teaspoon

Tobasco

1 1/2

teaspoon

black pepper

1

cup

shredded cheddar cheese

1/4

cup

Diced green onion
Instructions
Chop bacon. Set aside. Cook onions in drippings over medium high heat until transparent. Add flour stirring to prevent lumps. Cook for 3-5 minutes until mixture just begins to turn golden. Add broth (it helps if it is warm) gradually, stirring constantly with whisk until thickened. Reduce heat to simmer and add potatoes, cream, bacon, parsley, garlic, basil, Tabasco, and black pepper. Simmer 10 minutes. DO NOT BOIL. Add cheese and green onion. Stir until cheese melts. This can be made ahead up to the point of adding the cheese and onion. Reheat the soup very slowly and gently. Be careful that it does not boil. Then add the cheese and green onion. Of course if there is any leftover it reheats beautifully. I have never tried freezing it.
Nutrition
Calories:
476
kcal
|
Carbohydrates:
27
g
|
Protein:
12
g
|
Fat:
36
g
|
Saturated Fat:
19
g
|
Cholesterol:
110
mg
|
Sodium:
935
mg
|
Potassium:
758
mg
|
Fiber:
3
g
|
Sugar:
1
g
|
Vitamin A:
1215
IU
|
Vitamin C:
29.3
mg
|
Calcium:
199
mg
|
Iron:
4.9
mg