Ice Cream Bonbons are tasty balls of ice cream dipped into chocolate and refrozen so you can lay back on your couch and enjoy them.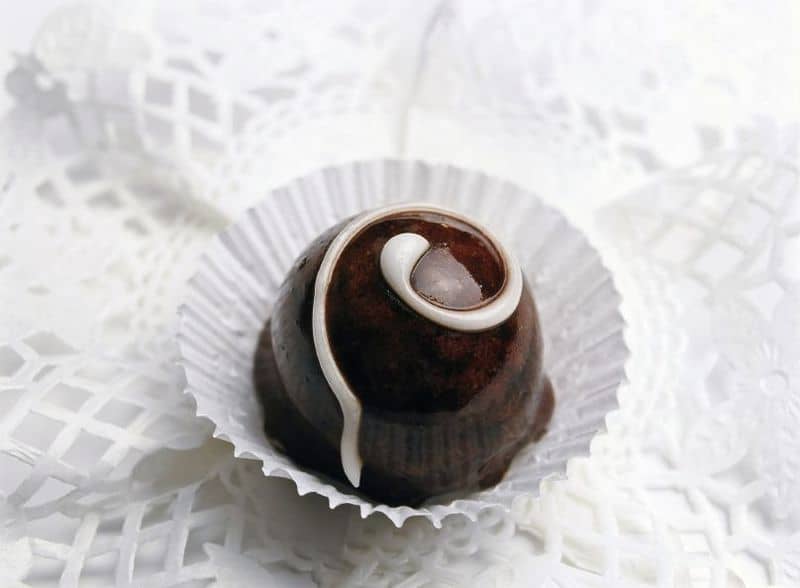 What are bonbons anyway?
Bonbons are small sweets that are often dipped in chocolate. Typically these delicate treats are not frozen and filled with ice cream. Historically they were small sweets for everyone to enjoy. Modern-day treats like Peanut Butter Balls, are examples of bonbons. Yes, you can make ice cream ones at home.
Bonbons got their fun name from the French language. Bon means good in French, so "bonbons" must mean these treats are "good-good."
Making Ice Cream Bonbons
With patience, these can be made, but the best thing is you can make the ice cream bonbons into any flavor that your heart desires. My personal favorite is to make the bonbons with Neapolitan ice cream, this way you can make chocolate ice cream balls, vanilla ice cream balls, and strawberries ones too!
So why not enjoy the life of luxury we all envision we can. Make some of these ice cream snacks in the summer, and kick back and enjoy a good nibble or two on one of the best ways to serve ice cream.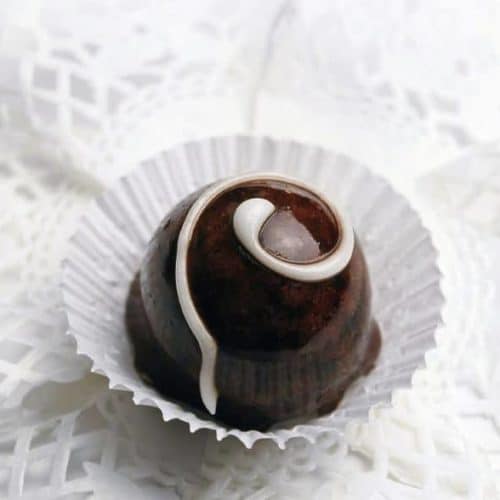 Ingredients
12

ounces

semi sweet chocolate chips

2

tablespoons

vegetable shortening

1

quart

ice cream

Optional:

sprinkles,

finely chopped nuts,
Instructions
Start by placing a cookie sheet in the freezer to chill, once the try is chilled, you can begin to scoop the ice cream. Use a small cookie scoop to scoop out the ice cream balls. Work very quickly, stop and place the scooped balls into the freezer if they begin to melt. Pop the ice cream balls into the freezer for six to eight hours.

The ice cream must be frozen solid before placing warm chocolate on top, or the chocolate will slide right off. Heat chocolate and shortening over a double boiler, you want to gently heat the chocolate stirring until smooth. Then remove the bowl of chocolate off the double boiler, and allow to cool for 5 to 7 minutes. If the chocolate is too hot, it will melt the ice cream immediately and the ice cream will slide off.

Working very quickly pick up the ice cream ball with resting on a fork, hold over chocolate, and spoon melted cooled chocolate over the ice cream, let the excess drip off, then quickly put the ball down on the cookie sheet, and work with the next ice cream ball.

Time is of the essence, work quickly. If you want to add nuts, sprinkles, or any other toppings do so while the chocolate is "wet" an not fully yet. Before eating pop the bonbons back into the freezer for approximately 2 hours before serving.
Nutrition
Calories:
92
kcal
|
Carbohydrates:
11
g
|
Protein:
1
g
|
Fat:
5
g
|
Saturated Fat:
2
g
|
Cholesterol:
4
mg
|
Sodium:
26
mg
|
Potassium:
62
mg
|
Fiber:
0
g
|
Sugar:
6
g
|
Vitamin A:
55
IU
|
Calcium:
20
mg
|
Iron:
0.5
mg
Love bonbons? Try these other examples of these much-loved sweets.
Yummy No Bake Rum Balls
Glazed Toffee Bonbons
Grandma's Bonbons