Bacon Beer and Cheese Cupcakes, yes, that's right. I haven't lost all of my marbles. I was recently on a team of some vary talented bloggers, Stephanie Nuccitelli of 52KitchenAdventures, and Jennifer Farley of SavorySimple. We were at a blogging competition at Eat Write Retreat food blogging conference. Eat Write Retreat had their own "Iron Chef" style competition. We were paired up together, with a couple of secret ingredients, and the task of trying to compete against many other food bloggers.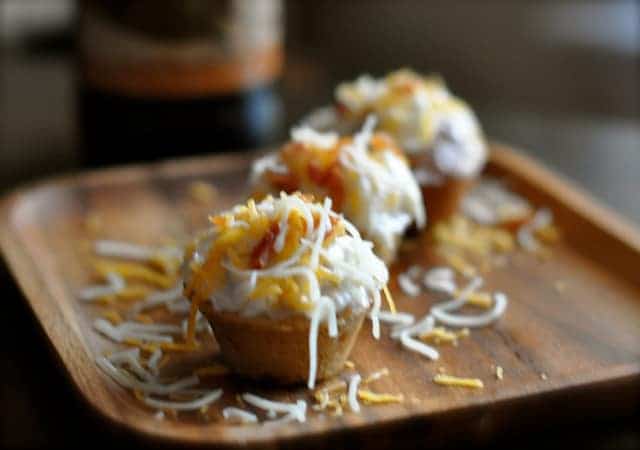 My friend Tina, of the BakingAisle.com introduced a similar cupcake to these. She found this recipe on the cupcakeproject.com website. She brought these cupcakes to a savory tea party, and they were a hit. I know what you could be thinking, that's a crazy combination. These bacon beer and cheese cupcakes are not too sweet, but the beer and the brown sugar combine with salty and savory bacon to take your cupcakes in a completely different level.
For this competition one of our secret ingredients was Jarlsberg cheese. We combined this recipe with a darker beer than the original recipe. I thought that this combination was heavenly. If you make this recipe I would urge you to go with a darker beer, beers I would try would be something like Shinerbock, an Ocktoberfest, or even a Marzen.
Bacon Beer and Cheese Cupcakes
Author:

Eat Write Retreat Team # 9

Recipe Type:

Dessert

Prep time:

20 minutes

Cook time:

25 minutes

Serves:

8
Enjoy sweet and savory together in these bacon beer and cheese cupcakes.
Ingredients
Cupcake

6 strips bacon

1/2 cup dark beer

4 1/2 tablespoons butter

1/4 cup grated Jarlsberg

1/4 cup grated sharp cheddar

1 cup dark brown sugar

1/4 + 1/8 cup sour cream

1 egg

1 cup flour

1 1/4 teaspoons baking soda

Frosting

4 ounces cream cheese, room temperature

1/8 cup unsalted butter, room temperature

2 cups powdered sugar

Finely grated Jarlsberg, for garnish

Grated sharp cheddar cheese, for garnish

Chopped bacon, for garnish
Directions
Cupcake directions
Preheat oven to 350 degrees. Cook bacon until crispy, then remove from oven and finely chop. Coat a mini muffin tin with non-stick spray. Heat beer and butter in a large saucepan on medium-high heat until butter is melted. Add Jarlsberg and cheddar. Remove from heat, and whisk in the sugar. In a separate bowl, whisk the sour cream with the egg. Mix the sour cream mixture into the beer mixture. In a separate bowl, sift together the flour and baking soda. Fold flour mixture into the batter. Stir in 1/2 cup of finely chopped bacon. Fill cups in prepared tin almost full. Bake for 12 minutes, or until inserted cake tester comes out clean.
Frosting Directions
Beat cream cheese and butter until creamy. Sift powder sugar in a sifter before slowly mixing in powdered sugar into the butter and cream cheese. Spread onto cooled cupcakes, then garnish with finely grated Jarlsberg and cheddar, and chopped bacon.
Print Recipe