So I am so happy to be telling you about an exciting recipe challenge for Cooking Planit and Formaggio Cheese. I recently made a recipe inspired by your choices. Smoked Mozzarella Cheese Sticks.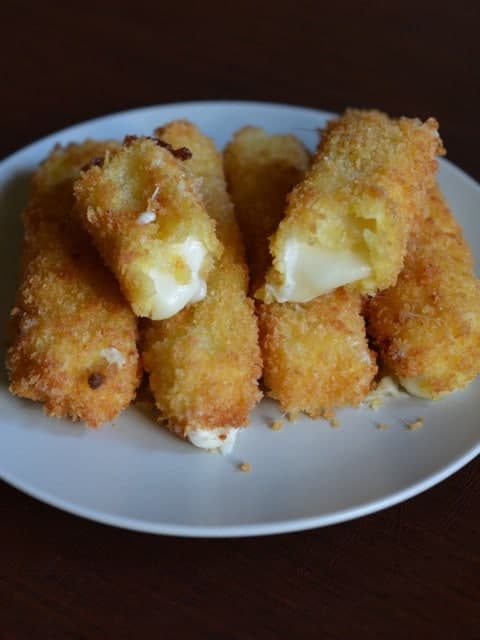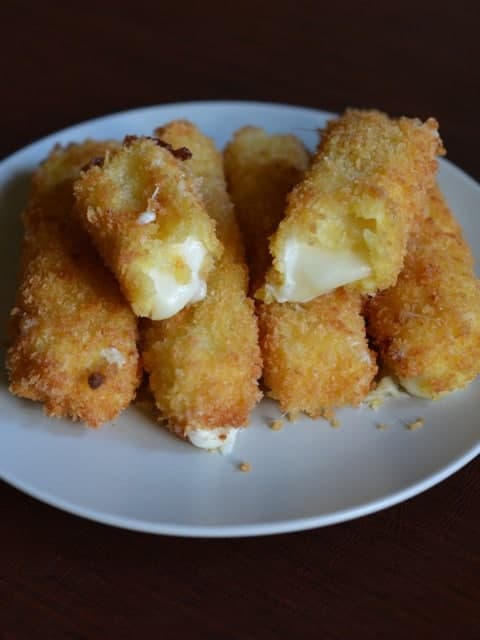 There is a very exciting recipe challenge that is kicks off Monday June 9th and closes Thursday, June 19th. I made a recipe highly inspired by Fried Mozzarella Balls by Cooking Planit. I had some wonderful smoked Mozzarella cheese from Formaggio, and thought it would make a fried Mozzarella sticks.
If you haven't tried Cooking Planit software before I highly recommend this app, it is available for both iPhone and Android devices. If you are just learning how to cook this is the perfect app for you, it will help you schedule cooking several dishes at once so your meal is ready at one time. It will help you prepare a grocery list, it will email you when you should get started to put a meal on the table at a particular time, and so much more.
Now you can enter in one of your own self created cheese centric recipe at here. If selected at one of the three winners you will have a chance to win one of these exciting prize packs, which includes all three items.
A Formaggio Cheese Basket ($100 Value)
5 piece Cheese-knives Set ($50 Value)
Your recipe to enhanced by Chef Emily and added to the Cooking Planet Collection
Be sure to check out the other food bloggers and their recipe creations with for this Recipe Challenge. I know they have also created many exciting recipes.
Smoked Mozzarella Cheese Sticks
I loved the ease of Cooking Planet's take on the Fried Mozzarella Balls on their website. I had a party to go to this weekend, and I wanted to make something unique. I personally love fried cheese sticks, I don't think it gets much better than a delicious fried cheese stick. Formaggio sells a smoked Mozzarella cheese that is nothing short of incredible. I loved the way the Cooking Planet put the Mozzarella cheese stick with Panko bread crumbs.
Other Mozzarella Cheese Recipes
Marinated Mozzarella Salad
Eggplant Parmesan
Spaghetti Warehouse Stuffed Bruschetta
Smoked Mozzarella Cheese Sticks
Author:

Stephanie Manley via CopyKat.com

Recipe Type:

Appetizer

Prep time:

10 minutes

Cook time:

5 minutes

Serves:

4
Love cheese sticks? Try these smoked mozzarella cheese sticks.
Ingredients
15 ounce package smoked Mozzarella cheese

1/2 cup milk

1/2 cup flour

1/2 teaspoon flour

1/4 teaspoon black pepper

1/4 teaspoon garlic salt

1 cup Panko bread crumbs

vegetable oil for frying
Directions
Add enough vegetable oil to fill a pot about three inches deep. If you use a smaller pot, you will need less oil. Heat oil until 350 degrees. Cut Mozzarella into large sticks, about 2 inches by 3/4 to 1 inch. (If your cheese is rounded you will need to trip off the rounded edges, you can place these trimmings into a salad.) I like to use thicker sticks for this. Set up a breading station consisting of 1 bowl of milk, one bowl of seasoned flour, and one bowl of Panko Bread Crumbs. In a small bowl add flour, black pepper, and garlic salt. Stir to combine seasoned flour. Dip sticks into milk, then seasoned flour, coating well. Shake off excess. Place cheese stick on a rack. Allow cheese stick to rest about 5 minutes before dipping into the milk again, and then dip into Panko bread crumbs. Coat well. Allow cheese stick to rest for a few minutes before cooking. This time of resting helps the coating glue onto the the food.
Fry cheese stick in hot oil. Fry until just golden brown. Remove from hot oil and drain on a wire rack. Serve immediately.
Print Recipe