Arby's might be the undisputed king of the fast-food roast beef sandwich, but that's not the only item on its menu that shines. Sure, the restaurant may have killer curly fries and a good selection of wraps, but it's Arby's condiments that have people talking.
Whether your favorite is the original Arby's sauce or you prefer the sweet heat of the Spicy Three Pepper sauce, you know you can't get enough!
Here's a roundup of some of the most popular sauces at Arby's. Many of the sauces have links to learn how to make them at home.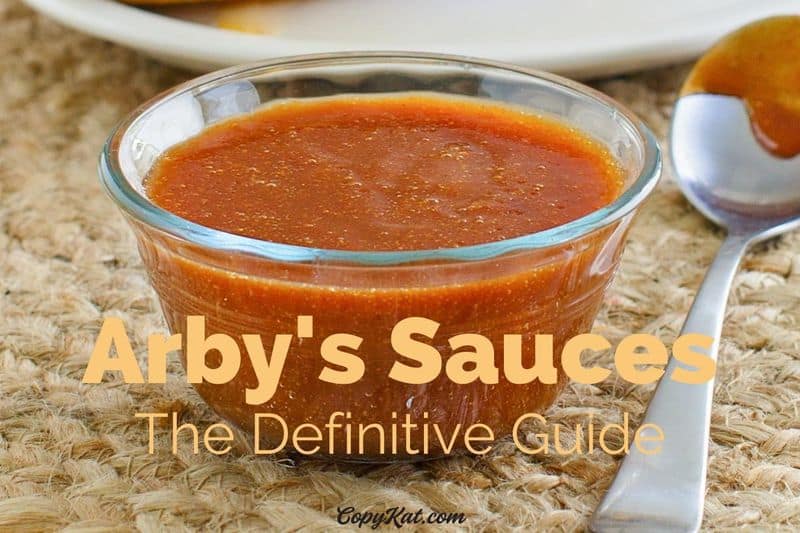 What Sauces Does Arby's Have?
Arby's Sauce
This classic tomato-based sauce is a sweeter and tangier version of ketchup. The garlic, onion powder, Worcestershire sauce, and cayenne pepper make this sauce ideal for pairing with red meat. Pour it on a roast beef sandwich, use it as a steak sauce or mix it with ground beef for a fantastic Sloppy Joe.
Get the Arbys sauce recipe.
Bronco Berry Sauce
This sauce is bright red and fresh-tasting, but believe it or not; there's not a single berry in the recipe! However, when a dipping sauce tastes this great, who is going to complain? It's thick and sweet with a kick of chopped jalapeno peppers, cayenne pepper, and paprika. This sauce has the perfect balance of sweet and heat. Arby's serves Bronco Berry Sauce with Jalapeno Bites, but it's equally good as a dipping sauce for chicken nuggets, fries, or even a delicious stirfry sauce!
Get the Bronco Berry sauce recipe.
Spicy Buffalo Sauce
This sauce draws its inspiration from the classic flavor profile of buffalo wings. There is plenty of cayenne pepper sauce smoothed with a bit of butter and just a hint of sweetness from brown sugar so it has a bit of zing. Still, this isn't a tame sauce, and it is sure to please those folks who like things hot. Arby serves Spicy Buffalo sauce on its boneless wings, but you could use it on regular wings, pizza, mac n cheese, or just about anything that comes out of the fryer.
Horsey Sauce
Not everyone is that into horseradish, but for those who are, there is something a bit addictive about the nasal-clearing pungent kick it delivers. The Horsey Sauce from Arby's blunts the bite of the horseradish with plenty of mayonnaise and sugar, but it's not totally tame. Horsey Sauce is great on roast beef, burgers, and even salmon.
Get the Arby's horsey sauce recipe.
Cheddar Cheese Sauce
Definitely, one of the more decadent options on Arby's sauce list, Cheddar Cheese Sauce is exactly what you think it is: hot and gooey deliciousness. It comes as one of the two sauces on Arby's Beef and Cheddar sandwiches, but you will want to use it on just about anything. It is perfect for topping fries, nachos, and baked potatoes or mixing with no-bean chili for the best chili cheese dogs.
Spicy Three Pepper Sauce
One of the faves of Arby fans, Spicy Three Pepper Sauce, does bring the heat, but not in any sort of intimidating way. If you are wondering, the three peppers are jalapenos, paprika, and, surprisingly, red bell peppers. This sauce is an excellent substitute for any of the other Arby's tomato-based sauces. Arby lists Spicy Three Pepper Sauce as a dipping sauce on the menu, but it is also incredible on wings and sandwiches. You should try this sauce with mozzarella sticks.
Get the Spicy Three Pepper Sauce recipe.
Dijon Honey Mustard Dipping Sauce
Almost every fast-food chain that sells chicken has its own version of honey mustard sauce, but Arby's has three! One for salads, one for sandwiches, and this one they serve with their chicken tenders. With its dijon mustard, mustard seeds, and paprika, it's a little fancier than what you can find in other restaurants. Besides chicken, try this sauce on baked ham or roasted fish, or even in a deviled egg recipe!
Get the Arby's Dijon Honey Mustard Dipping sauce recipe.
Ranch Dipping Sauce
Everyone loves ranch sauce, and you can find it just about everywhere. But the version available from Arby's offers just a little more in the flavor department. The garlic and spices really shine through, and it is definitely more intense. You can get packets of Ranch Dipping Sauce as a side to chicken tenders and boneless wings at the restaurant, but it's a great addition to wraps, salads, and French fries as well.
Red Ranch Sauce
Don't be confused; Red Ranch Sauce isn't related to ranch dressing at all. Think of it as a less spicy version of the original Arby Sauce. It has the same ketchup base with garlic, onion, and Worcestershire sauce seasoning but omits the cayenne pepper. Red Ranch Sauce pops up on several items on Arby's menu, but it stands out in the Beef and Cheddar. You can use this sauce on just about anything you put ketchup on.
Tangy Barbecue Sauce
Tangy Barbecue Sauce may not sound as exotic as some other opinions on Arby's sauce list, but do yourself a favor and try it. You'll be happy you did. Arby's BBQ sauce takes inspiration from its thick consistency and smokiness from the Kansas City-style BBQ sauce tradition. Arby's serves this as a dipping sauce and on several menu items, but you can slather it on just about anything from chicken to ribs to pull-pork nachos.
Parmesan Peppercorn Ranch Sauce
The cheese and cracked peppercorns in the Parmesan Peppercorn Ranch Sauce switch things up just enough to be a little more interesting than the regular Ranch Sauce. If you are a ranch fan, this is another option if you want to switch things up a bit. The sauce is perfect on Arby's Roast Turkey Ranch & Bacon sandwich, but go ahead and use it as a straight-up substitute for ranch dressing in your favorite recipes.
Tzatziki Sauce
Tzatziki is a traditional Greek sauce with tangy yogurt, crunchy cucumbers, fragrant dill, and a touch of garlic and lemon juice. It's light and creamy, ideal for when you want to enhance but overwhelm the flavor of a dish. Arby's serves tzatziki sauce on their lamb gyro, but it is great on a steak sandwich, as an alternate for mayo in a chicken salad recipe, or even as a topping for a baked potato.
Get the Arby's Tazatziki sauce recipe.
Check out more fast food sauce recipes here on CopyKat!