Girl Scout Lemonades are delicious lemon shortbread cookies with tangy lemon icing. There's no need to get cookies from the Girl Scouts when you can make these lemony cookies at home.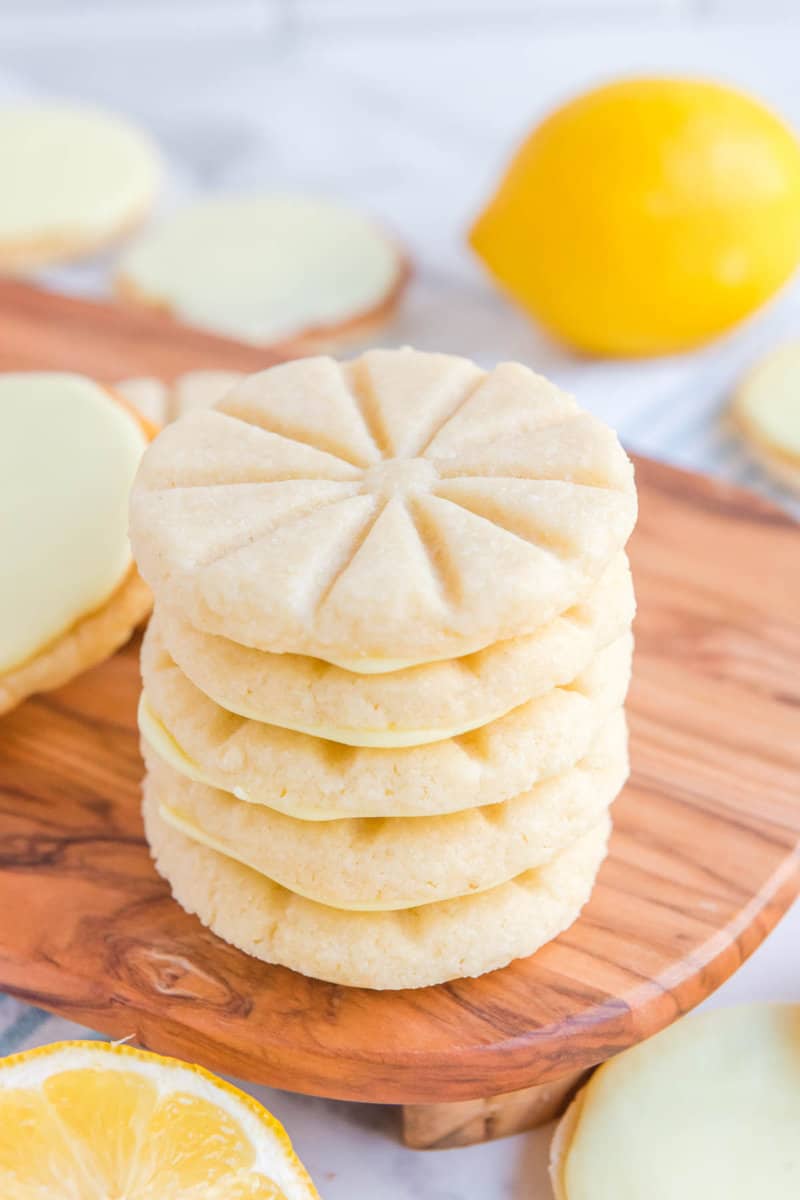 This post contains affiliate links. As an Amazon Associate, I earn from qualifying purchases.
What Makes These Cookies So Perfectly Lemony and Tasty?
Shortbread cookies can be a bit on the bland side. But these lemon-flavored shortbread cookies with tangy lemon-flavored icing are anything but boring. Enjoy these fresh-baked lemon Girl Scout-inspired cookies with a cup of tea for a real treat.
Why You Should Try This Recipe For Lemon Girl Scout Cookies.
Ah, Girl Scout Cookie season. These cookies are everywhere for a couple of months; then, they disappear for the rest of the year. How disappointing! But you can make these iconic shortbread cookies anytime you want with this copycat recipe.
Whether Girl Scout Lemonades are an old favorite or something you haven't tried before, you'll love these crispy cookies with a buttery taste and sweet tang of the lemon-flavored icing.
Ingredients For Girl Scout Cookies Lemonades
To make the shortbread cookies, you'll need:
All-purpose flour
Baking powder
Salt
Unsalted butter
Granulated sugar
Lemon extract
Egg
To prepare the lemon icing, you'll need:
Powdered sugar
Lemon extract
Water
Yellow gel food coloring (optional)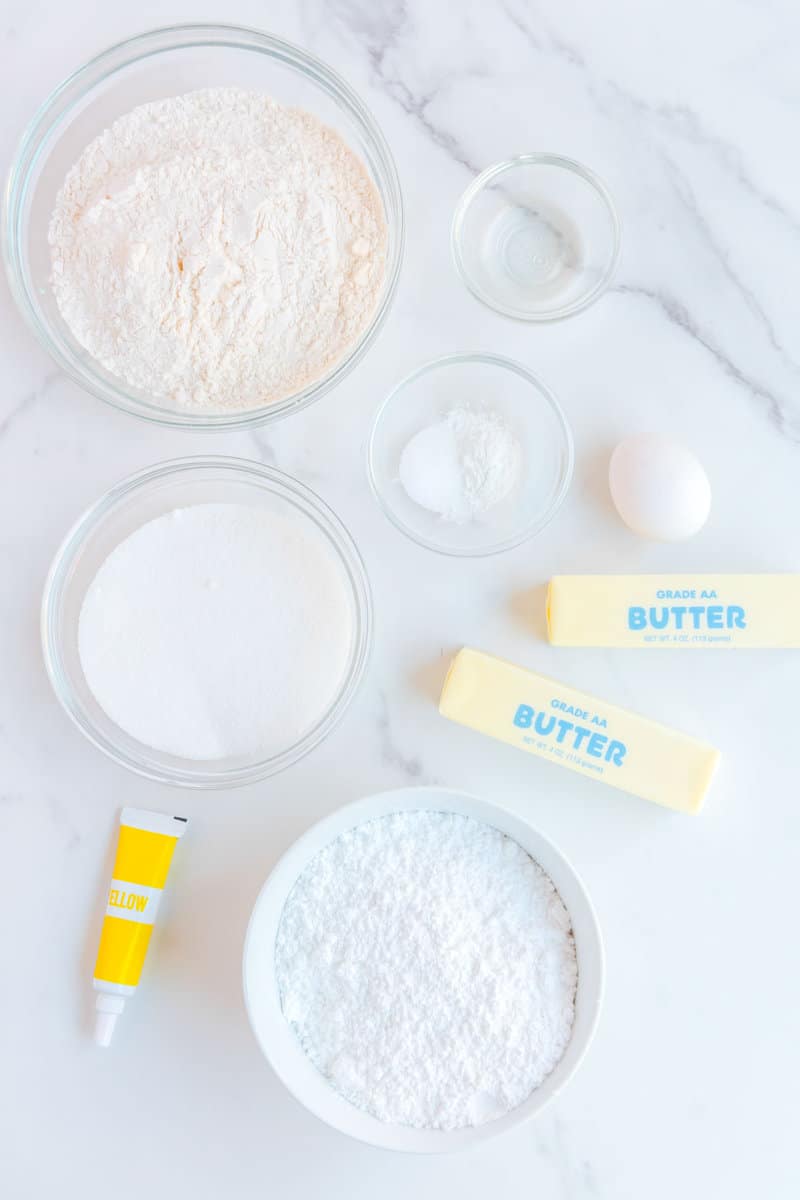 How To Make Girl Scout Lemon Cookies
To prepare the dough for the shortbread cookies:
Take the butter out of the fridge and allow it to come to about room temperature. Since it can take 30 or more minutes for the butter to soften, do this step well before you are ready to start baking the cookies.
While waiting, you can sift together the flour, baking soda, and salt in a mixing bowl. Set the bowl aside for later.
Place the softened butter and the granulated sugar in the bowl of a stand mixer or a large bowl. If you don't have a stand mixer, use a hand mixer instead.
Cream the butter and sugar using a paddle attachment or regular beaters of a hand mixer. Start at medium-low speed and slowly increase the speed until the butter is fluffy and lightens in color, about three to four minutes.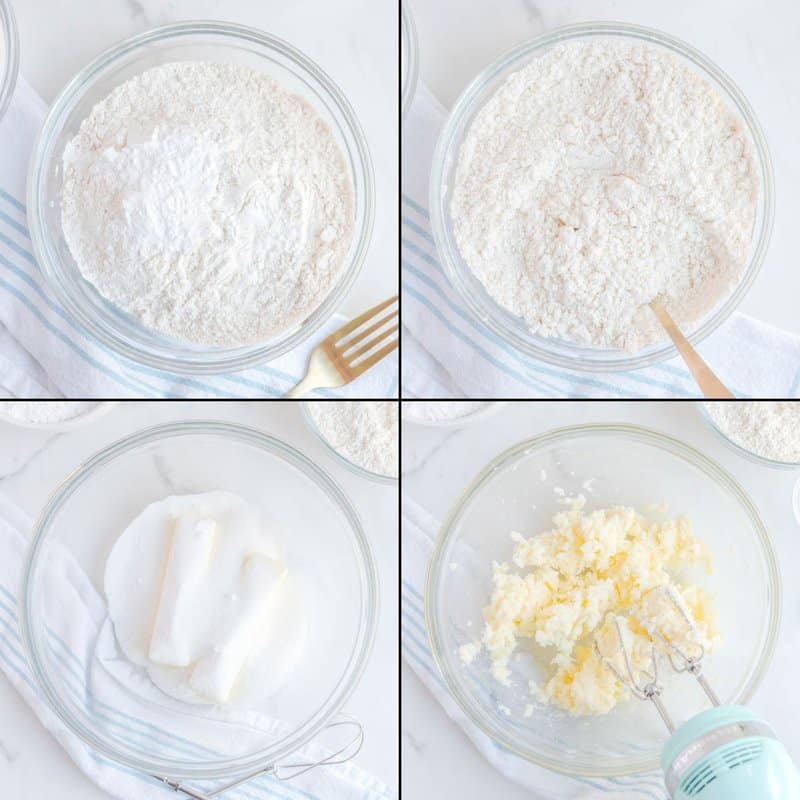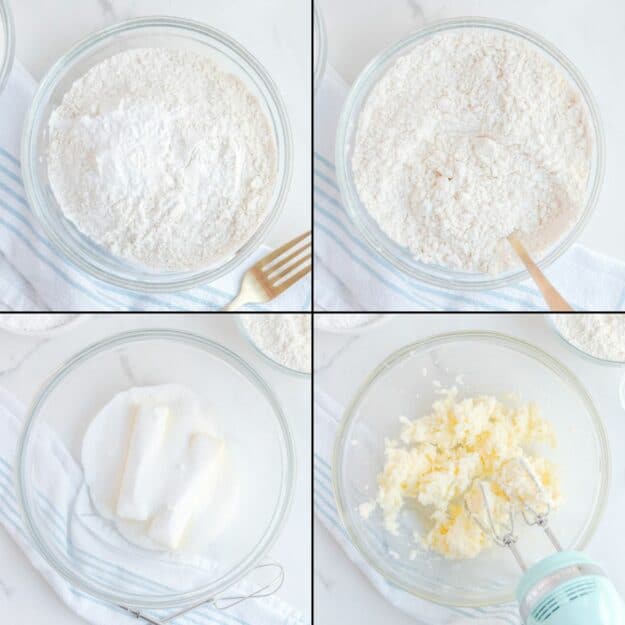 Reduce the speed of the mixer to medium and add the egg and lemon extract. Continue mixing on medium speed until the butter mixture is smooth.
If you have a dough hook attachment, you can switch to it, but a paddle attachment will work almost as well.
While the mixer is still on, add half of the flour mixture. Once the flour mixture is incorporated fully, add the rest and mix until it reaches a dough-like consistency.
Use a rubber spatula to scrape the dough from the mixer attachment and the sides of the bowl. Cover the cookie dough with plastic wrap and set aside.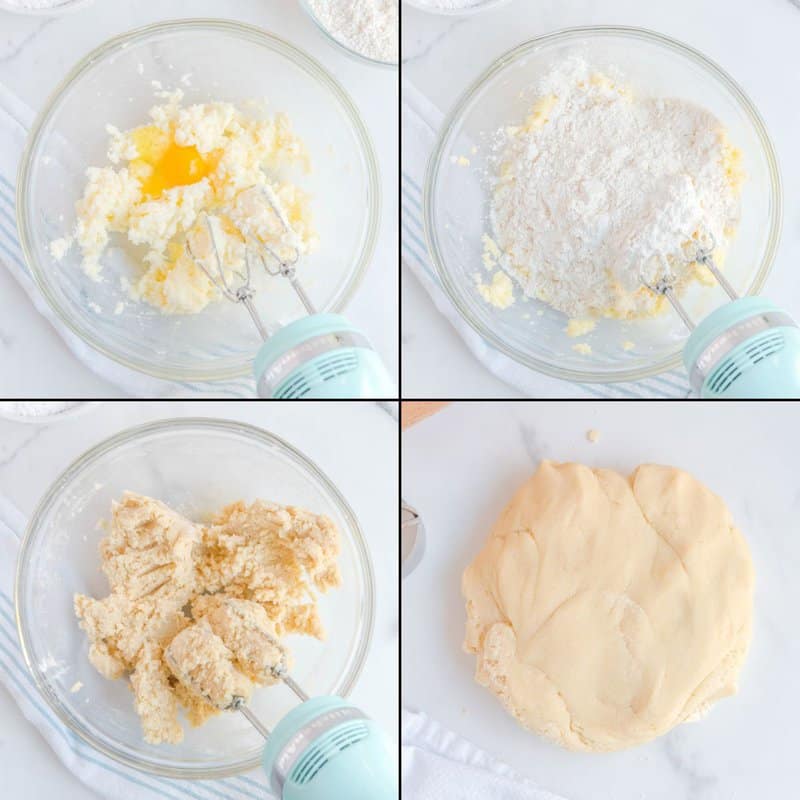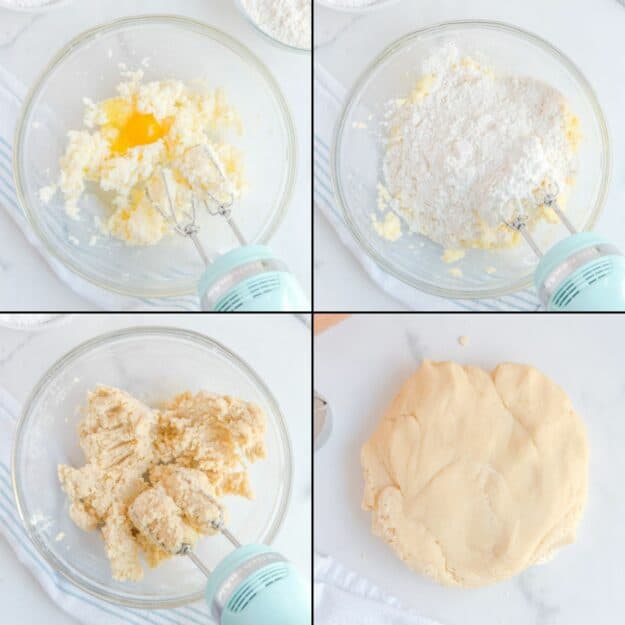 To bake the cookies:
Preheat the oven to 350 degrees Fahrenheit.
Line two cookie sheets with silicone baking mats or parchment paper.
Lightly flour a clean work surface and turn out the cookie dough.
Form the dough into a rough rectangle with your hands, and then use a rolling pin to roll out the dough until it is about a third of an inch thick.
Use a 2-inch diameter cookie cutter to punch out as many cookies as possible.
You can use a cookie stamp to decorate each cookie if you want.
Place the cookies on the prepared cookie sheets.
Bake in the preheated oven for 10 to 12 minutes.
After baking, let the cookies cool on the baking sheet.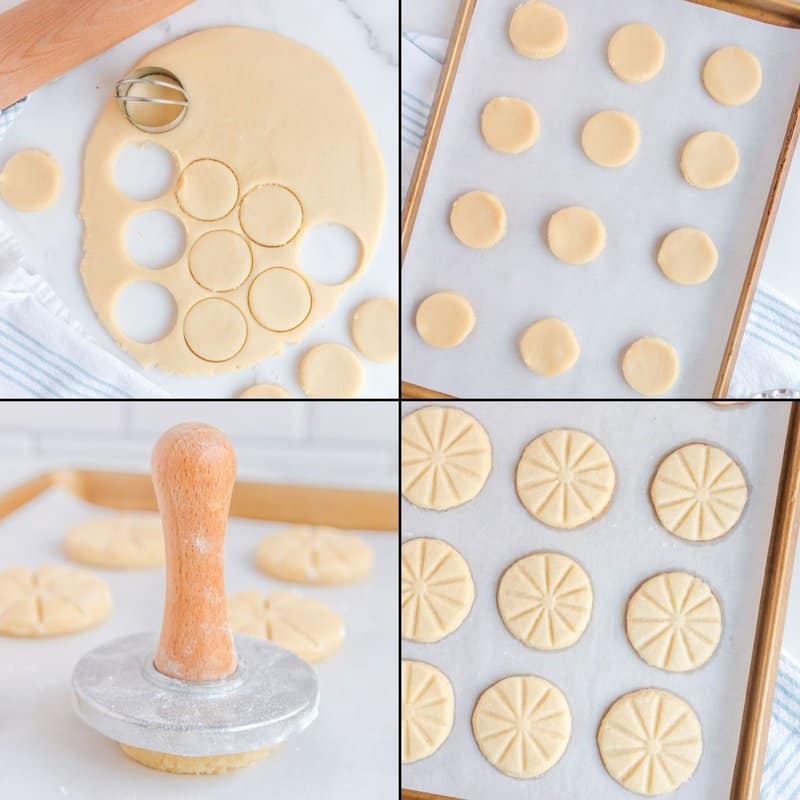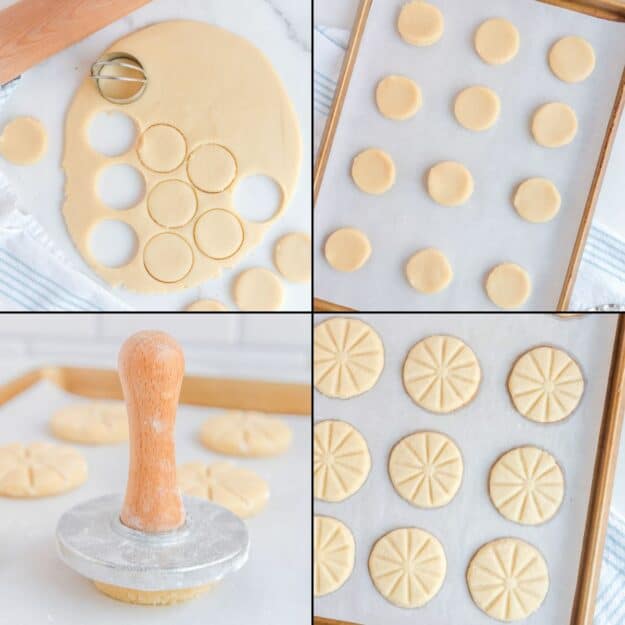 To make the icing and ice the cookies:
Once the cookies are cool, use a fork to mix the powdered sugar, lemon extract, water, and yellow gel food coloring (if using) in a small bowl.
The consistency of the icing needs to be thick enough that it won't drip off the fork but is still spreadable. If the icing is too thin, you may need to add more powdered sugar. If it is too thick, add a few drops of water.
Spread a tablespoon of icing on the bottom of each cookie.
Place the iced cookies icing-side up on a wire rack for at least eight hours to allow the icing to set before storing.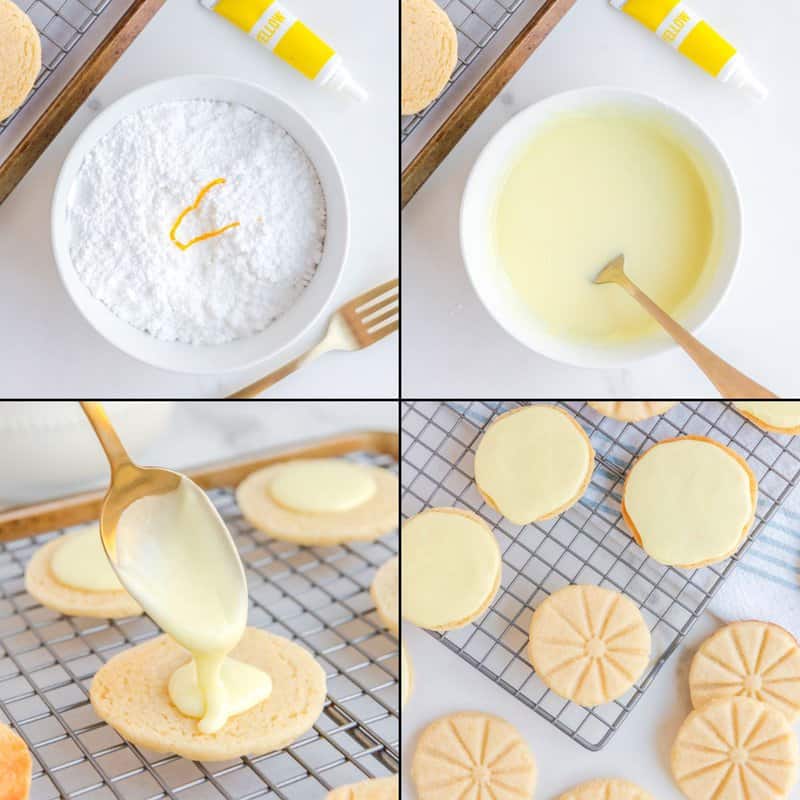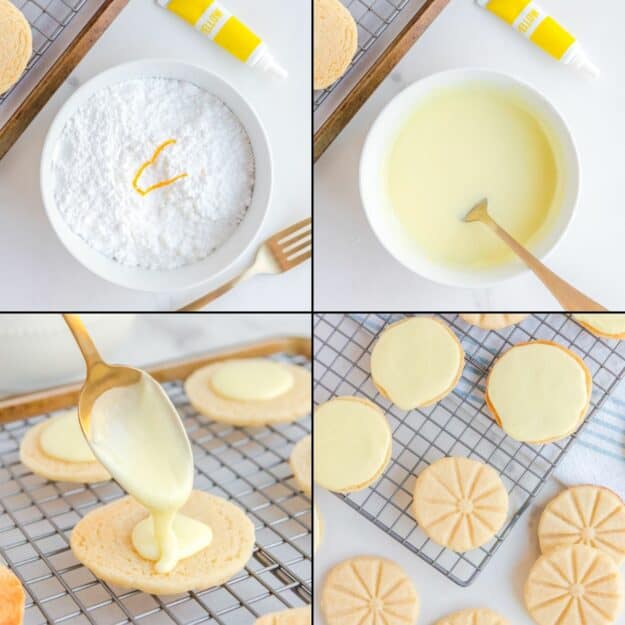 Special Equipment You Will Need
A stand mixer or hand mixer with a paddle attachment is very helpful when creaming the butter. If you don't have an electric mixer, you can use a wooden spatula or a flat whisk, but you will need a lot of arm strength or a couple of eager kitchen assistants.
You will also need a rolling pin, cookie sheets, a round 2-inch cookie cutter, and a wire rack. One or more cookie stamps are optional, but decorated Girl Scout lemon cookies are extra lovely.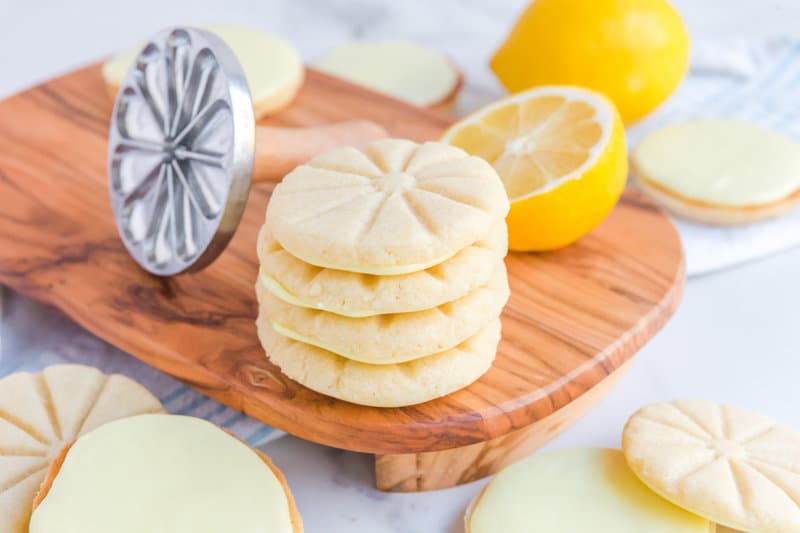 How To Store Girl Scout Lemonades
Homemade cookies don't last as long as store-bought ones, but that's okay since they are so tasty they'll likely be all gone long before they have a chance to go bad.
You can keep Lemonades in an airtight container on the counter for about 4 to 5 days. To extend the cookies' shelf life a bit, try storing them with a sheet of wax paper between each layer. Doing this will allow air to circulate better.
You can freeze lemon Girl Scout cookies for up to three months in a freezer-safe container. Many people prefer eating Girl Scout cookies straight out of the freezer, but you can also thaw them on the countertop before serving.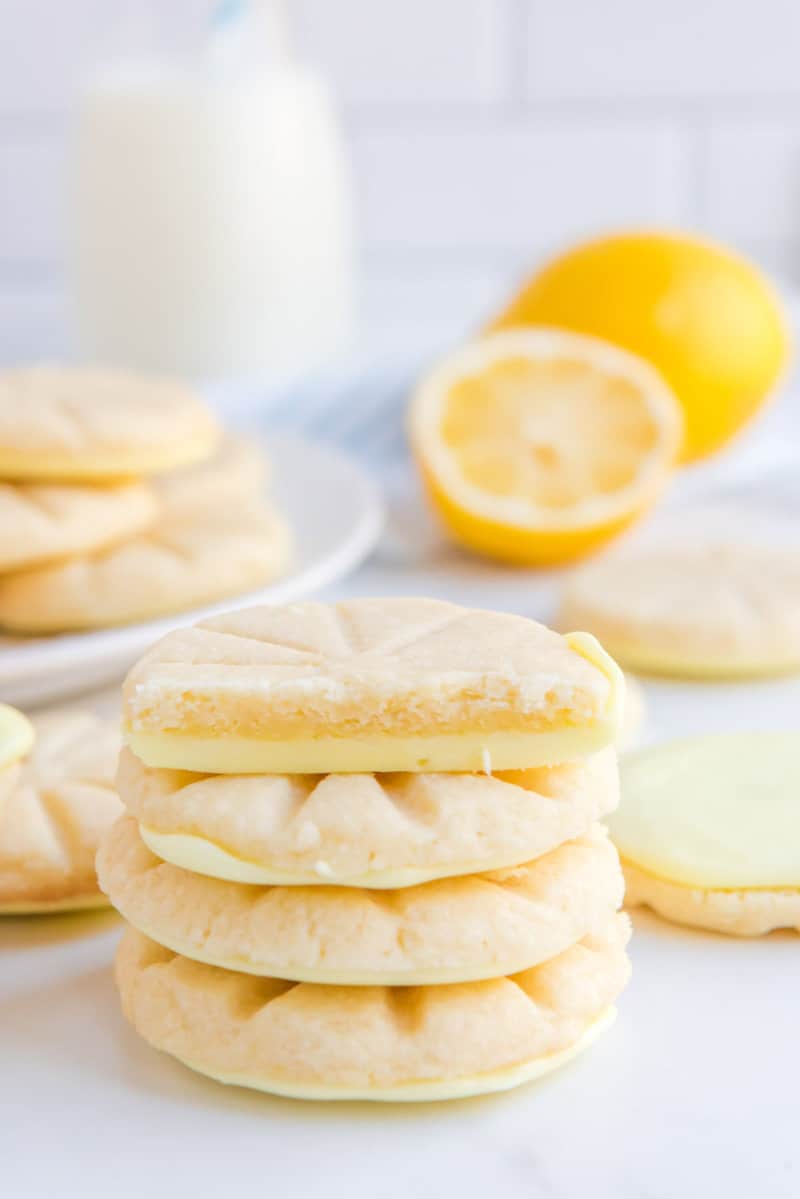 More Girl Scout Cookie Recipes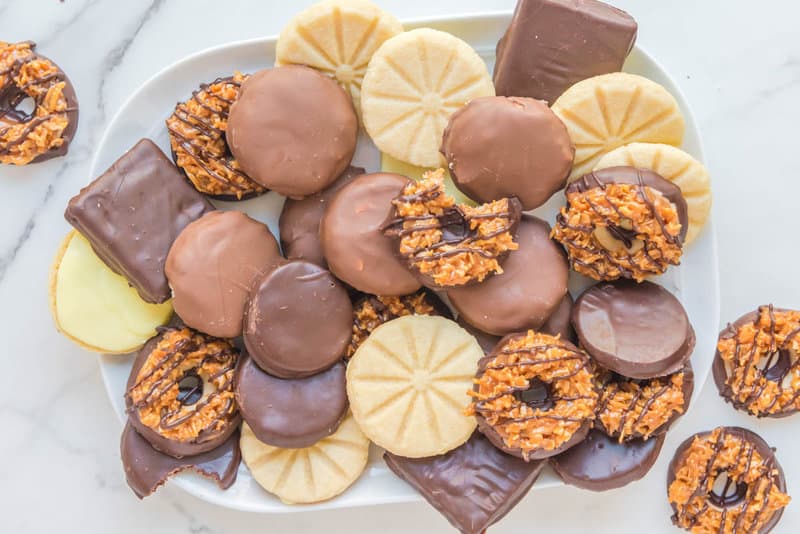 Favorite Cookie Recipes
Popular Lemon Desserts and Treats
Check out more of my easy cookie recipes and the best DIY recipes on CopyKat!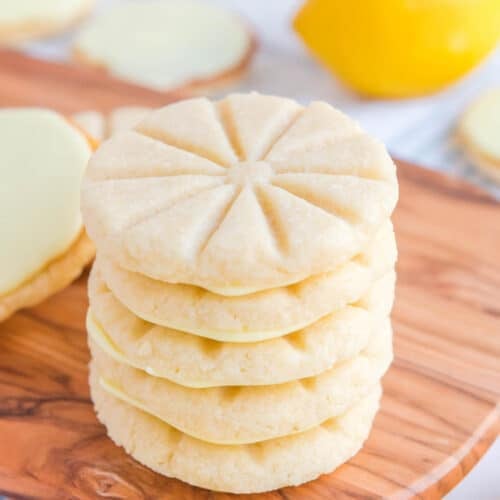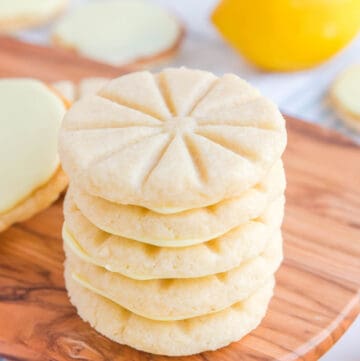 Ingredients
Cookies
2 3/4

cup

all-purpose flour

1

teaspoon

baking powder

1

teaspoon

salt

2

sticks

unsalted butter

softened at room temperature

1

cup

granulated sugar

1

teaspoon

lemon extract

1

large

egg
Icing
2

cups

powdered sugar

1

tablespoon

lemon extract

1

tablespoon

water

yellow gel food coloring
Instructions
Cookies
Preheat the oven to 350°F and line 2 large baking sheets with parchment paper.

In a medium-sized mixing bowl, combine flour, baking powder and salt with a fork. Mix well and set aside.

In a separate mixing bowl, cream together the butter and sugar using an electric hand or stand mixer. Mix until smooth and fully combined.

Add egg and lemon extract. Mix again until smooth.

Add flour mixture in, half at a time, and mix until fully combined and dough-like.

Place cookie dough in the refrigerator for about 30 minutes before you roll out the cookie dough.

Remove dough from the bowl and place it on a flat, lightly floured surface.

Using your hands, flatten the dough pressing downward.

Use a rolling pin to roll out the dough to about 1/4 to 3/8 inch thick.

Using a 2-inch round cookie cutter, cut rounds from dough and place the cutouts on the prepared baking sheets at least 2 inches apart.

Using a lemon cookie stamp or an inspirational phrase cookie stamp, create your pattern on the top of the cutouts. Press the stamp firmly into the dough until the indentations make it at least half way through.

Bake for 10 to 12 minutes.

When done, allow the cookies to cool completely on the pan before making the icing.
Icing
In a small mixing bowl, combine the powdered sugar, lemon extract, water and about 2 inches of yellow gel food coloring. Mix with a fork until fully combined and smooth. It will be very thick at first.

When the icing is at the perfect consistency, spoon out about 1 tablespoon onto the back (non-pressed side) of the cookie. Use your spoon to push the icing around so it naturally levels and covers the entire surface.

Do this for each cookie, working one at a time.

When all of your cookies are covered in icing, allow them to sit at room temperature for 6 hours or overnight so that the icing completely hardens before serving.
Notes
Icing Tip: The icing can react differently depending on where you live and what type of powdered sugar you use. To create icing that hardens, stays in the cookie, is mess-free, and tasty; you need to nail the consistency. This is done by adding more powdered sugar or water/extract as needed. The consistency needs to be thick, slow to fall off a spoon, and the coloring should be more matte than glossy. Perfect Icing: When the icing is perfect, you will be able to spoon out 1 tablespoon and not have it be runny or pour over the cookie. It should spread well but needs a little encouragement from your spoon. If your icing isn't like this while spooning out onto the cookies, adjust your ingredients. Cookie Stamp: This is the key part of making Girl Scout Lemonades because these cookies have been sold with a pattern on one side similar to a lemon or flour or an inspirational phrase. Stamp Tip: Stamp in flour before you stamp the cookie. This will help prevent dough from sticking to the stamp after pressing. Cookie Texture: Once the cookies are at room temperature, they should be able to stand up on their own, without folding over. They will be a soft cookie but should still have a slight crunch and maintain their shape. Girl Scout Cookie Trick: Girl Scout cookies are known to be most enjoyable when stored inside the refrigerator or even the freezer!
Nutrition
Serving:
1
cookie
|
Calories:
246
kcal
|
Carbohydrates:
36
g
|
Protein:
2
g
|
Fat:
11
g
|
Saturated Fat:
7
g
|
Polyunsaturated Fat:
0.5
g
|
Monounsaturated Fat:
3
g
|
Trans Fat:
0.4
g
|
Cholesterol:
37
mg
|
Sodium:
135
mg
|
Potassium:
47
mg
|
Fiber:
0.4
g
|
Sugar:
24
g
|
Vitamin A:
329
IU
|
Calcium:
17
mg
|
Iron:
1
mg