The Mason Jar's Chicken Tortilla Soup is a complex soup that has a lot of spices and fresh vegetables.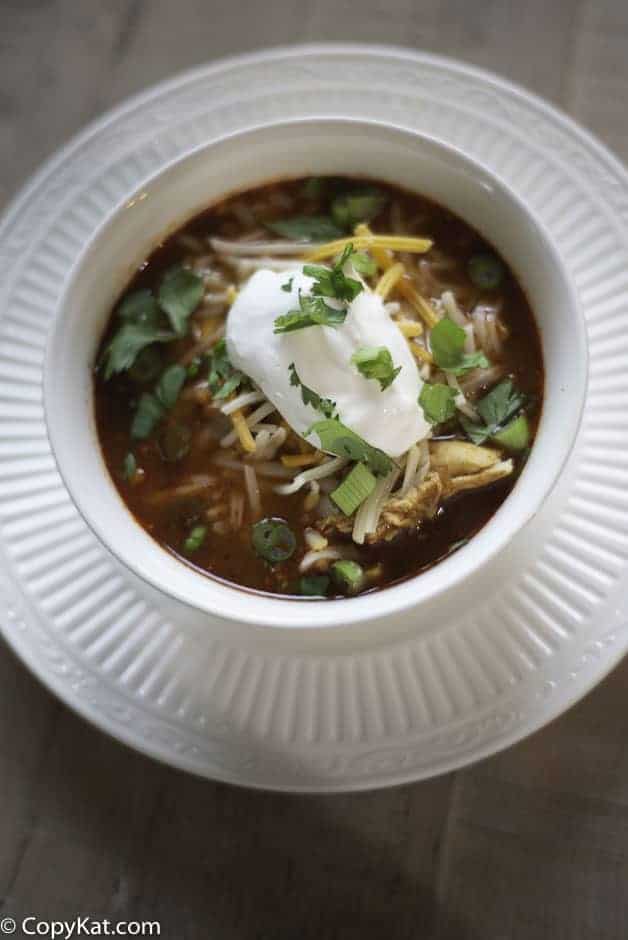 Mason Jar Tortilla Soup
Mason Jar Chicken Tortilla Soup is a complex soup that has chicken and lots of spices and fresh vegetables. This copykat soup recipe makes a very thick, hearty soup that's quick and easy to put together – a real blessing on those busy weeknights. It's also a good soup to make ahead of time and store in your freezer or refrigerator. It's a heartwarming soup at any season of the year, but especially on chilly fall and winter evenings.
The Mason Jar is a Houston favorite!
You may think that this recipe is made in a Mason jar. However, this soup was once on the menu of the Mason Jar restaurant, a Texas family-style eatery where you can dine on a wide variety of dishes and enjoy Texan warm hospitality. After being regarded as a landmark restaurant in Houston for more than forty years, the Mason Jar has recently relocated to the nearby town of Katy.
This tortilla soup isn't made in a Mason jar
Obviously, you don't have to serve this tortilla soup in a Mason jar, but if you want a little more fun you could. Furthermore, ladling your soup into Mason jars makes it a little more portable when moving from your kitchen to your dining table or your outdoor patio. Mason jars are good for reducing the risk of sloshing soup all over.
How about freezing soups in mason jars to reheat as needed for healthy and homemade meals? There's nothing more comforting than a warm bowl of soup, and this is an excellent way to prep individual meals. Learn how to freeze soup in Mason jars.
Tortilla Soup has so many options for toppings!
Another reason I love this tortilla soup recipe is that it's easily customizable. For example, you can throw in any leftover veggies that have been lurking in your fridge or pantry for a while. It's also an ideal way to use up any leftover chicken or another kind of meat. You can also get creative with different toppings. Some toppings to consider are:
Avocado, diced.
Fresh cilantro.
Crushed tortilla chips – you could swap these for tortilla strips.
Tomatoes, diced.
Sour cream.
Shredded cheddar, "taco" cheese, or pepper jack cheese.
Green onion, chopped.
Jalapeños, cut into rings.
A squirt of lime.
If you don't want to use so much butter, you can go for two tablespoons of butter with an equal amount of olive oil. I know not everyone wants to use all of that butter.
And here are two more useful links: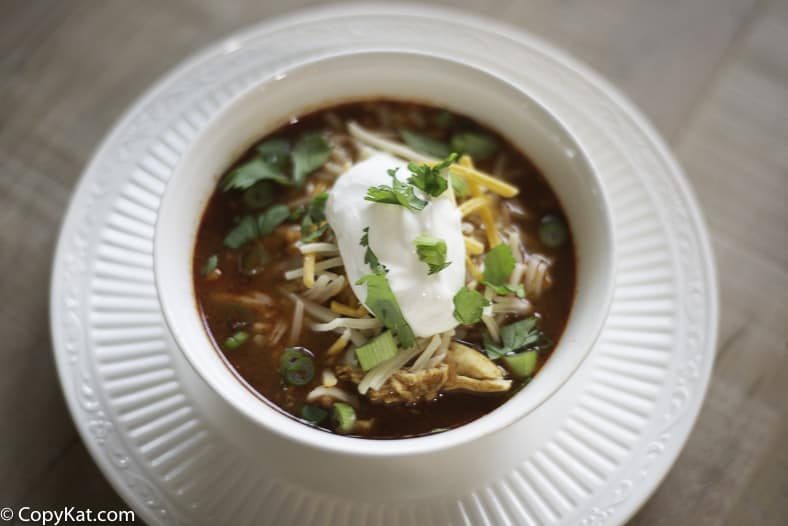 Love soup? Try these easy soup recipes.
Ground Round Mexican Chicken and Tortilla Soup
Luby's Tortilla Soup
El Torito's Tortilla Soup
Everyone will rave about this tortilla soup recipe. It's just tastefully simple. It may seem like a lot of steps, but they will go quickly. This is a really yummy soup recipe that will warm up your family at dinner time. I would love to hear how much your family enjoys this soup, so drop me a line.
Ingredients
1

green bell pepper

cut into chunks

3/4

cup

chopped yellow onion

1/2

pound

celery

cut into 1 inch pieces

1/2

pound

carrots

cut into 1 inch pieces

1/3

cup

cilantro leaves

chopped

1

tablespoon

minced garlic

2

teaspoons

chili powder

2

teaspoons

cumin

1

teasoon

black pepper

8

ounces

butter

1/3

cup

olive oil

divided use

10

ounces

corn tortillas

3

quarts

water

4

ounces

chicken-seasoned stock base

1/3

cup

flour

1

pound

tomatoes

peeled and choppe

2

pounds

boneless skinless chicken breasts

seasoned, grilled, and cut into pieces

1

cup

tortilla strips

tortilla strips (1/8-by-1-inch)

1

cup

shredded American cheese

for garnish
Instructions
Place bell pepper, onion, celery, carrots and cilantro in food processor and finely chop; set aside in a large bowl. In a small bowl, combine garlic, chili powder, cumin and black pepper and stir into chopped vegetables. Melt 1 stick plus 2 tablespoons butter and olive oil in large pan over medium heat. Add vegetable mixture and saute, stirring often, until vegetables are transparent and lightly browned. Finely chop the 10 ounces of tortillas in food processor and add to vegetable mixture; saute over medium heat until soft. Transfer mixture to a large pot over medium heat. Add water and chicken base, mixing until chicken base is dissolved. In a large skillet over medium-high heat, melt remaining 1 stick butter and whisk in flour. Cook 2 to 3 minutes, while whisking, to make a roux. Add roux to soup; stir and let simmer 20 minutes. Stir in chopped tomatoes, then diced chicken; cook until heated through. Ladle soup into bowls and sprinkle with tortilla strips and grated cheese. Yield: 12 servings
Nutrition
Calories:
525
kcal
|
Carbohydrates:
25
g
|
Protein:
26
g
|
Fat:
35
g
|
Saturated Fat:
16
g
|
Cholesterol:
122
mg
|
Sodium:
3287
mg
|
Potassium:
636
mg
|
Fiber:
3
g
|
Sugar:
4
g
|
Vitamin A:
4820
IU
|
Vitamin C:
14.1
mg
|
Calcium:
236
mg
|
Iron:
1.6
mg