Who doesn't love ice cream? It is refreshing, cool, and is the perfect dessert. A lot of ice cream recipes require lots of special equipment and a special maker. You can make delicious ice cream without a fancy ice cream maker. I will show you how.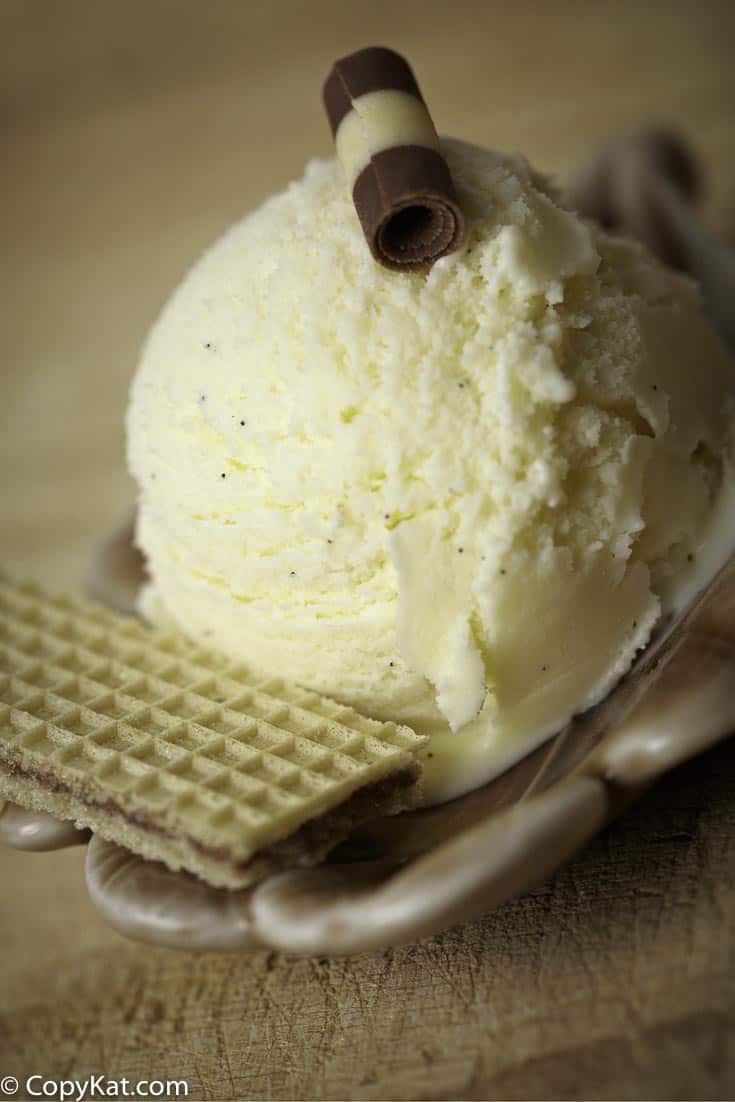 One of the greatest pleasures ever is ice cream on a hot summer day. Making ice cream can be tricky because you need an ice cream maker. You can use the simple ones with a turn handle, an electric one, or perhaps you may have a model that you freeze the bowl overnight. This recipe requires no particular maker. For this, I use a mixer to mix up the cream so that the ice cream becomes nice and thick.
You need a few simple ingredients for this recipe. You will need 2 cups of heavy cream; heavy cream is the type of milk that is mostly cream. This is also known as whipping cream. For people outside of the U.S., this is the milk you turn into butter.
For the vanilla bean, I like to use a vanilla bean paste. I use vanilla bean paste interchangeably with vanilla extract. Nielsen Massey Madagascar Bourbon Pure Vanilla Bean Paste, 4 Ounce
works wonderfully. Why I like this product is that it contains the tiny little beans that are in a vanilla bean pod. So you get the wonderful characteristics of using a fresh vanilla bean.
How does no churn ice cream made? You will whip up the heavy cream into heavy peaks, this will give the ice cream the volume and texture. By using sweetened condensed milk for the sweet base, the heavy cream remains thick. This thick mixture is then placed into a container and then placed into your freezer until the ice cream freezes. The result is a thick ice cream you will love.
You may wonder what else you could turn this recipe into? You could easily add chocolate, hot fudge, nuts, you name it. I like to stir in ingredients when I place the mixture into the freezer.
Do you love ice cream? Be sure to check out these ice cream recipes.
Ben and Jerry's Cherry Garcia ice Cream
Peanut butter ice cream with peanut butter cups
Ben and Jerry's Chocolate Ice Cream
22 Creamy Delicious No Churn Ice Cream Recipes.
This blog post contains an affiliate link.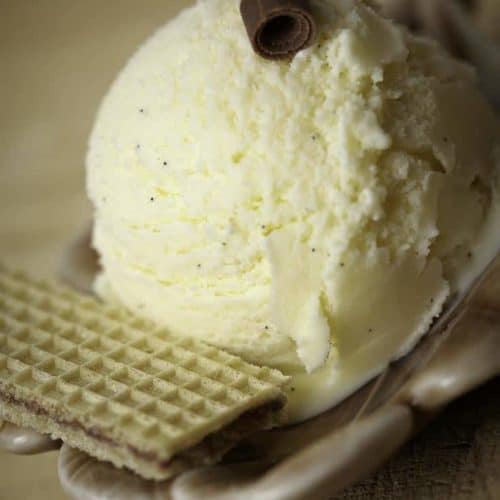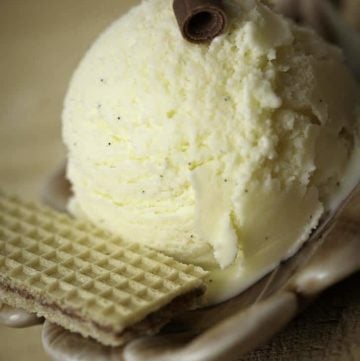 Ingredients
2

cups

heavy cream

14

ounces

weetened condensed milk

2

teaspoons

vanilla bean paste
Instructions
Beat heavy cream with a

mixer

until it forms heavy peaks. Add one can of sweetened condensed milk and beat in the milk. Add 2 teaspoons vanilla bean paste. Stir vanilla paste into the ice cream mixture. Place ice cream into a container and freeze for 4 to 6 hours. The recipe makes 1 quart.
Nutrition
Calories:
492
kcal
|
Carbohydrates:
39
g
|
Protein:
6
g
|
Fat:
35
g
|
Saturated Fat:
21
g
|
Cholesterol:
131
mg
|
Sodium:
114
mg
|
Potassium:
304
mg
|
Sugar:
37
g
|
Vitamin A:
1345
IU
|
Vitamin C:
2.2
mg
|
Calcium:
239
mg
|
Iron:
0.1
mg