For those of you who have been wondering what the bartenders at Bennigan's use to make the famous Paddy O' Punch cocktail, search no more!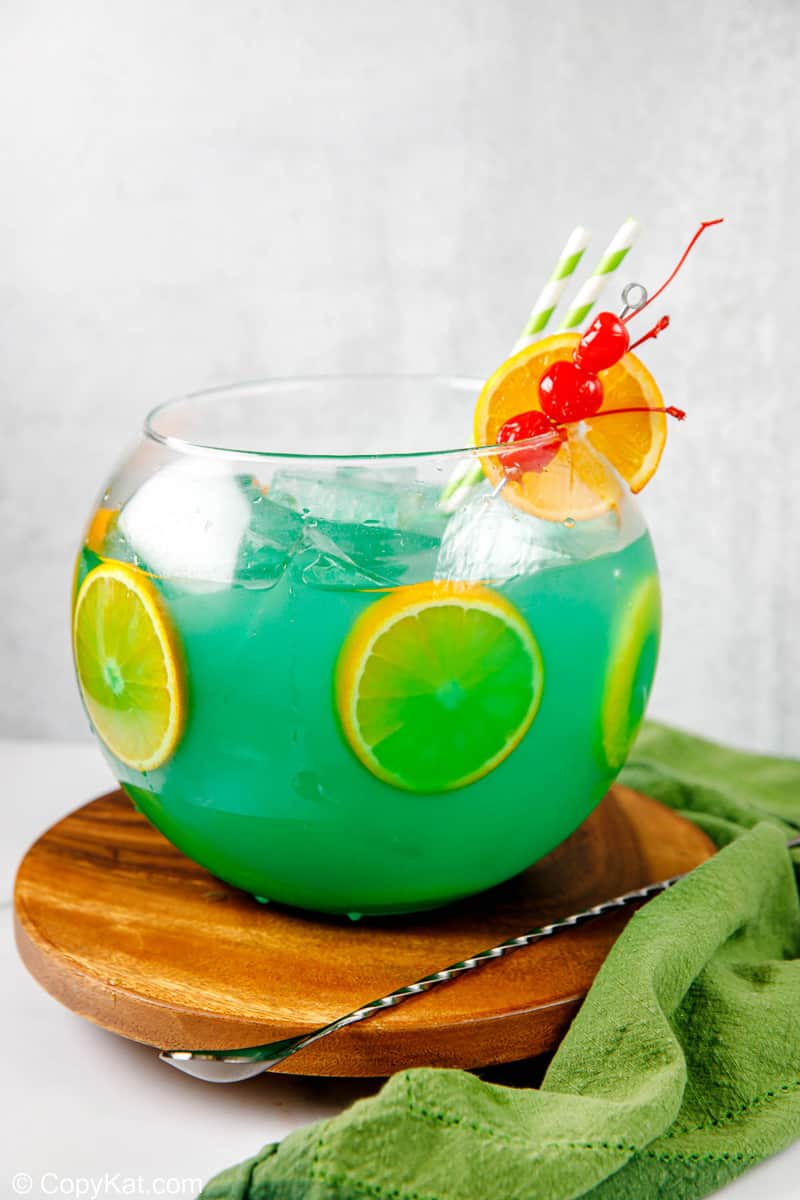 Bennigan's drinks are always better when drunk in good company. The Paddy O'Punch cocktail is a wonderful way for you and your friends to celebrate any occasion, even if it is nothing more than the chance to spend a little time together. This tropical rum-based recipe is among the most infamous fish bowl drinks on Benningan's menu for its fruity taste that belies its potent kick. So, the next time you want to have a good time with a few friends, mix one up but remember Paddy O'Punch is deceptively strong.
Drinks in a Fish Bowl?
Everyone has heard the phrase "to drink like a fish," but what's up with serving drinks in a fish bowl? While hosts traditionally serve punch in large serving bowls, the Tiki pop culture reinvented the simple punch bowl with more theatrical ones like the Scorpion Bowl, the Gremlin Bowl, and the Volcano Bowl. We may never know when the first person drank from a fish bowl, but around the same time as Tiki's culture's popularity, misguided youths thought it was fun to swallow live goldfish. It wouldn't take much for a tipsy reveler to mix up a drink in one of the now-empty fish bowls laying about.
What's in a Paddy O'Punch?
Malibu Rum. Oh, that white bottle of regret. This coconut-flavored alcohol tastes so amazing and goes down so smoothly that it is easy to overindulge. At just a 21 percent alcohol content, Malibu Rum is not technically a rum. It is a liqueur, but who will technicalities get in the way of a good time? If you can find Malibu near you, try using Calypso Rum Coconut.
Midori Melon Liqueur. Between the vivid green color and curved glass of the bottle, Midori Melon Liqueur sure looks pretty behind the bar. It is also pretty darn nice to sip with its sweet (yet hard to place) melon flavor and lower alcohol content. Midori can run on the expensive side, so you may want to try Mr. Boston Melon or Bols Melon as less expensive alternatives.
Blue Curacao. Blue Curacao is a liqueur with a slight citrus flavor that tastes a bit like Triple Sec. While you can find brands of Blue Curacao that are up to 40 percent alcohol, the liqueur's primary purpose in this cocktail is to add a blue color. There are many brands of Blue Curacao at different price points, so ask at your local liquor store. Just be sure to pronounce the name correctly. It's "cure-ah-sal," not "cure-ah-cow".
Getting the Most From Your Fish Bowl Drinks
Throw in a few Swedish fish for fun. No one wants to revive goldfish swallowing, but the gummy candies look great and are a booze-soaked treat once the drink is dry. If you are already taking it this far, why not add a layer of candy Nerds on the bottom as gravel.
Use plastic fish bowls. Bad things can happen when you mix alcohol and awkward glass drinking vessels. Save a trip to the emergency room and go with plastic bowls.
Use extra-long straws so you don't have to bend over to take a sip. Oh, and if you intend to share thedrink, have a few colors handy, so everyone gets their own.
Check out some other Bennigan's cocktails on YouTube!
Ingredients
Here's a list of what you need:
Malibu or other white rum
Midori melon liqueur
Blue Curacao
Pineapple Juice
Sour Mix
Cocktail Garnish
Pineapple slices
Orange slices
Cherries
How to Make Bennigan's Paddy 'O Punch Cocktail
Fill a large, fishbowl-shaped glass with ice.
Pour rum into the glass.

Add Midori.

Add blue curacao.

Add pineapple juice.

Add sour mix.

Stir to combine.

Garnish with pineapple slices, orange slices, and cherries.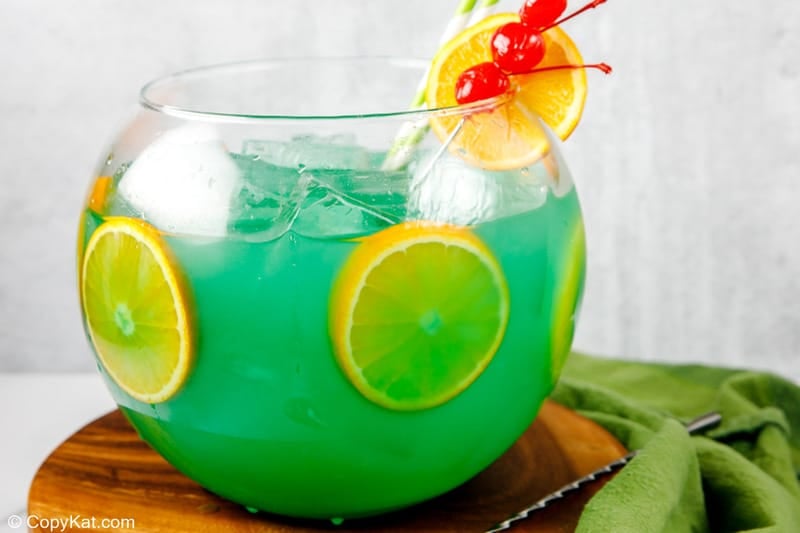 Recipe Tips
Use sword cocktail skewers for the garnish.
Popular Fruity Cocktail Recipes
Great Irish and St. Patrick's Day Recipes
Check out more of my easy cocktail recipes and the best restaurant copycat recipes here on CopyKat!
Ingredients
1

cup

ice

4

ounces

Malibu Rum

2

ounces

Midori Melon Liqueur

2

ounces

Blue Curacao

7

ounces

Pineapple Juice

7

ounces

Sour Mix
Cocktail Garnish
5

orange slices

2

pineapple slices

3

maraschino cherries
Instructions
Fill a large fishbowl-shaped glass with ice.

Garnish with orange slices, pineapple slices, and cherries.
Notes
Use sword cocktail skewers for the garnish.
Nutrition
Calories:
780
kcal
|
Carbohydrates:
87
g
|
Protein:
1
g
|
Fat:
0
g
|
Saturated Fat:
0
g
|
Cholesterol:
0
mg
|
Sodium:
45
mg
|
Potassium:
257
mg
|
Fiber:
0
g
|
Sugar:
81
g
|
Vitamin C:
19.9
mg
|
Calcium:
26
mg
|
Iron:
0.6
mg
Thanks to April_Kitty for this recipe.