Spiked Eggnog is homemade eggnog with liquor. This traditional homemade eggnog for a boozy eggnog cocktail is super easy to make, and you will soon wonder why you have never made this before. Homemade eggnog offers a richer, creamier flavor than what you find in the grocery store. Enjoy this fresher handcrafted cocktail for your holiday indulgences. If you want a decadent holiday drink, try this classic eggnog; it is perfect for holiday parties.
This post contains affiliate links. As an Amazon Associate, I earn from qualifying purchases.
What makes boozy eggnog so good?
Boozy eggnog is celebrated for its warm, festive blend of spices, creating a comforting, indulgent treat perfect for holiday gatherings. With this homemade eggnog recipe, you can customize it with your favorite spirits like whisky, rum, bourbon, or even brandy. This cocktail has a rich creaminess that offers a sophisticated twist to this classic holiday beverage. It is the perfect drink to serve in your punch bowl.
Why try this recipe?
My spiked eggnog recipe is a must-try for those searching for a standout holiday beverage. It uniquely balances traditional eggnog's rich, creamy texture with a carefully chosen blend of spirits, creating a delightful, comforting, and festive warmth. Unlike commercial versions, this recipe allows for personalization in sweetness, spice, and alcohol content, ensuring that every sip meets your preferences. You really can make the best spiked eggnog from scratch. Eggnog drinkers will love this so much more than store-bought varieties.
Is Eggnog safe to drink?
Yes, homemade eggnog has raw eggs in it. There are two reasons why this is less problematic than you might think.
First off, let me say minors should not consume drinks with alcohol.
Secondly, you can purchase pasteurized eggs. These pasteurized eggs are safe to consume. If you have additional concerns about raw eggs in eggnog, read this page from the Food Safety Page.
Why This Recipe Works
I have made this delicious homemade eggnog recipe every year for many years. This creamy eggnog recipe is perfect for the holiday season. I am now in love with this rich holiday drink. It is simple to make, and it is simply delicious. Try this recipe once, and you will leave the store-bought eggnog alone.
Looking online, you may see it's all the rage to age your eggnog for a few weeks before serving. While I did not do this for my recipe, you can read about aged eggnog. I let my spiked eggnog age for a few days before serving it. Whether you age it or not, you will love the taste.
What is in Eggnog
Eggnog ingredients are very simple. Here's a list of what you need:
Eggs
Sugar
Half-and-Half
Heavy cream
Vanilla extract
Liquor – bourbon, whiskey, brandy, or rum (I have used light rum, dark rum, and my personal favorite is a spiced dark rum)
Half-and-Half is sold in the Unites States, as a mixture of whole milk and heavy cream. It is half whole milk and half cream.
What Alcohol To Mix With Eggnog
The alcohol that I chose to use for my eggnog was dark spiced rum. I love the flavor of a good quality spiced rum. It adds a lot of nuance to the eggnog flavors and is the best liquor.
Here are some other recommendations for liquor for eggnog:
Bourbon – Evan Williams is a popular choice
Brandy or Cognac
Baileys Irish Cream or Rumchata
Fireball Cinnamon Whisky
Rum – white, dark, or spiced
Whisky – Southern Comfort is a popular choice
Vanilla Vodka – has a light and refreshing flavor
How to Make Spiked Eggnog
Here are the simple steps for how to make alcoholic eggnog:
Whisk the eggs together in a large bowl with a hand mixer until they are lighter in color and creamy.
Add sugar and stir to blend until all sugar is dissolved in the egg mixture.
Add half-and-half, heavy cream, and vanilla.
Stir to combine.
Strain the mixture.
Add liquor and stir to combine.
Serve and enjoy!
How to Serve Homemade Eggnog
I recommend you pour individual servings into a cup or chilled glass and then garnish them with the following toppings.
A sprinkle of fresh nutmeg or ground cinnamon.
Place a cinnamon stick in the cup.
Stir in some chocolate syrup.
Add a swirl of whipped cream on top of the eggnog.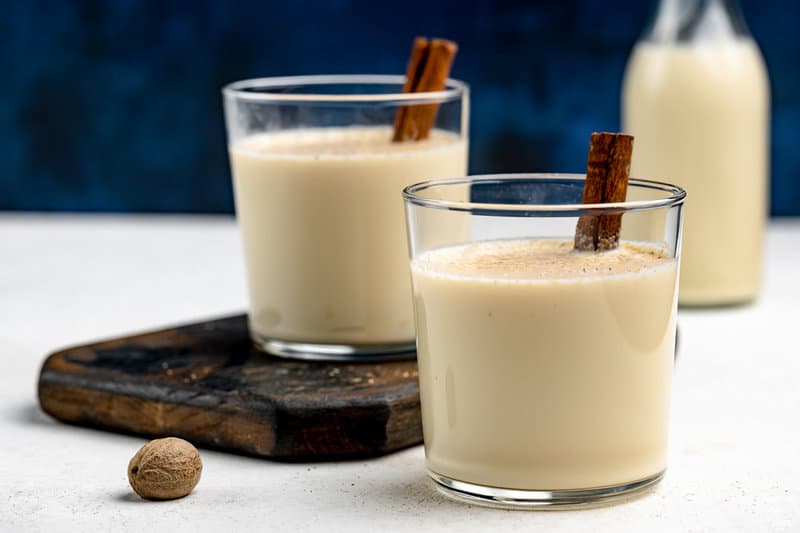 Frequently Asked Questions About Eggnog
What is eggnog?
Eggnog is a traditional milk punch that has been served up since the 1600s. This milk-based punch contains milk, cream, sugar, eggs, spices, and alcohol. This punch is rich and is almost like drinking a thick custard.
Should spiked eggnog be served hot or cold?
Eggnog is typically served cold.
Can this spiked eggnog recipe be made ahead of the serving time?
Absolutely. You can make this a couple of days before serving. Some people allow their eggnog to age a few weeks before serving.
How to store Boozy eggnog.
Store your homemade eggnog in an airtight container in the refrigerator.
What is eggnog spiked with?
You can spike eggnog with many different types of liquor. Rum (light, dark, or even spiced), brandy, whiskey, or bourbon all complement the eggnog.
I hope you give this alcoholic eggnog recipe a try, and I hope you find homemade eggnog as delicious as I do.
Can't get enough eggnog? Try these delicious recipes!
Favorite Homemade Cocktails
Check out more of my easy cocktail recipes and the best Christmas recipes here on CopyKat!
Ingredients
6

eggs

1

cup

sugar

2

cups

half and half

1

cup

heavy cream

1/2

teaspoon

vanilla

1

cup

rum, bourbon, whiskey, or brandy

grated nutmeg or cinnamon

for serving
Instructions
In a large mixing bowl, beat the eggs with an electric

mixer

until they are creamy and lightened in color. Add the sugar and stir with a spoon until all the sugar is dissolved. Add the half-and-half, heavy cream, and vanilla. Stir to combine.

Strain the mixture into an airtight container. Add the liquor and stir to combine. Store in the refrigerator until ready to serve.

When ready to serve, top each glass of eggnog with some grated nutmeg or cinnamon.
Video
Notes
Use pasteurized eggs if you are concerned with consuming raw eggs.
Nutrition
Calories:
316
kcal
|
Carbohydrates:
22
g
|
Protein:
5
g
|
Fat:
16
g
|
Saturated Fat:
9
g
|
Cholesterol:
148
mg
|
Sodium:
66
mg
|
Potassium:
117
mg
|
Sugar:
20
g
|
Vitamin A:
665
IU
|
Vitamin C:
0.6
mg
|
Calcium:
81
mg
|
Iron:
0.5
mg