The Fleur de Lis Cocktail from the Carousel Bar at the Hotel Monteleone is a refreshing drink only a city that New Orleans could create. Now you can make this delicious cucumber gin cocktail at home.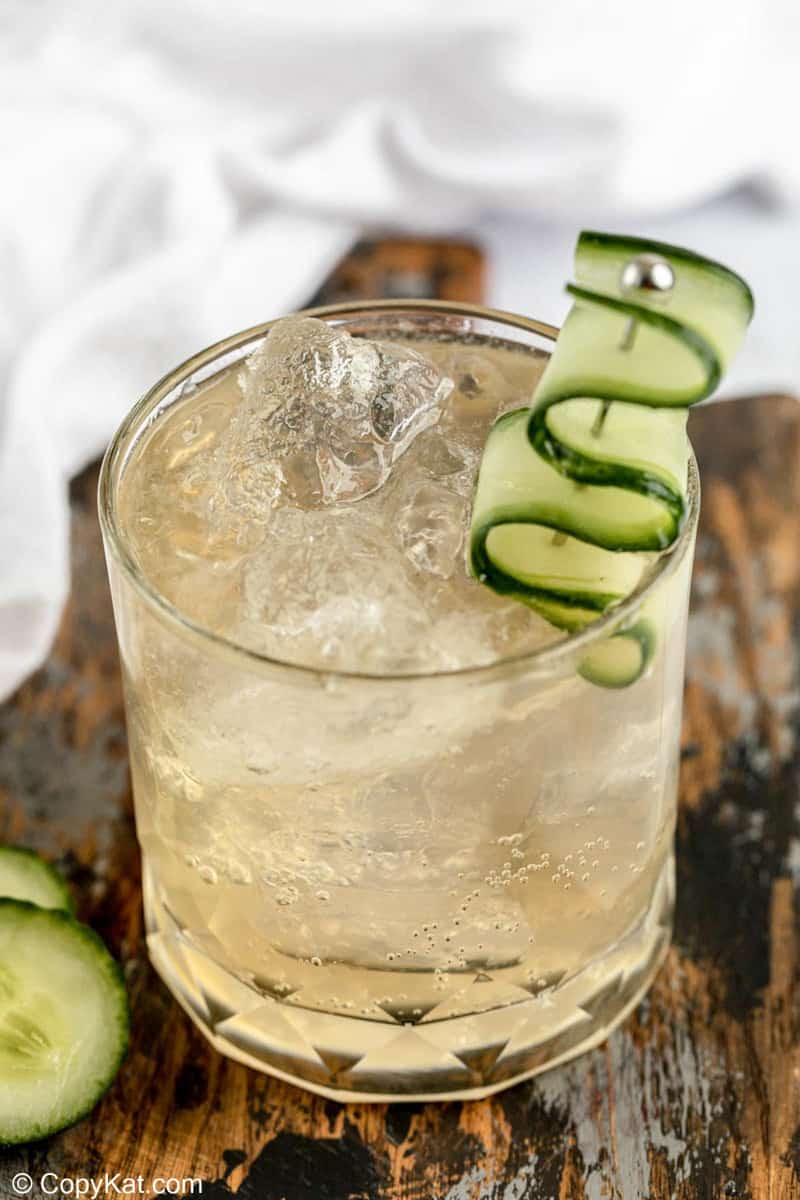 This post contains affiliate links. As an Amazon Associate, I earn from qualifying purchases.
Gin and Cucumber Cocktail
You may have sipped on a vodka or cognac-based Fleur de Lis cocktail before, but this gin cucumber cocktail is something a bit different.
In this version of the Fleur de Lis, Hendricks gin takes center stage, with elderflower liqueur, cucumber, and lime juices playing supporting roles. Ice-cold ginger ale tops off this cucumber cocktail, making it the ideal antidote to the heat of long summer days. 
Fleur de Lis Cocktail is also great for celebrating New Year's Eve, Fat Tuesday, Mardi Gras, and St. Patrick's Day.
Fleur de Lis Cocktail History
The Hotel Monteleone, one of the grand old hotels in the New Orleans French Quarter, houses the historic Carousel Bar and Lounge.
Back in 2007, a barkeep and local legend, Parker Davis, was working behind the world-famous rotating bar. Whether it was a sudden flash of inspiration or a late alcohol delivery, Davis created the Fleur de Lis Gin Cocktail. It would soon become an iconic drink for the Carousel Bar and Lounge that it still serves today.
Cucumber Gin Cocktail Ingredients
Here's a list of what you need:
Cucumber
Lime juice
Elderflower liqueur, St. Germain recommended
Hendricks gin
Simple syrup
Ginger ale
Ice
Cucumber slice or lime wedge for garnish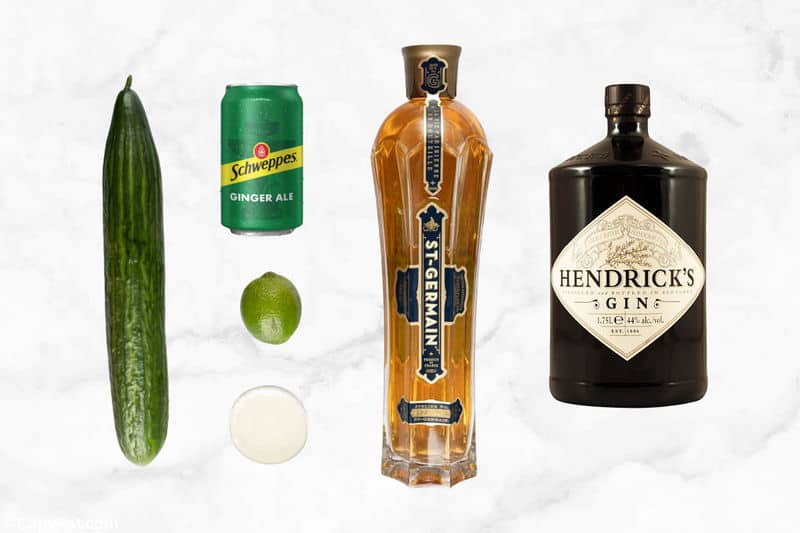 Ingredient Notes
No bottled lime juice, please. Cocktails deserve freshly squeezed citrus juice.
Elderflower liqueur is a sweet spirit flavored with the flowers from the elderberry bush. It has a flavor that some people compare to lychee nuts. Several brands are on the market, but the most common is St. Germain.
You can make simple syrup by combining equal parts of sugar and water in a small saucepan. Bring to a simmer and stir until the sugar dissolves. Cool before using. Simple syrup lasts for several months covered in the refrigerator.
Hendricks gin may be a bit on the pricey side, but it is a must in this cocktail. See below to learn what makes this brand so special.
Why Should You Use Hendricks Gin?
Gin is gin, right? Wrong. Although all gins share the juniper berry as a flavoring component, that is where the requirements for being classified as a gin end.
You may already know several different categories of gins, such as London Dry, Old Tom, Plymouth, and Navy Strength, but there are many other less familiar varieties out there.
In the complex world of gins, Hendricks might be the oddest. Being odd is something that the distiller of this distinctly unique gin not only accepts but treasures.
What makes Hendricks Gin so different? It's the inclusion of rose and cucumber along with other botanicals that give Hendricks its one-of-a-kind flavor.
How to Make a Cucumber Gin Cocktail
Here are the steps to make this gin and cucumber cocktail:
Cut two or three thin slices of cucumbers. Use a seedless variety of cucumber if you can find one. Place the cucumber slices in a cocktail shaker.
Use a muddler or the handle-side of a wooden spoon to crush the cucumber lightly. Be gentle. You don't want to wind up with cucumber mash. 
Add the lime juice, elderberry liqueur, Hendricks gin, simple syrup, and ice to the Boston shaker.
Shake vigorously until the shaker becomes very cold in your hands, about 10 seconds.
Pour the drink into an old fashioned glass. People are divided when it comes to whether you should strain this cocktail. It is your choice, but if you decide to strain, remember to add fresh ice to the serving glass.
Top off the glass with cold ginger ale.
Garnish with a cucumber slice or lime wedge.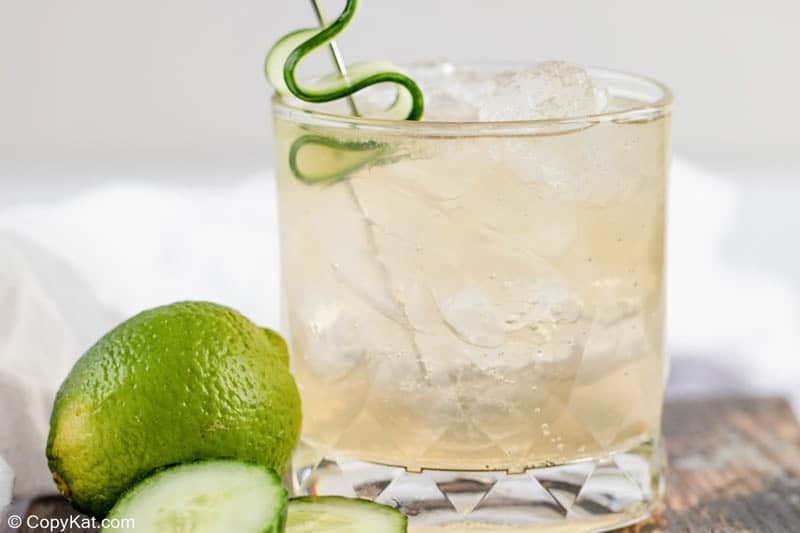 Recipe Notes
Fleur de Lis cocktail requires Hendricks gin. You could use other types, but they all have different flavor notes. You want to pick one that has a nice herbal quality. Botanist may also be a good choice.
The ginger ale in this cocktail is not overpowering as it can be in a Moscow Mule.
Some say to use lemon juice; others use lime. On my weekend of sampling cocktails at the bar, they were using lime. You can use either, but I have a preference for the lime version of this delightful drink.
What Goes Well With This Cucumber Gin Cocktail
A Fleur de Lis cocktail screams sophistication, and any snacks you serve alongside should be equally elegant. Here are a few examples:
Cream cheese and cucumber sandwiches
Oysters on the half shell
A selection of nuts
Looking for great cocktails to make? Try these recipes!
Refreshing Non-Alcoholic Drinks
Check out more of my easy cocktail recipes and the best summer drink recipes here on CopyKat!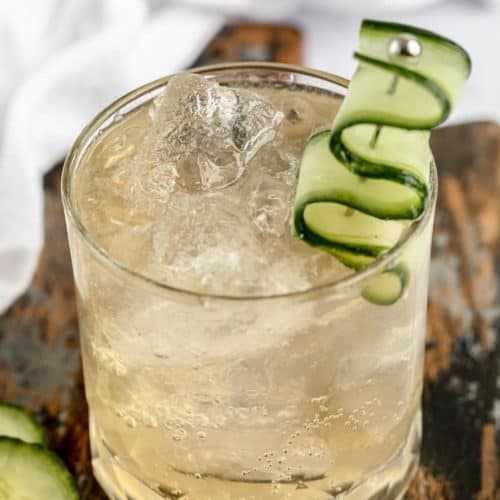 Ingredients
3

slices

cucumber

(2 to 3 slices)

1/2

ounce

lime juice

1/4

ounce

St. Germain elderflower liquor

1 1/4

ounces

Hendricks gin

(or other cucumber based gin)

1/2

ounce

simple syrup

3

ounces

ginger ale

1

cup

ice

lime wedge for garnish
Instructions
Place cucumber slices in a cocktail shaker.

Use a muddler or the handle of a wooden spoon to crush the cucumbers.

Add lime juice, elderflower liquor, gin, simple syrup, and ice.

Shake for about 30 seconds.

Pour the drink into a cocktail glass.

Top with ginger ale.

Garnish with a cucumber slice or lime wedge.
Nutrition
Calories:
101
kcal
|
Carbohydrates:
22
g
|
Protein:
1
g
|
Fat:
1
g
|
Sodium:
27
mg
|
Potassium:
55
mg
|
Fiber:
1
g
|
Sugar:
21
g
|
Vitamin A:
22
IU
|
Vitamin C:
5
mg
|
Calcium:
16
mg
|
Iron:
1
mg