Craving that unique blend of sweet, spicy, and savory from Buffalo Wild Wings Asian Zing Wings? This easy copycat recipe brings you all the addictive flavors of this beloved dish right at home. Each wing is fried until golden brown, then coated in a mouth-watering sauce that's the perfect balance of tangy Asian flavors and a zingy heat kick. These wings are a true treat for your taste buds. Ditch the takeout menu and enjoy a night in with these irresistible Asian Zing Chicken Wings.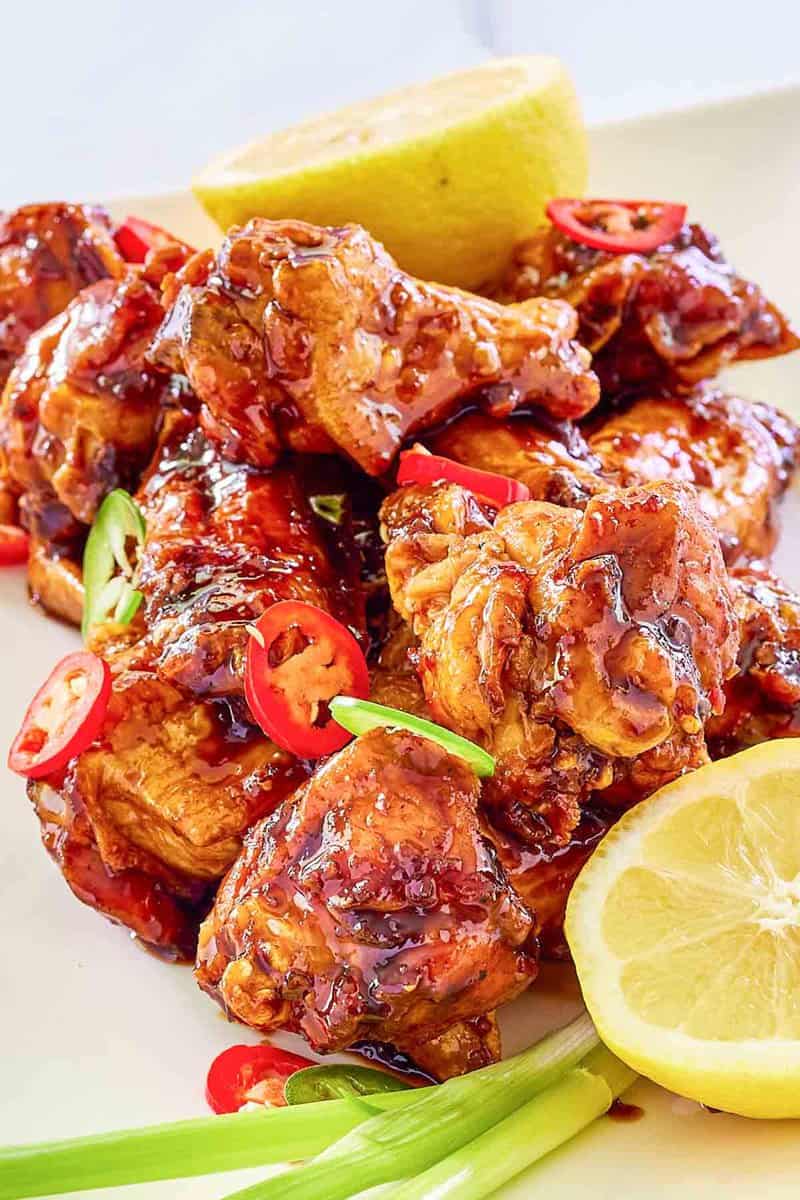 This post contains affiliate links. As an Amazon Associate, I earn from qualifying purchases.
Why Buffalo Wild Wings Asian Zing Are the Best Wings!
Wings are the things you want to be serving at your next party or get-together. But it's a bit silly to always stick with boring Buffalo Wings when you can expand your culinary horizons with Asian Zing wings.
But what is Asian Zing Buffalo Wild Wings sauce? It's an Asian-inspired sauce with the perfect balance of sweet tang and mild heat guaranteed to excite anyone's taste buds.
Why You Should Try This Buffalo Wild Wings Asian Zing Recipe
Are you afraid of super hot wings? There is no need to be nervous about this Asian Zing Buffalo Wild Wings recipe. This simple sauce is made with soy sauce, ginger, garlic, and seasoned rice wine vinegar, striking the right balance between mild and wild.
Oh, and don't worry if you aren't into frying in oil. You can find directions for making these wings in the oven or an air fryer below.
Ingredients You Will Need
For the Buffalo Wild Wings Asian Zing sauce, you'll need:
Garlic
Fresh ginger
Neutral oil
White sugar
Soy sauce
Seasoned rice wine vinegar
Chili garlic sauce
Lemon juice
Cornstarch
Water
For frying, you'll need:
Neutral oil
Chicken wings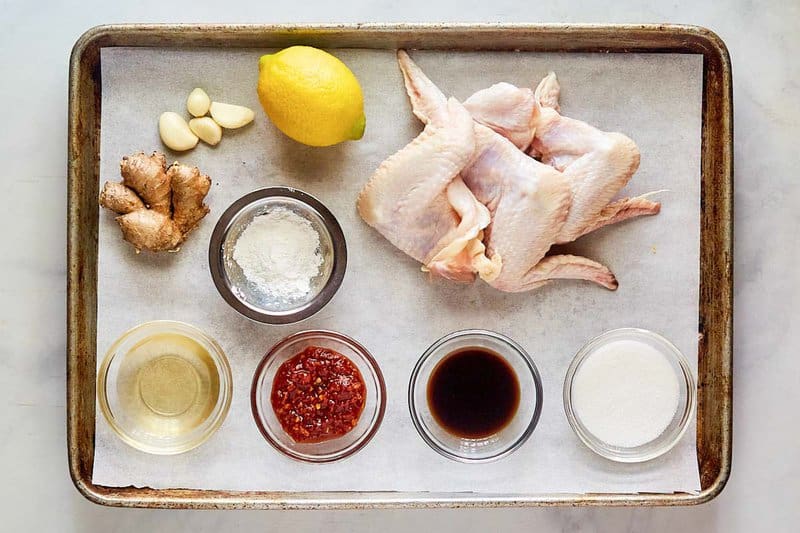 Ingredient Notes
You can purchase precut drumettes and wingettes from the store or do it yourself to save a little money.
Canola, grapeseed, and avocado oil would all work in this recipe.
Huy Fong Chili Garlic Sauce is the standard choice for this recipe, but it can be challenging to get. You can use another brand like Lee Kum Kee or make chili garlic sauce yourself.
Unlike unseasoned rice wine vinegar, seasoned rice wine vinegar contains salt and sugar. Make sure to buy the correct bottle.
How to Make Asian Zing Buffalo Wild Wings
To prepare the Buffalo Wild Wings Asian Zing sauce recipe:
Mince the garlic and fresh ginger. Set aside for later.
In a bowl, whisk together the cornstarch and water. Reserve the slurry.
Heat the neutral oil in a heavy-bottomed small saucepan.
Simmer the garlic and fresh ginger in the oil until fragrant, about two minutes. Stir frequently to prevent burning.
Stir in the white sugar, soy sauce, seasoned rice wine, and chili garlic sauce into the hot oil. Allow the mixture to cook for two minutes while stirring from time to time.
Whisk the cornstarch slurry into the saucepan. Continue to whisk until it thickens. Remove the saucepan from the stove and stir in the lemon juice. Set the sauce aside to cool.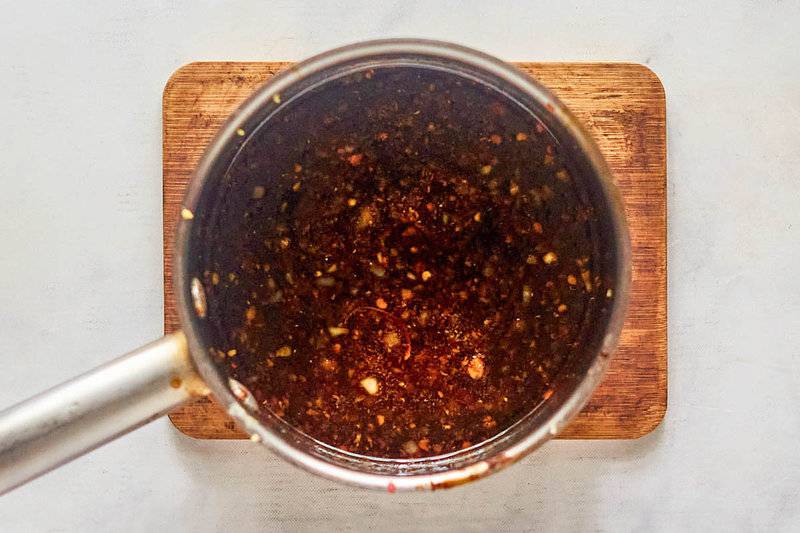 To fry the wings:
Fill a large heavy-bottomed with at least four inches of neutral oil and attach a deep-fry thermometer to the pot's side. If you have a deep fryer, you can use it instead.
Heat the oil to 375°F.
Pat the chicken wings dry with a paper towel and fry them in small batches for 10 to 12 minutes, depending on their size. Don't add too many chicken wings to the oil at once, or the oil's temp will lower too much.
Use an instant-read thermometer to ensure the internal chicken temperature is at least 165 degrees. Allow the chicken to drain on a wire rack on top of a paper towel-lined rimmed baking tray.
Allow the oil to return to temperature and finish cooking the rest of the chicken.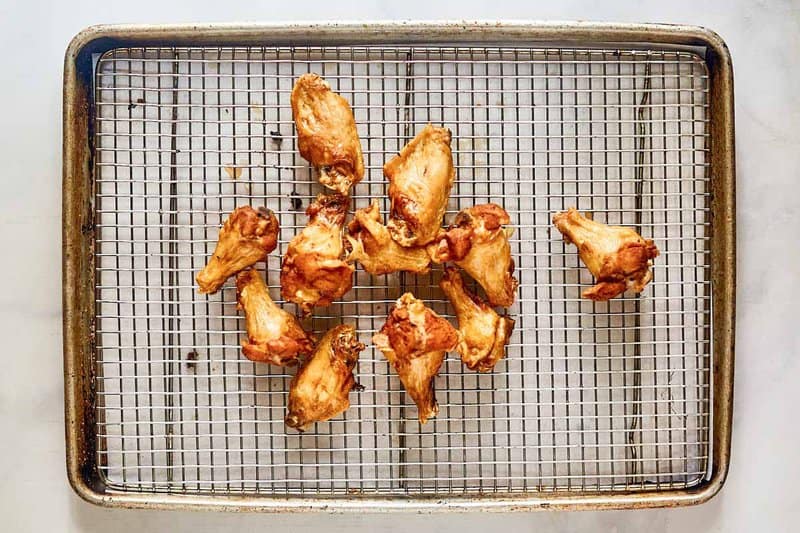 To plate the wings:
Warm the sauce on the stovetop.
Put a few tablespoons of the sauce into a large bowl and toss with four or five wings at a time.
Put the wings on the serving platter and sauce the remaining wings.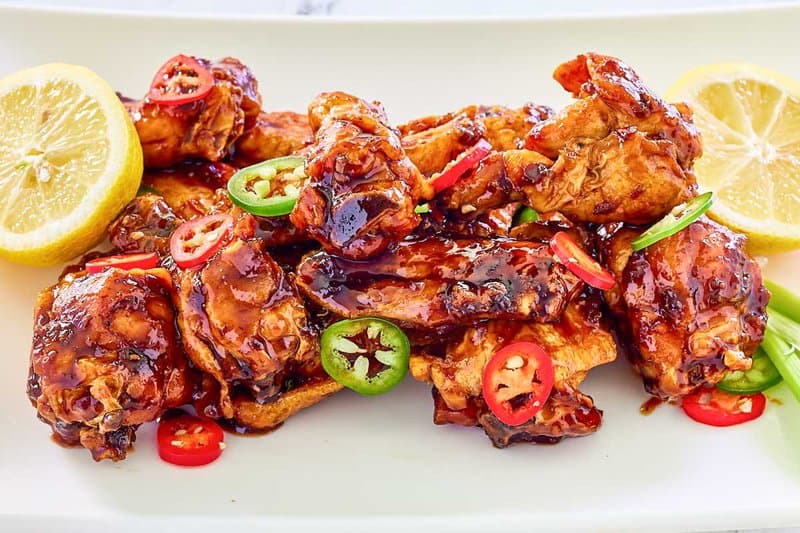 Alternate Ways to Cook Wings
Don't want to deal with a pot full of hot oil? There are other ways to make these wings that are just as delicious:
To cook the wings in an air fryer:
Preheat the air fryer to 380°F.
Some people like to toss the wings in a bit of baking powder at this point to ensure an extra crispy wing, but it is an optional step.
Pat the wings dry and put them in the air fryer. Fair warning: There will be a lot of dripping from the wings. Lay down some aluminum foil to make cleanup easier.
Cook the wings for 12 minutes per side.
Turn the heat up to 400°F and cook for another 5 minutes.
Ensure the interior temp is at least 165°F before removing them from the air fryer.
Sauce and serve.
To cook the wings in an oven:
Preheat the oven to 425°F.
You can toss the wings in some baking powder for extra crispy wings.
Place the wings on a wire rack over an aluminum foil-lined rimmed baking tray. Cook for 20 minutes per side.
Check that the interior chicken temp is at least 165°F before saucing and serving.
What Can You Serve With Buffalo Wild Wings Asian Zing
Start with the classic carrot and celery sticks, and don't forget your favorite dipping sauce. Then add French fries or onion rings. Or you can keep with the Asian-inspired theme and go with Asian Slaw, kimchi, or steamed edamame.
Ways to Use Asian Zing Sauce
Sure this tangy sauce is great for wings, but you can use it in other ways. Here are some ideas:
Chicken Tenders, especially crispy breaded chicken.
Stir-fries with chicken or beef
Tempura shrimp or chicken
How to Store the Leftovers
Be safe when it comes to food safety, and toss any plated wings remaining at the end of the night. But, if you make more wings than you plan on serving, you can keep the extras in an airtight container in the back of the fridge for up to three days.
Cool the wings down as quickly as possible by spreading them on a chilled baking pan and then transferring them to a storage container when they are at room temperature.
What's the Best Way to Reheat Buffalo Wild Wings Asian Zing Wings
The best way to reheat wings is in a 350°F preheated air fryer for five minutes or until hot. Warming wings on a wire rack over a rimmed baking tray in the oven also works, but you must crank up the temperature to 375°F and increase the time to 8 minutes or until hot.
Favorite Chicken Wing Recipes
Popular Asian Chicken Recipes
Check out more of my easy appetizer recipes and the best chicken recipes on CopyKat!
Ingredients
2

tablespoons

vegetable oil

1

tablespoon

chopped garlic

1

tablespoon

minced fresh ginger

3/4

cup

sugar

3/4

cup

soy sauce

3/4

cup

seasoned rice vinegar

1/4

cup

chili garlic sauce

2

tablespoons

cornstarch

3

tablespoons

water

1 1/2

teaspoons

lemon juice

2

pounds

chicken wings

cut into drumettes and wingettes with wing tips removed

vegetable or canola oil

for deep frying
Instructions
Place the vegetable oil in a medium saucepan over medium heat. When the oil is hot, add the garlic and ginger and cook for about 2 minutes, stirring frequently. Then add the sugar, soy sauce, seasoned rice vinegar, and chili garlic sauce and cook for about 2 minutes, stirring occasionally.

While the sauce is cooking, make a cornstarch slurry by combining the cornstarch and water in a small bowl. Mix well.

Add the cornstarch slurry to the sauce and stir. When the sauce thickens, remove the pot from the stove. Add the lemon juice and stir.

Pat the chicken wings dry with a paper towel.

In a deep fryer, heat the oil to 375°F. Deep fry the chicken wings for 10 to 12 minutes, until they reach an internal temperature of 165°F. Remove the wings from the fryer and transfer to a wire rack.

Place 1/4 of the wings in a medium bowl, add a ladle of sauce, and gently toss. Repeat until all the wings are coated in sauce. Serve.
Nutrition
Calories:
304
kcal
|
Carbohydrates:
24
g
|
Protein:
14
g
|
Fat:
17
g
|
Saturated Fat:
4
g
|
Polyunsaturated Fat:
6
g
|
Monounsaturated Fat:
5
g
|
Trans Fat:
0.2
g
|
Cholesterol:
47
mg
|
Sodium:
1624
mg
|
Potassium:
151
mg
|
Fiber:
1
g
|
Sugar:
20
g
|
Vitamin A:
90
IU
|
Vitamin C:
1
mg
|
Calcium:
16
mg
|
Iron:
1
mg